Why Should You Compete In A Half Marathon? Read To Learn!
Why Take Part In Half Marathon?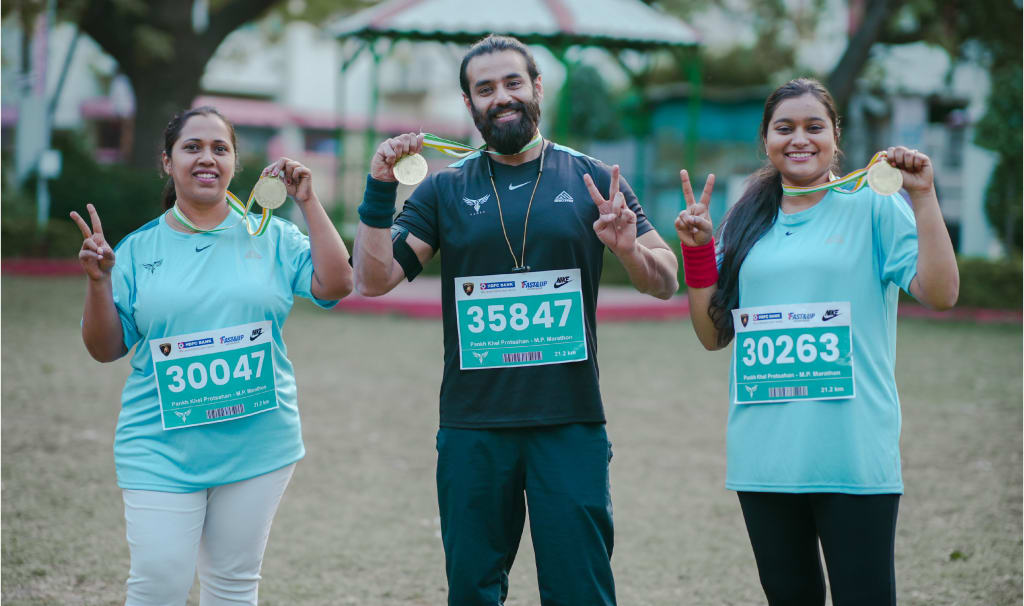 The insanely long runs that people participate in to raise awareness for a social cause are becoming increasingly popular today. People are obsessed with running half marathons and look forward to Sunday mornings so they can leave their sluggish selves behind and run for a good cause.
Why Take Part In Half Marathon?
Taking part in the marathon will give you a new perspective towards life, whether for a cause you participate in a marathon or for yourself. Pankh MP Half Marathon is one such initiative by Bansal News to give wings to the under-19 sports achievers and be their hope. You can also register for the race by visiting their website, www.mpmarathon.run.
1. Running Marathon Keeps You Young
The numerous advantages of running are common knowledge among all of us. For instance, it can assist in maintaining healthy blood pressure and cholesterol level in the body. In addition, running a half marathon boosts your resistance to illness and increases the strength of your muscles.
The longer runs force your body to become stronger quickly, which combines fatigue with the opportunity to build strength.
2. Completing A Marathon Can Help You Sleep Better
Running a half marathon can be exhausting, and your body will crave sleep to repair. If you train for a half marathon, you can go to bed earlier and have a more restful sleep.
3. Get In Shape By Running The Pankh Mp Half Marathon!
The healthier the lifestyle, the more enjoyable the experience of running a half-marathon. Even for physically fit athletes, running a half marathon is challenging. If you lead an unhealthy lifestyle or are not in good physical shape, running a marathon will encourage you to maintain your fitness level and run for a charitable cause.
4. Going For A Run Can Help Improve Your Memory
A better memory is one of the many potential health benefits of running a marathon. In addition, running a marathon has improved executive function, which is beneficial for day-to-day tasks such as problem-solving, decision-making, and planning.
5. Run For Fun!
Participating in a marathon is a fantastic opportunity to honour your accomplishments while connecting with people who share your interests. Suppose you are interested in taking on this difficult but rewarding challenge. In that case, you must adhere to a training plan obtained from reliable resources, such as websites or magazines, to guarantee that you stay on track and achieve your objective.
6. Helps You Connect Runners
Running allows you to meet new people and strengthen existing connections. Although it is possible to engage in running as a solitary activity, most people do so in the company of others, be they fellow runners or regular commuters.
Consequently, running allows you to interact with other people and cultivate relationships. In addition, running allows you to connect with people who share your enthusiasm for physical activity and maintaining a healthy lifestyle, whether at a local race or through online running groups.
7. Helps You Connect Runners
A worthy cause serves as the inspiration for each and every marathon. It could be for a charitable cause, or for any other reason, such as supporting Pankh Khel Protsahan's efforts to assist young athletes who have achieved success in sports in MP through the Pankh MP Half Marathon.
It is an initiative to support the spectacular performances of young people from Madhya Pradesh in various national and international sports competitions.
Pankh intends to honour the sports achievers under the age of 19 from each of Madhya Pradesh's 52 districts who have successfully represented Madhya Pradesh at national and international levels despite facing various socioeconomic obstacles.
The Upcoming Half-Marathon Of MP
The Pankh MP Half Marathon is an event organised by Bansal News to support the perseverance and dedication of Madhya Pradesh's up-and-coming athletes in the sporting world. The marathon consists of the following three categories:
Half of a Marathon (21.0975 km)
Open 10k (10km)
Run for Fun (6km)
The Pankh Khel Protsahan Awards will be given out to recognise the accomplishments of young athletes. The competition is scheduled to get underway on February 26th, 2023, at the TT Nagar Stadium in Bhopal. So come forward and participate in this exciting event if you are passionate about staying fit and running.
What exactly are you looking forward to? Join in on the Pankh MP Half Marathon fun by signing up immediately. Here's the link: https://mpmarathon.run/registration/marathon
The Bottom Line
Running is a great exercise that will help improve your overall health. Not only does it affect one's health, but it's also a fun way to get some exercise. Running is an excellent form of exercise because it can be done virtually anywhere. It also assists you in developing a routine for regular exercise, which benefits your health and fitness goals.
If you are new to running or last exercised a while ago, you should begin with a training plan. You can find thousands of different plans online that will assist you in getting started with and maintaining a healthy running routine. You can also find training partners to assist you in maintaining your motivation and achieving your desired level of fitness.
About the Creator
ToneOp is an initiative designed to keep
you fit & healthy through a vast collection of comprehensive offerings,
including 100% customisable region-based diet plans for multiple health goals.
Reader insights
Be the first to share your insights about this piece.
Add your insights