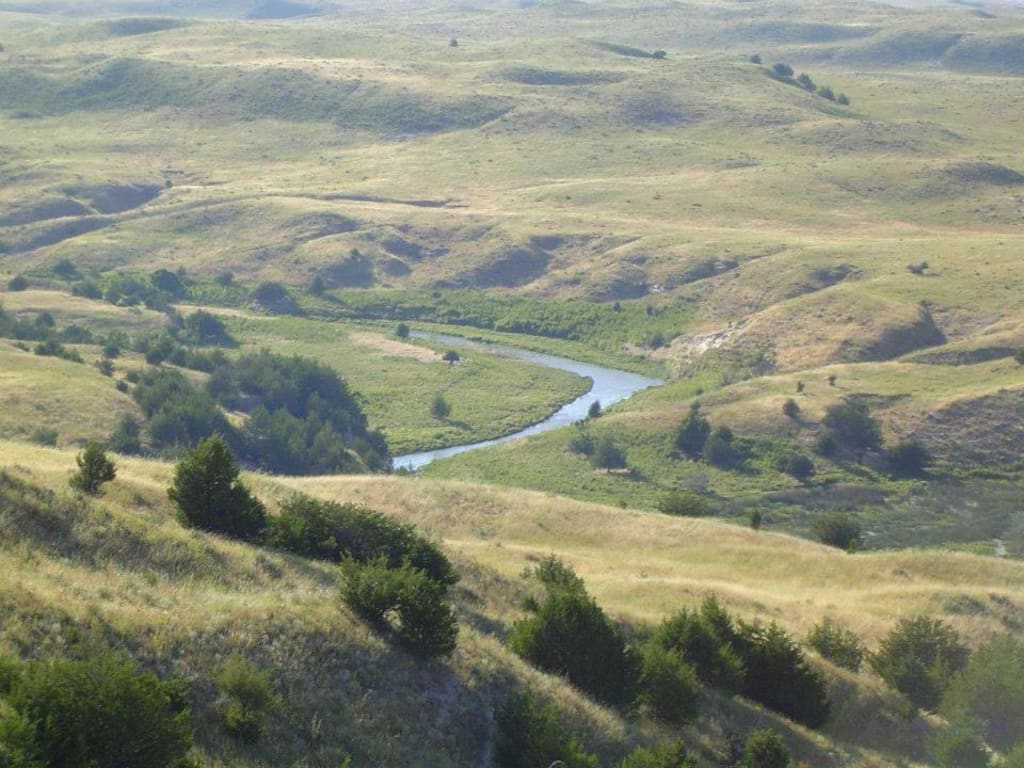 The memory that will forever be burned into my mind and soul is the one that sparked and shaped my passion for life. It was the utmost natural and authentic feelings of my existence and occurred when I was miles away from familiarity.
My family and I had gone on a mini vacation of sorts, into the Sand Hills of our home state, Nebraska. It seemed to take an eternity to get to the homestead we were staying at, and it proved to be rather challenging. No gas stations or mile markers to orient yourself or cell service to call for help and the road was waterlogged in certain areas, with turtles adding random obstacles along the way. My father had failed to remember where the exact location of the homestead was, but thankfully, we ran into Irene, one of our hosts. 
She led us across a flooded road, with her miniature horse in tow, and further into the hills than my father thought to venture. 
Once we arrived, I didn't know what to expect, and my attitude was rather foggy and blasé despite the fact I had never been in a situation quite like this before; far away from civilization, and surrounded by mother nature herself. I was about 16 years young, so this was my worldly attitude towards most occurrences in life.
The first night there was rather unremarkable, with introductory formalities and settling in. However, us kids got to set up our own authentic tipi to sleep in!
The next day I awoke to my parents setting up to fish along the manmade pond. I sluggishly joined them and soon fell victim to the heat and boredom set in. 
The sun was beaming down with a slight breeze, kissing our skin now and then.
I started exploring the nearby area, kicking rocks and scanning for wildlife that wasn't there. Then I noticed Irene and Bill, our other host, intently messing with a section of the pond. Irene was in the water, fully clothed with a sun hat atop her head, grasping along the wall, and Bill was above her, inspecting what she was doing and pointing now and then. 
I ventured over to them, inquiring what they were up to, and Irene informed me they were trying to keep the pond from draining into the river. After a moment of gawking, she encouraged me to engage instead of just standing there like a buffoon. I glanced back at my family practically falling asleep in their chairs, so I ditched my shoes, peeled my socks off and dropped in beside her. The water was inches away from drenching my shorts, but I was instantly delighted! The sensation of the silky silt squishing between my toes and the chilled water enveloping my legs ignited my brain with a newfound vitality.
I started following Irene's lead and immersed my hands in the muck below. Hauling mud up to cram into the spot that was causing the dilemma. At one point, I unearthed an unsuspecting critter and eagerly presented it to her. She smiled and exclaimed she had found one moments before and informed me what it was, obviously familiar with the local creatures.
After that, she started showing me many unique forms of life, and lovely little finds as we worked. It seemed there was a never ending supply of little treasures to be discovered!
Throughout our mini animal planet session, we attempted to address the leak by mixing in nearby flora, such as dried grass, twigs, and clumps of dirt, but nothing seemed to fully correct the issue at hand. We decided a considerable amount of earth needed to be dumped on the site.
Even though we didn't solve the problem in that very instance, I will never forget that experience when I was in the water with Irene because it altered my core forever. Trying to problem solve and not being afraid to get my hands dirty, unearthed my love for the natural world.
The rest of the stay was just as fascinating. We rode horses and quads, rescued a runaway canoe, sank into knee deep sludge, swam in the mysterious river, rolled in spa grade mud and howled at the moon with the local coyotes. That trip was the experience that encouraged my heart to beam and beat in a way it had never had a chance to before. It transformed me into who I am today. Someone who absolutely adores nature and doesn't mind being covered in it.
About the Creator
Hey there! My name is Alissa, and I'm a 28 something year young earthling trying to make it on this planet by being a positive source of inspiration for others. My main purpose in life is to create art so here I am making that happen.
Reader insights
Be the first to share your insights about this piece.
Add your insights