The Earth of a Pueblo
How cultural identity relates to environmentalism and your connection with the Earth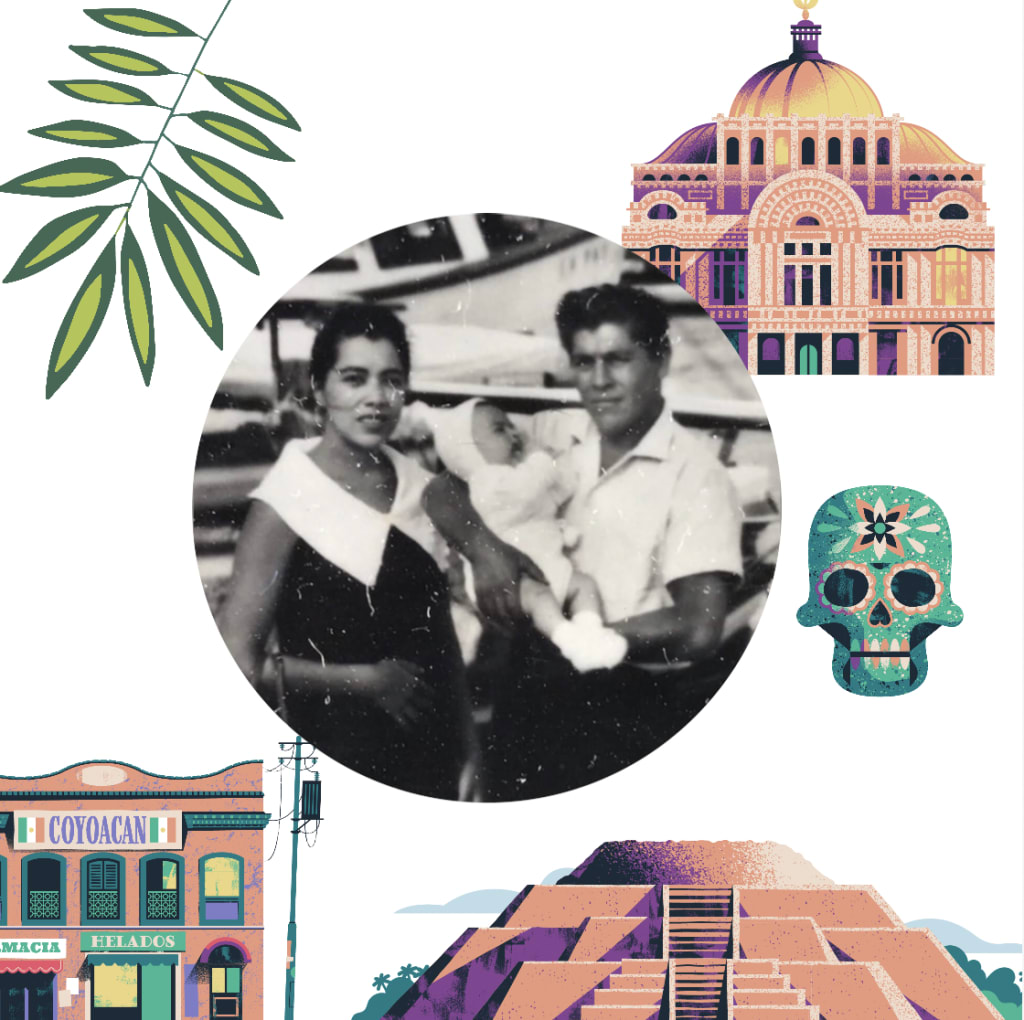 My grandparents in Mexico, holding my aunt!
When I was little, I watched my abuela's hands move the loose soil of her garden around, making room for new life. My grandma grew flowers and herbs, leaving behind a sweet odor that drew in nature's organisms to her front porch.
She never missed their scheduled watering, so the plants grew strong and healthy. Often times she spoke to them, telling them stories of her childhood right alongside me. I would listen to her tales about Mexico, all while resting beside the greenery of her labor. As always, my eyes would be widening at her dedication to the craft. With a smile, she talked about the hot days she endured washing clothes in a tranquil river near her pueblo. (A pueblo is a community, and it refers to the small village where her family was from).
It was the first time I had felt that the Earth was at peace for a moment, and listening to us.
Being in her presence taught me more about the Earth than any research I have come across regarding environmentalism. She told me that taking care of what's around us begins in close vicinty. Even with our common house plants, we learn about how to treat people with the way we respond to them. Plants have the potential to bloom and be healthy, because they know of our intentions. By having a good relationship with them, the Earth gets a little better. It's almost like taking care of a baby or a child, and you have to treat the Earth the same way. Watering them, feeding their leaves with light, and giving them the space to grow is necessary.
𝗖𝘂𝗹𝘁𝘂𝗿𝗮𝗹 𝗜𝗱𝗲𝗻𝘁𝗶𝘁𝘆 & 𝘁𝗵𝗲 𝗘𝗻𝘃𝗶𝗿𝗼𝗻𝗺𝗲𝗻𝘁
Mexican identity is just one of the many cultural bubbles people are apart of, as many cultures have their own teachings about the environment to learn from from. Being a Mexican woman is an identity that many can relate to and reconcile with, and it has taught me multiple lessons for safekeeping. Most importantly, having a strong cultural upbringing can be beneficial to molding a person's unique ideas about the current state of the environment.
My abuela's teachings shaped my opinions about protecting the Earth and our closeness to nature. She used to watch her grandparents stitch intricate embroidery, use the elements of nature to create dyes for dresses, and she saw how the land could give back a world of life. Symbiotic relationships occur between the Earth and it's humans, but can fall out of balance if neglected. My own drive to respect what has been given to us in nature has been heavily enforced in my brain, ever since I was 6 years old!
Small communities in Mexico, like my abuela's, are dedicated to the cause of environmentalism. Many towns have spent centuries protecting the biodiversity of these lands, and are in constant battle with capitalistic endeavors.
Afro and Indigenous peoples of Mexico have put in tremendous work to sustain the environment amidst pollution by the government or corporations intervening. Having this connection and learning more about my family's history gives me a better understanding of their sustatinability practices and values I can uphold. If life is respected, then the Earth can be eventually restored.
Here is a short video broadcasting the breathtaking images of Mexico's biodiversity:
𝗧𝗵𝗲 𝗖𝗮𝗹𝗹 𝘁𝗼 𝗔𝗰𝘁𝗶𝗼𝗻
The main goals I have for reducing my carbon footprint are: continuous education and self-awareness. My journey about protecting the environment has taken me down the path of some detailed introspection, and how I can learn from my abuela's lessons in gardening. With empathy for the communities of my family's homelands, I am seeking to do better for the Earth. This means I am placing emphasis on the geopolitics of Mexico and how I can sustain myself in an urban environment.
First and foremost, there needs to be attention brought on the decline of Mexico's land defenders. The article linked below explains how Mexico produces structural violence against those defending the land. With this many risks put against the peoples of these rural communities, it is hard to imagine what will happen to the Earth's biodiversity and abundant resources. For those within Southern Mexico and beyond, the fight for the Earth has continued for years.
The next articles detail some examples of how Mexico's communities are sought to be protected, and what plans are set for combating global climate change. Information about the efforts of these pueblos is extremely important for the push of environmentalism, as their stories need to be heard.
Weather changes and mass extinction of treasured species within these lands can be irreversible damage. Therefore, staying well-aware about the proposed plans and mutual aid efforts available is key to making a change in sustainability efforts. For many peoples, the rivers and forests provide a source of food, shelter, and even income for survival. Without these intertwined relationships and a pueblo's full autonomy over their lands, there would be devasting effects for the environment overall.
Being in an urban environment can seem daunting for creating an eco-friendly life. Living amongst heavy pollution, lights, noise, and trash... all of these factors act like a larger hurdle to jump through for the sake of leaving less mess behind. The threats of gentrification for low-income neighborhoods and the constant change of urban planning is one of the biggest downsides of my home city's ranking for a better environment. The segregated areas of Chicago negatively impacts the livelihood of my friends and old neighbors, mostly due to unequal amenities from the city and lack of funding. In some neighborhoods, there are way less trees and nature to look at while some areas are given more attention. Health problems arise from environmental racism, minimal healthy food options are offered within reasonable distances, and brutalist architecture makes for a poor concotion of environmental decay. Depending on the which side of the city you are on, each neighborhood is a stark contrast from the one before it.
Despite these noticeable differences of the city's neighborhoods, there are some ways I have decided to cut back on my own production of waste. Taking public transportation, practicing communal gardening, and learning from the members of the community is my way of adapting my lifestyle. Similar to the poorer pueblos of Mexico, many Latinx and Black populations of Chicago suffer when it comes to maintaining an eco-friendly way of living. Being actively apart of your community, or taking note of what grassroot orgs are planning, is a great start to changing the conditions of the environment we live in. Listening to the needs of Chicago's neighborhoods and understanding why things are the way they are is the only way I can effectively improve the size of my carbon footprint.
My identity as a Mexican woman changes the way I view the environment, but it has grown roots in two different lands that my family calls home.
Organizations to Consider:
1. Little Village Environmental Justice Organization: lvejo.org
2. My Block, My Hood, My City
3. Good Kids, Mad City
4. Mexico- Friends of the Earth
5. Rainforest Alliance
6. The Nature Conservancy