The Broken Pond
A broken pond's rebirth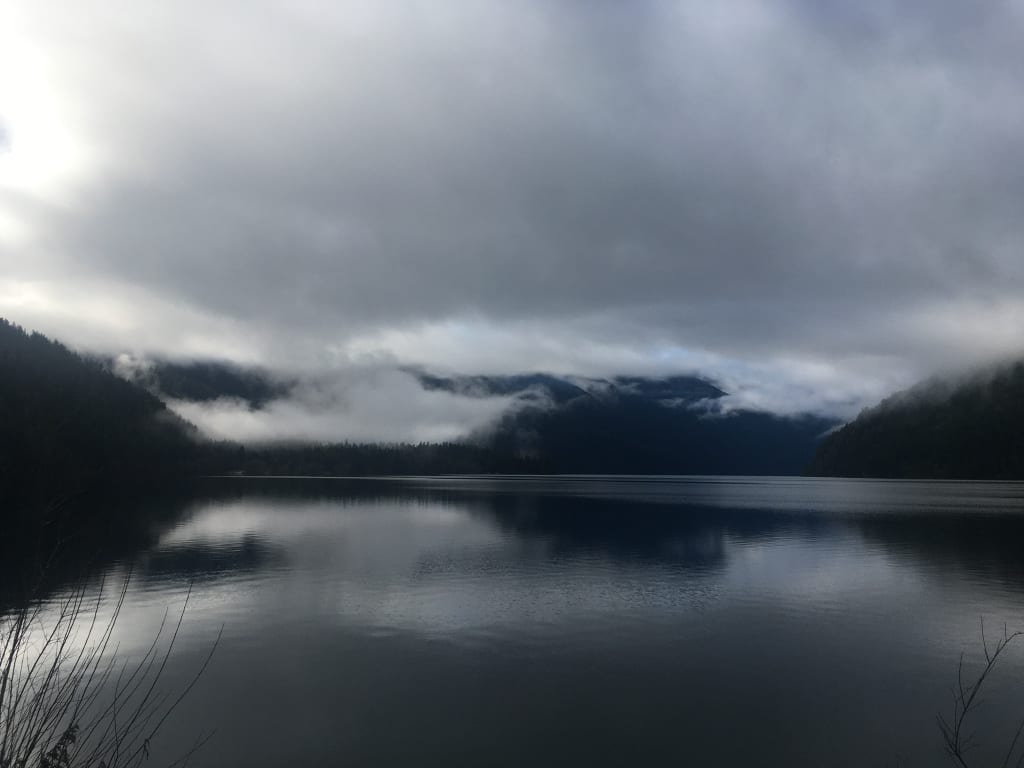 "What a mysterious and wonderful world this is!" The pond humbly marveled.
"Many creatures live and drink life from my small depth and yet that fills me with purpose. I get to smile with the sun, dance with the moon, and replenish with spring showers! I give shelter to frogs, drink for deer, even plants are nourished within and I feel as though I will never die. I am gifted with abundance and am grateful I can give abundantly."
She looked around at her fertility. She giggled as she felt a fish swim up to catch a dragonfly. She saw the mountainous landscape in her reflection as the ripples faded away. Feeling proud now, she observed the stronger roots of trees near her underground and the vivid wildflowers thriving at her banks.
Happily spending her days under the summer sun, the pond watched the dainty clouds wave as they passed. Neighboring trees provided her with shade at the perfect times. She listened to the wind sing lovely tunes causing waves of goosebumps across her surface. All wildlife found her to be a small oasis and she felt as big as an ocean because of it.
At night the world would quiet, and she was able to talk to the galaxy and send prayers of gratitude to the heavens. However, one evening, she was unable to see her starry friends. The normal moon lit sky was concealed and became frightful. Over the course of the night, lightening began to crackled and thunder boomed. The rain started falling in sheets.
       "This is no ordinary spring or summer rainfall." The pond shivered as the wind howled through the trees. "This storm is full of rage and force. Ready to release it's strength and bite the earth."
The storm carried on but luckily calmed after a few hours. Gradually the rain turned into white ice flakes. The unwelcome snow fell silently and plentiful for weeks.
        "I've never experience a chill like this! I can no longer feel my fluidity and am frozen in time! Haunted by a colorless and stationary Mother Earth. I no longer hear the lullaby of the wind, only the cursed silence of snowfall… an endless death drenching me in sadness! What could I have ever done to deserve such fate?!"
All day, the pond cried and questioned, and to some relief, the clouds finally parted by dusk that evening. She was granted a view of the twinkling stars above and she prayed harder than she ever had. Her desperate prayers echoed through the cosmos.
        "Universe, I have nothing to live for. Please take me from such torment. Please. Free me from my agony!"
She was surprised as the following days the sun peeked out. Then began to appear for longer amounts of time. She was happy to see pieces of her old life return. She began to see the world melt back into the reality she had known and was elated when she fully thawed. But she never felt happy for long, fearing that if she fell in love with life, again it would be stripped from her.
   One clear night the pond was visited by the loving planet Venus. Compassionately she asked the broken pond why she grieved so deeply.
"What do you sorrow for?"
          "I was punished when no justice was needed." The ponds heart breaking as she answered. "I gave to all I could and feel as though I was rewarded with a frozen hell. I fear I have been betrayed by myself and the Divine. I no longer trust this universe and it's plan for me."
"My dear child of the Cosmos.." Venus's sweet, merciful words poured like honey, healing the pond's wounded heart. "The time you have perceived as frozen was not against you, it was for you! A wintery season to prepare you for greater depths. The freezing and melting has not taken, but given. Do not look with barren eyes, acknowledge with your abundant heart."
Dawn pushed Venus along, leaving her compassionate message with the pond. As the fresh morning rays illuminated the sleepy world, so did the pond see her worth in a newfound light. She gazed in bewilderment at what had been secret yet right in front of her all along. No longer a broken pond, she had become a vigorous lake.
"I view a wider landscape than I've ever seen before and feel deep waters beneath me. I am tickled by schools of fish in my veins. I am nourishing more roots of more trees and watering herds of animals! There is more colors of flowers than ever before! How could I have been so unaware?! My hopeless feelings blinding me from my astounding gift!"
Her vision filled with tears of gratitude at the sight of her fortune and they burst through as rivers, running down the mountain. She was more powerful and beautiful than she ever imagined. Enlightened by what she thought was her punishment turning into her cosmic treasure, the lake made a universal promise to stay true through any future Divine interference.
"I have been reborn."