Seashells To Plastic
How To Be A Wavemaker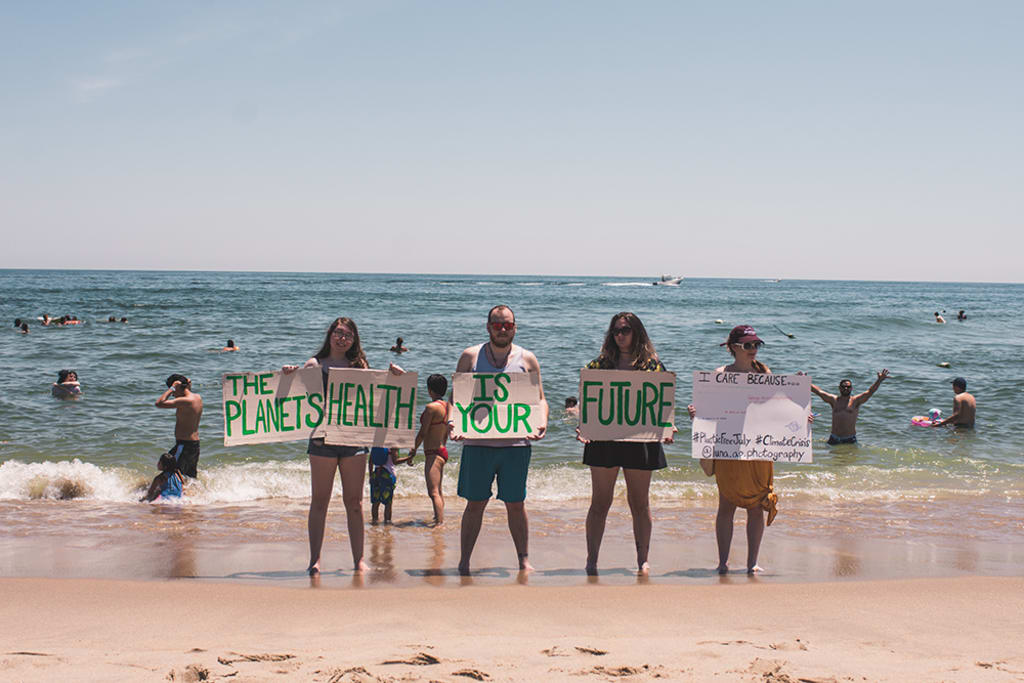 As summer quickly approaches, we will all flock to the beaches to watch waves, dip our toes in the seafoam, and hid our fries from the seagulls. This year, the beach may look a bit different, but why? Has something about the sea change? In terms of plastic, 8.3 million tons are discarded in the sea yearly. Here's the big shocker - it's catching up to us.
A few years ago, I stopped collecting seashells and started strolling along the shoreline filling my mesh bag with litter instead. This was the turning point that I realized I will never see the sea the same and I was so happy about that.
No longer was I interested in hunting down the perfect seashell to safely store in a glass jar for home decor. My focus was preserving the beauty of the ocean and doing my individual responsibility in returning it to its former glory - both on and off the beach.
The number one question I get when picking up litter is: WHY?
Bystanders will often reject my efforts with empty debates such as, "Even if you pick up the litter on the beach, it will still go to a landfill. So, what's the point?"
Besides the immediate impact picking up litter has including removing the garbage from direct contact with wildlife, the biggest impact can't be seen with our eyes. WHY? The impact happens in our minds.
Picking up litter is about setting an example and an expectation.
I voluntarily pick up trash so curious children ask why I'm picking up litter. I voluntarily pick up trash so grown adults might reconsider adopting a more sustainable lifestyle. I voluntarily pick up trash so others feel encouraged to do the same.
Now - I get it. Picking up trash is not everyone's comfort zone. I understand that. The good news? You don't have to pick up trash at your local beach to make a positive impact on the ocean.
There are countless ways to stop litter from ever reaching our oceans. Currently, 79% of plastics are sent to landfills or the ocean. The best solution to this is to reduce your dependence and usage on plastics. Analyze what single-use plastics you use the most. These can be the little plastic spoons when you get your summer ice cream or the plastic cups you get your daily iced oat-milk lattes in. If there's a single-use item, there's always a reusable alternative for that item. One purchase of a reusable tumbler will dramatically reduce your usage of plastic cups (and keep your iced coffee colder longer). You know that tote bag that's been sitting in your closet since college, bust it out! Keep it in your car whenever you do errands! That one sustainable habit will divert hundreds of plastic bags from entering the oceans. Did you know that loggerhead sea turtles hunt jellyfish, which unfortunately look remarkably like plastic bags? Boom. Your tote bag just saved a turtle from regrettably eating plastic for dinner.
Individual efforts are phenomenal and necessary, but there's still room for so much more impact! Involve your community and start conversations. Reach out to your local PTO and fundraise using tote bags to encourage avoiding single-use plastics at grocery stores in your area. Email your town leaders and discuss investing in TerraCycle boxes/programs, which will help recycle waste into benches and more. Ask them for stricter laws regarding litter. Organize clean up days around your town (you don't have to only clean up a beach). The ways you can spark positive change for the environment are endless.
I'll be brutally honest. It's not easy. Not everyone will understand your efforts. Not everyone will happily follow your lead. But everyone will see your actions and that's all that matters because that's how change is made. Brave people being unapologetically committed to a mission.
You can be a wavemaker. You can be the positive change. You are what this planet needs. Above all, you are not alone.
Climate
Hi there, I'm Angelica!
I'm a wedding/elopement photographer and climate activist based in New Jersey. By combing art and activism, I create powerful visuals that influence and educate people on global issues. IG: @dawnpointstudios
Receive stories by Angelica Pasquali in

your feed