Rumi's Field
An Invitation to New Earth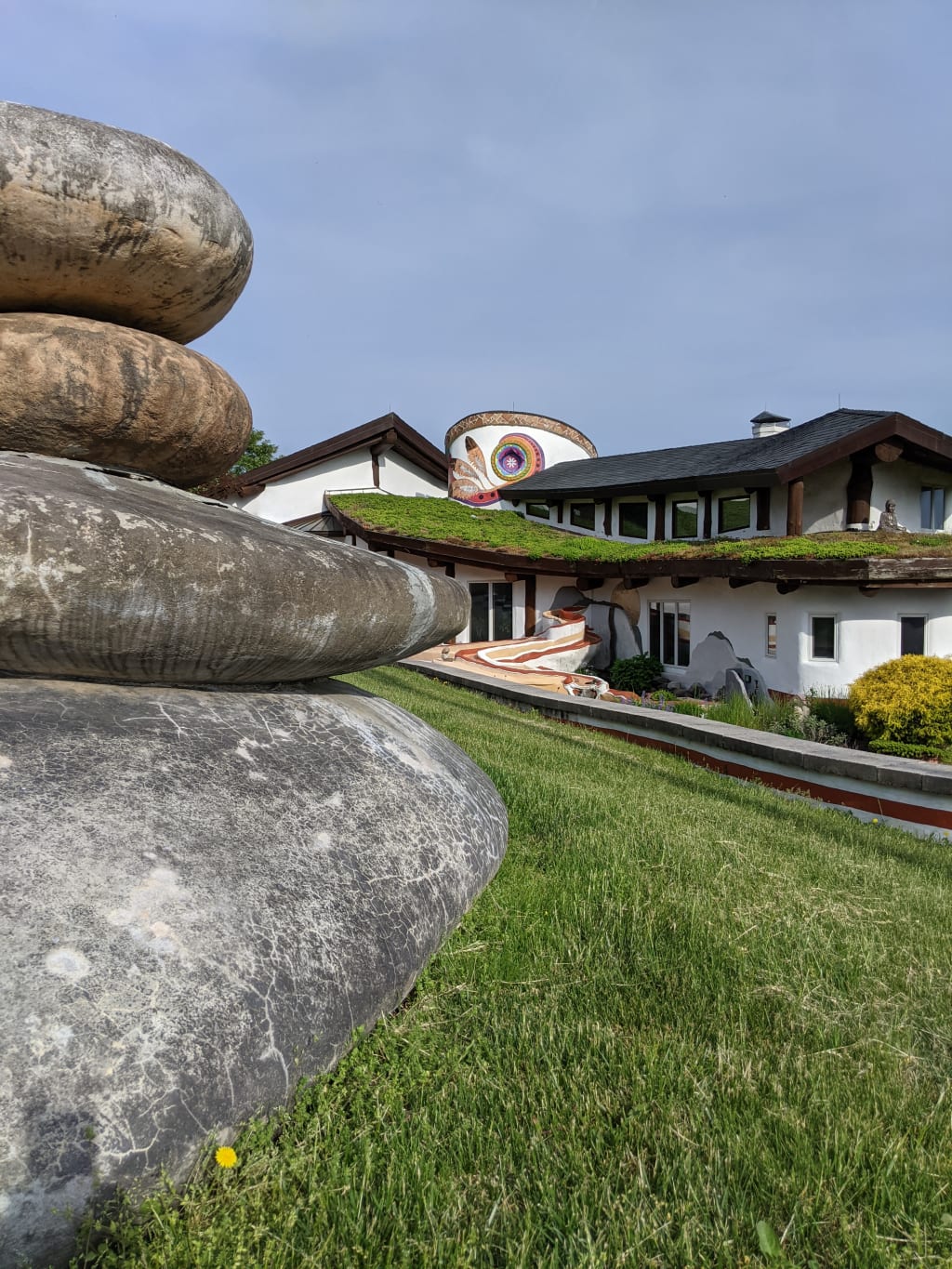 David's House
Let the beauty we love be what we do
There are hundreds of ways to kiss the ground
Out beyond ideas of wrongdoing and rightdoing
There is a field. I'll meet you there.
When the soul lies down in that grass
The world is too full to talk about.
~Rumi
I went to a place like Rumi's field. I needed some space and a place for getting away by myself for a few days. Sarah found it for me on Airbnb. I made an account and booked a room for three nights. I appealed to the owner to let me bring Rumi. David said okay I think reluctantly. I told him Rumi was my spirit dog and a very good boy. David's home is a temple, an interfaith temple that's what he says on Airbnb: come find rest, serenity and inspiration and I said yes to that — but not at first. At first I laughed and said to Sarah no way that place looks ridiculous.
But the more we looked the more wonderful it was. Sarah said Momma do it. It's perfect. So I said okay and laughed and laughed. It wasn't expensive. There was room at the inn. So I went. I imagined David as a gay man running an Airbnb with his partner Craig as these two were the hosts on the Airbnb description. I never found out who Craig was and David is not a gay man. He opened the door and I said to myself oh wow not gay, handsome. David helped me with my things and Rumi's crate and gave me a tour. I was overwhelmed. I have never seen anything like it. At first it appears gaudy in the extreme. My own tastes are minimal and quiet. Casa is loud and exuberant.
Casa is the vision child of David, an incredible vision child almost like you're not sure how it could possibly have been done. It is maybe adobe stucco — white — with a sweeping planted garden roof and big bold painting all around like a garish necklace. There are many painted features on the house, a combination of maybe Hindu and Native American, multi-cultures mixed together, big portraits of eastern deities paired with mandalas and feathers, a sunburst here and a moon there, magic multiplicity and ding dong the witch is dead. Willy Wonka waterfalls and maybe a chocolate river I missed somewhere and some oompa loompas on sabbatical. Violet Beauregarde around the corner. Mice singing in the succulents. Stuff like that.
Much of the house in the back is painted in stripes of deep orange and a periwinkle blue purple that changes color in the light. The walls roll in like waves or mountain ranges. Take your pick. Inside is equally elaborate with keen attention to big beautiful plants and lots of stonework and tile tile tile and glorious wood beams all naturally hewn. If you take a snapshot of a space you can appreciate its glory.
All together it is overwhelming to me and hard to take in. The first morning I started to get my bearings a little and I did this — taking snapshots in my head of small spaces and I said I will stitch these together later and make a composite. It is all I can do. There is so much. What a vision! What an artist!
Reader I sat in Casa and thought I am ready for someone to authorize me too because this is an authorized space. David says I am here. I bet he chooses to be an innkeeper to share his vision with people but he is not an innkeeper. He is a visionary. I know this. Right now his vision is diminished by the Disorder. I wonder if he has pain like me. I have often felt rejected for my offerings and my way of being and seeing. This makes me quiet and unwilling to share. David however is brave. He says this is my Casa you assholes.
I spoke with David of the Casa on Saturday afternoon. He is a kind and interesting man. I would like to know more about what he knows. His home is full of knowledge. He has Course in Miracles out in the main room and this is important to me. He said he studied with a Course in Miracles teacher. He said he has videos he could share. I saw a promotional sign in the closet of the Round Room where I was staying that said "Shamanic Healer" and I would like to know what a shamanic healer is. I will ask him when I see him again.
The main room has a grand mural of a deity on one wall, floor to ceiling. I don't know which deity and I am sorry about that. (David says later Tibetan God). The floor is irregular tile terra cotta mostly but David designed a water way feature of river rock and various blue cut glass which flows around the floor on one side of the room. It is brilliant.
The great head of a bird is in bas-relief framing the entryway to the back part of the house. What bird? I ask about it. (David says red-tailed hawk, his spirit animal). Just little stuff like that. What a find. What a gem. One of the things I love the most is the irregularity and it is irregular in every way. I am talking about the imperfections of the mismatched stone slabs and the rough raw wood and the bumpy bumpy plaster. It is all intentionally imperfect and I love this so much.
I thought I would think Casa an outlandish sort of joke but I don't at all. Much of it doesn't suit me. The colors — brilliant blue, purple, gold, red, yellow, orange — are bold and striking with jarring juxtapositions but I find this good for me. I embrace it fully. It says I am an artist whether you like it or not. It is a laugh at life. I carry myself likewise through these spaces. My serious self left the grounds, walked away saying I'll have no part in this girlie.
In the early morning I sat by the massive round stone formation, staring back towards the house at the rooflines against the clear blue sky and this made me cry a little. I sat and I sat. The succulents soothed me. I love the garden roof. I am mad for the garden roof. I ache.
I do not have to not love it just because it is not what I would choose at first. This is good for me. It dissociates me. It is perfect for what it is. I accept it all. I think it must take half a day to water all the plants. There is a very large oregano by the stairs leading to the Round Room. David showed me and every time I pass I take one leaf and crush it and smell it. I want to say to David oregano is a powerful antibiotic but I don't.
I asked David if he would answer my questions about Casa at his convenience and he does. He plops down next to me in the white recliner with the armrest and cup holder. It is ugly but it is not mine. I decide it is the only thing I would ever change in this beautiful room. I would have a sectional sofa tailored, modern, not a bank of white leather recliners. Cupholder armrest. What? So David tells me about the construction of Casa and I am mesmerized.
He tells me about the linear application of the cobb which is a kind of mud daub of sand, clay, straw and water, and it has to be applied by hand in these layers that set overnight. I am enchanted. By hand. I imagine David molding Casa under his hands. I imagine him imagining it, manifesting it in real time, making it present from absence, making it come alive poof poof it is done it is done it is done. Imagine it and it is done, a niche there, then a curve of a wall, a window here now, and then what's next who knows tomorrow is another day.
I imagine his grief at its completion. He is not magician anymore. I do not say these things. I tell him he is an artist. I tell him his art is true. I want to say something important. I want to say David, David this is everything. But I am just me and I know he has heard it all. I am only another passer through. I can say nothing that means anything to him and my heart breaks.
When I shared with David a little about my healing journey and spiritual breakthrough Saturday morning in in the kitchen, I talked fast and furious like a rushing waterfall, a river of rapids. This is unusual for me. I was animated. I was electric. I was on fire. I had been fasting for fourteen days by then. It was my yearly healing fast and those things happen on a fast. On a long fast you become a god with a clear manic vision and an inner sparkle. You glow. You say I will never eat again but then you do and you fall back to Earth.
I told David private things easily and he smiled at me so much and encouraged me at first. I told him about releasing gross amounts of candida from my body and about potentiation and the sealing of the fragmentary body. I said I don't know much about chakras really. I knew he did. He is a shamanic healer. He told me that shamanic healers work with the auric field and chakra alignment. I thought he would understand my journey. But I don't think he understood. After this he spoke little to me.
Rumi tells it like this:
Then someone nearby said
"That blind man may be worth a hundred Kings"
Remember the proverb.
"Human beings are mines."
World power means nothing
Only the unsayable
Jeweled inner life matters.
Muhammad replied, "Do not
Think I am concerned
With being acknowledged by
these authorities
People who insult me are
Only polishing the mirror.
I told David I was finally off coffee due to my fast and that caffeine was my last detox. He was making a cup of coffee in the kitchen. It was the next morning — Sunday — and the coffee smelled wonderful. He said "I don't know. I am all about balance. A little bit of poison here and there is okay" and I said, "Not for me. I can't afford it" and I left the kitchen. It wasn't awkward or anything. Just a comment. But as I thought about it I said to myself the notion of balance is often used as an excuse for not taking right action.
This is not always the case but I think especially in terms of dietary choices and toxicity it can be an avoidance behavior. Yes. I would say for people who need to detox "I am all about balance" can be an excuse for poor choices and a justification for lack of change.
I know both sides of this equation. I am not judging; I am describing. I think considering I don't know David and will be unlikely to see him again, I will say this to him. But then I reflect on why I even hesitate. What does it matter that I don't know him and will likely never see him again? I should feel free to express this to anyone. These are my thoughts. I don't say them to be unkind or judgmental.
I am curious. I want to understand myself. I want to understand others. This is why I am here. The absolute — who is me — hungers to know herself — to know all varieties of herself —  to know all varieties of existence. I am me. I will be me. I examine all the ways I tighten my own crow collar and it is a lot.
Casa is constructed of natural sustainable materials. The beams in the large common room were locally sourced. Maybe others too. David said when he received the logs they still had their bark and the bark had to be stripped. The natural wood beams were installed and when he moved in he discovered to his dismay that the wood had beetles! He said the sound of the wood beetles drove him insane the first year he was here but eventually he got rid of them.
I wanted to say that is the way of the universe isn't it? You're in your magnificent new home at last being driven insane by wood beetles in your ceiling beams. Now for me this is balance. Let's not get too proud of ourselves it says. King David look you have wood beetles in your ceiling beams. We all use spoons to eat our soup. But I said nothing.
Let's go.