Project 11-11
Beautiful Nova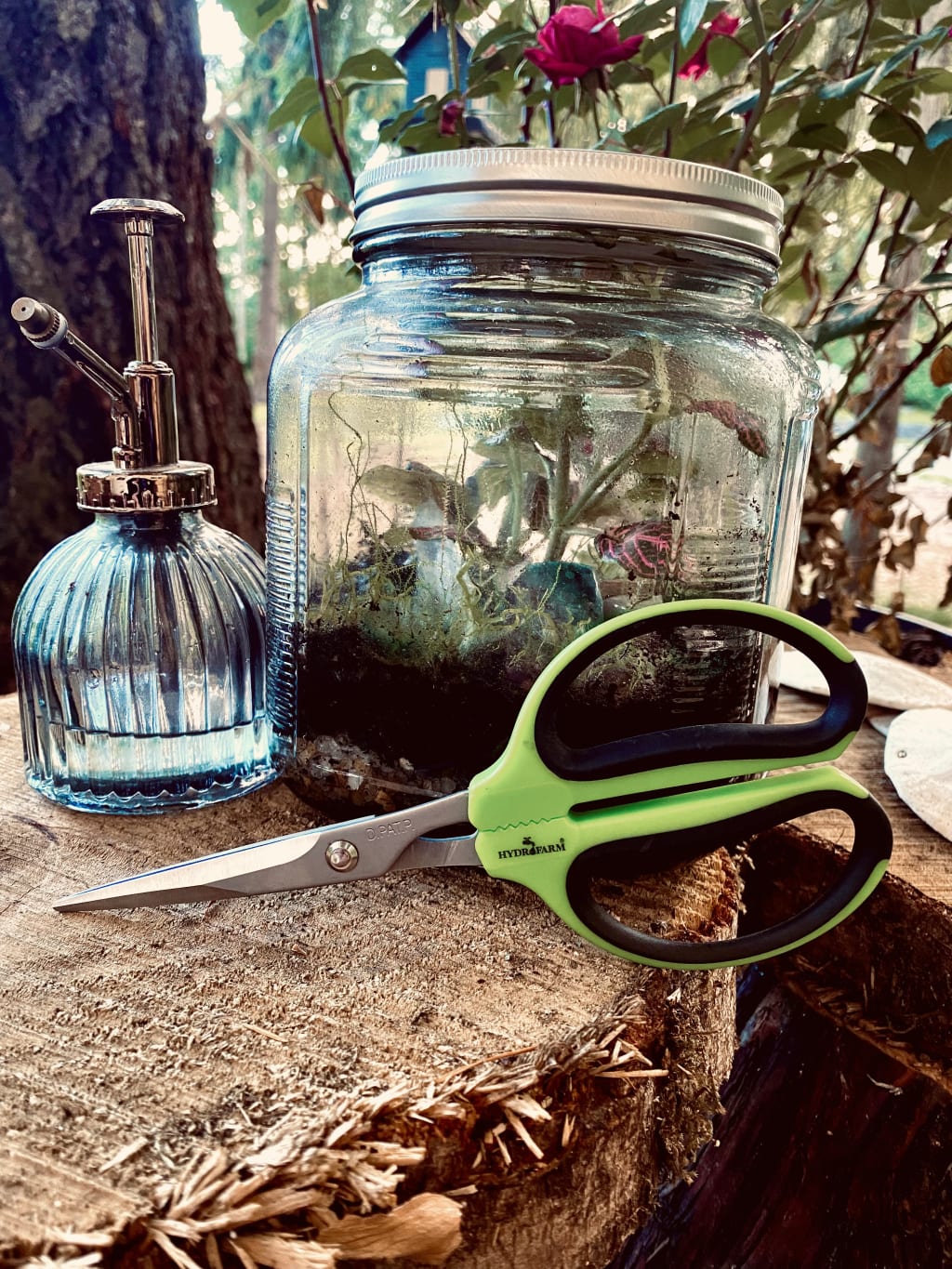 Current photo of Nova
I am sure that 2020 was a bit of a struggle for most. However small or large, everyone felt the effects of last year. Fortunately, I was blessed enough not to undergo too much tragedy in my outer world, although inner definitely under went some turmoil. I was directed (some days I say pushed) into pursuing an understanding of spirituality. I began, frantically, trying to learn about everything and anything I could or wanted, mostly "spiritually". I began exploring and investigating many things. I read often, practicing yoga, and began meditating. It also started a natural rise of curiosity in creative avenues. I spent time drawing, painting, sewing, and writing a little bit. Of course, I used scissors in several of these endeavors. I've even tried art where you cut pictures out of magazines and make a collage. Oddly enough though, none of those are the reason for this submission. That reason is Nova.
Nova is my closed terrarium Fittonia or better known as a nerve plant. Her terrarium is filled with light, love, positivity, and gratitude. As I started diving into the spiritual world, I really focused on natural herbs, plants, and crystals. I really love things from Mother Earth. I took an extra focus on nature that is healing and symbiotic. I decided one day I wanted to make a closed terrarium as a new creative project that would include all these things that I had a new appreciation for. While learning even how to accurately assemble a closed terrarium for living plants and pondering ideas, I decided that I wanted Nova to be pure intention. I wanted the plant I was to choose to have meaning. I wanted particular crystals and rocks included to help grow the plant and the intentions. I also wanted to seal the jar on November 11, 2020, which was a very important day for people interested in astrology. (11-11)
I even had an epiphany one day after learning that terrariums need activated charcoal to filter out the soil, also preventing mold, and helping to keep bugs away.  I thought that I should do my own fire ceremony where I could add my own positive herbs and intentions into the fire and using that charcoal to make my very own. I wandered into the woods and had a beautiful fire full of good energy throwing in some dried roses, lavender, and a letter of intentions. At the end, I pulled some coals out to smash and add between the draining pebbles and soil.
I met Nova at a small plant nursery. I actually bought both her and her partner, Kosmos, who is thriving in another jar. I placed her in a jar filled with crystals and gratitude rocks. Also including the handmade activated charcoal. I picked nerve plants because of their meaning, lovely colors, and are tiny (at purchase). I thought they'd stay tiny, but they have grown more than I could have imagined and I am so grateful for that.
  As so, project 11-11/Nova, started my love for closed terrariums. I have decided since then to go even further and create "fairy homes" or scenery inside. Some have not survived as I learn and experiment. But Nova sustains herself now. After watering her a few times, I was able to close her up and she creates her own world. The grass and moss included have flourished too. They have all grown much past the size of her small jar. As she is strong and grows quickly, I have to open the jar from time to time to cut and trim her stretching limbs. To obtain a precise cut, I trim her with a pair of plant scissors. My favorite pair of scissors now. I feel bad doing so because if I would of known of her success, I would have placed her in a larger jar from the start. She has been a loving experiment in many ways and now is one of my greatest accomplishments. I am very grateful she is part of the family!