Metaphysical Healing Properties Of Golden Healer Lemurian Crystal
lemurian Crystal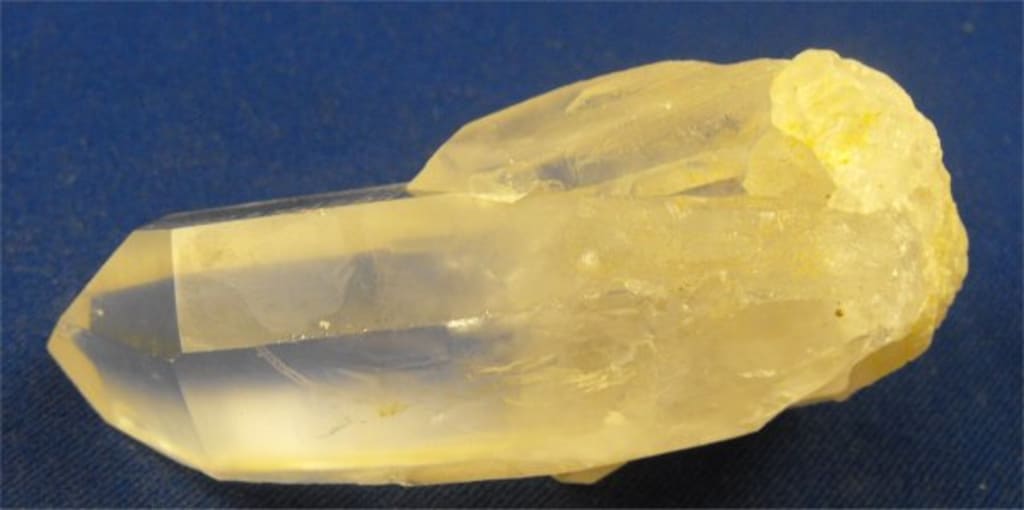 Golden Healer Quartz helps you stay in control when dealing with challenging family dynamics. The energy of Golden Healer Quartz is not intended to heal your relationship with your family, but rather to help you cope with it. It offers you the emotional distance and perspective you need to stop yourself from falling into the old traps of the family drama paradigm. This crystal reminds you to be the one who shows up in a calmer and more open state of mind, and it calls on you to be the healer. With the clear mental state that this crystal provides, you will be able to partake in open communication and make rational decisions.
Golden Healer Quartz reminds you not to take things so personally. Whenever something is said or done that triggers an argument or negative reaction, take a moment to step away and reconnect with the energy of Golden Healer Quartz. Rather than saying something you'll only wind up regretting, it's better to remove yourself from the situation and use your crystal to calm yourself down and prevent tensions from escalating. Golden Healer Quartz will help to raise your vibration to a higher state so that you can have better control of your own actions
Lemurian Crystals have a distinct appearance. Look carefully at a Lemurian Crystal and you will see horizontal striations or grooves, like "bar codes," on one or more sides. Commonly, the sides of a Lemurian Crystal will have alternating striated and smooth faces. Lemurian Quartz Crystals are often found in the shape of a Laser wand, where the faces at the tip of a Lemurian Crystal are small and gently taper in size from base to tip.
Metaphysical Healing Properties Of Golden Healer Lemurian Crystal, Lemurian Seed crystals connect with the crown and solar star chakra. These are master crystals within the crystal kingdom. It is believed that in the last days of Lemuria, special seed crystals were placed where crystalline growth was expected to form within the Earth, enabling them to transmit frequencies to other crystals that were created within the Earth. These crystals resonate with energies of love, unity and equality. They align themselves and are attracted to those who are endeavouring to anchor energies to help the planet at this time.
Also called "Lemurian Seed Crystals" or "Lemurian Star Seeds", Lemurian Quartz Crystals were originally found in Brazil. Metaphysical Legend states that there was once an advanced ancient civilization called Lemuria, similar to Atlantis but more spiritually developed and peaceful. As the end of their time on Earth was coming to an end, the Lemurians programmed these crystals to teach their messages of oneness and healing – messages that would be revealed when the energy on Earth was ready to receive them. The Lemurians then planted (or "seeded") the Lemurian Crystals, encoded with their ancient knowledge and wisdom, to be found centuries later by us.
The use of crystals was common place, seeing beyond that which was conjured or manifested into physical form. These unique crystals appear to have been carved by a human hand as they have horizontal grooves or striations across their naturally faceted faces. Each crystal is gifted with being able to connect itself vibrationally with all other Lemurian Seed Crystals.
These crystals are programmed with the Lemurian consciousness vibration. Working with these stones instils feelings of the emotional and spiritual awareness of the Lemurians. Connecting with these crystals can open up the heart and create a deep emotional healing and allow you to connect more to your true self.
Lemurian Seed crystals generate a very feminine or yin energy. They act to open the energy of the soul and provide a bridge to higher frequencies, creating a higher level of consciousness. They instil feelings of harmony and ease. The energies they emit are of pure love, helping you feel at one with yourself and others.
Holding a Lemurian seed crystal in your right hand while you walk around and encircle an individual, property or and object creates a circle of light and protection. They sooth and nurture and can benefit everyone and are helpful support for healing work. They help you attune to those higher energies and higher planes of existence.
Associations:
Astrological Sign: All
Chakra: All
Element: All
Planet: All
Crystals By Rob: https://www.crystalsbyrob.online