How Did I Become a Lady
Planting a tree in Scotland by Lady Dr. Gabriella Kőrösi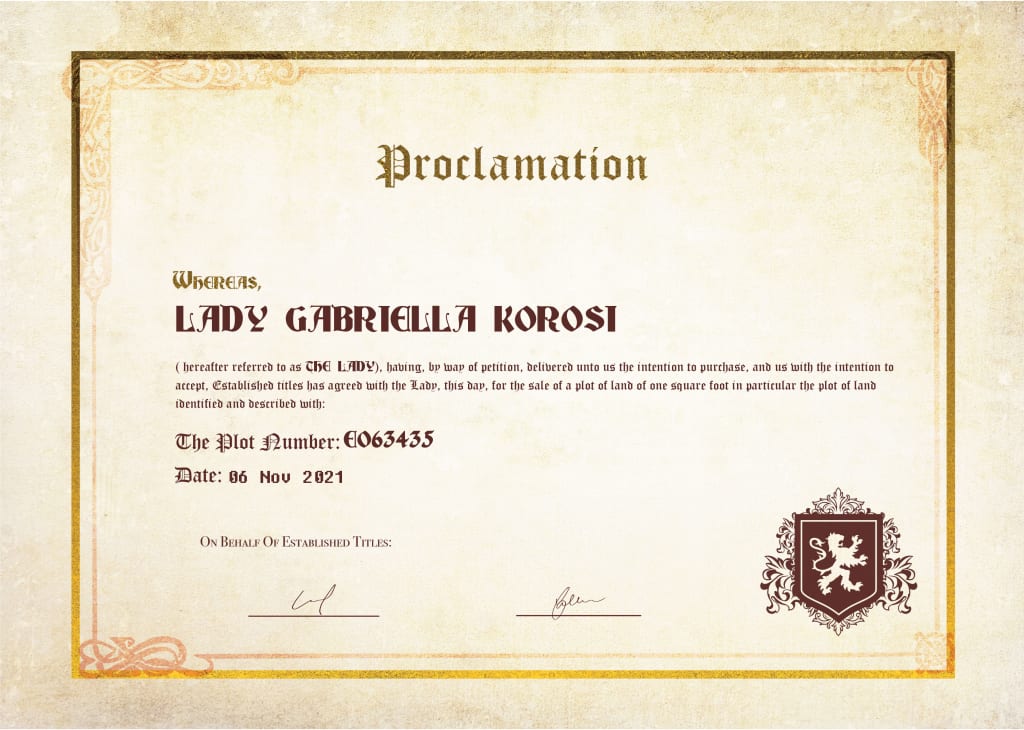 Proclamation with plot number image by Gabriella
I love trees. Planting them, taking care of them, watching them grow.
It all started at the beginning of November 2021. I was browsing on the Internet and was thinking about a birthday present for a friend. She is part Scottish, she recently moved but I know that she didn't want any "stuff". I was trying to come up with a present that is meaningful and fun. I came upon a place that was saying that you can plant a tree in Scotland. It was part of a reforestation effort.
The idea was that you buy a square foot of land in Scotland that can never be sold again, and they planted a tree in your name. With the land also, the title of becoming a Lady. I love trees and reforestation. I believe that her environment is essential for survival. I plan three days every chance I get. I had planted hundreds of trees in my life. I plan to plant many more.
When I saw this opportunity, it was truly speaking to my heart. I thought this was a great present for my friend and I decided to be also part of this present and get myself a square foot of Scotland as well to plant a tree in my name that helped the reforestation. After I purchased the land and the trees, I have received an email with both my friends and my plot coordinates where the tree will be planted and to certifications of becoming a Lady.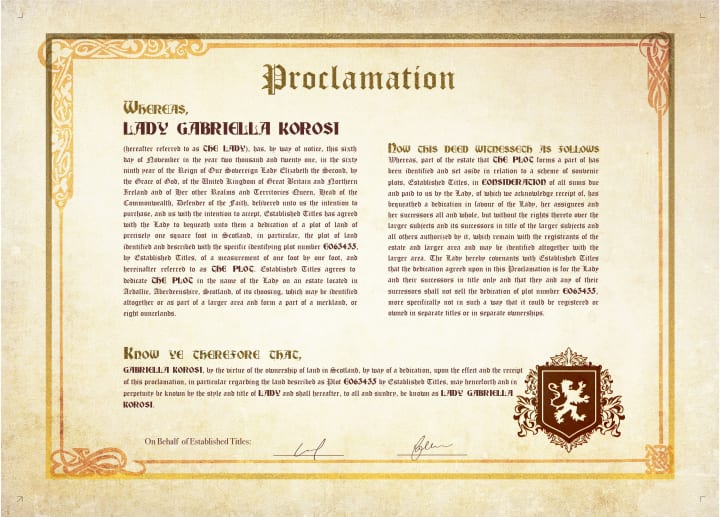 I was not sure at first if I want to use the title. I saved the certificate on my computer. I printed it out for my friend and framed it and give it to her on her birthday. I also printed out the coordinates and the picture of her piece of Scotland.

On her birthday she was excited to get this present. I am hoping that one day we will be able to visit the plots and Scotland and see a beautiful forest. My friend was telling me that this is a great present and she's going to make her brother call her Lady from now on.
It took me about a month to think about this and then I decided that I'm going to use the title. I am very proud that I was able to purchase a piece of land in Scotland and plant a tree. It was a bonus that it came with the title. I think this will be a story that people will ask me about.
By sharing my experiences, I am hoping I can raise awareness about the importance of planting trees, rebuilding forests, and taking care of our environment. I do not have any Scottish heritage that I know of, but it does not matter. What matters is that there have been trees planted in the reforestation began.
Trees are wonderful creations; I simply love them. Trees make me feel good. They make me smile. Trees also have a mental health benefit by creating chemicals that help our brain relax. Trees make us feel good. I touch a three every time I can. I am grateful for trees and thank them for being here for us. Please take carbon dioxide from what we exhale and send out oxygen to what we inhale. They are a part of us, and we are part of them. It is an unbreakable cycle that we want to honor and support by taking care of our trees.
Please plant the tree when you can.
I was encouraged by a friend to write the story. I want to say thank you, Dr. Preeti Singh .
Thank you for reading,
Gabriella
Dancing Elephants Press November 2021. All rights reserved.
short story
About the author
I am a writer, public health professional, a nurse. Creator of connections, spreading positivity. Interests: health/spirituality/positivity/joy/caring/public health/nursing. My goal is to create positive change.https://gabriellakorosi.org
Reader insights
Be the first to share your insights about this piece.
Add your insights