Greta Thunberg gets into Glasgow spirit in singsong with locals during Cop26 visit
The teenage activist is in Glasgow for the Cop26 climate summit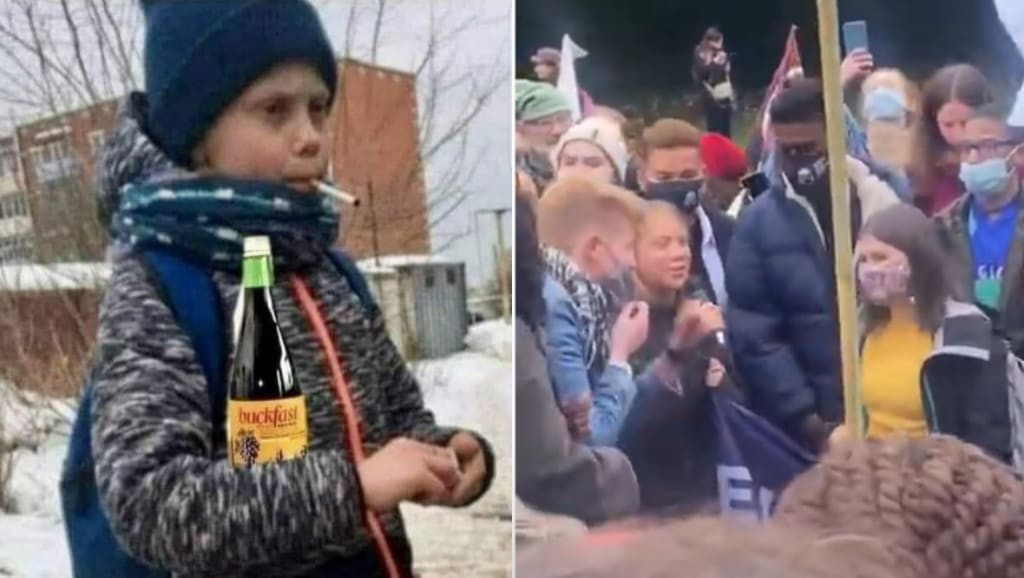 Greta with friends in Glasgow.
Greta Thunberg never wasted anytime in getting into the Glasgow spirit and she showed this when she was filmed singing 'shove the climate crisis up your a***' to the tune of Scottish favourite 'ye canny shove yer granny aff a bus' during Cop26 in a Govan park this week.
The eight teen year old activist had only been in Scotland for less than 24 hours before she found herself in Govan's Festival Park in the southside of the city with a group of friends on Monday pushing for 'climate justice'.
A large crowd had gathered to see the tiny Swede in what was dubbed a snap student march against climate change.
Thunberg had only arrived in the city a night previous when she was pictured arriving at Glasgow Central Station at around 10 o'clock on Sunday to attend the first day of the Cop26 climate change summit.
US President Joe Biden, actor Leonardo Di Caprio, celebrity environmentalist David Attenborough, Prime Minister of India Narendra Modi, German Chancellor Angela Merkal, Italian PM Mario Draghi, French President Emannual Macron and the Prime Minister of the United Kingdom Boris Johnson are also all attending the event which is being held at the Scottish Exhibition Centre in Glasgow for the first two weeks in November.
Scotland's First Minister Nicola Sturgeon will also be in attendance, as will representatives from the British Royal Family and the Vatican.
However both the Queen and the Pope have had to pull out following health issues meaning they couldn't attend.
But teenage Thunberg was of course in attendance and never wasted any time in making herself at home with the locals.
After a typically hair raising speech in front of hundreds on Monday afternoon the climate change warrior delighted the crowd with a rendition of "you can shove your climate crisis up yer a*se", sung to the tune of Scottish classic "you can throw yer granny aff a bus".
After being shared on Twitter later that day it picked up thousands of likes and millions of views after being shared by none other than Greta herself - who retweeted it to her five million followers saying "When in Scotland".
And some of the people couldn't believe what they were seeing with several wondering if they are having a fever dream and others wondering why "nothing has been normal since 2019".
The mini activist with the big green heart was also spotted at Partick Train Station the next day as she made her way to the conference.
Speaking to the Govan crowd in Festival Park she also told world leaders, who were attending the climate summit a few hundred yards away before enjoying a banquet at Kelvingrove, that there should be "no more blah, blah, blah".
Reacting to the video on Twitter @weecammymac said "wit the hell hahaha" and @QuinnEimmi wrote: "I am still not over this".
Others couldn't believe she was in Govan.
@PietroBenito said "Greta Thunberg cutting about Govan has made my life" and @Greymc wrote "Greta has been in Glasgow for five minutes and she's already in a park in Govan chanting, never change Glasgow."
@Hollyannmills was clearly enjoying it, she wrote: "I must have watched this video about thirty times today ha hah ha." as was Kim McCaskill who wrote: "There's wee Greta embracing the Scottish culture like a wee hero. Love this!"
Joanne Marshall Tweeted: "She is so cute, I love this." and @Gvanmck wrote "The kids are alright, good to see Greta mingling with the Govan Young Team, they will change the world."