Will Boeing Remove Chinese Fake Critical Parts for Safety?
The FAA did not act upon the new complaint.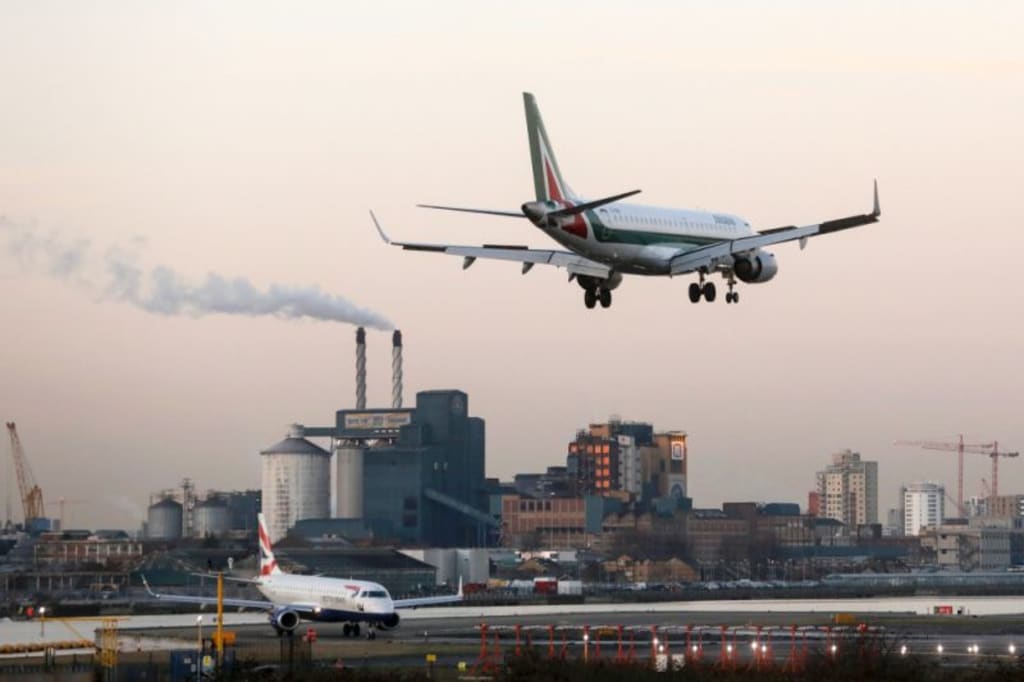 The picture is used to illustrate ONLY.
A petition is launched for the criminal investigation.
The FAA committed a crime to knowingly and willfully give "materially" false statements to Congress concerning a scam of massive Chinese counterfeiting Boeing safety parts.
The FAA committed also a felony covering up the Chinese counterfeiting and the American fraud.
Whiledenying the fact,Boeing bails criminals out.
Will Boeing remove fake safety parts from its planes? The answer seems to be NO!
Despite numerous cited instances that fake Boeing 737 spoiler SPOFs were already cracking that caused incidents/accidents, Boeing and the FAA simply sought to deny and minimize the safety concerns raised.
----------------
The past FAA investigations were deceptive because of the FAA's knowingly cover up and abusive investigation process. As the exclusive whistleblower on the matter, I filed a new complaint on 2018-10-31 to the FAA safety hotline requesting the FAA to re-open the investigation based on new compelling evidence submitted.
New Complaint Filed on 2018-10-31

The FAA officially assigned a case number to the new complaint.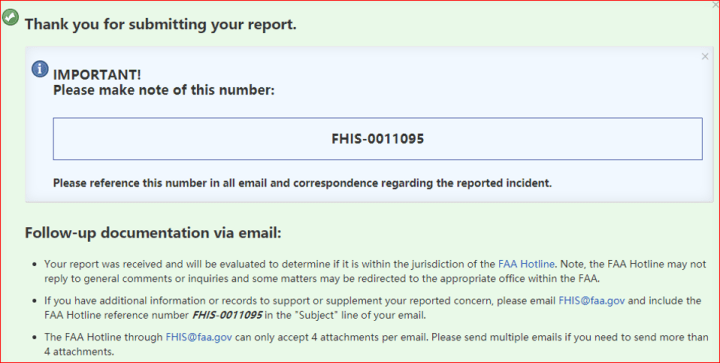 Sender: chaosheng shi
Time of Sending: 2018-10-31 16:27
Recipient: 'faahotline' <[email protected]>; '[email protected]' <[email protected]>
Copy: 'jen.adler' <jen.ac at mail.house.gov>; 'derek.herson at mail.house.gov' <derek.hderson at mail.house.gov>
Subject: Re-file a complaint on the matter of massive counterfeiting Boeing plane safety parts
FAA safety hotline, OIG hotline,
This is to re-file a complaint referring to the FAA Case # EWB 16590. I hereby request:
1. Immediate action that the FAA pass related information to law enforcement agencies for criminal investigation.
2. The FAA's order of Airworthiness Directive ordering Boeing and Moog Aircraft remove all SUPs made by the Chinese supplier -NHJ ASAP.
A OneNote file with key exhibits shall be forwarded to you by separate email. (Action Done)
Reasons for Request:
I, Charles Shi (Chaosheng, a Chinese national), worked as East Asia Supply Chain Manager of Moog Aircraft from 2006 for 10 years. Since January 2016, I acted as an FAA whistleblower exposing a massive Boeing safety threat concerning made-in-China OEM counterfeit safety parts knowingly installed by Moog Aircraft on the flight control systems of some 500 Boeing planes, mainly on B737 and B777.
In the past investigations,the FAA knowingly refused to refer the matter to law enforcement agencies both in US and China for criminal investigation in spite of objective and compelling evidences submitted that included Moog internal memos, transcripts of corroborative witness statements of tape recordings indicating that the matter was not only an massive organized counterfeiting crime but also a criminal cover-up operation.
When responding to US Congressman's inquiry, the FAA lied again and upheld its previous position which was extremely erroneous and misleading. Here are some fact checks:
1. FAA did not conduct any independent investigation, not to mention a thorough one.
2. My job was wrongfully terminated abruptly in January 2016, so I did not keep with me much of the material and critical evidence in the form of Moog internal memos. After the FAA closed its last investigation by November 2016, Moog released to me 120 internal memos which supported and evidenced each and every of allegations completely ignored or distorted by the FAA in the past.During the past FAA investigation process, Moog either concealed the material evidence or the FAA investigator knowingly ignored them. This was one of the reasons FAA filed its erroneous and misleading reports. Some key Moog memos are embedded with this complaint to support my request.
3. The FAA did not even talk and verify allegations with any listed witnesses both inside and outside Moog on such an unprecedented OEM counterfeiting crime. The FAA decisions were not based on fact and truth.
4. The 2 violations substantiated are much worse and fatal than what the FAA "concluded."
5. Exclusive findings by an independent US journalist are included in the new evidence that indicated forgery on non-existent GMT material lots. The finding could possibly lead to uncovering the biggest violation compromising some 500 B737 planes now in service.
6. Moog internal suspect was motivated to receive kick-backs from Chinese suppliers. He registered a US shell company in 2015 for the purpose of it.
7. Moog top executives leaked my FAA whistle blowing information to the internal suspect endorsing his collusion with the Chinese counterfeiter-NHJ on tampering and destroying evidences. This allegation should have been referred to the FBI for a criminal probe. However, it was knowingly rejected and covered up by the FAA investigator.
Latest fatal accidents of Boeing 737 planes should serve as a wake-up call for action!
In recent months, there were three incidents/accidents concerning B737-800 skidding off runways. These accidents/incidents might have something to do with the failure of Moog flight control system or the fake block of spoiler made in China. Moog is the exclusive supplier B737 spoiler and NHJ has been the exclusive supplier for the single point of failure(SPOF) of Blocking of 737 spoiler since 2015 for two years.
The massive crime brought by the verified Chinese counterfeiting supplier can not simply be covered up. Therefore, the request for criminal investigation and removal of all SUP's is submitted.
I wish to be contacted for questions and verifications ASAP.
Sincerely,
Charles Shi
--------------------------------------
More than three months went past and nothing happened, I wrote to the FAA safety hotline 2019-1-25 requesting the FAA to answer if they were acting upon my new complaint.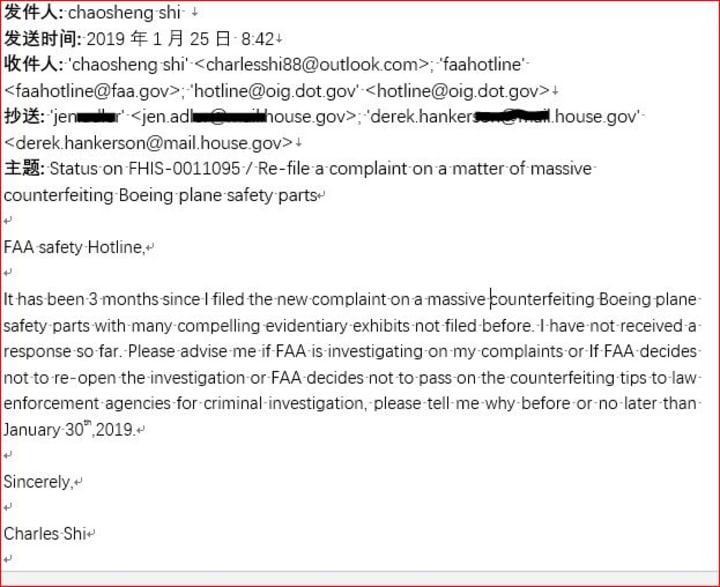 Sender: chaosheng shi
Time of Sending: 2019-1-25 8:42
Receiver: 'chaosheng shi' <[email protected]>; 'faahotline' <[email protected]>; '[email protected]' <[email protected]>
Copy: 'jen.adler' <[email protected]>; '[email protected]' <[email protected]>
Subject: Status on FHIS-0011095 / Re-file a complaint on the matter of massive counterfeiting Boeing plane safety parts
FAA safety Hotline,
It has been three months since I filed the new complaint on the massive counterfeiting Boeing plane safety parts with many compelling evidentiary exhibits submitted. I have not received a response so far.
Please advise me if the FAA is investigating on my complaints or in case the FAA decides not to pass on the counterfeiting tips to law enforcement agencies for criminal investigation, please tell me why.
Your response is expected before or no later than January 30th, 2019.
Sincerely,
Charles Shi
--------------------
The email went unanswered. No doubt, the FAA is determined not to act upon the new complaint and the cover-up goes on.
The public is outraged by the inaction of the FAA:
The only thing that amazed me is the fact that documents from Moog executives clearly indicate that the Chinese suppliers can't be trusted, and yet Moog still wants to do business with them.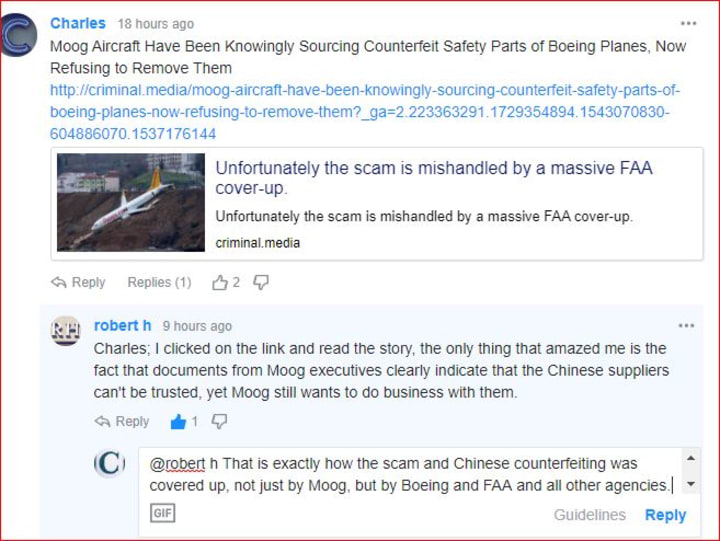 The public concern is exactly why the Chinese counterfeiting has been denied and covered up not only by Moog, but also by Boeing, the FAA, and other agencies.
The FAA is supposed to make sure that all aircrafts meet stringent safety requirements. However, shutting down criminal investigations, smearing and retaliating against the very people speaking out has become "the normal way of doing business" at the FAA, Moog, and Boeing.
The FAA once made it clear to media that final responsibility of safety rests with the companies. "Safety in aviation first and foremost rests with the manufacturers, not the Federal Aviation Administration. Courts have made that clear."
So who's policing counterfeit airplane parts?
Although noted in its report that evidence suggested a "systemic weakness in FAA's process to evaluate safety issues brought to the agency's attention, Inspector General of Department of Transportation refused to launch a criminal investigation on the massive Chinese counterfeiting and US Cover-up. Therefore, even the Watchdog IG refused to do its job!
Moog acted to be above the law while Boeing controlled Moog what to do in dealing with the scam.When journalists approached Moog to verify facts concerning the scam, they were told:
Moog will not let anyone discuss without Boeing's permission.

What Boeing has been doing is to deny, defend,deflect. In front of bombshell and compelling evidences, Boeing was still cheating journalists that:
There was nothing wrong with the 737 parts ...
Unlike design defects which can be modified or reworked, fake and bogus metal on planes does not last and must be removed to ensure the safety. Boeing planes are not designed to fly for two months or three years.
Instead of taking legal action, Boeing was lying and smearing this justified whistleblower of disclosing to the public the extraordinary safety threat as:
Irresponsible and potentially libelous
Boeing's vicious smearing is meant to cheat journalist and flying public.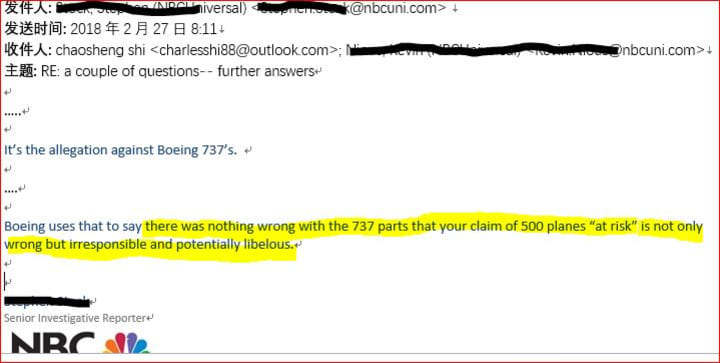 Boeing would spend big money retaliating and persecuting its own whistleblowers instead of taking action to correct safety issues. Mr. Gerald Eastman, the Boeing last inspector, was almost put into prison for speaking out the truth.
If Boeing does care about the safety of flying public, they must take action to remove the counterfeit safety parts NOW, not waiting for fatal accidents to happen or until being sued!
But it is clear that Boeing is determined to leave the fake safety parts on board to save money. The Boeing inaction puts the flying public in harm's way.
Flying public and news media, please join me in crying out!
Media contact at: