Ugly Full Story Behind 38 Yr Old Businessman Sentenced to Life Imprisonment
"Where is the defendant's humanity and moral compass?"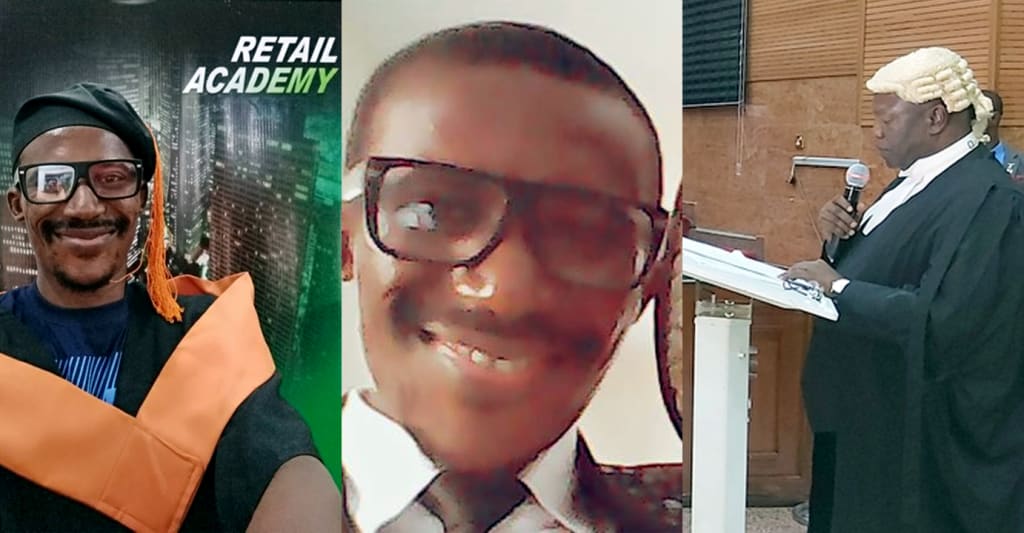 Life imprisonment - that is a big charge! After being sentenced to death, the next worst punishment a person can receive from the court is life imprisonment. So, whenever I hear that a person has been sentenced to either death or life in prison, my ear perks up and I'm very curious to find out WHY exactly.
In the case of 38 year old Ofure Siakpere, a businessman based in Lagos, the case is very ugly and uncomfortable to read. Even through the most horrendous parts of this case, please remember that justice has been served and Ofure will spend the rest of his life in prison for the crime he committed. Without further ado, I hope you're ready... here is the ugly story behind the 38 yr old businessman sentenced to life imprisonment.
**Before reading on, please make sure to like and follow my Facebook page (Jide Okonjo) so you don't miss out on any new and interesting lists, articles, and stories that I post every single day. I have a really fun page. If you like my page, you will have fun too. So what's stopping you? Like my page and let's have fun together!
What Happened?
According to the lead state prosecutor of the case, Funke Adegoke, Ofure Siakpere around March 2018 defiled, raped, and IMPREGNATED his 14 year old IN-LAW!
The offence happened at his residence, No. 10 Salaudeen Imam Street, Lagos. The defendant was 35 years old at the time.
According to the young girl whose name was withheld for her privacy, Ofure overpowered her and defiled her on AT LEAST 15 occasions. Ofure at the time was MARRIED and lived with his wife who happens to be the young woman's aunty.
According to the young girl, whenever she would refuse his advances, he would beat her up. The abuse continued repeatedly until this young teenager became pregnant. At the time of her testimony in court, she had given birth.
During the case, Ofure and his wife Adebimpe Siakpere, the girl's aunty, both testified against the young girl claiming that Ofure was innocent and that the young girl's allegations were false.
Finally, after hearing everything presented, the presiding judge, Justice Abiola Soladoye sentenced Ofure to life imprisonment after finding him guilty of a charge of defilement contrary to Section 137 of the Criminal Law of Lagos State 2015.
While giving her sentence, the judge said some words that perfectly capture my sentiments about this case and the horrendous actions of the defendant.
The Judge's Words
While delivering her judgement, Justice Soladoye described the young girl's witnesses as "compelling and convincing", saying:
This is contrary to that of the defense which was rather shallow and full of fallacy. The evidence of the defense witnesses were merely self-serving.

The defendant maltreated the victim (his wife's niece) by defiling her. The conduct of this so-called in-law is hurtful and demeaning. Where is the defendant's humanity and moral compass?

This case is a reflection of sexual lawlessness that occurs within the family circle. The defendant must be duly sanctioned in the hope that this will serve as a deterrent to others to not toe the line of sexual misconduct.

The defendant Ofure Siakpere, is hereby sentenced to life imprisonment with no option of fine. His name shall also be registered in the Sex Offenders Register as maintained by the Lagos State Government
Justice Soladoye also advised parents to stop sending their children to stay with relatives advising that they should plan their families by giving birth to the number of children they can afford.
This man has now made a child bring another child into this world. The young girl that is just in the middle of sorting out her own life is now supposed to look after another child. This is such evil that is even made worse to me by the fact the girl's own aunty, Ofure's wife, sided with him in the court of law. Haba! Wasn't the pregnancy evidence enough for her? What kind of loyalty was she being loyal to not only overlook this kind of abuse but come and defend it in court? Ha! The wickedness in this world sometimes shocks me.
What do you think about this story? Please let me know your thoughts by leaving a comment on my Facebook post.
That's All.
I hope you've had fun. Don't forget to like my page (Jide Okonjo) if you don't already for more stories like this, the fun never ends.
To catch up on other content you might have missed, click here.
Until next time, have a wonderful rest of your day.