U.S. And China Must Strengthen Cooperation To Combat Counterfeiting
Massive Counterfeiting Of Boeing Safety Parts was Still Covered Up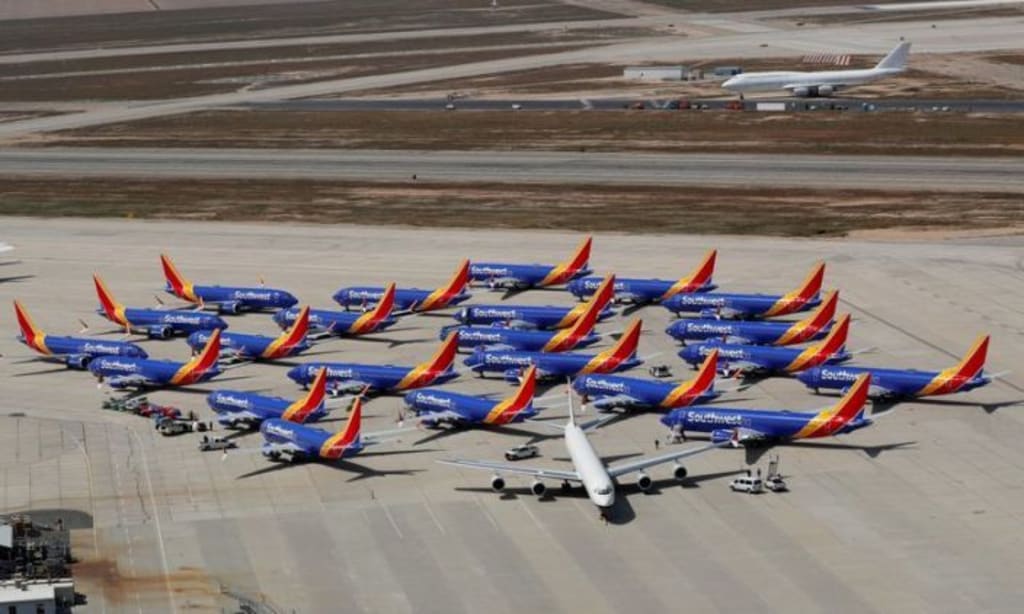 U.S. and China trade agreement signed on 2020-01-15, Article 1.19: Counterfeit Goods with Safety Risks
1. The Parties shall ensure sustained and effective action to stop the manufacture and distribution of counterfeit products with a significant impact on public health or personal safety.

2. Measures China shall take include significantly increasing the number of enforcement actions within three months after the date of entry into force of this Agreement,

3. The Parties shall endeavor, as appropriate, to strengthen cooperation to combat counterfeit goods that pose ...safety risks.
A massive counterfeiting Boeing safety parts of 737 has been covered up!
Moog Aircraft has knowingly concealed and denied to disclose extremely critical information concerning the Chinese supplier NHJ verified massive counterfeiting and the disturbing Moog criminal collusion and cover-up.
A petition is submitted to Administrative Review Board(ARB) of U.S. Department Of Labor for re-consideration of it wrongful final decision and order on a 2017-0072 Shi v Moog Aircraft complaint concerning a massive counterfeiting Boeing safety parts.
Below is a motion for ARB to compel disclosure of information filed 2020-1-17

UNITED STATES DEPARTMENT OF LABOR ADMINSTRATIVE REVIEW BOARD
____________________________________________________
In the Matter of
CHARLES SHI,
Complainant
v. Case No.: 2017-0072(AIR)
Filing Date:2020-01-17
MOOG INC., AIRCRAFT GROUP,
Respondent.
____________________________________________________
MOTION FOR ARB ORDER TO COMPEL RESPONDENT TO DISCLOSE INFORMATION
In view of the matter of extremely serious flying public safety, latest growing checklist of Boeing issues, in consideration of this Complainant's petition filed 2020-01-15 for ARB to re-consider its final decision and order, I (Charles Shi) submit this Motion for ARB to order and compel Respondent to disclose information on an extraordinary ground.
The Respondent, throughout Air21 legal action since 2016, has knowingly concealed and denied to disclose extremely critical information concerning the Chinese supplier NHJ massive counterfeiting and the disturbing Moog collusion and cover-up.
For the purpose of uncovering the massive counterfeiting and criminal collusion in order to facilitate the long overdue joint U.S. and China re-investigation by the FAA and law enforcement agencies, following information should and must be disclosed to ARB and Complainant.
1. Any and all checklist or files used by Moog SQE Ms C. Starzak to audit and approve Suzhou New Hongji(NHJ). Ms. Starzak was suspected using a non aerospace process" instead of following Moog standard supplier audit and approval process failing to capture the complete loss of material traceability at NHJ at the very beginning.
2. Any final investigation report in 2015-2016 by Ms. Starzak or Moog that contained a conclusion and decision on alleged NHJ counterfeiting except Ms. Starzak's declaration. The Moog designated investigator Ms.Starzak or Moog was suspected not having a final investigation report on the complaints raised by this complainant between August,2015-January,2016.
3. Any of Moog final corrective action reports on NHJ complete loss of traceability. Moog was suspected of not taking any corrective action to eradicate NHJ loss of traceability.
4. Any and all of GMT as well as of NHJ material certificates on Boeing part number P665A0039-02, the SPOF block of 737 spoiler, particularly copies of following GMT lot number material certificates. NHJ was caught counterfeiting 3 GMT lots of raw material for the SPOF.
 GMT lot number SE0583B3-12
 GMT lot number SD1850B2-10G
 GMT lot number SB2881C2-11
 GMT lot number SC282A5-10G or GMT lot number SC2828A5-10G
5. Any and all raw material certificate bearing NHJ company logo used to produce and ship Boeing parts to Moog, or any raw material certificates used by NHJ for parts delivery to Moog. NHJ is suspected using raw material certificates bearing its logo which are all falsified.
6. Moog powerpoint presentation of the raw material certification, dated September 7th,2016 mentioned in Exh E FAA report P.11
7. The Moog Supplier quality Engineer's raw material Certificate of Conformance traceability summary audit report dated 02/09/2015.
8. Any and all emails between August 7th 2015 till January 13th,2016 sent to or copied to this complainant by Mr R. Rong, the SDE reporting to me. One email by Rong contained very critical information regarding a list of NHJ outsourcing 11 Boeing part numbers. This email is particularly sought.
9. Any and all emails or writing communications between Moog and GMT clarifying material facts between August 8th,2015 till December 30th, 2016
10. Moog declaration on how and who informed Mr. J. Zou of Mr. Charles Shi whistleblowing to the FAA between January 12-14,2016.
Again, for the sake of removing a massive Boeing safety threat and for the good of public safety, I sincerely appeal ARB can order and compel the Respondent to disclose above vital and critical information even before my petition for re-consideration is reviewed.
Sincerely
Charles Shi
Dated: 17/01/2020
____signed electronically_____
Chaosheng Charles Shi
CERTIFICATE OF SERVICE
I hereby certify that on January 17th ,2020, I electronically filed the Motion via EFSR and send by email the foregoing Motion to order and compel to Ms D. Broome the paralegal specialist of DOL Administrative Judge Morris, and Respondent Moog counsel:
J. Copeland
R. Lane
W.Ciszewski
//s// Chaosheng Charles Shi
_____signed electronically_____
Chaosheng Charles Shi