The Woolfolk Family Axe Murders
A horrific axe murder true-crime story that no one knows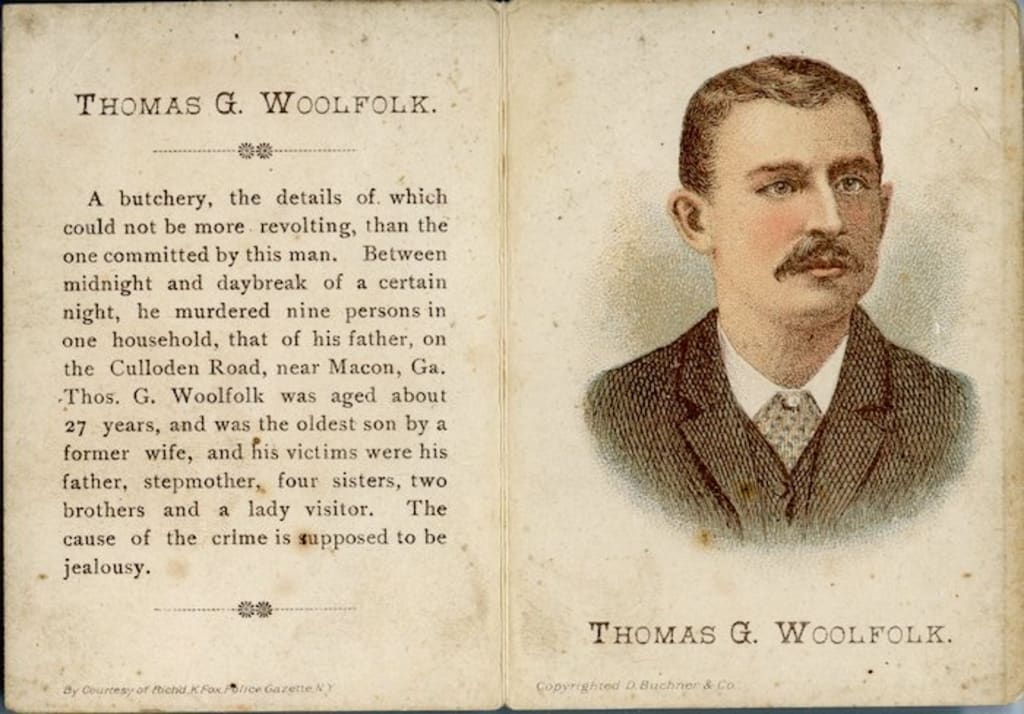 While most people that read about true crime or listen to true crime podcasts know of the infamous unsolved 1912 Villisca axe murder case in which the entire family and two young neighbor girls were all brutally slain. Most true crime enthusiasts have never heard of the "Woolfolk Family Murders" that happened in Georgia, 1887. This was a brutal and shocking crime of the time which also included an entire family being slain in one night by an axe as well. The difference being that this murder was solved, and the murderer was executed for the awful crime.
The Woolfolk (pronounced Wuhl-fork) family murder case happened in the Bibb County, Georgia area which is about 12 miles west of Macon. The brutal axe murder happened on the early morning of August 6, 1887, estimated reports put the murders occurring probably between 2 am and 4 am. The entire household of the Woolfolk family were all brutally wiped out with an axe before dawn that morning by one of their own.
Thomas G. Woolfolk was born on June 18, 1860, in Bibb County, Georgia. He was born to Susan Moore and Richard F. Woolfolk in a farmhouse located on his father's large cotton plantation. Records show that the family resided on about 867 acres in total off of a Thomaston Road. This would also be the same farmhouse that his entire family would eventually be murdered in. Tom was the third child and only son of his parents. Sadly, his mother Susan died not long after Tom's birth and him and his two sisters were sent to live with her sister in Athens, Georgia.
Tom's father was a moderately successful businessman and landowner. Tom's father, Richard, ended up getting remarried in 1867 to Mattie Howard. Tom soon moved back to his father Richard's farmhouse and lived with him, and his new stepmother Mattie and it wasn't long until his father had started a new family and eventually went on to have six more children with Mattie. Tom Woolfolk was said to have hated his stepmother Mattie, and it was said that he was not only jealous of, but also disliked his new brothers and sisters. Tom believed that his new brothers and sisters stood in the way of him eventually inheriting his father's properties, plantation and money.
Tom was married at one point during this time to a young woman named Georgia Bird, but their marriage only lasted about 3 weeks. She later said of Tom "he was not crazy; it was just simple meanness." "He is the meanest man I ever saw, and there is nothing too mean for him to do." Those that knew Tom said that he was quarrelsome, sharp, cunning, and noticeably deranged.
On that early morning of Saturday, August 6, 1887, nine members of the Woolfolk family were all found brutally murdered with an axe. The murder victims included Tom's father Richard 54, Tom's stepmother Mattie 41, their six children, Richard Jr. 20, Pearl 17, Annie 10, Rosebud 7, Charlie 5, and baby Mattie only 18 months. Mattie's aunt Mrs. Temperance West, 84 was also murdered. In fact, ALL of the home's residents were all murdered by an axe except for one, Tom Woolfolk.
Before dawn, Tom ran to neighbor's homes and yelled for help. He told them that all of his father's family had been killed, and he was only alive due to him escaping the house from a back window. Tom quickly returned to the home before the neighbors and authorities arrived. He later claimed that during this time, he had moved from room to room to make sure everyone was dead, and while he was checking he heard the unknown killers exit through the back door and slamming the door and gate behind them. He then said that he washed himself and threw his blood-stained clothing down the well.
Of course, suspicion understandably immediately centered on Tom, it was documented that he still had specks of blood in his ears, a bloody handprint on his leg, and he showed no emotion over the tragedy and was said to have acted more apprehensive than grief-stricken following the horrific murders. Within hours several thousand people had rushed to the Woolfolk family home and the coroner's inquest was held on the spot.
It was found that there was no evidence of forced entry, and no items nor money were reported to be missing. No one believed Tom's story of how he was the only one that survived the attack. It seemed extremely unlikely, and the coroner's jury soon concluded that all the evidence clearly showed Tom as the murderer. The sheriff took Tom quietly to the jail before releasing the coroner's verdict to keep the angry crowd from possibly immediately lynching him on the spot.
There was immense newspaper coverage in Georgia, and it even made the front page of the New York Times the next day. As was the style at the time, the press coverage was sensationalistic and the press soon nicknamed Tom as the "Bloody Woolfolk". The case became the most publicized in the state of Georgia at the time. Newspapers reported that it was the bloodiest and displayed "a deeper depravity" than any other crime ever committed in the state of Georgia.
Tom was soon indicted on nine counts of murder, but he was only tried for the murder of his father. The trial began on December 5, 1887 and was wrapped up 10 days later on December 15, 1887. It had only taken the jury twelve minutes of deliberation to convict him as guilty and he was sentenced to death the same day. However, the Supreme Court of Georgia ended up granting Tom Woolfolk a new trial since the original trial had permitted some damaging but inadmissible testimony. The retrial also permitted Woolfolk to have a change of venue from being tried in Bibb County where the murders had also taken place.
The retrial was moved to the courthouse of Houston County in Perry, Georgia and was held on June 3, 1889. They sentenced Tom to death again on June 24, 1889 after only forty-five minutes of deliberation. At both trials, Tom Woolfolk made an unsworn statement denying any guilt to the murders. However, looking at all the evidence at both trials all of the evidence pointed to Tom Woolfolk most definitely being the guilty axe murderer.
Tom Woolfolk was finally put to death by hanging in front of over 10,000 people on October 29, 1890 in Perry, Georgia. While on the hanging scaffold, Tom's last words were again to profess his innocence. He was later buried in Orange Hill Cemetery in Hawkinsville next to one of his sisters. His grave has been repaired after being vandalized several times and it is said to be nearly illegible now. Tom's murdered family members were all buried in a large family plot at Rose Hill Cemetery in Macon, Georgia.
incarceration
About the author
An avid, lifetime reader of non-fiction, true crime, horror, sci-fi, history, classic literature and more. An amateur writer finally taking time in my life to write.
Reader insights
Be the first to share your insights about this piece.
Add your insights