The Unsolved Abduction of Andy Puglusi
Where is he?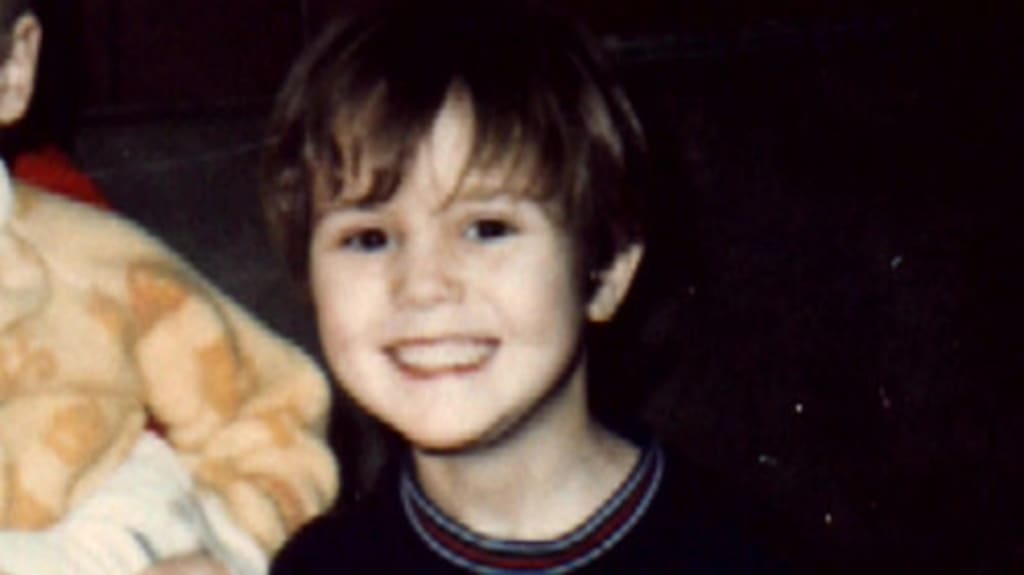 Andy was born September 2, 1965, in Lawrence, Mass, just 20 miles out from Boston. Lawrence wasn't known for being the greatest place to live in Mass, but from all accounts, Andy was a happy, easy-going kid. The housing project he grew up in was home to around 300 other children who all sought relief from the summer sun in a nearby pool. Admission at the time was only 25 cents, so it was often bustling with numerous children. Unfortunately, some very unsavory characters were there, on the 21st of August, 1976; the day Andy went missing. From reports, it was well over 90 degrees in Lawrence that day, so Andy, along with his close friend Melanie Perkins, and numerous other children were looking for a way to cool off. Sometime during that day, someone made it off with Andy.
It was clear from the start that this was going to be a huge investigation. For six straight days troops from the National Guard, and Green Berets searched all around Andy's neighborhood in search of him, or any clues that would lead them to him. Truckers with CB radios, and neighbors concentrated their efforts as well. Cadaver dogs were brought out to local city dumps not far from the pool Andy was last seen and scuba divers dragged the Shawsheen River. In all, over 2,000 volunteers pitched in. Nothing was found.
As time passed, the close friend we spoke of before, never gave up hope. Melanie Perkins said before, even when she was just a kid, that she'd find Andy one day. At the time, 1965, they were close friends and she even said she had a crush on him. That's why she initially asked him to walk her home, but he'd declined wanting to stay at the pool a little while longer. When Melanie grew up she decided to pursue filmmaking, and her first film was going to be about her search for Andy; a film that would go on to win an Emmy. During the filming process Melanie opened a PO Box for anyone who wanted to submit tips anonymously. This would prove to be quite effective.
Two young men, Alan and Tony, contacted Melanie with information. The three of them met in October, of 1994 at the fields near South Lawrence East School. While the lot itself seems to be nothing that remarkable, it was just downhill from the pool where Andy was last seen, and just across the street from his housing complex. Back in 1965 it wasn't developed. From the article, "this was an abandoned municipal dump with mounds of sand and refuse fringed by a thicket of woods." According to the two men they'd seen something incredibly strange, around a year or two after Andy vanished.
"Sometime after Andy's disappearance, maybe a year or two, a friend and I were walking through [the woods] and came upon a hole that wasn't there the day before or so before, about 4' deep and long enough for a child." A little further down Tony states, "The weird thing is the way the hole was dug. It was perfectly rectangular, with a flat bottom, and flat, even walls. It was like something had been removed from it-like a chest, or a crate, or maybe a coffin."
Alan, who was Andy's age at the time, picked up where Tony stopped and said, "I jumped down inside it and it was long enough to lie in. It was creepy." The article then states the young man knew of the rumors and speculation about Andy having been buried in the woods and claims to have seen a bent chrome bicycle not too far from the hole. Following this, the two ran from the woods, all the way home. They never came forward with this info until they heard about the film being made. The strangest bit from their story though is the claim that the hole was later filled. Alan said, "Two days later, we went back and the hole was completely gone. Somebody had filled it in."
It's hard to imagine what police could have gathered from the hole, even if the boys would have come forward. Andy went missing in 65'. DNA evidence wasn't introduced for another 20 years. Many men have been interviewed over the years, given it was determined Andy was abducted, and had not ran away. There was an obvious focus of sex offenders, and pedophiles but one of the first men that Maline spoke to was Gary Thibedeau. Gary was a highschool dropout with an extensive record of drug and alcohol abuse. Melanie's interview with him was short lived but in it he explained that he never got involved with children in the manner that she was hinting towards. He also stated that he'd hadn't aided in the search because he didn't want to get in the way. As of 1999, he's still a suspect.
There was another man who was suspected of abducting Andy; Charles E. Pierce. The lead came the same year the report from Alan and Tony; 1999. Charles, according to an article from The Boston Globe, had somehow fallen through the fingers of police at the time. From the article, "In a memo dated April 4, 1989 Captain Joseph Fitzpatrick, then head of the Lawrence detective division, relates a phone conversation with Trooper Joe Flaherty, working for a special investigations unit in Norfolk County, is dying and wants to confess a crime in Lawrence."
The article states the memo said the man wanted to confess to taking a young boy's life in Lawrence, in the 1970's. For reasons unknown, the interrogation was never conducted. Some investigation into Charles showed that he was raised in l; no more than 20 minutes from Lawrence. He also worked as a dishwasher at Captain Chris' Seafood where Andy and his family frequented. Furthermore, Charles was known to help set up tents and rides at the Topsfield Fair where Andy attended often. The final correlation were the reports that Charles was known to drive a large, black van. Many reports claim a large black van was seen the day Andy went missing.
On top of all this, Charles, at the time, was serving 20 years for taking the life of a 13-year-old girl from Boxford; a location 20 mins from Haverhill, and around the same distance from Lawrence. The details of that case are far too graphic to talk about here. Melanie attempted to talk to Charles at the time, but all her letters went unanswered.
One more man who was a person of interest was Wayne William Chapman. Wayne, according to a 1999 article, wasn't known to use drugs or cause much trouble but in 1976, police announced that they believed, though they could not prove it, he was part of Andy's abduction. The connection begins in 1964; a year before Andy's abduction. That year Wayne lured, and abducted two young boys from the pool where Andy was last seen. He assaulted the two boys, and at the time of this article, he was serving a 15-30 year sentence. Melanie attempted to talk to him directly but he refused. He would go on to give an interview but it was only with The Boston Globe, and it wasn't filmed.
From the article, "He admits he was in Lawrence at about the time Andy disappeared. But he says he just happened to pull off the highway in a place he later learned was Lawrence. He went to a drug store in a shopping plaza and got right back on the highway after a brief stop. He claims he never saw the pool or Andy, and he spent no other time in the city. He was living in Providence at the time." Melanie's investigation into Wayne uncovered that he'd been arrested in New York 2 weeks after Andy's abduction for driving a stolen, dark blue van. Inside the van, police discovered a starter pistol, pornographic magazines, photos of children, a bloody sock, and a tape Wayne recorded himself. The tape was Wayne recounting various things he'd done to children, or fantasized about.
This dark blue van, some believe, is the "black" van that some had reported seeing the day Andy went missing. Blood tests were done on the sock but according to the article the results, and the sock itself, have been misplaced. Finally, Wayne was working as a janitor at Miriam Hospital in Providence. Part of this job was incinerating amputated body parts. From the same article, "Some unauthorized burnings occurred around the time Andy disappeared."
There was talk of Wayne being released following his attorney claiming he was no longer a threat. This was one of the most controversial decisions in recent history. His attorney notes that Wayne, at the time of this proposal, was 70 years old, and suffering various health issues. Along with this, Wayne was examined by two psychologists who said it was incredibly unlikely for him to reoffend. Of course, many disagree, including Andy's aunt who is fighting to make sure he isn't released. She spoke with CBS Boston and said, "My sister has gone through hell for many years. And, there's no closure. She then went on to state, "I think the public needs to know we are not protecting our kids good enough."
CBR reporter Anna Meiler stated that Wayne would not be made to wear a GPS tracker, and he would also not be on probation if released. He would simply have to list his address in the sex offender registry.
At this time it's been 55 years since Andy was abducted. Despite there being numerous suspects, thousands of tips, and Melanie's documentary, the most important question can not be answered. Who took Andy that hot summer day, in 1965? Someone knows, and if you believe you have information that can help bring someone to justice, don't hesitate to contact the authorities. You can call the NCMEC (1-800-THE-LOST), The Mass State Police (1-978-745-6610), or the Lawrence Police (978-794-5909) at the corresponding numbers.