The Tragedy of Bonnie and Clyde
The story of Bonnie and Clyde's escapades is well-known, but the tragedy of their lives is not.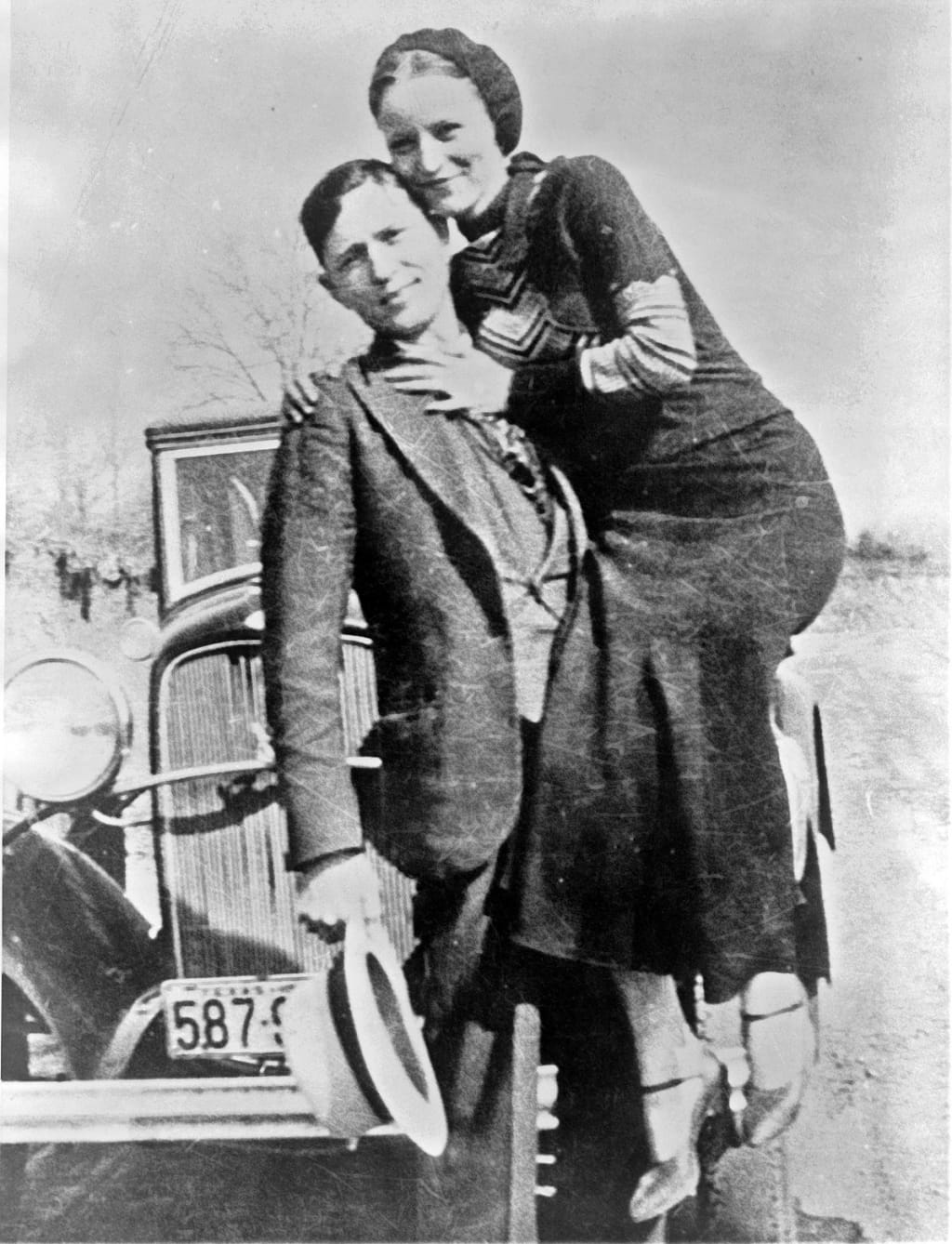 Bonnie and Clyde posing for a photo together. The photos were found in a roll of undeveloped film in their safe house in Joplin Missouri. 
"Some day they'll go down together;
And they'll bury them side by side;
To few it'll be grief
To the law a relief
But it's death for Bonnie and Clyde."
-- Bonnie Parker
On May 23, 1934, Bonnie and Clyde's nearly two-year long crime spree came to a violent end, when they were unceremoniously executed on a rural roadway in Louisiana. The public eye remembers them for their infamous crimes, fast cars, guns, and tumultuous love affair. But the story of their lives and deaths are much more tragic than the public eye remembers, or even knows.
The Barrow family was one of many who lost their livelihood when their family farm failed. Clyde Chestnut Barrow was the fifth of seven children. After the collapse of their farm, they moved to West Dallas, where they would live under their wagon for a period of time. When they were finally able to purchase a tent, it was considered a great upgrade for the family. By the time he was 16, Clyde was already a fugitive, wanted on several counts of petty theft: including stealing turkeys and a bike, which he allegedly gave as a Christmas gift for his younger sister, Marie.
Meanwhile, after the death of Bonnie's father, the Parker family also lived in a notorious slum in Texas called Concrete City. Unlike her counterpart, young Bonnie was known as a star student, talented in literature and the arts. (Some of her poetry was even published in newspapers while they were on the run.) However, while she did not have an affinity for crime in her childhood, she had already begun her tendency to fall in love with criminals. At 16, Bonnie married Roy Thorton, but the relationship was violent and short-lived. He was sent to prison shortly after their marriage. He would die in a prison escape attempt in 1937. Bonnie wore the wedding ring he had given her until the day she died.
Bonnie and Clyde's paths would intertwine in 1930; he was a neighbor of a friend of hers and they almost immediately fell in love. However, in April 1930, Clyde was sent to East Ham Prison, notorious for its cruelty and devastating conditions. Guards were known to beat and kill prisoners for the reward money, and inmates were known to mutilate their own feet in order to get out of the hard labor and beatings, and be moved to the infirmary.
Clyde Barrow entered Eastham as a nonviolent offender. However, he was young, and only 5'4, an easy target for guards and inmates alike. Another inmate named Ed Crowder, repeatedly raped Clyde until Clyde had had enough and murdered him. Another inmate, who had become a friend of Clyde's, took the fall for it. Clyde would also chop off two of his own toes, only six days before he made parole. He would walk with a limp for the rest of his life.
Family and friends, including other inmates, stated that Clyde left prison a completely different person than he had entered it. They said that, "he went from a schoolboy to a rattlesnake" by the time he left prison in 1932.
Bonnie and Clyde's crime spree began as a revenge raid on Eastham Prison, where they would pick up a couple members of the constantly rotating Barrow gang, which included Clyde's brother and sister-in-law, Buck and Blanche Barrow, teen outcast W.D Jones (who didn't even own a pair of shoes prior to his engagement with the Barrow gang) including two Eastham inmates, Ralph Fults and Raymond Hamilton and a young man named Henry Me. They would come and go, eventually leaving only the Barrows, Bonnie, and W.D Jones.
Buck and Blanche Barrow joined the gang in 1933, participating in the murder of two law enforcement officers in Joplin Missouri. This was the beginning of the end, Buck would die from two gunshot wounds and Blanche would be arrested, leaving only Bonnie, Clyde, and W.D.
Mere weeks later in Grapevine Texas, Clyde and W.D. would be responsible for the murder of another law enforcement officer, a Texas police officer named Malcom Davis.
That was when the public, who once adored the young couple, turned on Bonnie and Clyde and called for their execution. And they would have it, as the Posse gathered forces and set up their ambush on the side of a road in Lousiana.
When Clyde's stolen Ford V-8 appeared, they fired, shooting him twice in the head. The cops heard Bonnie scream when she realized that Clyde had been shot. They fired over 100 rounds at the car, ending the duo's crime spree through execution.
Despite their wishes, they would be buried in separate graves.