The Stalker
"The Obsession that Became deadly"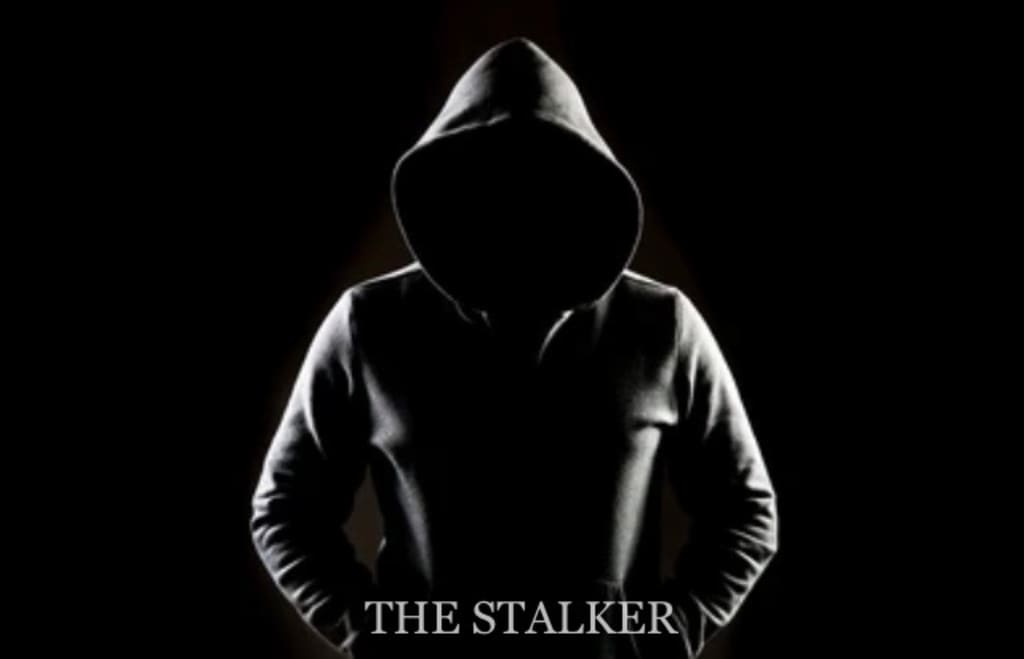 He's always watching...
As Jordan stepped into the club, her attention was immediately drawn to Mason, who caught his eye from the balcony above. He watched as she glided across the dance floor, her skin appearing soft and her legs elongated. Her beaming smile illuminated the room and left him captivated until he glimpsed her dress.
As Mason observed her from head to toe, he couldn't help but notice the way the dress exposed her back, giving off an attention-seeking vibe. Despite this, he couldn't deny the allure of her lengthy, lustrous hair, and found her incredibly seductive that night.
Mason admired Jordan's necklace, wondering if someone had gifted it to her. He found it simple yet elegant, positioned perfectly between her breasts, giving off an aura of focus and balance.
Mason couldn't take his eyes off Jordan, convinced that she was the one for him. He noticed the other men in the club were also drawn to her and hoped she wouldn't lead them on. He saw her laughing with someone and putting her arm around him.
Mason couldn't help but feel a twinge of envy towards the other man, who had muscles and charm that he couldn't compete with, especially since he was touching Jordan. Despite trying to get closer to her in the crowded space, she suddenly reappeared right beside him, much to his surprise. He couldn't resist complimenting her fragrance and proceeded to introduce himself, telling her how stunning she looked that night.
As soon as our eyes met, I found myself at a loss for words in the presence of such breathtaking beauty. Jordan, with a warm smile and deep breath, introduced herself, and her captivating and unique eyes drew me in. Without hesitation, I introduced myself as Mason.
Despite the loud music and crowded atmosphere of the club, I suggested we go to a nearby 24-hour restaurant on 5th Avenue. However, Jordan hesitated, unsure if she could trust me.
I reassured her that I posed no threat and after a moment of contemplation, she agreed to join me. As we left the club, I couldn't help but notice her soft and smooth skin, even as my hand briefly touched her back. Although I felt a strong attraction towards her, I believed it was crucial to establish trust before acting on my desires.
In the parking lot, I offered to drive us to the restaurant in my 2023 silver Lamborghini, and as Jordan dropped her purse, I caught a glimpse that she wasn't wearing any underwear. I wondered if this was an intentional gesture, hinting at an invitation to come in. However, I was unsure if I should acknowledge it or pretend not to have noticed. Despite her flawless appearance, I sensed that she desired me as much as I desired her. Nevertheless, building trust remained my top priority.
We drove away in the car, ignoring what we had just witnessed. Jordan's phone began to ring, but she opted not to answer it and instead sent a text message to the caller. I tried to sneak a peek at her phone, but she moved too quickly, tucking it back into her purse. I inferred that Jordan did not have a boyfriend, as she had not mentioned one before.
As we drove, I contemplated how to approach the situation and inquired if Jordan was alright. However, she deflected the conversation, asking instead how far away the restaurant was, and jokingly declared that she was famished. Soon after, Mason pointed out the restaurant on the right, and they arrived promptly.
Jordan hastily fixed her appearance in the car's sun visor mirror after realizing I was observing her. Meanwhile, Mason was lost in thought about Jordan's preferences as she hooked her arm through his and entered the restaurant. The host greeted them and requested a table for two, which Mason agreed to. They were led to a table next to the window, and Mason was a little uneasy about being recognized.
The server approached and inquired if they had perused the menu. Jordan opted for a Pina Colada, while Mason requested Hennesy with a dash of Pepsi and ice. The server departed to fetch their drinks, and the conversation dwindled. Mason disclosed his age, place of birth, and profession as a real estate agent to Jordan. In turn, Jordan divulged that she hailed from Atlanta and had relocated to New York to open her hair salon.
When the server returned to take their orders, Jordan chose Chicken and Waffles with whipped cream and syrup, and Mason opted for scrambled eggs with cheese, bacon, and blueberry pancakes on the side. While they awaited their meals, Jordan confided that she was a Salon business owner and was searching for a residence to purchase. Mason extended his assistance in helping her find a home, and Jordan agreed to work with him.
As they relished their food, they praised its delectable taste. Mason couldn't help but notice Jordan's stunning features, including her lips, smile, and luminous eyes. I couldn't help but notice Jordan's intelligence and sweet demeanor, and I found myself falling for her.
However, her seeming perfection made me wonder if she might be hiding something. After they finished their meal, Mason offered to pay for Jordan's portion, but she insisted on paying for herself. They agreed that she would pay next time, and while Mason saw her full name on her credit card, he didn't mention it.
When they left the restaurant, Mason offered to give Jordan a ride home, but she declined and called an Uber instead. Despite his offer to help, Jordan thanked Mason for the lovely evening and ended the night there.
As Jordan's Uber arrived, Mason bid farewell, expressing his satisfaction with their time together. Jordan handed him her card and suggested that they arrange to meet next week to search for a house. She hugged him with a smile, and Mason watched her Uber drive away.
After trailing the Uber to Jordan's residence, Mason parked his car and kept a watchful eye on her as she disembarked from the vehicle. Noticing that she lacked curtains on her windows, he proceeded to approach her salon. As he gazed upon her shower being switched on, he observed that Jordan was unclothed. He lost sight of her despite waiting for a while and eventually decided to depart.
As he drove down the road, Mason remained preoccupied with thoughts of Jordan standing naked in the shower. He decided to pull over open his trousers and started to engage in a sexual act.
The next morning, Mason called Jordan anonymously, not wanting to reveal his number. Despite his eagerness to hear her voice, she did not answer his calls until the fifth attempt, when she finally picked up, sounding incredibly seductive. Mason immediately hung up.
He would call her every day and simply breathe into the phone until she hung up. He enjoyed hearing the sound of her voice, as it only increased his desire for her.
Mason's obsession led him to Jordan's Place, where he waited in his car and observed her leaving. Intrigued, he entered her house and rifled through her papers and receipts, even taking some of her underwear. He then went to her salon, inspected the premises, and left.
From then on, Mason monitored Jordan's whereabouts daily, driving past her residence and spying on her while she showered at night.
As time passed, Mason's obsession with Jordan grew stronger. He began following her social media accounts just to see what she was doing and what she was wearing. He even started sending her anonymous gifts and flowers. However, one night, things took a turn when Mason stopped by her house as usual and saw her arrive with a man. She seemed incredibly happy, laughing and smiling, which left Mason vexed.
Upon closer inspection, he realized that the man was the same person he had seen with Jordan at the club - the one with the muscles that she had her arm around. Mason was furious as he watched them go upstairs, and then he saw them through the window, ripping off their clothes before the lights went out.
As Mason drove off, he couldn't help but think that this man needed to be eliminated from Jordan's life. He went home and began to plan out how he would remove this person and be there for Jordan once he was gone. The mere thought of Jordan being with someone else was not in Mason's plans, and he felt a deep sense of anger that needed to be rectified.
He decided to return to Jordan's residence and wait for the man to leave. Mason waited in his car all night until the following morning when the man finally emerged and drove off. Mason followed him to his house, where he waited for him to go inside. As the man opened his front door, a woman dressed in lingerie stepped out and jumped into his arms.
Mason grew even angrier as he watched the man leave Jordan's house to go and see another woman immediately after. This behavior was unacceptable, and Mason was convinced that this man had to go.
As Mason considered his options, he briefly entertained the idea of bringing the situation to light and letting Jordan find out for herself. However, he quickly dismissed this notion, deciding that both the man and the woman had to go. Mason got out of his car, popped the trunk, grabbed his black bag, and made his way to the back of the house.
Once inside, he took their lives, making it appear as though it was a burglary gone wrong by ransacking the place and stealing money and jewelry. He then left the door open as he walked out.
From that moment on, Mason found himself closely monitoring Jordan's whereabouts. He realized that it was time to meet her in person, so he reached out to her over the phone to gauge her interest in purchasing a house. Mason had organized an open house for the upcoming Saturday and was determined to get Jordan to attend, hoping she would fall in love with the property that he had acquired with her in mind.
To keep a watchful eye on Jordan's movements, Mason enlisted the help of his friend Raymond, who installed cameras all around the house.
Jordan eagerly confirmed her attendance at the upcoming open house on Saturday, and Mason was delighted, assuring her that he would provide the address. As Saturday morning arrived, Jordan sent Mason a text, letting him know that she was on her way. Upon pulling up to the driveway, she was struck by the stunning beauty of the house.
Mason emerged from the house to greet her and took her on a tour of the magnificent property. Jordan was entranced by the high ceilings, distinctive features, and grand staircase. The luxurious master bedroom was a highlight, and she was particularly enamored with the bathroom's walk-in shower and large jacuzzi. However, the expensive price tag lingered in her mind.
After showing Jordan the house, Mason inquired if she liked it, and she responded positively. He then proceeded to showcase the backyard, which featured a spacious pool, patio, and barbecue grills, perfect for hosting family gatherings. Jordan expressed her desire to have children in the future, and Mason made her an excellent offer, with the condition of full payment on the closing day.
Jordan had made the decision to purchase the house, and Mason had arranged for her to bring in full payment at the closing, scheduled for the following week. Jordan was overjoyed; she had a successful career and was finally going to own her dream home. Her first thought was to share the news with Derek, whom she hadn't heard from in a few days.
However, as she began to reach for her phone, it started to ring. It was her best friend, Tanisha, with tragic news. Derek and another woman had been found dead in his house, in what appeared to be a burglary. Jordan was overwhelmed with grief and dropped her phone, bursting into tears. Mason was quick to comfort her, embracing her in a supportive hug.
Unbeknownst to Jordan, Mason was responsible for the murder and had sinister intentions toward her. Despite his attempt to comfort her, Jordan felt uneasy and pulled away, apologizing. Mason reassured her that it was okay and that he was available if she needed him. Jordan quickly changed the subject, feeling a bit unsettled by Mason's behavior. She promised to bring the full payment for the house the following week and thanked him for showing her the amazing property and everything he had done for her. Mason accepted her gratitude, walked her to the car, and watched as she drove off.
As Jordan left, Mason returned to the house and made his way down to the basement. He pressed a hidden button on the wall, causing it to open up and reveal several secret rooms. This was where Mason intended to stay once Jordan moved in. He has plans for her, and she was completely unaware of the danger she was in.
if you enjoyed reading and would like me to continue this story please show your support by subscribing, donating a small tip, or even pledging this will help me continue to push myself and continue writing as this has grown to be a passion of mine.
Thank You.
About the Creator
Writing has been my passion for as long as I can remember. I bring a fresh perspective to the table, and my unique voice is worth exploring. Readers can expect to witness growth and development in my writing.
Reader insights
Outstanding
Excellent work. Looking forward to reading more!
Top insights
Excellent storytelling

Original narrative & well developed characters

Eye opening

Niche topic & fresh perspectives
Add your insights