'The Sinner' Sidesteps Conventions to Produce a Binge-Worthy Delight
A twisty procedural flips the whodunnit scenario to unpredictable results.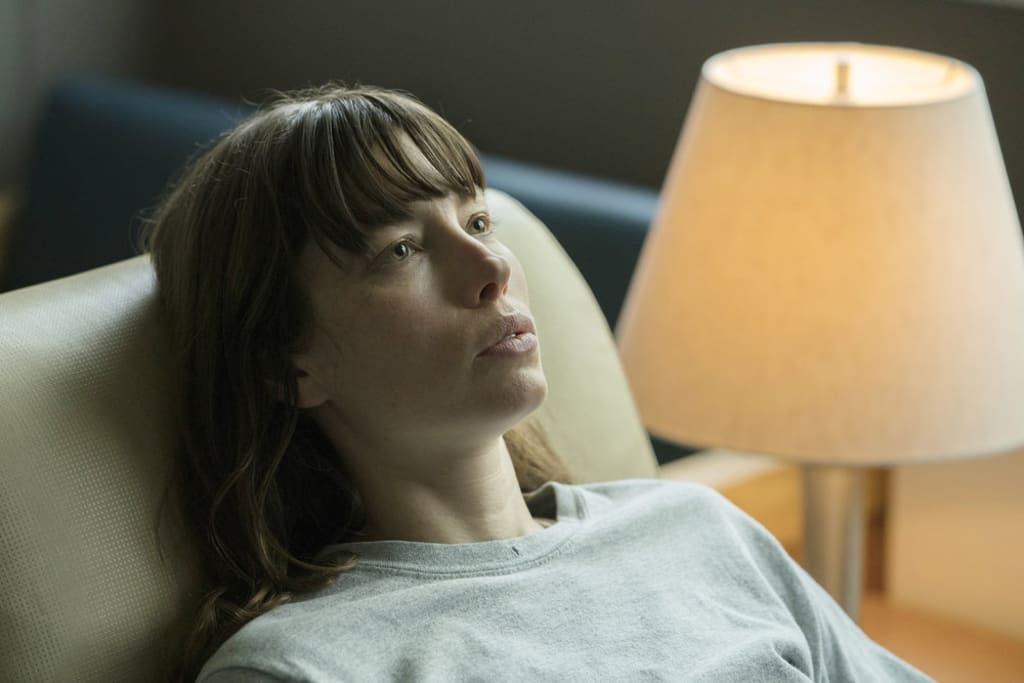 Throughout the 21st century there has been a rise in the lazy, formulaic crime procedural spearheaded by CBS that has seen a rise in dull, rather cookie-cutter television filled with bland performances and wholly expected narrative outcomes. This was an unexciting transition for the broadcast television landscape but with the rise of streaming these shows are generally passing out of favor now that audiences have so much more choice. These shows' ratings dwindle due to the fact that there's no incentive to watch a show live anymore when the narrative outcome is so unsurprising, and there's a dearth of other options available to watch. To achieve success with this sub-genre, these tiresome conventions must be challenged and subverted; otherwise, people will lose interest. From its first episode, The Sinner achieves this immediately. A conventional procedural may open with the victim meeting their end and then the remaining minutes of the episode follows the team of protagonists doing their job so the criminal is caught and everything is wrapped up tidily, ready for next week's episode. While it's true that the show's opener shows the crime committed very soon into the first episode, the circumstances are changed and the narrative conventions are upended. As we see the perpetrator of the crime commit the criminal act before us there is no question of who, and she is quickly apprehended so there is no rush to capture the criminal either. Instead the focus is on why this inexplicable crime was committed as it appears that there is no circumstance apparent that would lead protagonist Cora Tannetti do such an act to a man she has no apparent connection to. The crime itself surpasses our expectations by being actually shocking in a genre that has become so exploitative. There's also such a palpable atmosphere when Cora repeatedly stabs an unknown male on a family day out to the beach in front of numerous spectators and her own infant child. Whoever selected the song "Huggin' & Kissin'" by Big Black Delta has a gift for selecting such evocative and moody music that becomes more emphatic every time it's played throughout the series. This song is a striking cue that brings back much of Cora's repressed turmoil that wounds her so tightly and the majority of the narrative is about her resurfacing her own suppressed traumas so that she can make sense of her inexplicable crime.
This is a clever reworking of narrative convention and adds much intrigue and atmosphere to a format that has become overwrought with predictable storytelling cliches. What's also surprising about the series is its unwillingness to descend into repetitive use of exploitative extreme close-ups of inexplicable violence. The atmosphere within the show arrives from the camera's eerie distance from its subject focus, representing the alienation our protagonist feels from her muddled life. The Sinner is also an aural and visual experience as the show makes abundant use of the senses to create its tense onscreen environment, merging visual and audio cues in rapid-cut editing that represents Cora's fractured memory coming into view. The show's narrative and visual design are both of restraint, as neither want to give too much away, so what emerges is a genuine sense of intrigue that has been absent in a lot of mainstream programming. I think this is why the show has become such a breakout hit, as it adheres to what was enticing about the genre, the elements of mystery and unforeseen narrative turns. The Sinner is also really rather good at these too even though, like many of films and shows within the genre, it runs the risk of running off the rails. Yet with its calm, steady-handed approach stays markedly grounded and offers a look at the narrative pleasures of a good mystery that moves quickly without descending into absurdity. As well as delivering genuinely thrilling revelations that are not predictable and mundane but still offer up the pulpy thrills we expect without being derivative of major works. Capped with stellar lead performances by Jessica Biel and Bill Pullman, the first season of The Sinner is indicative of the joys of the limited series by telling a contained story brilliantly with thrilling conclusions that stay with you long after watching and shot with such atmosphere it entices you to watch in one sitting.