The Military Base Murders
In 1970, Army Captain, surgeon, and Green Beret, Jeffrey MacDonald, was the only survivor during a home invasion that took the lives of his family, but why was his life spared?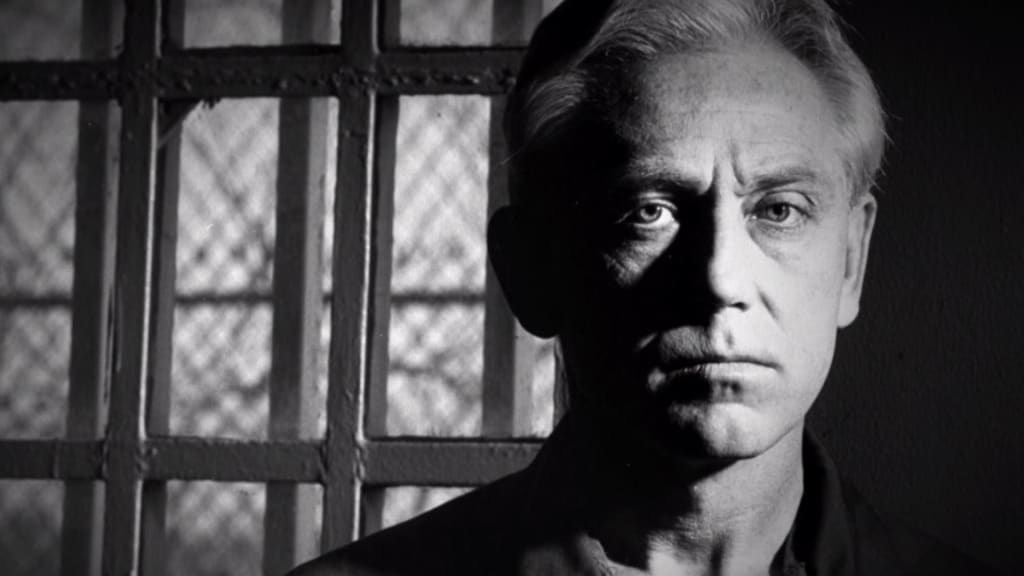 On Investigation Discovery, a show entitled People Magazine Investigates uncovers the true stories of crimes that became a part of pop culture. This show reveals exclusive interviews, twists, and new evidence that are unexpected.
In 1970, there was a murder scene with a pregnant woman who was murdered, and two children were stabbed multiple times, according to People Magazine Senior Writer Nicole Weisensee Egan. Jeffrey MacDonald always claimed drug-crazed hippies killed his family. This brutal crime became a national sensation, and is the most litigated murder case in American history.
At the time, this case was one of the most shocking murders in the United States because it happened on a military base to an All-American family. In 1969, the Vietnam war was happening, and in the US, protests and riots were dominating the news. Unfortunately, soldiers who came back to the US were struggling with drug addiction, because drug addiction was rampant at the time.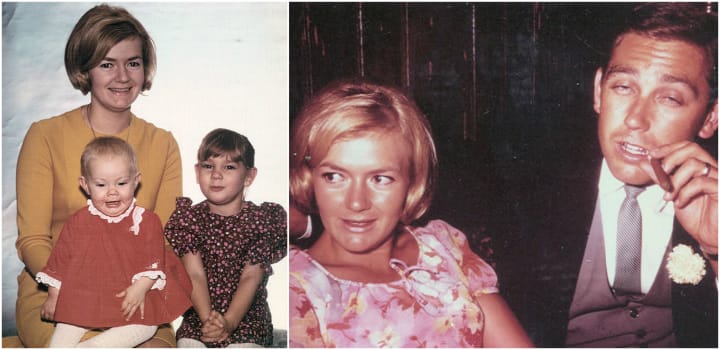 Also in 1969, MacDonald was an Army Captain and surgeon. He was stationed at Fort Brag, North Carolina, where he lived with his wife Colette and two young daughters, Kimberley and Kristen. According to Egan, MacDonald was an overachiever, because every goal he set for himself he achieved.
MacDonald earned a scholarship to Princeton University, which is one of the top schools in the country, according to People Magazine Executive Editor Cynthia Sanz. Colette was MacDonald's high school sweetheart, and she got pregnant after their sophomore year in college and decided to get married.
Shortly after, Dr. MacDonald decided to go into the service and became a Green Beret Surgeon, and Colette was very supportive of him, according to Ricki Franklin, Dr. MacDonald's cousin. By the time the MacDonald family made it to Fort Brag, the family was soaring because of Dr. MacDonald's booming career. They were doing so great that Colette was pregnant again and awaiting their third child.
Feb. 16th, 1970 was a night like no other for the MacDonald family, because according to Egan, Dr. MacDonald came home from work around 5 PM and played with his girls and put them to bed. Colette was taking a night class and came home around 10:30 PM. Both Colette and Dr. MacDonald shared a drink, and after, Colette went to bed while Dr. MacDonald read a book until about one or two AM, according to Dr. MacDonald's attorney, Wade Smith.
Before going to bed, Dr. MacDonald claimed that when he went to his bedroom, one of his children was in the bed with Colette, and that child had wet the bed. He took the child and put her in her own room, and didn't want to disturb his wife by changing the sheet, so he decided to sleep on the couch.
Egan said at 3:42 AM on Feb. 17th, 1970, dispatchers received a phone call from Dr. MacDonald, and he reported a stabbing. The police entered the MacDonald residence believing it was a domestic violence case. The military police arrived at a horrific scene, according to Dr. MacDonald's other attorney Hart Miles.
Dr. MacDonald was found on the floor next to his wife with his pajama top draped over her body. Colette was stabbed 21 times with an ice pick, and 15 times with a knife. When Dr. MacDonald was found, he was unconscious, and had stab wounds resulting in a collapse lung, along with abrasions to the head.
When Dr. MacDonald gained consciousness, he asked for his children. When the police searched the rest of the house, they said the scene was reminiscent of a violent and bloody Vietnam battlefield. For instance, five-year-old Kimberly had blunt force trauma to the head with multiple stab wounds, and two-year-old Kristen had 17 ice pick stab wounds in various parts of her body.
Egan said the crime scene was something out of a horror movie.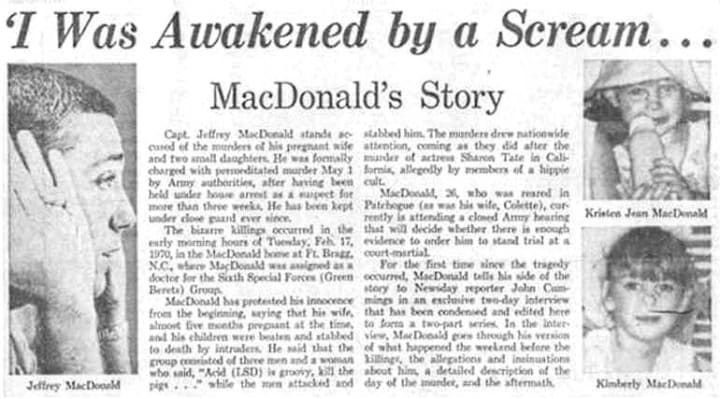 When Dr. MacDonald woke up in the hospital, investigators pressed him for answers, and he said he was awoken by screams from Colette and Kimberly. Colette said,
"Jeff, Jeff, help me! Why are they doing that?!"
Kimberly said,
"Daddy, Daddy help me!"
When Dr. MacDonald woke up, he saw a white woman with a blonde wig, and she was holding a candle and chanting,
"Acid is groovy, kill the pigs!"
Before Dr. MacDonald knew it, he was attacked by two African-American men and one White man stabbed him with ice picks, and the stabbing resulted in a collapse lung that left him unconscious.
After hearing Dr. MacDonald's story, the military police realized it wasn't adding up to the results of the crime scene. The police believed this was a fake scene, and their theory was that Dr. MacDonald killed his family, and that he self-inflicted his injuries. According to Egan, since Dr. MacDonald was indeed a doctor, he would know how to injure himself and make it look bad, but not kill himself.
At the crime scene, there was a magazine article, and within it mirrored Dr. MacDonald's story, but it was too close to be a coincidence. The cover story for Esquire magazine was about the Manson murders, and the investigators theorized that Dr. MacDonald tried to make the crime scene look like the Manson murders.
During the investigation, there were a lot of mistakes that were made because the crime scene was not secured. For example, neighbors walked into the house and looked around the crime scene, and Dr. MacDonald's own wallet disappeared from the crime scene.
The crime scene was so contaminated that it was hard for investigators to find out what really happened. The police had an informant named Helena Stoeckley, who fit the profile of the white woman Dr. MacDonald described, and she was the police's only suspect.
On July 6th, 1970, all the evidence was brought before a military judge, and a 32 article hearing in the military is the same as the grand jury in the civil side of the law. This was the largest hearing under article 32 that ever existed in the 200-year history of the military. This case became high profile because it was shocking, brutal, and it happened on a military base. It was more shocking that Dr. MacDonald was later identified as a suspect.
On October 13th, 1970, Dr. MacDonald was found innocent, and was relieved when he received an honorable discharge from the military. He was also completely exonerated. Dr. MacDonald tried to get his life back, and a little over a year after the murders, he moved to California. Colette's parents, step-father Freddie, and mother Mildred Kassab, weren't happy that Dr. MacDonald left so soon.
Dr. MacDonald told Colette's parents,
"I have to get away. I have to rebuild my life."
Mildred replied and said,
"If you abandon us, you will regret it."
While in California, Dr. MacDonald was a guest on The Dick Cavett Show. While on the show, he voiced his frustration with the military. He also focused more about the military's going after him, as opposed to speaking about the death of his family, according to Miles.
Dr. MacDonald let his past be the past, and he started a new life by becoming a physician in California. He bought a boat, a sports car, and was dating again. This ultimately raised some eyebrows, and it was hard for the Kassab family to swallow. By Dr. MacDonald's actions, Colette's step-father believed Dr. MacDonald was guilty.
In 1975, Freddie Kassab and investigators convinced a grand jury to indict Dr. MacDonald on three counts of murder. Dr. MacDonald had seen one psychiatric doctor and two psychology doctors, and they validated Dr. MacDonald's psychology was normal and he wasn't sociopathic.
This testimony wasn't allowed in the court because the judge ruled against it. Helena Stoeckley, the police informant and suspect five years prior, was called to the witness stand, and said she couldn't remember ever being at the MacDonald residence because she did a lot of drugs during the time frame of the murder.
On August 29th, 1979, the case went to the jury, and according to Sanz, after six and a half hours of deliberation, the jury found Jeffrey MacDonald guilty on two counts of second-degree murder for the murder of his wife Colette, and his five-year-old daughter, Kimberly. One count of first-degree murder for the murder of his two-year-old daughter, Kristen.
Dr. MacDonald was dumbfounded by the decision, and the judge asked him if he wanted to say anything, and he said,
"I'm not guilty, and I don't think the jury heard all the evidence."
The judge sentenced Dr. MacDonald to three consecutive life sentences, according to Santz.
Mildred Kassab said,
"I personally feel at this point, I can let my daughter rest, and start living another life, perhaps."
Despite the guilty verdict, Dr. MacDonald continues to plead his innocence.
investigation
About the author
Inspirational Speaker, Author and Blogger looking to inspire with my story of being a two-time cancer survivor and hip amputee. My focus is to share my pain, struggle and accomplishments with the world.
Reader insights
Be the first to share your insights about this piece.
Add your insights