The Kidnapping of Amber Hagerman
Her abduction led to the 'Amber Alert' system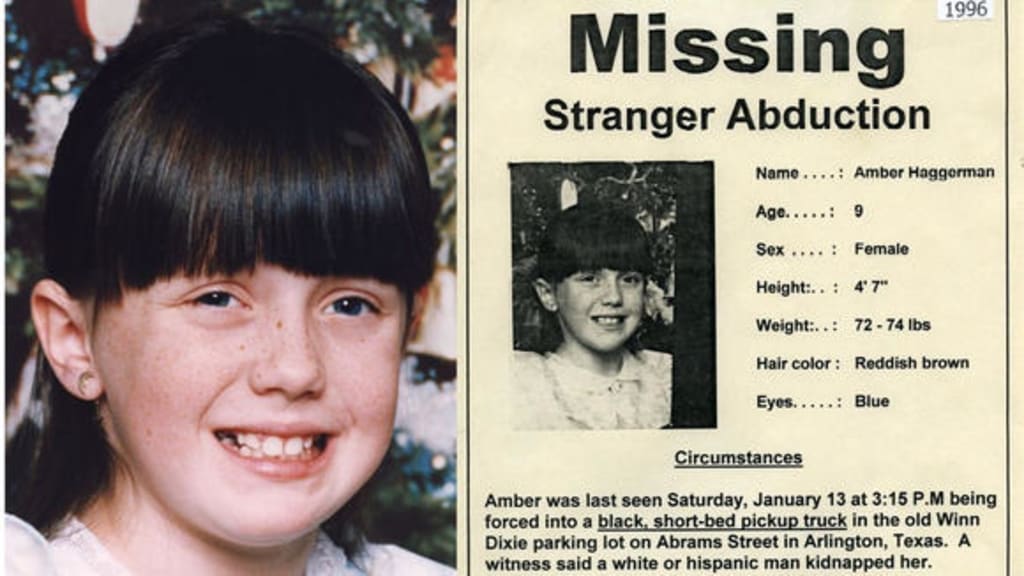 Photo of Amber Hagerman alongside missing child flyer (KWTX10)
On Saturday, January 13, 1996, nine-year-old Amber Hagerman and her five-year-old brother Ricky went with their mother Donna Whitson to Arlington, Texas, to see their grandparents. At around 3 pm, the two kids, who had bicycles at the house, asked if they could ride in their neighborhood. It was 70 degrees, and the kids wanted to get out and enjoy the beautiful weather.
This wasn't an unusual request. The kids' grandparents kept bicycles at the house so the two could go for a bike ride whenever they came over. The adults told them yes, as long as they went no further than around the block. After all — they were young kids, and they needed to stay close.
The allure of the abandoned Winn-Dixie grocery store parking lot a couple of blocks away from the house was too much for the kids to overcome. It had a ramp that neighborhood kids played on and offered more space to roam than simply circling the block. Ricky decided that disobeying their mom and grandparents was too much and told his sister he was going back. She wanted one more ride on the ramp before she joined him.
Ricky left his sister alone and went back to his grandparents' house.
When he got back, the adults asked him where his sister was. Ricky explained that the two had gone beyond the one block boundary — essentially that they'd disobeyed their instructions. He was told to get his sister and come back right away.
At approximately 4 pm, an unidentified man, approx 6' tall and of either Caucasian or Hispanic descent, grabbed Amber off her bicycle and threw her into a dark-colored truck. The young girl kicked and screamed to try and free herself from her abductor, but to no avail. The vehicle drove off, leaving Amber's abandoned pink and white bicycle on its side in the parking lot.
A 78-year-old man who lived in a house near the parking lot was working in his backyard as the horrific event transpired. He immediately called the police. Authorities arrived in only minutes, but it was too late to stop what had happened.
Ricky, away from his older sister for only about eight minutes, returned to the parking lot to find Amber gone. The police had not yet arrived. He pedaled as fast as he could back to his grandparents' house and told them Amber wasn't there. His grandfather hopped into his truck and raced to the parking lot to find the police searching the area.
Amber was nowhere to be found.
Four days later, on January 17, a man walking his dog in the early morning hours near the Forest Hills Apartment Complex saw a body — minus one sock — lying in a nearby creek. It was Amber. She was only three miles away from her grandparents' house.
Authorities believed she was alive until either the 15th or 16th. Her body was then put in the creek. A recent torrential rainstorm had filled the stream and likely pushed her downstream. Amber's shocked family refused to believe the terrible news.
Despite being taken in broad daylight, in a densely-populated residential area, with a witness immediately calling 911, Amber Hagerman couldn't be saved. The creek's rushing water after the heavy rain had washed away much of the DNA evidence, so her murderer was able to disappear back into the shadows instead of being brought to justice.
On Friday, January 19, massage therapist Diana Simone contacted local Dallas radio station KDMX to present the idea of a "broadcast alert" for abducted children. Mid-day host Kim Ashley loved the idea and asked Simone to contact the station manager. Soon after, she drew up a letter detailing an emergency response broadcast whenever a caller notifies 911 of a child's abduction.
She asked that it be called 'Amber's Plan.'
Simone felt most abductions involved a child being taken from an abduction point to a second location. She believed that this couldn't be done without someone coming in contact with the abductor's vehicle, especially in highly populated areas. A community alert system — telling everyone in the vicinity to be on the lookout — would make escape next to impossible.
The station manager then brought the idea to the Radio and TV Managers Association in Fort Worth. In little time, broadcasters began the work to implement 'Amber's Plan.'
The Arlington Police Department was included in the early set-up stages and helped define much of the initial criteria:
The child must be 15 years old or younger.
Law enforcement must believe the child has been abducted or missing with the threat of serious bodily injury or death.
Enough information must be available for the public to help.
Each local agency later defined these criteria. There have been slight changes made, but the spirit remains mostly similar to the original.
Police departments would send a fax to the primary Emergency Alert Stations (EAS) in Dallas-Fort Worth to initiate an alert. EAS would then re-transmit the information to area radio stations, who played the alerts over-the-air in fifteen-minute intervals using the 'most obnoxious tone possible' so everyone listening would pay attention.
Unfortunately, the system did not work the first two times it was implemented.
In November 1998, on the third attempt, authorities sent out an Amber Alert notifying the public of the disappearance of eight-week-old Rae-Leigh Bradbury. Within thirty minutes, a motorist saw the suspect vehicle drive by them and called 911. Police were able to return the baby to her parents safely.
The idea soon spread. By 2005 it became a national initiative — and later a worldwide one. Since its inception, the AMBER (America's Missing: Broadcast Emergency Response) Alert has been responsible for the safe return of thousands of children.
More than twenty-five years later, police are still on the hunt for Amber Hagerman's killer. They remain committed to finding him and bringing him to justice.
The passing of Amber Hagerman galvanized a community of people and created a system that they hoped would save other children's lives. They dedicated it to the young girl riding her bicycle alone when she was stolen away from her family, allowing Amber to play an integral part in the safe recovery of kids around the world.