The Horrific Cruelty Suffered by Harriet Staunton at the Hand of Her Husband
Five days before her death, her one-year-old son Thomas died in Guys Hospital of malnutrition.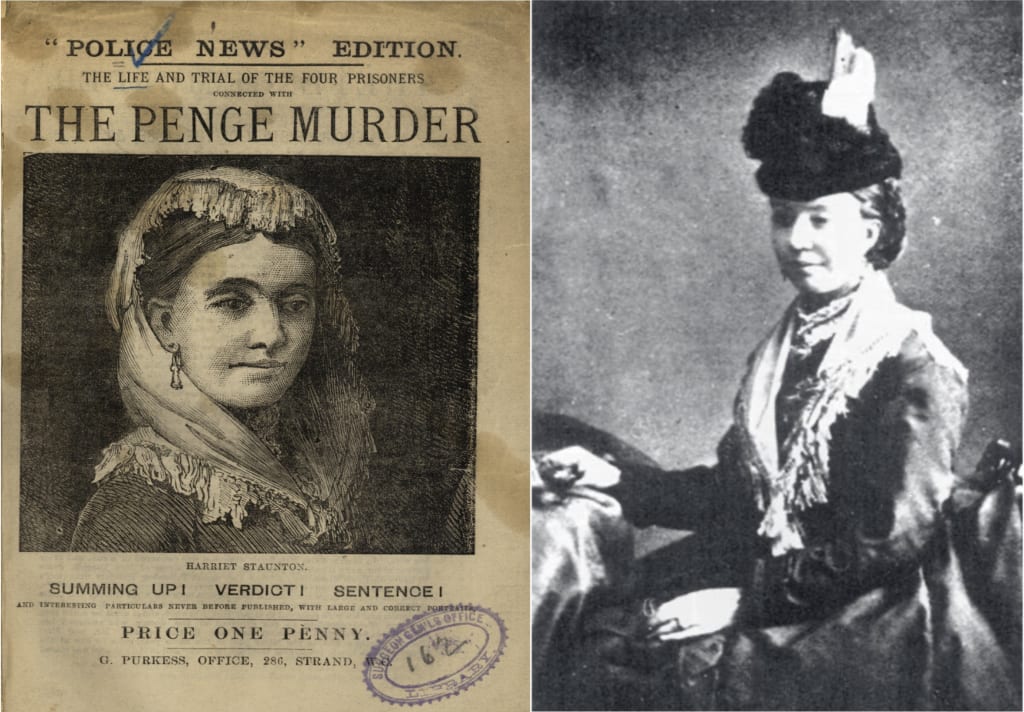 Harriet Staunton, also known as Harriet Richardson, died in Penge, London, on 13th April 1877. Five days before her death, her one-year-old son Thomas died in Guys Hospital of malnutrition.
Five months after her death, her husband, his girlfriend, brother and sister-in-law were found guilty of her murder and sentenced to death.
Doubt over the medical evidence, though, saw their sentences commuted and, in some cases, overturned. So what happened to this woman with learning disabilities?
The Young Harriet
Harriet's father was a clergyman in Essex who died when she was twelve. She was described as having limited mental capacity.
Louis Staunton was a twenty-three-year-old auctioneer's clerk who became interested in Harriet when she inherited five thousand pounds from her Great Aunt, a considerable sum in those times.
The couple dated briefly before becoming engaged. Harriet's mother opposed the marriage and even tried to declare her daughter a lunatic. However, nothing worked, and the couple were married in June 1875.
Louis Staunton had a close family; his brother Patrick was married to Elizabeth Rhodes, and her fifteen-year-old sister Alice was having a relationship with Louis.
Married Life
Harriet's mother only visited the couple once; after that visit, she received a letter stating that she would not be welcome in the house again, and it was the last time she saw her daughter.
The couple quickly welcomed their son Thomas born in March 1876. Louis, the ever-supportive husband, purchased a house in Cudham, Little Grays, which he moved his girlfriend, Alice, into.
Harriet and Thomas were sent to Frith Cottage, the home of Patrick and Elizabeth. They were both confined to the upstairs room. The room was to said to contain no curtains, furniture or washing facilities.
Harriet was restrained and assaulted in October when she tried to escape. By the end of the year, her finances showed that the whole of her inheritance had been spent.
The End of Torture
On 8th April 1877, Thomas fell ill and was taken by Patrick and Elizabeth to Guy's hospital, where they admitted him under a false name. He died one day later from malnutrition and had signs of being physically assaulted.
Five days later, on the 12th, Harriet was thrown out of Frith Cottage and sent to a lodging house. On arrival, witnesses would describe her as looking like a corpse. She died the following day; her cause of death was recorded as cerebral disease and apoplexy.
Investigation and Trial
The death may have gone undetected had it not been for the action of her brother-in-law, Louis Casablanca. Having met the grieving husband in the post office, he contacted the police saying Staunton was acting suspiciously.
The police ordered an inquest into the death of this young woman. They found that her body was filthy and severely malnourished. Her hair was matted and infested with lice. She weighed just 34kg when she died.
The coroner ruled the cause of death as starvation and neglect; Staunton was arrested along with his brother, her wife and Alice Rhodes, his lover.
Madam Tussauds
The trial gripped the nation, with wax models of the four killers appearing in Madam Tussauds. Finally, in September, the case was heard in court.
The defence argued that Harriet had been an alcoholic and refused to eat, starving herself. They also stated that they had medical evidence that she had died from tuberculosis.
The jury was unconvinced, and all four were found guilty of wilful murder. The judge issued the sentence of death by hanging.
Public Outcry
The outcry from the public was quick to follow; they argued that the medical evidence had been ignored and questioned the judge's impartiality.
The outcry was so severe that Home Secretary R.A.Cross reviewed the case. He called for Alice Rhodes to be pardoned and released immediately after his investigation. The other three also had their sentences commuted to life.
Patrick Staunton died in prison; his wife was released in 1883. Louis Staunton was released in 1897; it is unclear whether Alice had waited for him. Maybe she moved on, worried that becoming Louis's wife might severely affect her health.
Click below to read my crime and history content before anyone else.
About the Creator
Productivity hacks, writing tips and other stories about your writing hustle. My life as a full-time parent, teacher and part-time writer.
For more of my crime article then join my True Crime magazine at https://www.murdermayhem.uk
Reader insights
Be the first to share your insights about this piece.
Add your insights