The Fatal Stabbing of Professional Wrestler "Bruiser Brody"
Attacked by a fellow wrestler during an event in Puerto Rico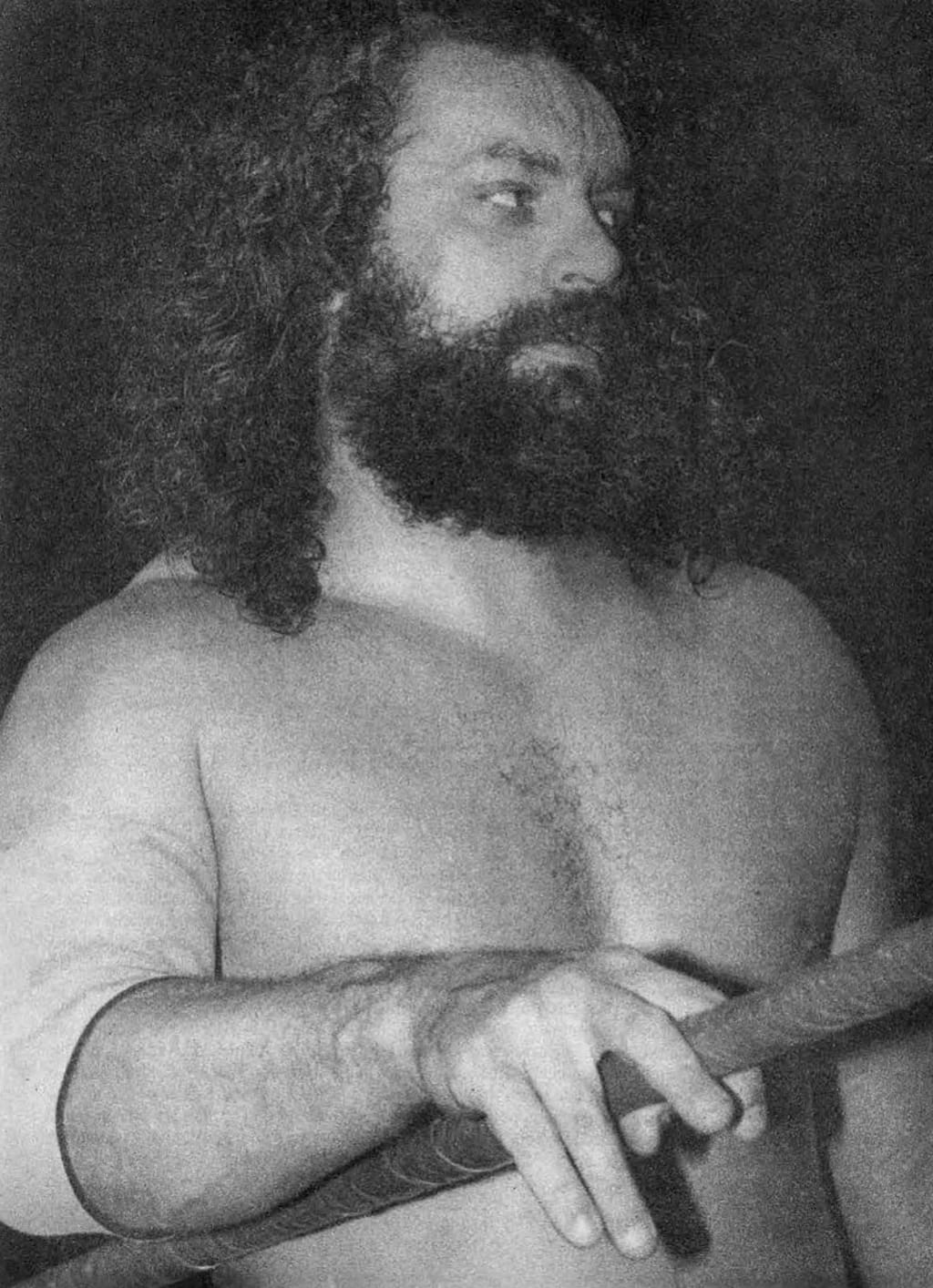 Bruiser Brody in 1988 (Wikipedia)
"[Brody] was very much what the wrestling business needed … a big, strong, athlete that could let people know that they better think twice before they step into the ring against him." ~ Dory Funk Jr. (former professional wrestler)
The death of wrestler Bruiser Brody at the hand of a rival wrestler shocked the wrestling world. The business had seen its line between fantasy and reality blurred and lost one of the era's greatest superstars.
Frank Goodish was the epitome of wrestling in the late 1970s and 1980s. He embodied his Bruiser Brody character in public, becoming a wild-eyed, chain swinging madman who could snap at any moment. However, in private, he was an intelligent and articulate businessman and a loving husband and father who used his size and strength as a tool to provide for his family. Wrestling fans always got the full Brody experience, but his family and friends only saw Frank.
In July 1988, Goodish left the Texas home he shared with his wife Barbara and son Geoffrey to travel to Puerto Rico and work a series of matches for the World Wrestling Council (WWC). It was the last time he would see his family alive. On July 16, he was stabbed twice during a heated conversation with another wrestler. Brody later died due to those injuries.
The stabbing of Bruiser Brody
That night, while in the locker room getting ready for a match against Abdullah the Butcher, Jose Gonzalez, known throughout wrestling circles as Invader 1, approached Brody and asked him to talk in the shower area. According to fellow wrestler Tony Atlas, who was talking with Brody when Gonzalez walked up, he held a white towel in his hand. Invader 1 was hiding a large knife under the towel.
After a short conversation — described by some as an altercation, Atlas recalls hearing a loud guttural yell from Brody, soon after followed by another. He jumped out of his seat and noticed Gonzalez raise a knife into the air and was about to stab Bruiser Brody a third time.
Atlas grabbed his friend and pulled him away just as Invader 1 brought the knife down for a third time. The sharp blade cut off Brody's ponytail but missed its intended target — likely the injured wrestler's throat.
Brody, completely utterly unaware of what was to come, was still holding his wrestling bag in one hand and a picture of his son in the other.
Atlas laid the wounded man on the ground and began yelling for someone to call an ambulance. The wounds were severe, and time was of the essence if his friend was to survive.
While Brody lay on the ground fighting for his life, Invader 1 remained in the shower area. After a conversation with one of the event's promoters, he walked out, stepped around the man he'd stabbed, grabbed his things, and left the locker room.
A wrestler called a local radio station to broadcast that an ambulance was needed at the stadium. One arrived forty-five minutes later. Wrestling was wildly popular in Puerto Rico, and the heavy traffic levels on nearby roads had made it nearly impossible for help to get to Brody.
Once they did show up, the EMTs were unable to lift the 6'6" and more than three-hundred-pound behemoth laying on a gurney into the ambulance. Tony Atlas, a former competitive body-builder, carefully picked up his friend off the ground and helped get him into the back of the ambulance.
Fighting for life at the hospital
Brody waited upwards of twenty minutes on a table at the hospital before a doctor saw him. In the physician's opinion, stabbings in Puerto Rico were as common as a cold in the continental United States. It simply wasn't important. Atlas had to pick a doctor up off of the ground and literally carry him to Brody for his friend to be seen.
When they took off the injured wrestler's shoe and saw his foot had turned blue, the doctor called for assistance. They had to hurry if they were to save the man's life.
Brody's injuries included wounds to his liver and intestines. Atlas remained at the hospital while his friend was operated on. He'd hoped to hear good news to take back to the other wrestlers. Doctors came out to let him know the intestinal damage had been repaired, but they still had a long way to go. Brody was deemed 'touch and go.'
Atlas, who'd been beside himself yelling and punching walls at the hospital while his friend fought for life, was asked to leave. His being in the building was frightening hospital staff.
Bruiser Brody's distraught friend returned to the wrestling event to find — despite there still being blood on the floor of the locker room where Brody had laid — the atmosphere was business as usual. Wrestlers at the event were laughing and congratulating each other. What had transpired earlier seemed to be the furthest thing from their thoughts.
No one seemed to care.
Even the police seemed nonchalant. The prevailing belief among the authorities was a fan attacked Brody. Shockingly, Invader 1, the man who had stabbed Bruiser Brody multiple times only hours before, had inexplicably returned to the locker room to prepare for his scheduled match. Atlas told them that Jose Gonzalez committed the assault, but the officers didn't understand English.
Unfortunately, Bruiser Brody died at 5:40 am the next morning. He never made it out of the operating room. The quality of medical care in Puerto Rico at the time likely contributed to his death.
Some people believe that, had he been in the continental US, he might have survived.
Later that day, a group of wrestlers wondered why the police hadn't reached out to get their statements. Eventually, authorities questioned the men. Dutch Mantell, one of the wrestlers at the event, was told Gonzalez would be charged with first-degree murder and he (Mantell) should expect to be called as a witness in an upcoming trial.
The arrest and trial of Jose Gonzalez
Gonzalez was indeed arrested and charged with the murder of Bruiser Brody. He spent one night in jail before being bailed out.
After a first trial postponement, a second trial was scheduled for January 23–26, 1989. The charge against Gonzalez had been reduced to voluntary manslaughter. Both Mantell and Atlas were subpoenaed to testify, but both men received their paperwork in the mail after the verdict had been decided.
They never got to tell their side of the story at trial — never got to do their part to ensure their friend received justice.
Gonzalez's friends and business associates, however, did get the chance to testify on his behalf. They spoke highly of their friend and vilified Brody, claiming he was a crazed lunatic who could snap at a moment's notice. In their opinion, Invader 1 had no choice but to defend himself against the much larger Brody.
Jose Gonzalez, the famous Puerto Rican wrestler, also known as Invader 1, was acquitted of the charges against him without testifying. Lawyers had claimed on his behalf that the killing of Bruiser Brody was done in self-defense. A jury agreed, ruling in his favor.
The man who hid a large knife under a towel and convinced a rival wrestler to come into a secluded shower area before stabbing him multiple times got away with it. Gonzalez continued wrestling, putting together a long career of money-making matches at venues around the world.
Many of his contemporaries consider what he did to Brody to be murder, and his career accomplishments remain overshadowed by the events of July 1988. However, Gonzalez was a star, and as long as he drew paying fans to see his matches, he continued to find work.
Brody is celebrated for his contributions to the wrestling world to this day. He is considered one of the greatest 'big men' wrestlers the world has ever seen and credited by many professional wrestlers who followed him as the reason they joined the business.
He was inducted into the Legacy Wing of the WWE Hall of Fame in 2019.
Sources
"Bruiser Brody - Details on His Murder and Influence in Wrestling." Pro Wrestling Stories. Last modified October 26, 2020. https://prowrestlingstories.com/pro-wrestling-stories/bruiser-brody/.
Featherstone, Chris. "Bruiser Brody's Gruesome Death Still a Mystery Over 30 Years Later." FanBuzz - Sports News - NFL | NCAA | NBA | WWE. Last modified June 12, 2020. https://fanbuzz.com/pro-wrestling/bruiser-brody-death/.
Ostler, Scott. "The Night the Fun Was Drained Out of Pro Wrestling." Los Angeles Times. Last modified July 20, 1988. https://www.latimes.com/archives/la-xpm-1988-07-20-sp-6115-story.html.
Russo, Ric. "LOCKER ROOM MYSTERY." OrlandoSentinel.com. Last modified December 9, 2018. https://www.orlandosentinel.com/news/os-xpm-2000-12-15-0012150078-story.html.
Ryan. "Bruiser Brody Locker Room Murder." Wrestler Deaths. Last modified September 13, 2018. https://wrestlerdeaths.com/bruiser-brody-death/.
Shorey, Eric. "Who Is José González, The Man Once Accused Of Fatally Stabbing Pro Wrestler Bruiser Brody?" Oxygen Official Site. Last modified May 6, 2019. https://www.oxygen.com/martinis-murder/jose-gonzalez-accused-stabbing-pro-wrestler-bruiser-brody.
About the Creator
Historian for Minnesota Then using this platform to share historical true crime research and short story fiction (along with the occasional other stuff).
Reader insights
Be the first to share your insights about this piece.
Add your insights