The Disappearance of Helen Claire Frost
What happened?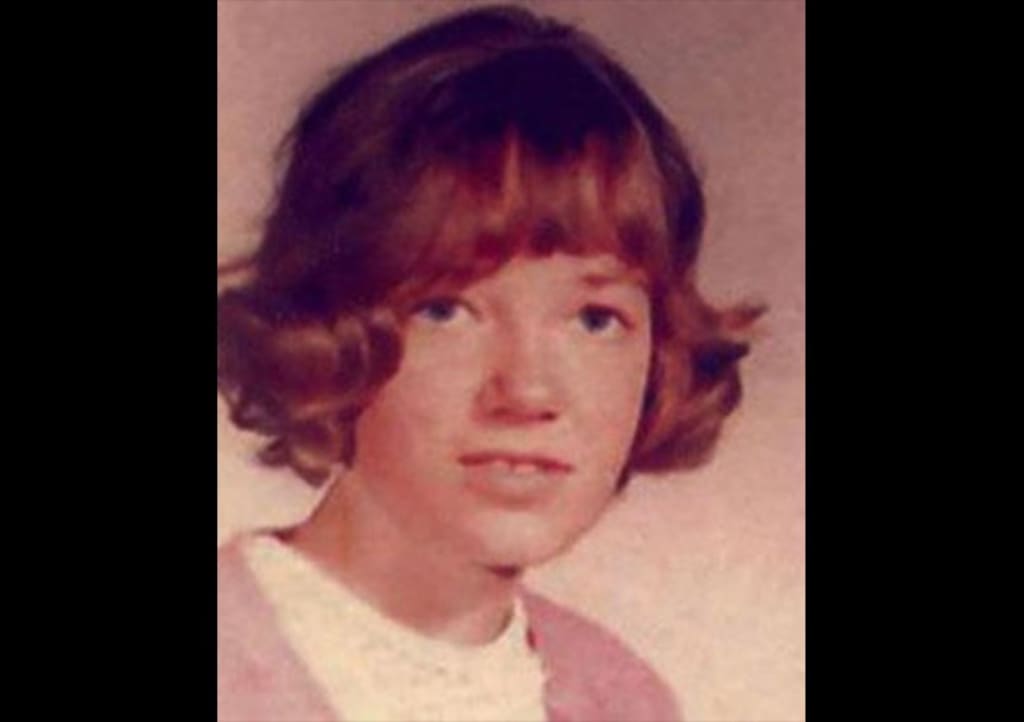 Before The Abduction
Helen was born in England on the 17th of October, 1952. Four years later, Helen, her mother, father, and older sister Sandy all moved to Nanaimo (Na-ny-mo), British Columbia, Canada. In 1969, when Helen was only 17 years old she moved to Prince George, British Columbia. Her sister soon moved in that same month; November. Their apartment was on the 1600 Block of Queensway and was shared with an older woman named Darlene and her child, who was only a newborn.
Only a year following their move to Prince George, Helen found herself pregnant. She gave birth to her daughter, Sandra Jennette, at a home for unwed mothers in Kamloops on the 13th of May. A short time later she returned to Prince George where her boyfriend at the time told her that if she were to give the baby up for adoption, he would stay with her. Following her giving her up, her boyfriend left her. However, her sister said in a 2018 interview that the welfare worker who was with Helen at the hospital convinced her it was best to give the baby up for adoption. Helen did attempt to get her daughter back that summer, but it was to no avail. According to Sandy, Helen had come out of the social services office crying and hysterical.
As time passed, Helen came to terms with it. Her relationship with the baby's father, Stefan Grumper, slowly died out as well. Over the next six months leading up to her abduction, things seemed to be going well. Despite Helen's shy and introverted nature she managed to work various jobs through Prince George including a busser at Hudson's Bay Company cafeteria, and a gas station painter. This normality was something she embraced at the time. That was until the 13 of October 1970; only 5 days before her 18th birthday. It was on that day Helen went missing.
The Abduction
Helen's disappearance is one that has plagued Canada for some time, simply because there seem to be no logical answers. As we said, it was on the 13 of October. That night around 8 PM Sandy had just returned home from having coffee with a close friend. Helen and their roommate had been home when she got there. As Sandy was getting settled Helen asked if she'd wanted to go on a short walk with her before they turned in for the night. Sandy declined, saying she was tired, and it was far too cold outside. Helen decided to venture out alone. It was 8:20 when she left. Two days later, her sister had not seen nor heard from her and it was then she was reported missing.
She waited to report it for that long because she knew Helen had friends in the area and assumed she'd gone to stay at one of their houses. The Royal Canadia Mounted Police (RCMP) took a statement from Sandy's statement and said they would begin work on it, but believed they did not take it as seriously as they should. This is partly because of how Helen and Sandy behaved in the past. Despite being a quiet, and shy young woman, Helen would hitchhike with her sister very often.
It was mostly when the girls were younger, Sandy 15 and Helen 14. According to what I've read they once hitchhiked to Abbotsford for work along with Penticton. When the jobs they were promised didn't pan out, they'd simply sleep out the night outside the Jobsite and hitchhike back in the morning. Given this history, it was initially believed that she'd simply wanted to disappear. That was just one of the many theories, however.
Investigation:
Helen's investigation has been ridiculed in the past. As we said, she had a history of hitchhiking so the police, initially, didn't take it very seriously. They'd assumed she'd hitchhiked out of town, most likely to start a new life. This was further driven home with the unsubstantiated claim that Helen was seen leaving the Husky Gas Station in Prince George. Sandy has said in more recent interviews that she was simply too young to advocate for a more detailed investigation and that if she'd been able to, this case could have had a very different outcome.
In late 2009 an article was published about Helen's case that brought up the idea of her going missing on the now infamous Highway of Tears; a 450 mile stretch of Highway 16 between Prince George and Prince Rupert, British Columbia, Canada. This highway has been the site for over 40 women, mostly indigenous. Sandy has advocated that Helen be placed on the list so her case will get more coverage and hopefully bring her and her family the answers they deserve.
Their apartment was only nine blocks from Highway 16 and was on a street that intersects with Highway 97. Both of these highways have connections to the Highway of Tears, and so, if Helen would have gone missing on this highway, her case would fall into the same vein as the Highway of Tears cases. A 2005 article is the earliest I can find Sandy trying to get Helen included on the list, as she eventually was. Sandy said, "I don't know if she's part of all those women or not, but why not include her in the big group? Because maybe her photo would come up a lot more. If she was part of the Highway of Tears, there would be more publicity. She is just as missing as they are, from the same area."
Theory I: Helen took her own life.
As time ticked on in Helen's case, it became more and more difficult to assume she was alive. It was around this time the theory that Helen had taken her own life began to circulate. While Helen's sister wanted to believe that Helen was still alive, as a body has never been discovered, there was this 2005 article that seems to hint to Helen taking her own life.
"She recalled that her sister seemed to be in normal spirits the night she went missing. In retrospect, however, her sister may have been upset by the fact that the sisters shared their three-bedroom apartment with another young girl who had a new baby, she said. 'My sister had just given her baby up for adoption. Her boyfriend told her that if she would give the baby up for adoption, he would marry her. But he dumped her after she gave the baby up. She tried to get her baby back but couldn't and she started bawling her eyes out."
Given all the circumstances of what was taking place at the time, and the emotional toll giving up her child, and losing the father not long after, I would say this theory absolutely holds water. At just about 18, Helen wouldn't have developed enough to deal with that immense amount of stress that fell upon her.
Theory 2: Helen started a new life.
If Helen is still alive, she'd be nearing her 70's. Some believe that she simply left Canada to live elsewhere because she wasn't happy with her living situation. Given that she put her child up for adoption and then had to live with one, being reminded constantly of what she could have had, it's possible she wanted that somewhere else. Somewhere that didn't remind her of what had taken place before. In the same 2005 article we spoke about before, Sandy mentions that old neighbors made the claim that they'd seen Helen at a mall not long after she went missing. She said, "They were sure it was her." "They hollered her name and she turned and took off."
There are some holes in this theory though. Helen left all of her money in the house when she left and the only clothes she had were the ones she was wearing when she left. Even if she'd planned on starting somewhere new, she would have at least wanted some cash to get her started. Also, why would she have bothered to ask Sandy if she'd wanted to come on the walk as well? Unless it was to tell her goodbye, it seems all signs point to some sort of foul play.
If Helen wanted to leave and wanted to say goodbye, she ran the risk of her sister talking her out of it. I believe Helen was simply asking her to come with her because she wanted company.
Theory 3: Foul Play
Finally, we're going back to the idea that Helen was abducted and had her life taken. But in this case, she wouldn't have been on the highway at the time. The skeletal remains of a young woman known as the New London County Jane Doe were discovered in a wooded area in Ledyard, Connecticut on the 30th of May, 1974. Alongside her remains were those of a notorious bank robber, Gustavous Lee Carmichael. His girlfriend at the time, who is assumed to have been buried beside him went by the name Lorriane Stahl. Its believed Helen could have been this woman.
There has only ever been a sketch released of the woman, so there is no photo evidence, but some have compared the two women's physical attributes. Lorraine was said to be around five foot two, while Helen was five foot five. Lorraine was described as having reddish-brown hair, while Helen had brownish blonde hair. Furthermore, there were many items found with Lorraine's remains that Helen never owned including a ring with an almond-shaped design, and the clothing was completely different.
Of course, if this was Helen, she would have been found with different clothing than what she was wearing when she went missing. At this point, it would have been nearly 4 years. Furthermore, the ring we spoke of was said to remember an Alumni ring from Johns Hopkins School of Nursing. I feel it's more likely this was a personal item to Lorraine and so she may have a connection to that school. I don't, however, believe this is Helen.
Things like hair and clothes can be changed but the height is 3 inches off and Lorraine had no maxilla as the result of a gunshot wound. If that was Helen, she would have had no choice but to go to the hospital. Gunshot wounds have to be reported to police so I feel like it would only be a matter of time before she was identified either through familial DNA or fingerprints. Finally, if Helen had plans of starting a new life, I doubt the first thing she would do is become a bank robber.
Helen's Daughter:
Speaking of familial DNA, Helen's daughter was reunited with Sandy in January of 2018. Helen's daughter began the process of getting the name of her birth mother and was eventually successful. Following this, she was met with all the articles about Helen going missing all those years ago. A short time later, she came in contact with Helen's sister, her aunt, Sandy. This seems to be the only silver lining in this case.
With knowing how upset Helen was about giving her daughter up, whether it was the social worker or her boyfriend who convinced her, I believe she would come forward following her daughter being reunited with Sandy. It was obviously something that meant a lot to her.
As of now, Helen's body has yet to be discovered, and so the case is unsolved. The RCMP has said it isn't a cold case as they're actively looking into new leads and information so if you believe you do have anything that can help them, don't hesitate to report it. You can report any information to the Prince George Detachment RCMP at 1-250-561-3300. You can also report it to Crime Stoppers at 1-800-222-8477.