The Black Dahlia
Los Angeles's Most Infamous Murder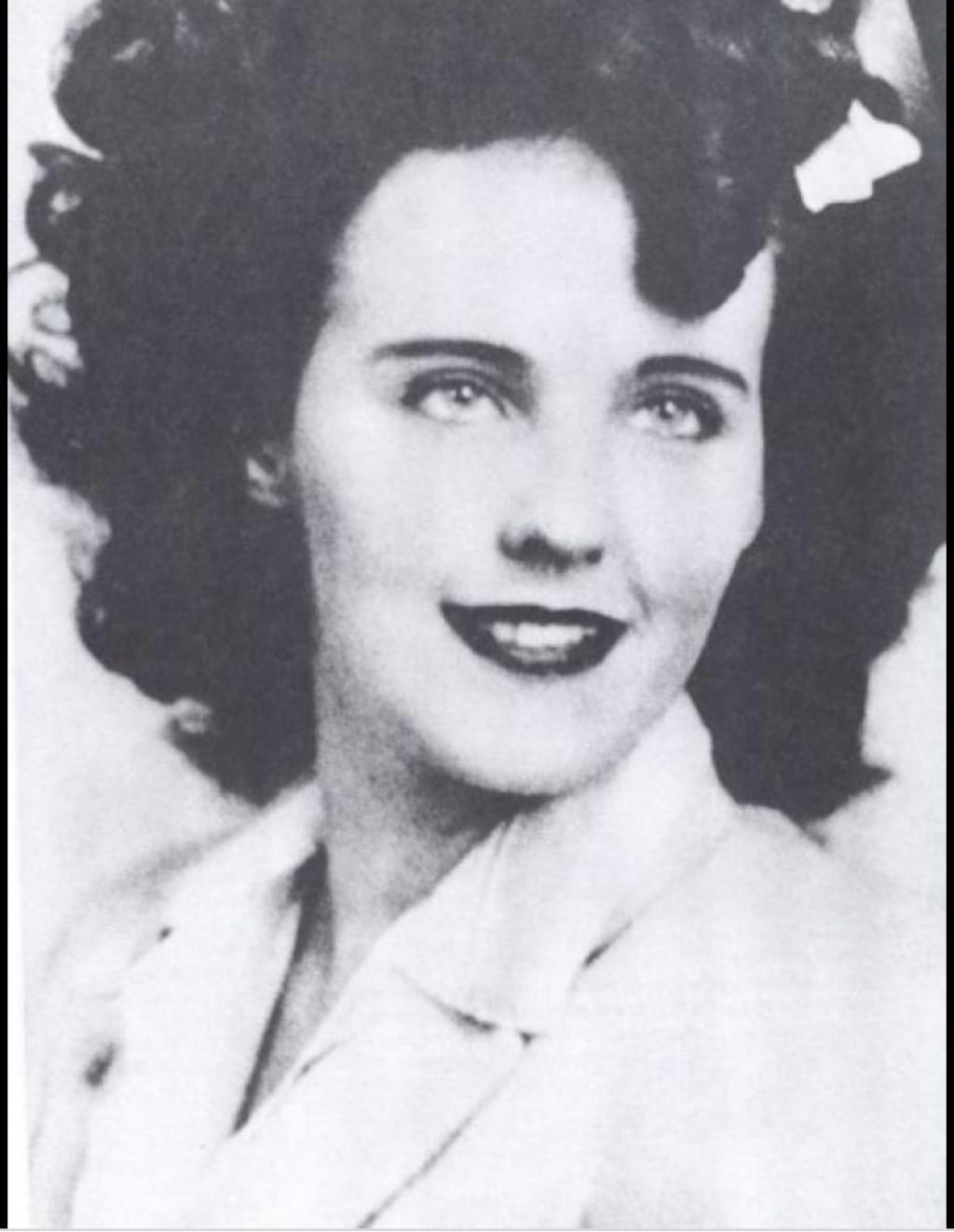 Elizabeth Short was born on July 29, 1924 in Boston, Massachusetts. She was born to Cleo Short and Phoebe Sawyer.
In 1930, Elizabeth's father abandoned his car on the Charlestown Bridge and it was assumed he had jumped into the river below, ending his own life. But in 1942, Elizabeth's mother received a letter from her presumed-deceased husband. He apologized, saying he never committed suicide and actually faked his death to start a new life in California.
At age 18, Elizabeth relocated to Vallejo, California to live with her father. But many arguments between them led to her moving out in January 1943.
She took a job at the Base Exchange at Camp Cooke and it is reported that she was living with a U.S. Army Air Force sergeant that was apparently abusing her. She left and moved to Santa Barbara but was arrested on September 23, 1943 for underage drinking at the local bar. The authorities sent her back to Massachusetts but she returned to Florida.
While in Florida, Elizabeth met a man named Matthew Michael Gordon Jr who was an Army Air Force officer. Elizabeth told friends that Gordon sent her a letter asking her to marry him while he was recovering from injuries from a plane crash in India. She accepted but on August 10, 1945, less than a week before the end of the war, he died in a second plane crash.
In July 1946, Elizabeth moved to Los Angeles visit an acquaintance from Florida who was stationed at the Navel Reserve Air Base, Lieutenant Joseph Gordon Fickling. She worked as a waitress and rented a room behind the Florentine Gardens nightclub. She was an aspiring actress though she had no known acting jobs or credits.
On January 9, 1947, Elizabeth returned home in Los Angeles from a short trip to San Diego with a man named Robert "Red" Manley, a 25 year old married salesman she had been dating. He dropped her off at the Biltmore Hotel where she was supposed to meet her sister that afternoon. Staff would see her using the lobby telephone. By then, she left to go to the Crown Grill Cocktail Lounge. Elizabeth Short would never been seen alive again.
On the morning of January 15, 1947, a woman named Betty Bersinger was walking with her three year old daughter roughly around 10 am in the neighborhood of Leimert Park. She came upon what she thought was a discarded store mannequin because of it's stark white appearance. When she realized that it was actually a corpse, she rushed to a nearby house and phoned police.
When police arrived they found a severely mutilated body of a female that was completely severed in half at the waist. Her face had been slashed from the corners of her mouth to her ears giving her an eerie smile. Entire portions of her skin were sliced away which could mean that the killer was trying to conceal her identity. Her upper half was positioned about a foot away from the lower half. They determined that she had to have been "posed" due to the position of her body. Her hands were over her head, her elbows bent at right angles, and her legs were spread apart.
Near the body, police found a heel print on the ground with tire tracks as well as a cement sack containing watery blood inside. Though those pieces of evidence would prove useless.
Several photos of the corpse and crime scene were taken by a reporter named Aggie Underwood who worked for the Los Angeles Herald-Express. They would become the most sensationalized photos.
The autopsy was performed the next day on January 16, 1947. They positively identified the remains as Elizabeth Short's via her fingerprints. Her report stated she was 5 feet 5 inches tall, weighed 115 pounds, and had light blue eyes, brown hair, and badly decayed teeth.
They found ligature marks on her ankles, wrists, and neck, as well as an "irregular laceration with superficial tissue loss" to her right breast. There was also lacerations to her right forearm, left upper arm, and the lower left side of her chest.
The coroner determined that a technique that was taught in the 1930's called a hemicorpectomy was performed on Elizabeth. Her spine between the second and third lumber vertebrae as well as the part of the intestine called the duodenum was perfectly separated. She had very little bruising around the incision line suggesting that it had to be done after death.
The skull was not fractured but there was bruising to the front and right side of her scalp, with a small amount of bleeding in the subarachnoid space on the right side, consistent with blows to the head. Her cause of death was determined as hemorrhaging from the lacerations to her face and the shock from blows to the head and face. The manner was labeled a homicide.
Elizabeth Short's pictures were on the front page of almost every newspaper and she was posthumously known as the "Black Dahlia" for her love of dark clothing and "adventuress" lifestyle.
Around January 24, a manila envelope was addressed to the Los Angeles Examiner and other Los Angeles papers. A large message on the front made out of cut and pasted newspaper clippings read; "Here is Dahlia's belongings, letter to follow." Inside was Elizabeth's birth certificate, business cards, photographs, names written on pieces of paper, and an address book with the name Mark Hansen embossed on the cover.
No fingerprints could be lifted from the envelope because it was carefully wiped clean with gasoline, similar to how Elizabeth's body was wiped clean, suggesting the package could've came straight from her killer.
The very same day, a handbag and black suede shoe were found on top of a garbage can in an alley a short distance from where Elizabeth was found. These items were also wiped clean with gasoline.
On March 14, an apparent suicide note scrawled in pencil on a sheet of paper was found tucked inside a shoe in a pile of men's clothing. The note read: "To whom it may concern: I have waited for the police to capture me for the Black Dahlia killing, but have not. I am too much of a coward to turn myself in, so this is the best way out for me. I couldn't help myself for that, or this. Sorry, Mary." The clothes included that of a coat and trousers of blue herringbone tweed, a brown and white T shirt, white jockey shorts, tan socks and tan moccasin leisure shoes, size about eight. This discovery led no clues to the identity of its owner making it another dead end.
Mark Hansen was named a suspect in the case as he was the owner of the address book. He was cleared of suspicion in the case but he did confirm that the shoe and handbag indeed belonged to Elizabeth. A few people listed in the address book were interviewed but no one was believed to be potential suspects.
George Hodel is probably one of the most popular suspects the police have interviewed. He was a surgeon and his son, Steve Hodel, actually believes he could be the killer. In 2003, it was revealed that investigators wiretapped Hodel's home and recorded a conversation between him and another person. George is caught saying, "supposin' I did kill the Black Dahlia. They couldn't prove it now. They can't talk to my secretary because she's dead. They thought there was something fishy. Anyway, now they may have figured it out. Killed her. Maybe I did kill my secretary."
What a mysterious thing to say. Though this is not evidence to prove that he did do it.
Elizabeth Short was buried in Mountain View Cemetery in Oakland.
Although we have a long list of suspects, no one has been named the killer and Elizabeth Short's case went cold. As of today, we still don't have an answer as to who may have done this. Will we ever solve this murder? Or will it forever remain unsolved?
investigation
About the author
Love reading about true crime? Me too!! I love to research about all the different cases that are out there and voice questions that come along with it. Stay tuned to my page to learn about all the true crime cases that there is.
Reader insights
Be the first to share your insights about this piece.
Add your insights