Ted Bundy: The Ladies Man
Ted Bundy, a man well known for his good looks, charisma and brutal murders from 1974-1978.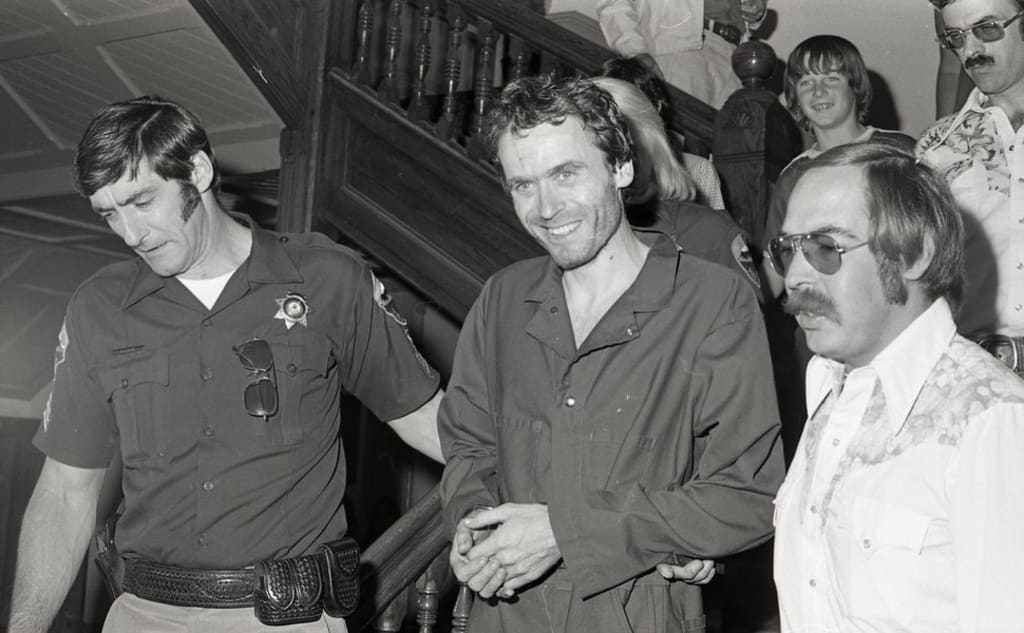 Theodore Robert Bundy, born Theodore Robert Cowell on November 24, 1946, was an American serial killer who kidnapped, murdered, and raped multiple young women and girls during the 70s and likely earlier. For more than a decade, Bundy denied all charges. Later, when he did confess, it was to 30 homicides that he committed in seven states. However, the true number of his victims is unknown and might be higher.
Bundy was known for his good looks and charisma, both of which he exploited to win the trust of his victims and society. Usually, he would approach his victims in public places, faking an injury or disability or even impersonating an authority figure. Then, he'd overpower, rape and kill them in secluded locations.
Bundy would sometimes revisit his crime scenes. There, he'd groom and perform sexual acts with the decomposing corpses. He did this until wild animals destroyed the bodies or until putrefaction, in which the body's fifth stage of decomposition takes place and completely decomposes the corpse.
He also decapitated at least 12 of his victims and kept the heads as trinkets in his apartment. On a few rare occasions, Bundy broke into homes at night and bludgeoned his victims while they were asleep.
His case was huge back in the 70s up until his execution. People were fascinated with Bundy as he seemed to be more than one person. He was a master at deception and was able to change his personality freakishly easy. Although he was diagnosed with bipolar disorder, he had many underlying issues that were unclear and left undiagnosed. It was stated that these issues helped play a role in his crimes but weren't the problem. The problem was Bundy.
Ann Rule, a biographer, who had worked with Bundy. described him as, "a sadistic sociopath who takes pleasure from another human's pain and the control he had over his victims to the point of death and even after." Bundy named himself, "the most cold-hearted son of a bitch, you'll ever meet." A member of his last defence team, Attorney Polly Nelson wrote he was, "the very definition of heartless evil."
Early Life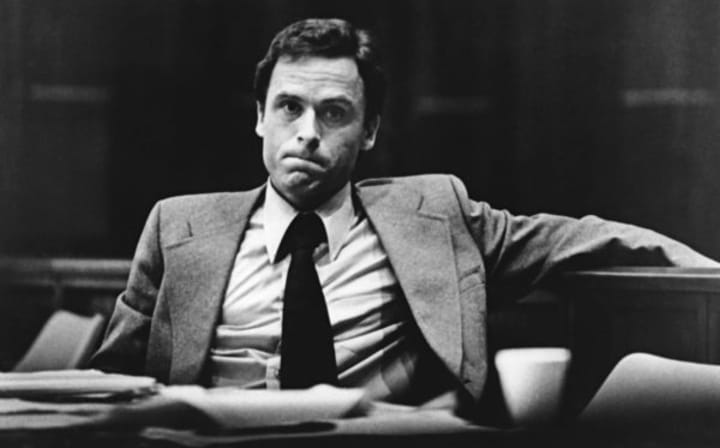 Bundy was born to Eleanor Louise Cowell, (1924-2012; mostly known as Louise) at the Elizabeth Lund Home for Unwed Mothers in Burlington, Vermont. Even still, his father's identity is not certain. Bundy's birth certificate is assigned paternity to a Lloyd Marshall, a salesman and Air Force veteran. Other accounts list his father as unknown. Louise claimed that she was seduced by a "Jack Worthington" who was claimed to be a war veteran that also abandoned her. A few years later, it was found by investigators that nobody by that name was in the Merchant Marine or Navy archives.
Some of their family members gossiped that Bundy was fathered to Louise's violent and abusive father, Samuel Cowell. No material evidence was shown to support this rumour. Another rumour was that his father was an older, married member of Louise's church.
For three years, Bundy lived in Philadelphia, in the home of his maternal grandparents, Samuel and Elanor Cowell. They both raised him as their son to avoid the shame of being born out of wedlock. Bundy was told for most of his life that his mother was his older sister. Of course, he later discovered the truth, but he did have varied recollections of it.
He told a girlfriend of his that one of his cousins showed him a copy of his birth certificate after they called him a "bastard." However, Bundy told biographers Hugh Aynesworth and Stephen Michaud that he found his birth certificate himself. Ann Rule, who had known him personally, believed that he didn't find out until 1969. It was also shown that Bundy expressed a lifelong hatred for his mother for never telling him that she was his mother and how she never talked to him about his real father.
In some of his interviews, Bundy spoke well of his grandparents. He told Rule that he respected, identified with, and clung to his grandfather. However, in 1987, he and other family members expressed how cruel and tyrannical he was. They said that he hated black people, Italians, Catholics, and Jews; he also beat his wife and the family dog and swung the neighbourhood cats by their tails.
Bundy's grandfather also threw Louise's younger sister Julia down a flight of stairs because she overslept. At least once, he flew into a violent rage when asked about Bundy's paternity.
Bundy described his grandmother as a timid and obedient woman. She also went to electrocution therapy for her depression. It was also said that she was scared to leave her house near the end of her life.
At an early age, Bundy expressed disturbing behaviour. One instance is when Julia recalled waking up from a nap one day and was surrounded by knives from their kitchen. Bundy, three years old at the time, was standing by the bed, smiling.
Then in 1950, Louise changed her last name from Cowell to Nelson. After being urged by many family members, she left and moved out with Bundy to live with cousins Alan and Jane Scott, who lived in Tacoma, Washington. The next year, Louise met a hospital cook named Johnny Culpepper Bundy at an adult singles night at their local church. They were to wed later that same year, and Johnny adopted Bundy.
Louise and Johnny had four children together. Johnny tried to include Bundy in their family activities such as camping trips, but he was distant. Bundy had complained to a girlfriend that Johnny wasn't his real father, didn't make a lot of money, and wasn't very bright.
When Bundy spoke to biographers Michaud and Aynesworth, he talked about how he would roam his neighbourhood and that he'd look through barrels of trash to find pictures of naked women. He told another, Polly Nelson, that he liked detective magazines, crime novels, and true crime documentaries that followed stories of sexual violence. Bundy emphasised that he like the documentaries specifically when there were pictures of dead or contorted bodies.
Bundy wrote a letter to Rule describing how that was false. He stated he, "never, ever read fact-detective magazines and shuddered at the thought" that anyone else would. As he talked to Michaud, he told stories about how he'd go out drinking late at night and hoped to watch women undress in uncovered windows.
The accounts of his social life aren't certain either. On one hand, he told Michaud and Aynesworth that he chose to be alone as a teenager because he didn't understand how to develop friendships and he didn't understand why people became friends. On the other, classmates and other students that knew Bundy said he was well known and well-liked by people.
It was prominent that Bundy was enthusiastic about downhill skiing. He constantly pursued the activity and used stolen equipment or forged lift tickets. He was arrested at least twice during his high school years on suspicion of burglary and auto theft. The details of these incidents were expunged from his record once he turned 18 as it was customary in Washington.
University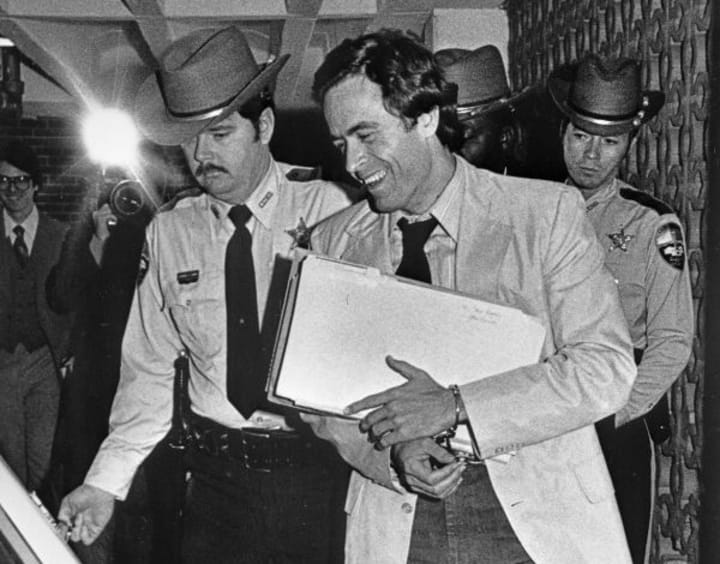 In 1965, Bundy graduated high school and spent a year studying at UPS (University of Puget Sound) before he was transferred to UW (University of Washington) in 1966 so he could study Chinese. A year later, Bundy became romantically involved with a classmate who has been given many names, most commonly Stephanie Brooks. Then in 1968, he dropped out and worked a few minimum-wage jobs.
Bundy was a volunteer at the Seattle office of Nelson Rockefeller's presidential campaign and through that became Arthur Fletcher's bodyguard during his campaign for Lieutenant Governor of Washington State. In August, Bundy attended the Republican National Convention in Miami as a Rockefeller delegate in Miami. Shortly after this, Brooks ended their relationship.
Brooks returned to her family's home in California. She reasoned that she was frustrated by Bundy's lack of maturity and ambition. Dorothy Lewis, a psychiatrist, pinpointed this part of Bundy's life as pivotal to this development. Bundy was devastated and went to Colorado. He travelled to Arkansas and Philadelphia to visit relatives, and he enrolled for one semester in Temple University. Rule believed that at this time in 1969, Bundy found his birth certificate and found out the truth about his real parents.
Bundy returned to Washington in mid-1969. There he met a divorcee who worked as a secretary. She's been identified as, Meg Anders, Beth Archer and Liz Kendall, but is more formally known as Elizabeth Kloepfer. Their relationship would continue past his incarceration in Utah, 1976.
The next year, Bundy re-enrolled in UW as a psychology major. Soon, he became an honour student and was well-liked by many of his professors. In 1971, he worked at the Seattle Suicide Hotline Crisis Centre. There, he met Ann Rule. She was a former police officer and an aspiring crime writer. One of her most prominent biographies was The Stranger Beside Me, which was about Bundy himself. There, she described him as kind, solicitous, and empathetic.
Bundy graduated UW in 1972 and joined Governor Daniel J. Evans' re-election campaign. He shadowed Evans' opponent Albert Rosellini by posing as a college student. Once Evans was re-elected, Bundy was hired as Ross Davis' (chairman of the Washington State Republican Party) assistant. Davis thought highly of Bundy and described him as smart, aggressive and a believer in the system.
Despite his mediocre Law School Admission Test scores, Bundy was accepted into UPS' law school in 1973. This was most likely because of the strong recommendation letters received from Evans, Davis and many UW psychology professors.
In the Summer of 1973, Bundy went on a trip to California on Republican Party business. There, he met with Brooks, who was surprised and in awe of his transformation. They began to date again. At this time he was still with Kloepfer but neither of the women knew about the other.
Later into the same year, Bundy continued to date Brooks. She flew to Seattle on many occasions to stay with him. The two talked about marriage and once he introduced her as his fiance to Davis. In January 1974, he suddenly broke all contact with Brooks. A month later, she was able to get a hold of him and demanded answers. He was calm and said, "Stephanie, I have no idea what you mean" and he hung up on her, that was the last time she ever heard from him.
Bundy would go on to explain later that he wanted to prove to himself that he could've married her. Brooks argued that he did it out of spite and that he planned it to be a petty revenge game for their first break up.
At this time, Bundy began to slip in his classes. He skipped classes and by April he completely stopped attending—as young women started to disappear in the Pacific Northwest.
The Washington and Oregon Murders
"Bundy was always surprised when anyone noticed that one of his victims was missing, because he imagined America to be a place where everyone is invisible except to themselves."
Nobody is certain of when Bundy began to kill. He told different stories to many different people and always refused to talk about the specifics of his earliest crimes. However, he talked about dozens of his murders in very graphic details before his execution. Bundy told Nelson he attempted his first kidnapping back in 1969 in New Jersey but didn't kill anyone until 1971. However, he told Art Norman, a psychologist, he killed two women in Atlantic City in 1969 while he was visiting family.
On January 4, 1974 (around when he broke up with Brooks) after midnight, he entered 18-year-old Karen Sparks' basement apartment. He bludgeoned her as she slept and sexually assaulted her with either the same rod he beat her with or a metal speculum. She was unconscious for 10 days and survived with permanent physical and mental disabilities. The next month, February 1, he broke into a UW undergraduate's room, Lynda Ann Healy, who would broadcast the weather reports for skiers in the morning. He beat her until she was rendered unconscious, dressed her in a white blouse, blue jeans and boots. He then proceeded to carry her away.
It became a huge issue how female students in the first half of 1974 kept disappearing at the rate of around one woman per month. This sparked from Healy's disappearance because of how prominent she was on the radio. One detective stated, "She had never missed a day of work, so this was a shocker to everyone."
On March 12th, a 19-year-old student at The Evergreen State College of Olympia (around 60 miles/95 km from Seattle) left her home to go to a jazz concert on campus. She never arrived.
April 17, a woman named Susan Elaine Rancourt disappeared whilst she was returning to her dorm room after an evening advisers' meeting at Central Washington State College, 110 miles (175 km) south-east of Seattle.
Two Central Washington students came forward to report that on the night of Rancourt's disappearance, a man wearing an arm sling was asking for help carrying a large load of books to his brown/tan Volkswagen Beetle.
May 6, Roberta Kathleen Parks left her dorm (85 miles/135 km South of Portland) to have some coffee with her friends at the Memorial Union but never did arrive.
King County and Seattle detectives were getting concerned. There wasn't much significant evidence, and the victims had little in common other than that they were attractive, young college students with long hair parted in the middle.
On June 1, a woman by the name of Brenda Carol Ball, 22, went missing after leaving a tavern in Burien near Seattle's International Airport. Detectives stated that she was last seen talking to a brown-haired man with his arm in a sling in the parking lot.
June 11, a UW student, Georgann Hawkins, disappeared when walking down a lit alley between her boyfriend's dorm and her sorority home. Three Seattle homicide detectives and criminalists swept through the alleyway thoroughly but found nothing. When this was publicised, people came forward and reported that they saw a man in an alleyway near that dorm. He was on crutches carrying a briefcase and was in a leg cast. A woman stated that he asked her to help him carry the case to his light brown Volkswagen Beetle.
During all of this, Bundy was working in Olympia. He was the Assistant Director of the Seattle Crime Prevention Advisory Commission, where he wrote a pamphlet for women on rape prevention. Later, he worked at the Department of Emergency Services (DES), which was a state government agency that was assisting in the search of missing women. While at DES, Bundy met and dated a woman by name of Carol Ann Boone.
She was a mother of two who was divorced twice. Later, she became vital to Bundy near the end of his life.
Soon the news of the six missing women and Sparks' attack was reported all over the news, in the papers and on television. It spread like wildfire throughout all of Washington and Seattle. Fear plagued the people and as a result, the number of young women hitchhiking (which was common and seen as safe at the time) dropped sharply.
Pressure was laid on law enforcement; however, the scarcity of physical evidence severely impeded their ability to answer the public's questions. They also couldn't allocate reporters with what little information they had, as they feared it would compromise the investigation.
There were more similarities between the victims that they noted, for example: the disappearances all took place late at night, most commonly around ongoing construction, and usually it happened within the week of a midterm or a final; all of the missing women were wearing blue jeans or slacks, and most witnesses reported seeing a man wearing a cast or a sling, driving a brown/tan Volkswagen Beetle at the scene of the crime.
The murders in the Pacific Northwest were to come to an end on July 14. In the crowded beach of Lake Sammamish State Park in Issaquah, two women were abducted in broad daylight. Five women reported seeing a man wearing a white tennis outfit with his left arm in a sling talking to the two women that disappeared. He spoke with an accent, either British or Canadian and introduced himself as Ted. He told these women that he needed some help unloading his sailboat from his Volkswagen Beetle.
Four women he asked refused to help, one that went with him to his car, saw there was no sailboat and ran. Three more witnesses saw him talk to Janice Ann Ott, a 23-year-old probation caseworker. He told her the sailboat story and witnesses watched her leave with him.
Around four hours later, Denise Marie Naslund, 19, a student, was having a picnic. She left for a moment to go to the restroom, but she never returned. In the interviews with Michaud, Bundy told him that Ott was alive when he caught Naslund. He also forced one to watch as he killed the other. He denied these claims in an interview he had with Lewis, the day before his execution.
On September 6, two grouse hunters were near a service road in Issaquah, two miles (three km) east of Lake Sammamish State Park. There, they found the skeletal remains of Naslund and Ott. An extra femur and many vertebrae were also found at the sight, later to be identified by Bundy as Georgann Hawkins.
Six months went by and forestry students from Green River Community College were at Taylor Mountain, where Bundy frequently hiked. There, they came across the skulls and mandibles of victims Ball, Rancourt, Healy, and Parks. Mason's remains were never found.
The Idaho, Utah and Colorado Situation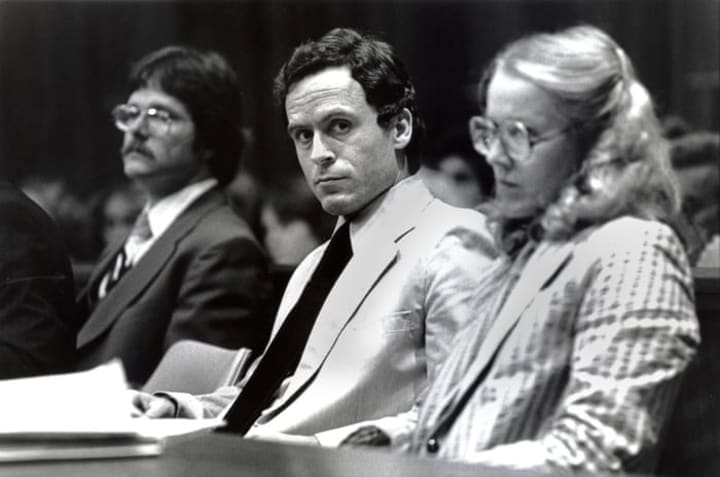 "Each time he was forced to make an actual confession, he had to leap a steep barrier he had built inside himself long ago."—Polly Nelson
August 1974, Bundy had received his second acceptance letter from the University of Utah Law School and so he moved to Salt Lake City. He left Kloepfer in Seattle, called her often, but dated other women while he was away. Bundy stated that when he studied his first-year law curriculum for the second time he was devastated to find that the other students had some intellectual capacity that he didn't. He said, "it was a great disappointment to me," and he found the classes inarticulate.
The following month, a whole new string of homicides began. This also included two that remained undiscovered until Bundy confessed to them before he was executed. On September 2, he raped and strangled an unidentified hitchhiker in Idaho. It's unclear what he did, but Bundy either disposed of the remains in a nearby river immediately or went back to it the next day to dismember the body and take photos of it.
Exactly a month later, Bundy captured 16-year-old Nancy Wilcox in a suburb of Salt Lake City. He took her into a wooded area; he said that he intended to deescalate his urges by raping her, and then he'd release her. It failed as he strangled her—accidentally, he said—while trying to silence her screams. He buried her body 200 miles (320 km) south of the suburb, but it was never found.
A few days later on October 18, the 17-year-old daughter of the police chief of Midvale disappeared after she left a pizza parlour. Nine days later, in a mountainous area, her nude body was found. Her postmortem indicated that she might have been alive for at least a week after she disappeared.
On that year's Halloween, 17-year-old Laura Ann Amie left a cafe after midnight and disappeared. On Thanksgiving Day, hitchhikers found her naked body to the northeast in American Fork Canyon. Both of the victims were raped, sodomised, beaten and strangled with nylon stockings.
A few years later, Bundy would go on to describe that he'd shampoo and apply makeup to Smith and Ann's corpses.
On November 8, telephone operator Carol DaRonch was at Fashion Place Mall in Murray, which was less than a mile from the restaurant where Smith was last seen. Bundy approached her and introduced himself as Officer Roseland of the Murray Police Department. He told DaRonch that someone had attempted to break into her car and that she should file a complaint with the station with him.
She asked him for some identification and he showed her a fake badge, but she bought it. DaRonch went with him to his car, she saw that it wasn't a police car. She said later in an interview, "I thought it was strange, but I told myself that he was undercover."
DaRonch got into his car and he drove into an empty elementary school parking lot. She asked him what he was doing and Bundy tried to handcuff her. He was only able to handcuff one of her wrists. DaRonch as able to open the car and escaped. She said, "I got out of the car and ran to this couple in another and just got in. I was hysterical and I just told them to take me to the police station."
The same evening, a 17-year-old student named Debra Jean Kent went missing after she left a theatre production at her school to pick up her brother. A student saw a man pacing near the rear of the auditorium before her disappearance.
Investigators found a key that fit DaRonch's handcuffs outside the auditorium. In another interview, DaRonch said, "I heard later that a woman went missing right after I was attacked... it stuck with me [that] could've been me."
Later that November, Kloepfer called King County police another time after reading that women were going missing in towns around Salt Lake City. Kloepfer was interviewed in detail by Detective Randy Hergesheimer of the Major Crimes division. At this time, Bundy rose on the hierarchy of suspects, but the Lake Sammamish witnesses couldn't identify him from a photo line up.
Then, in December, Kloepfer called Salt Lake city's sheriff's office and emphasised her suspicions. Although he was on the list of suspects, there was no physical evidence that linked him to the crimes in Utah. Then, at the beginning of 1975, he returned to Seattle after his final exams so he could spend a week with Kloepfer. She didn't tell him she reported him to the police and she made plans to visit him in Salt Lake City in August.
In 1975, Bundy started to move his crimes east from Utah to Colorado. On January 12, 1975, a 23-year-old nurse named Caryn Eileen Campbell went missing while she was walking down the hallway between her room and the elevator. A month later, her nude body was found next to a dirt road outside the resort.
A post-mortem exam showed her cause of death was from blows to her head from a blunt object. There were also cuts on her body from a sharp weapon.
On March 15, a ski instructor, Julie Cunningham, 26, disappeared when she was walking from her apartment to a dinner date she had planned with a friend. Bundy told investigators later that he approached her on crutches and asked her to help him carry his ski boots to his car. Once there, he beat her, handcuffed her, assaulted her and then strangled her at a secondary site.
He took the six-hour drive weeks later to visit her corpse.
On April 6, Denise Lynn Oliverson, 25, went missing when she was riding her bike to her parents' house. Her bike and sandals were found near a railroad bridge.
May 6, Bundy lured 12-year-old Lynette Dawn Culver 160 miles (255 km) north of Salt Lake City. He drowned the girl and sexually assaulted her in his hotel room. Bundy then disposed of her body in a river.
Three of Bundy's Washington State DES coworkers, including Boone, visited him in Salt Lake City and stayed in his apartment in mid-May. Bundy spent a week in Seattle in early June and they discussed getting married the following Christmas. Kloepfer didn't mention how she reported him and Bundy didn't mention his relationship with Boone and romance with a Utah law student known as Kin Andrew and Sharon Auer.
June 28, a Susan Curtis vanished from her campus south of Salt Lake City. Her murder was Bundy's last confession that was tape-recorded, just moments before he was executed.
They weren't able to recover the bodies of Wilcox, Kent, Cunningham, Oliverson, Culver, or Curtis.
In either August or September 1975, Bundy was baptised into The Church of Jesus Christ of Latter-Day Saints. He wasn't an active participant in the services and ignored most of the church's restrictions. Following his 1976 kidnapping conviction, he was excommunicated why the church. After his arrest, he was asked about his religious preference; he said Methodist, which was the religion of his childhood.
Back in Washington, investigators were still struggling to make sense of the Pacific Northwest murder spree that ended just as suddenly as it started. They tried to compile names of Volkswagen Beetle owners named Ted, classmates and acquaintances of each victim, known sex offenders, and so on. Out of the thousands of possible suspects, they compiled their list to 100 suspects. Bundy was on the list.
He was at the top of the pile of suspects when word came from Utah of his arrest.
The Utah Arrest and Trial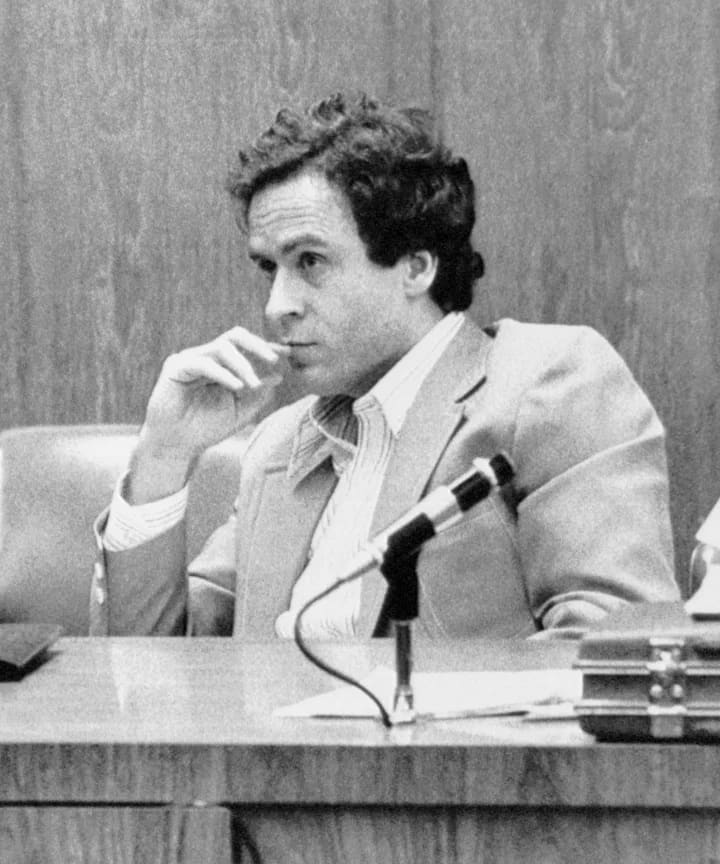 "His expression would so change his whole appearance that there were moments that you weren't even sure you were looking at the same person."
August 16, 1975, Bundy was caught and arrested by a Utah Highway Patrol officer, Bob Hayward, in another Salt Lake City suburb. Hayward was observing Bundy as he was cruising down the area. Bundy attempted to flee after he noticed the patrol car.
Hayward searched his car and found the front passenger seat was removed and put on the rear seats. There was a ski mask, a mask made from pantyhose, a crowbar, handcuffs, trash bags, a coil of rope, an ice pick and other items most commonly used for burglary.
Bundy would go on to explain that the ski mask was for skiing, he found the handcuffs in a dumpster and the other items were just common household items.
Detective Jerry Thompson had a recollection of a similar suspect and car description that matched Bundy from Kloepfer's phone call in December 1974 and DaRonch's description. Bundy's apartment was searched and police found a guide to the Colorado ski resorts with a mark by the Wildwood Inn, where Campbell went missing; and they found a brochure that advertised the High School play where Debra Kent went missing.
Bundy was released on his recognisance as the police didn't have enough evidence to detain him. Bundy said later that the searchers missed the hidden collection of Polaroids he had of his victims. He destroyed these after his release.
Soon enough, Bundy was put under 24-hour surveillance. Thompson and two other detectives flew to Seattle to interview Kloepfer. There, she told them that a year before Bundy moved to Utah, she found objects of his that she didn't understand.
The items she found included crutches, a meat cleaver that was never used for cooking, and a bag of plaster of Paris that he admitted he stole. More of these suspicious items included an Oriental knife in a wooden case he kept in his glove compartment, surgical gloves, and a sack of women's clothes.
Kloepfer suspected that Bundy stole almost everything of value he owned and he was in debt. Once, when she asked him about a new TV and stereo, he told her, "If you tell anyone I'll break your fucking neck." He'd get upset when she talked about cutting her hair, which was long and parted in the middle. Kloepfer also mentioned that she would sometimes wake up in the middle of the night to find Bundy under the covers examining her body with a flashlight.
Bundy also kept a lug wrench in the trunk of her car, (another Volkswagen Beetle) which was taped halfway up the handle. He'd sometimes borrow it for "protection." Detectives confirmed Bundy was not with Kloepfer on any of the nights when the Pacific Northwest victims vanished, nor the day Ott and Naslund were kidnapped. After this, Kloepfer was interviewed by a Seattle homicide detective, Kathy McChesney, there she learned of Brooks and her engagement to Bundy back near the Christmas of 1973.
Later that September, Bundy sold his Volkswagen to a teenager. Utah police quickly impounded it and FBI technicians searched it thoroughly. There, they found hairs from Campbell's body. Later they were also able to find traces of hairs from Smith and DaRonch. Robert Neill, an FBI lab specialist said that the presence of the hair in one car matching the three different women who never met each other was, "a coincidence of mind-boggling rarity."
On October 2, Bundy was put into a lineup for DaRonch. She immediately was able to identify him as the man who attempted to kidnap her. Some witnesses from Bountiful were able to recognise him as the man lurking at the high school play. Although there wasn't enough evidence to link him to Kent, there was more than enough to charge him with aggravated kidnapping and attempted criminal assault against DaRonch.
It was a long trial at first. Many of DaRonch's friends made her doubt herself, as everyone liked Bundy because of his charm. The case ended with him being freed on a $15,000 bail, which was paid by his parents.
During this, he was living with Kloepfer. Seattle police tried to build a case on him related to the Pacific Northwest murders, but they didn't have enough evidence to charge him. Kloepfer wrote, "when Ted and I stepped out on the porch to go somewhere, so many unmarked police cars started up that it sounded like the beginning of the Indy 500."
The case only grew. In November, there were three main Bundy investigators, Utah man Jerry Thompson, Washington man Robert Keppel, and Michael Fisher from Colorado. They met in Aspen, Colorado and exchanged case information with 30 other detectives and prosecutors from five states.
This meeting became known as the Aspen Summit. Those officials left, all convinced Bundy was guilty, but they knew they'd need concrete evidence before he could be charged.
In February 1976, he stood trial for the DaRonch kidnapping. Bundy waived his right to a jury due to how much negative publicity there was around the case. It was a four-day bench trial and a weekend of deliberation and Judge Stewart Hanson Jr. found him guilty of kidnapping and assault. Later in June, he was sentenced to one to 15 years in the Utah State Prison.
A few months later in October, he was found in the prison yard bushes hiding and carrying an escape kit. There were road maps, airline schedules and a social security card. Due to this, he spent several weeks in solitary confinement.
Soon enough, he was charged with Campbell's murder. He had a period of resistance and he waived extradition proceedings and was transferred to Aspen in January 1977.
Bundy Escapes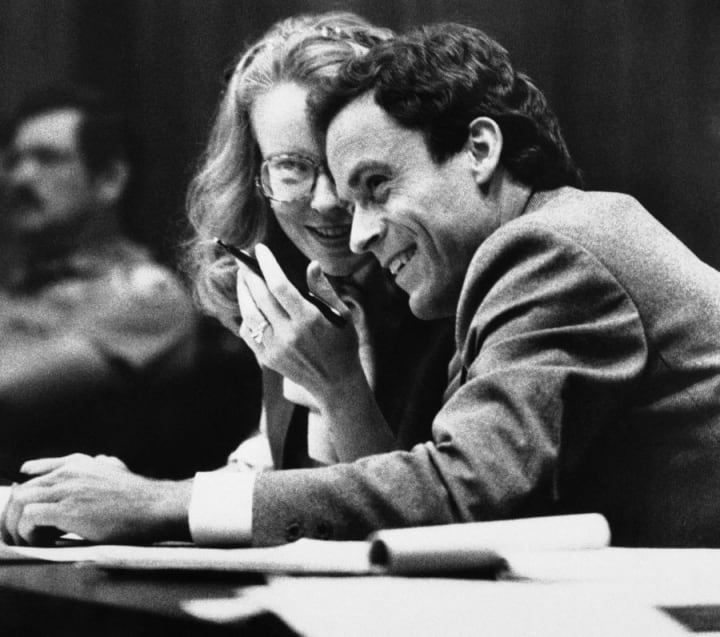 June 7, Bundy was being transported from the Garfield County jail in Glenwood Springs, 40 miles (64 km) to Pitkin County Courthouse in Aspen for his preliminary hearing.
Bundy elected to serve as his attorney so he was excused by the judge from wearing handcuffs. He was able to visit the courthouse's law library for research during a recess. Bundy was alone in the room, no handcuffs or shackles, so he jumped out the window.
When he landed, Bundy injured his right ankle and walked through Aspen. News of his escape got out quickly and roadblocks all through Aspen were quickly put up. Bundy hiked south to Aspen mountain. He found a cabin near its summit. So he broke in and stole some food, clothes, and a rifle.
The next day, Bundy left the cabin and carried on south. He intended to make his way to Crested Butte, but he was lost and stayed that way for two days and missed two trails that led to his intended destination. Then on the June 10, Bundy found and broke into a camping trailer, 10 miles (16 km) away from Aspen in Maroon Lake. From there, he stole food and a ski parka.
Bundy didn't continue south, but he turned north back to Aspen, where he missed roadblocks and search parties. Three days later, he was at the edge of the Aspen Golf Course, where he stole a car he found. Bundy was cold, in pain from his ankle and was sleep-deprived, so he drove back to Aspen.
Two officers noticed the car as Bundy was driving recklessly, going in and out of the lane, so they pulled him over. Bundy had been missing for six days. When the car was searched, maps of the mountainous area around Aspen were found. Prosecutors used these maps to demonstrate where Campbell's body was and that Bundy's escape was planned.
Bundy was back in jail in Glenwood Springs, he was advised to sit and wait. The case against Bundy was weak and was getting worse as pretrial motions were consistent and almost always ended in his favour and significant pieces of evidence were inadmissible. He had around a year and a half to serve for the DaRonch case, and if he beat the murder charge it probably would've dissuaded other prosecutors. It was all in Bundy's favour, but he had a new escape plan.
Bundy's new escape plan was smarter and more careful. Over six months, he had $500 in cash, which was smuggled in by visitors, mostly by Boone. He had a floor plan of the jail and was able to get a hacksaw blade from other inmates. He lost 35 pounds (16 kg) and was able to wiggle through a crawl space he had. At night, while the other prisoners were showering, he sawed a hole that was about a one foot (0.30 m) square between the steel reinforced bars in his cell's ceiling. During the next few weeks, he made practice runs and explored the space he had. An informant had reported movement and noises from the ceiling during the night, but it was never investigated.
By late 1977, Bundy's case became huge and controversial in Aspen, so Bundy filed for a change of venue to Denver. On December 23, the Aspen trial judge granted the request but moved him to Colorado Springs, where the juries were historically hostile to murder suspects. On December 30, most of the jail staff were on Christmas break and nonviolent prisoners were on furlough with their families.
During the evening, Bundy piled books and files in his bed and covered them with a blanket to make it seem as if he were there sleeping. He climbed into the crawlspace and broke through the ceiling into the apartment of the chief jailer. He was out with his wife that night, so, Bundy changed into street clothes from his closet and walked right out of the front door.
Once he was out, Bundy stole a car and drove east out of Glenwood Springs. The car broke down in the mountains on Interstate 70. A passing motorist found him and gave him a ride to Vail, which was around 60 miles (97 km) to the east. As he was there, he caught a bust to Denver and boarded a morning flight to Chicago. Back in Glenwood Springs, Bundy's escape was left unnoticed by the jail's skeleton crew until December 31, more than 17 hours later. At that time, Bundy had already landed in Chicago.
Florida and Bad Habits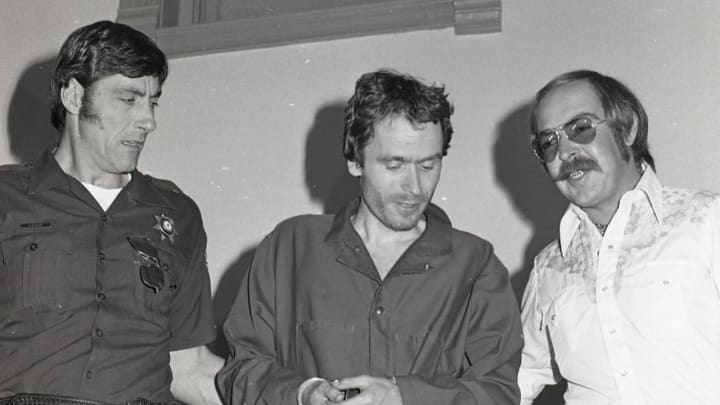 From Chicago, Bundy went to Ann Arbor in Michigan by train, where he was seen in a local tavern on January 2. About five days later, Bundy stole a car and drove to Atlanta. Once he was there, he got on a bus and went straight to Tallahassee Florida early on January 8. Near the Florida State University (FSU), Bundy rented a hotel room at the Holiday Inn under the name of Chris Hagen. Bundy intended to live a normal life and go straight while in Florida as he thought he could remain undetected as long as he didn't get involved with the police.
He applied for a job at a construction site, but he abandoned that when they asked him for ID. So, he went back to shoplifting and stealing credit cards from women's wallets that were left in shopping carts.
One week after he arrived in Tallahassee on January 15, 1978, Bundy broke into FSU's Chi Omega sorority house through a back door that had a faulty lock. About 2:45 AM, Bundy Bludgeoned the 21-year-old student, Margaret Bowman with a piece of firewood as she slept, he then went onto garrote her with a nylon stocking.
Bundy moved on to 20-year-old Lisa Levy's bedroom and beat her unconscious. He went onto strangle her, bite her, tear one of her nipples and sexually assault her with a hair mist bottle. He moved to the adjoined bedroom of Kathy Kleiner, whose jaw he broke and shoulder he lacerated; and Karen Chandler, who had lost teeth, broke her jaw, crushed her finger and suffered from a concussion.
Tallahassee detectives stated that the attacks took place in less than 15 minutes and was within earshot of 30 other witnesses, who heard nothing.
Bundy left the sorority house; he broke into the basement apartment of FSU student Cheryl Thomas, about eight blocks away from Chi Omega. He dislocated Thomas' shoulder and fractured her skull in five places. Thomas suffered from permanent deafness and equilibrium damage that ended her dance career. On her bed, police found a semen stain and a pantyhose mask.
On February 8, Bundy stole and FSU van and drove 150 miles (240 km) to Jacksonville. He approached 14-year-old Leslie Parmenter, the daughter of the Jacksonville Police Department's Chief of Detectives. He told her that he was a Richard Burton from the Fire Department. Bundy gave up when her older brother arrived and challenged him.
Later in the afternoon, Bundy went back west 60 miles (97 km) to Lake City. Over at Lake City Junior High School the next morning, 12-year-old Kimberly Diane Leach was summoned back to her homeroom by a teacher so she could get her forgotten purse. She never made it there.
The search for Leach lasted seven long weeks. It ended when her partially mummified remains were found near Suwannee River State Park in a pig farrowing shed. Leach was raped and killed. Her underwear was found near her body, which contained semen and detectives suggested she had been stripped, raped, and redressed before she was stripped again.
Suspicion grew on Bundy, his rent was overdue and local police were closing in. So, Bundy stole a car and drove from Tallahassee. He went west across the Florida Panhandle. At around 1 AM, three days later, he was stopped by a Pensacola police officer, David Lee near the Alabama state line as a wants and warrants check showed that the Volkswagen Beetle he was driving was stolen.
When Lee told Bundy he was under arrest, Bundy freaked and kicked Lee's legs out. Bundy ran and Lee fired two warning shots at him. Lee chased Bundy and was able to tackle him. Both struggled in an attempt to grab Lee's gun, but Lee got the upper hand and arrested Bundy.
In his stolen car, there were 21 stolen credit cards and a stolen TV set. There was also a pair of non-prescription glasses and a pair of plaid slacks, he later identified was used to play his disguise as Richard Burton back in Jacksonville. As Lee was transporting Bundy to jail, he heard Bundy say, "I wish you had killed me." At this time, Lee had no idea he arrested one of the FBI's Ten Most Wanted Fugitives.
Trials and Marriage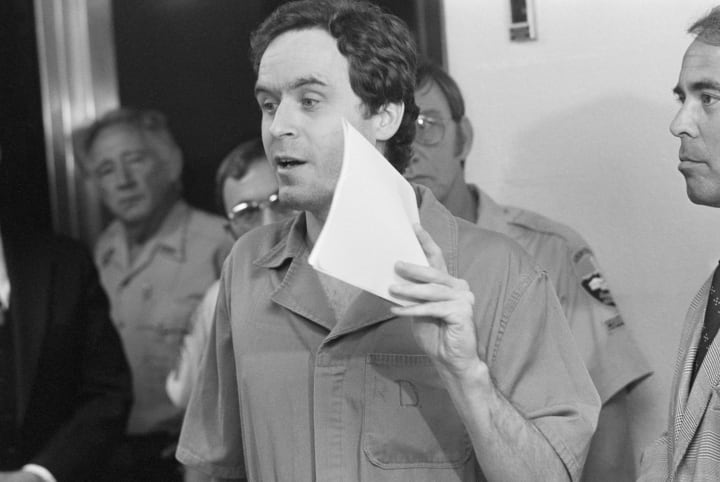 There was a change of venue to Miami, and Bundy stood trial for the Chi Omega homicides and assaults in June 1979. This trial was to be covered by 250 reporters from five continents and it was the first to be televised nationally in the US. Bundy had the presence of five court-appointed attorneys, but he handled most of his defence. Nelson wrote, "he sabotaged the entire defence effort just out of spite. distrust and grandiose delusion." She also added, "Ted [was] facing murder charges, with a possible death sentence and all that mattered to him apparently was that he be in charge."
Mike Minerva, a member of Bundy's defence team, said that a pre-trial plea bargain was negotiated. This meant that Bundy would plead guilty to killed Leach, Levy and Bowman in exchange for a 75-year prison sentence. The prosecutors were amenable to the deal because "prospects of losing at trial were very good." Bundy saw this deal as a tactical move: he'd enter his plea, wait a few years for the evidence to disintegrate and become lost, and for witnesses to die, move on, or retract their testimony. Once that happened, he could file a post-conviction motion to set aside his plea and secure an acquittal.
Bundy refused the deal at the last minute. Minerva said, "it made him realise he was going to have to stand up in front of the whole world and say he was guilty. He just couldn't do it."
At trial, Chi Omega sorority members, Nita Near, who said that she saw him leaving the house with the murder weapon and Connie Hastings, who placed him in the vicinity of the Chi Omega house both stated their incriminating pieces of evidence against Bundy. The case wasn't looking good for Bundy. There was more physical evidence against Bundy too. Forensic odontologists Richard Souviron and Lowell Levine matched castings of Bundy's teeth to the bite marks on Levy's body.
It took less than seven hours for the jury to convict him on July 24, 1979, for the Bowman and Levy murders, three counts of attempted first-degree murders of the Chi Omega survivors and two counts of burglary. The trial judge Edward Coward imposed the death sentence for these murder convictions.
Bundy went through a second trial six months later for the abduction and murder of Kimberly Leach. Once again, he was found guilty after less than eight hours' deliberation, due to the testimony of an eyewitness who saw Bundy leading Leach from the schoolyard to his van. Material evidence was also used against him as clothing fibres were found on Leach's body and in his van, which matched the jacket Bundy was wearing when Lee arrested him.
As everything was closing in on Bundy and it was clear it wasn't going to end well for him, it was prominent that his mental state was deteriorating. Bundy was somewhat manic and became quite unpredictable.
Bundy took advantage of an obscure Florida law that stated a marriage declaration in court, in the presence of a judge, constituted as a legal marriage. Boone moved to Florida to be near Bundy during this mess. While she was testifying as a character witness on Bundy's behalf, he questioned her and asked her to marry him. Boone accepted and Bundy declared that the both of them were legally married.
Boone and Bundy's relationship was messy and manic. One reporter stated that they were the definition of Folie à Duex and their sudden marriage was a perfect showcase of it.
Bundy was sentenced to death by electrocution for a third time on February 10th, 1980. As this sentence was announced, he stood and shouted, "tell the jury they were wrong!" It was this third death sentence that would be carried out almost nine years later.
Boone gave birth to a girl on October 1981 and she named Bundy as the father. Conjugal visits weren't allowed at Raiford Prison, however. the inmates were known to bribe guards to allow them to have time alone with their female visitors.
Death Row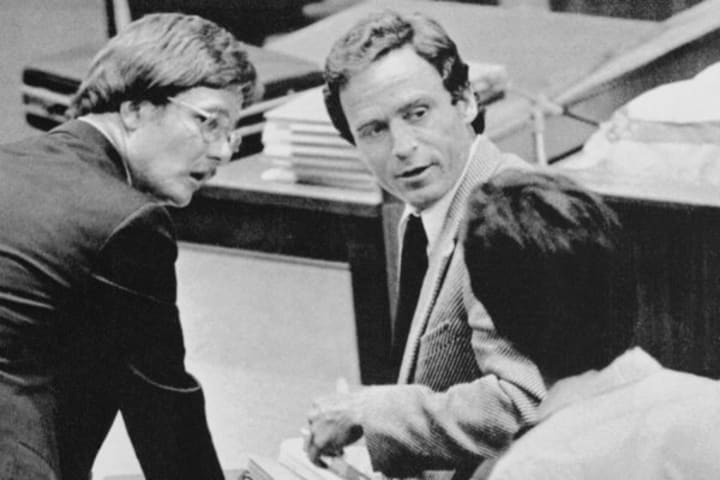 While Bundy was on death row, he made a string of confessions and described his crimes in disturbing detail. This was also when he was interviewed by Michaud and Aynesworth.
During this, Bundy talked about his time as a thief, in which he confirmed Kloepfer's suspicion that he shoplifted almost everything he owned.
"The big payoff for me, was actually possessing whatever it was I had stolen. I really enjoyed having something... that I had wanted and gone out and taken."—Ted Bundy
It was also expressed that this thirst for possession was also a motive for rape and murder.
"It fulfilled my need to totally possess [his victims]... As a matter of expediency... to eliminate the possibility of [being] caught. The ultimate possession was, in fact, the taking of the life. And then... the physical possession of the remains."—Ted Bundy
Special Agent William Hagmaier of the FBI Behavioural Analysis Unit was struck by the "deep, almost mystical satisfaction," Bundy took in murder. Hagmaier related, " he said that after a while, murder is not just a crime of lust or violence, it becomes possession. They are a part of you... [the victim] becomes a part of you and you [two] are forever one... and the grounds where you kill them of leave them become sacred to you and you will always be drawn back to them."
Bundy implied that he began killing before 1974 while he talked to Hagmaier, as he told him that he saw himself to be an amateur and an impulsive killer before he went to his "prime" or "predator" murder phase when he killed Healy. However, it was never confirmed he had killed before.
In April 1986, Bundy went onto confess to Hagmaier and Nelson graphic details of his murders and what he'd do after.
Bundy told the two that he revisited Taylor Mountain, Issaquah and other secondary crime scenes. There he'd sometimes lie with the bodies or perform sexual acts with their bodies until he was forced to stop by putrefaction. Sometimes, he'd drive hours each way to the bodies and sometimes remained with them for the whole night.
Over in Utah, Bundy would apply makeup to Melissa Smith's face and he washed Laura Aime's hair. He told Hagmaier, "if you've got time, they can be anything you want them to be."
Bundy decapitated around 12 of his victims with a hacksaw and kept at least one group of the severed heads in his apartment before he disposed of them.
He would also go onto confess to Keppel that he committed all of the Washington and Oregon homicides. He also described three unknown victims in Washington and two in Oregon, but he didn't identify anything about them. Bundy also said that he left Donna Manson's corpse on Taylor mountain and incinerated her head in Kloepfer's fireplace.
"Of all the things I did to [Kloepfer], this is probably the one she is least likely to forgive me for. Poor Liz."
Bundy described how before he murdered Hawkins, he lured her to his car, beat her unconscious, handcuffed her and drove her to Issaquah. He strangled her there and spent the entire night with her corpse. Later, he would revisit the corpse three different times.
Nelson and Keppel both said that Bundy was just consumed with murder. He had no compassion, spoke and thought of his murders as life achievements. He took pride in his 'craft' and was completely engrossed in the details of his murders.
Through all of the mess, Boone was Bundy's number one supporter. She had no doubt in her mind he was innocent and she felt utterly betrayed when his string of confessions began. She moved to Washington with their daughter and refused to return Bundy's phone calls on the morning of his execution.
On the eve of his execution, Bundy talked to Hagmaier of suicide.
"He did not want to give the state the satisfaction of watching him die." - Hagmaier.
Bundy's Modus Operandi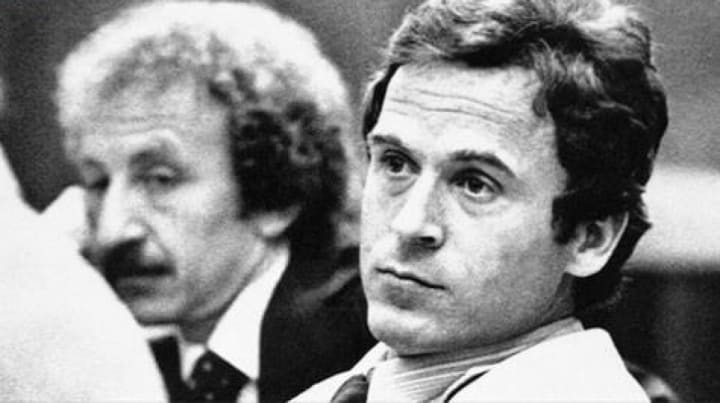 Bundy's methods were unusually organised and calculated as if even from the start, he was experienced in killing. He also had what was described as "chameleon-like" abilities, in which he'd find no trouble in changing anything about himself. On many occasions, he changed his appearance, wore a disguise and faked an accent for his advantage.
A relative of Bundy's, who saw him in court said that he didn't seem like himself, or the Bundy they knew. In a matter of seconds, he was a completely different person.
Bundy's crime scenes threw off detectives as they were widespread and it only became clear they were hunting the same man when his victim count reached at least 20. His assault methods were quiet, he preferred strangulation and blunt trauma, and usually, his murder weapons were common household items.
He'd also exploit his charisma and charm. In most situations, it was the best way for him to lure his victims. Whenever it didn't work, he'd pose as an authority figure. However, later on, because of how huge the case got and because of the stress he felt being a fugitive in Florida, Bundy was more careful and killed his victims while they were sleeping.
It was also prominent that he was loved by many women even on death row. Bundy had fans and many corresponded with him during this time.
The End of Ted Bundy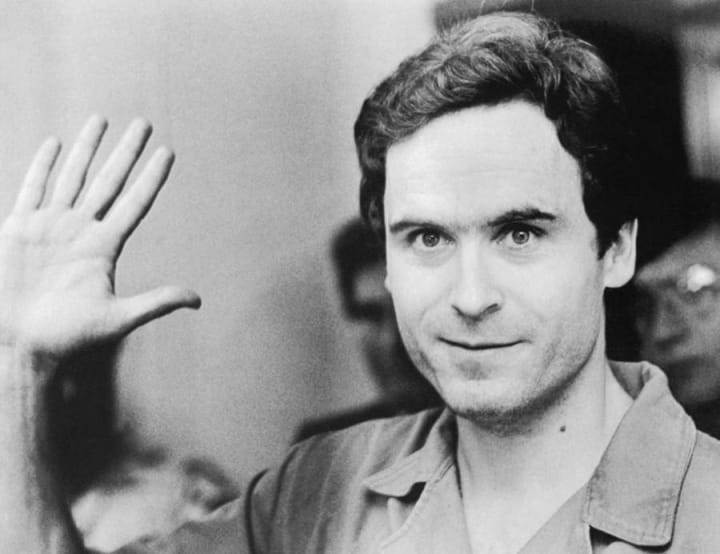 January 24, 1989, at 7:16 am EST, Bundy died in the Raiford electric chair.
When the news of his death came out, hundreds of revellers, including 20 off-duty police officers sang, danced and set off fireworks across the street from the prison. Everyone there and at home celebrated the death of Bundy. They even cheered as the hearse containing his corpse departed from the prison.
Bundy's body was cremated in Gainesville and his ashes were scattered at an undisclosed location in the Cascade Range of Washington State, in accordance with his will.
Ann Rule also received phone calls and letters from women who were deeply depressed and suffered nervous breakdowns when they heard that he had died. Rule wrote, "To get well, they must realise that they were conned by the master conman. They are grieving for a shadow man that never existed."
Even now, Bundy is one of the most famous serial killers in the world. People are fascinated by him as he was strange and the way he worked was interesting and never really seen before.
"Even in death, Ted damaged women."—Ann Rule
Of course, Bundy still has supporters, some people disrespect his victims and glorify Bundy mainly for his looks. His crimes are disregarded by these people, they are obsessed with him and not his actions.
Bundy's case was and still is interesting, although the case itself is years old it manages to come up a lot. He managed to leave an impact even after his death, whether it was a good one or not.
guilty
About the author
I love to research and write about crimes, especially more unknown serials killers. It's interesting to look into the life of the gory and disturbing.
Reader insights
Be the first to share your insights about this piece.
Add your insights