Shocking Confessions After Acquittal
Sometimes justice lets a few slip through the cracks...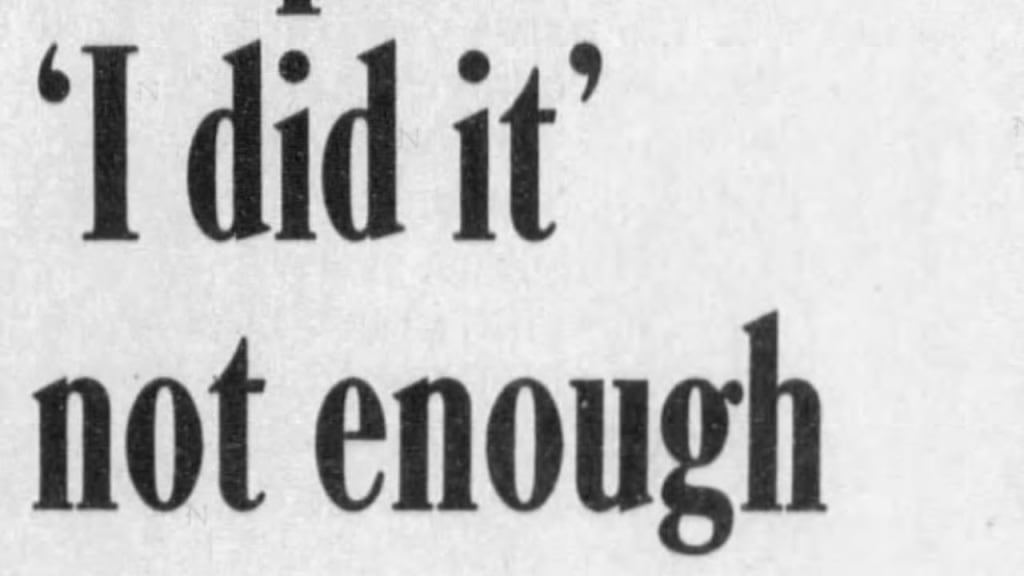 Isaac Turnbaugh
In April of 2002 24-year-old Declan Lyons was shot and killed outside his workplace. He was shot once in the head while tending to a large pot of sauce outside of American Flatbread Co. in Burlington, Vermont. On the 24th of August 18-year-old, Issac Turnbaugh was arrested in connection to the murder, and was taken in on first-degree charges. Police had shown up to his house earlier that day, but he turned himself in sometime later around 4:20 in the afternoon. This all took place months after the murder. In his confession of guilt, Isaac claimed Declan was posed as a threat. Police said at the time, "He perceived that was the situation, although, there is no evidence to suggest that is the case."
Police had initially thought Issac to be a suspect after it came out in May that he'd told two friends, while he was at a party, that he had committed the crime. Furthermore, Issac reportedly knew more about that crime around the time it took place than anyone else did. The days following the incident police didn't release the fact that Declan had been shot, and yet Issac knew this. According to one of his coworkers, he said "No! It is all around town, someone is shot, someone is dead, it's a murder."
His trial began on August 26, 2002. The trial played in favor of Isaac from the beginning. While the confessions Isaac made to his friends were brought up, they were quickly dismissed when it was found out that Isaac, and those he confessed to, were under the influence of shrooms. Furthermore, Isaac claimed to have played a part in 9/11 that same night. Secondly, the idea that Isaac felt threatened was also thrown out. As we stated before, the police didn't believe this from the start as there was no evidence to support the claim. Finally, Isaac's defense claimed that he was mentally unstable, and so this led him to feel responsible. Along with this argument, there was no clear motive, and so Isaac was let go.
It would be another seven years before Isaac confessed once again. He called the police saying that he'd killed Declan, and wanted to formally turn himself in. The police drove to his house that day, and after Isaac made various statements about the case, he was taken in. When Isaac was taken into the conference room he wasn't handcuffed, and struck one of the officers in the jaw. Following this, he was charged with simple assault, and would go on to plead not guilty. As far as the case on Declan there was nothing the police could do. As you'll see with these cases the double jeopardy rule plays a very large part. William Sorrell, a Vermont Attorney General said, "You only get one bite of the apple. It'd double jeopardy. You can go out on the courthouse steps and confess, and the state can't do anything."
Alfred Thomas
On January 10, 2014 Martin Paulk was shot and killed by two men; George Colon and Alfred Thomas. They were both taken in on second-degree murder charges, but the trial would end in an outcome no one was expecting. George Colon would be convicted of murder, but Alfred is the main focus here. Three-weeks following his acquittal on the charges, Alfred went to Facebook to boast about how he made it off. In a now deleted post, he wrote, "N**** I beat this! SO GET OFF MY D***. I DID THAT." Those who doubted him were proven wrong when he posted a video of the crime scene.
Many reported the post, and some told him to delete it leading federal prosecutors and the FBI to look deeper into his social media posts. When they did, they discovered quite a few posts where Alfred was posing with guns or ammunition. Using these posts to obtain a search warrant, Alfred was arrested on a pending charge from 2012 of being a felon in possession of ammunition. Some police believe the post about him getting off was not an admission of guilt, or celebration, but rather an attempt at helping his friend, George, get off. But they could have also been him attempting to look hard to his close friends.
In more deleted posts, Alfred responded to Syracuse news stories about shootings saying things like, "Ma work stay makin' da news," and in reference to a non-fatal shooting on the fourth of July he said, "10 shootin's in 1 day n' nobody dies, that's how u no I'm not involved." Whether or not Alfred was involved in any of these shootings has never been determined. With that said, he had made music bragging about beating multiple killings and shootings.
Roy Bryant
It was late August 1955, when 14-year-old Emmett Till made his way to Mississippi to visit relatives. While Emmett and some of his friends were walking to the street, Emmett stepped into Roy's grocery store; Bryant's Grocery and Meat Market to purchase candy. What took place while he was inside has been highly debated over the decades after this took place. The initial story was Emmett came into the store, and approached Roy Bryant's wife, Carolyn. Emmett made his way over to her, grabbed her by the waist, and said extremely vulgar things to her. This wouldn't be proven false until 2017 when she made a statement saying it was a fabricated story. She even went on to say "nothing that boy did could ever justify what happened to him."
Other reports say that Emmett whistled at her, like a catcall, but this too has never been verified. The only thing that was clear at this point was that Emmett was terrified of Roy. He's verbally assaulted Carolyn while Emmett was present; another detail that didn't come out till 2017. Armed with the (false) information that Emmett had somehow assaulted his wife, Roy devised a plan to teach the young man a lesson.
That night, on August 28, Roy, his half-brother J. W. Millam, an unknown third man, and unknown woman arrived at Mose Wright's house. This was around two or 2:30 in the morning. The group asked if he had three young men in the house, and when Mose said yes, the group asked to see them. Roy recognized Emmett, and asked if he'd spoken to Carolyn earlier that day. Emmett admitted that he'd spoken to her, and then was told to get dressed. Emmett's great-aunt offered the group money, but they refused and walked out with Emmett.
Emmett was thrown into the back of a pickup truck and driven to Clint Shruden Plantation in Drew, Mississippi where he would be pistol-whipped before being wrapped in a tarp, and placed back in the truck. It's believed that Emmett was then taken to Millam's shed, and beaten once again. Reports from that time show some people had reported hearing screaming coming from the barn. Whether this second beating actually happened is unknown. The group's final stop was the Tallahatchie River. It was here Emmett was shot and killed. After this, Roy and his brother attached a 70-pound cotton gin to Emmett by wrapping barbed wire around his neck and then to the cotton gin. Moments later he was thrown in the river. He was discovered three days later.
Roy's trial was held in Summer; a small town in Tallahatchie, Mississippi, and began in September spanning only five days. According to reports, the courtroom was filled with 280 spectators; both black and white. Of course, they'd been separated, but amongst the black crowd were many reporters and publications. Some individuals who'd visited from the North found the entire affair to be "run with surprising informality." From reports, it's said that some men were drinking or completely drunk during the trial, and many wore handguns on their waist. Some who were intoxicated were present in the jury.
The defense attempted to bring about enough reasonable doubt saying that Mose Wright wouldn't have known who Milam, Roy's brother, was. They said there were no lights on in the house that night. In an incredibly shocking turn of events, Mose raised his hand and pointed straight to Milan. While the trial had a no photography policy, Ernest Withers defied this policy when Mose did this, capturing one of the most iconic moments in history. Many believe Mose is one of the only men who testified against a white man around this time and survived.
Despite the countless evidence that stacked against Roy and his brother, they were acquitted, no doubt because of the fact that the jury was all white. At Emmett's funeral, his mother demanded an open casket. As such, photos of his horribly mangled body placed in nearly every black publication at the time, so no one would forget the injustice that took place. Only a year later, Look magazine published a piece with Roy and Milam's story where Milam admitted to killing Emmett. Roy denied killing him, but did state that he would be alive had he stayed in line. The case of Emmett Till would prove to be one of the catalysts for the Civil Rights movement, and he is considered a martyr by many. If you're interested in seeing interviews with his mother, and many others involved, there is an incredible documentary about the case linked below.
Sources
Issac Turnbaugh (The Case of Declan Lyons)
Roy Bryant & J.W. Milan (The Case of Emmett Till)
Alfred Thomas
guilty
Horror-centric YouTuber who's looking to branch out a small bit. We'll try this out and see how it goes!
YouTube Page: https://goo.gl/eab66m