Sexual Harassers in Stardom
2018-2019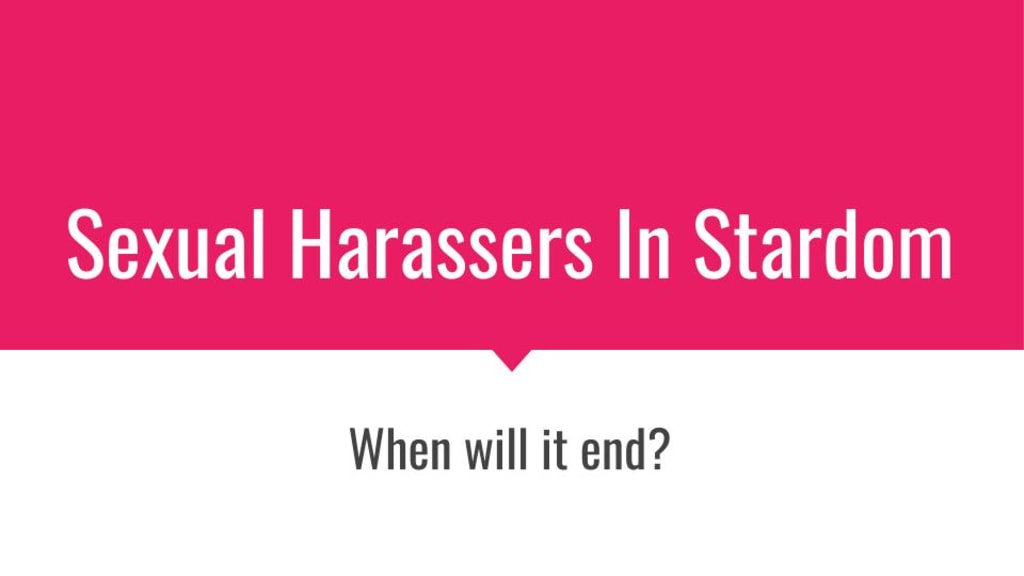 Introduction
Victims can be sexually harassed not just physically, but also verbally, emotionally, and mentally. Putting aside my own subjective opinion that sexual assault is never excusable. The majority of the public does agree, and so does the law. The objective fact of the matter is that sexual harassment, and/or assault is criminal. So here's a list of those who are powerful, popular, and prosperous. The ones' who have been accused, alleged, and ousted as sexual predators between 2018 to date.
1. Morgan Freeman
Accusation: Eight women accused him of sexual harassment
Response: "Anyone who knows me, or has worked with me knows I am not someone who would intentionally offend, or knowingly make anyone feel uneasy. I apologize to anyone who felt uncomfortable, or disrespected–that was never my intent."
I have grown up watching this man. He felt something akin to what I assume a grandfather would feel like. Having said that, I am learning day in, and day out that while we idolize (and perhaps even worship) these celebrities. In reality, we really do not know who these people really are behind closed doors.
Having said that, the public, no matter what, has to respect the statute of limitations. Because innocent rich men do get falsely accused of sexual assault. As much as I (always) sympathize with rape victims (men and women). No one should be punished for sexual assault without hard evidence.
I am inclined to believe that there is a grain of truth in this allegation, simply because, Freeman apologized. Why apologize if you are not in the wrong or didn't do anything?
Here's a link where the circumstances are more detailed.
2. Allison Mack
Accusation: Human Trafficking
Response: Arrested/Plea Bargain
I was personally never a diehard for Smallville. But I am quite aware of how loved that show was (or is). And well, talk about the most absurd and disgusting paradox. From actress to sex-cult manager of NXIVM. She was infatuated with the cult leader, Keith Raniere (also called Vanguard). Mack recruited, blackmailed, and managed women into the cult, in order for Raniere to have intercourse with them. A cult that propagated the idea that men were biologically dominant and polyamorous. While women were submissive slaves.
All I can say is that self-righteous people like to claim that they always found serial killers like Ted Bundy or Jeffrey Dahmer unattractive, and obvious psychopaths. Yet none of these people were able to catch on to her creepiness? A person, who unlike most psychopaths/sociopaths, was on screen in the public eye for over ten years. At least some people are not that arrogant.
Read more on this case here.
3. R. Kelly
Accusation: Pedophilia
Response: Denied
He did marry Aaliyah when she was fifteen years old, and he himself was twenty-seven. So it's very difficult not to believe the recent allegations. But unlike those accused with their suspicious apologies, at least he's denying it loud and clear. Now whether he's believable or not, it's up to you?
Read the time line here.
4. Aziz Ansari
Accusation: Sexual misconduct
Response: Denied
This was a bit difficult to hear. Ansari is homeboy after all. But that is truly besides the point. I am very torn on this, because it is very "he said, she said" sort of a circumstance. I honestly do not know who to believe.
This is where the accuser gave an interview.
5. James Franco
Accusation: Sexual Harassment
Response: "Look, in my life I pride myself on taking responsibility for things that I have done... If I have done something wrong, I will fix it–I have to" (Whatever this means).
Again, at thirty-five he was messaging a seventeen year old. Granted, the age of consent in her location was seventeen. But still, I don't know. It certainly did disappointment to see a childhood favourite being hit by such allegations.
6. Seungri
Accusation: Quite a few
Response: Denied/under investiagtion
I will refrain from going into the details here. There's too much going on for it all to be stated in here.
I do not usually cite wikipedia because of the naysayers. But as a professor once told, "wikipedia is a good place to start researching, but not the greatest to cite (academically that is)." Please read on it here.
7. James Charles
Accusation: Sexual harassment
Response: Varied
The allegation was made by the YouTube star's mentor, and fellow YouTuber, Tati Westbrook. And let's not get into the argument of YT not being a real celebrity job. Because the man was invited to shake hands with the "real" celebrities at the met gala. Enough said.
Admittedly this man's type is straight/heterosexual men. Allegedly he manipulates straight men into thinking they are gay. Now this is possible, no doubt. And yes flirtation when it is made obvious that it is not welcome is harassment. But when the victim tells the perpetrator that he isn't interested sexually, but wishes to reman friends (if I have this correct). I don't even know anymore.
Conclusion:
People need to stop letting celebrities become the centre of their world. And people most definitely should stop fighting battles with each other for these people that we really do not know.