Reason First: The Earned Agony of Nicola Sacco & Bartolomeo Vanzetti
One of the most infamous duos continue to receive attention for all the wrong reasons.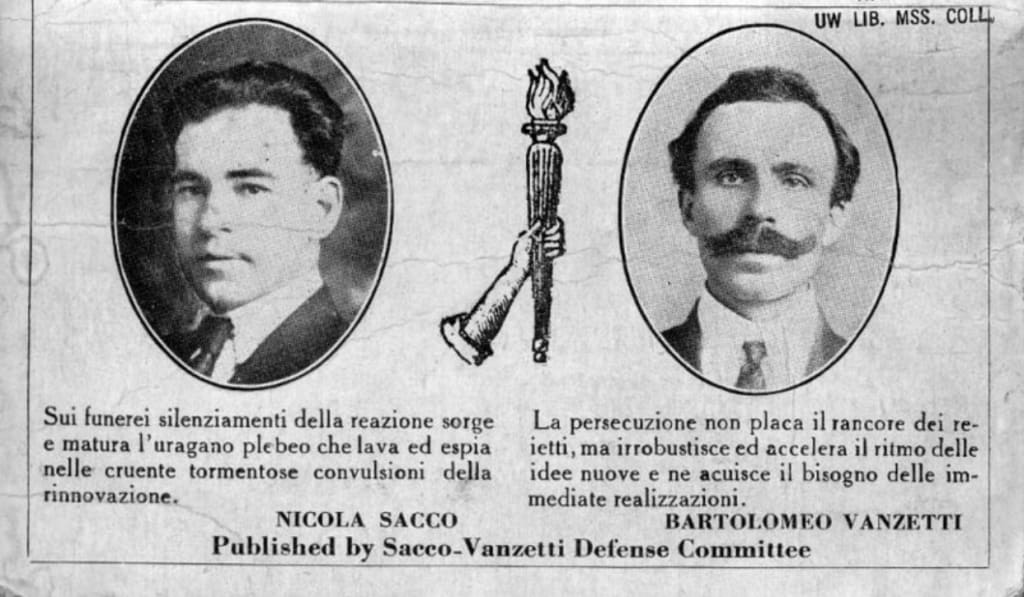 Singer Joan Baez and composer Ennio Morricone recorded a song entitled "Here's to You" in 1971 commemorating the lives of two of crime history's most notorious figures, Nicola Sacco & Bartolomeo Vanzetti. The lyrics aren't much. There exist only four lines. But the repetition of "That agony is your triumph" drives home the idea that these two criminals were somehow folk-heroes.
Because of the circumstantial evidence presented during the trial, the two anarchists should have received a fairer shake. Objectively, proof should have been presented to seal their guilt. But aside from that is the truth that anti-immigration sentiments ran high in 1920's America. As the two men possessed Italian backgrounds, it is said that Judge Webster Thayer may have had a penchant for sending those who just got off of the boat and allegedly committed a heinous crime to the electric chair.
Books film and other media
That was the last place that each of them had a breath of life. After their deaths, books, films, and other media have captured their story although it has not been seen through rational lenses too much.
One must remember that these two figures did not stand for reason, individualism, and capitalism. They died as anarchists. They represented everything wrong with immigrants. While there remained Italians, Russians, Germans, Irish and many more nationalities who immigrated to embrace the free market and find work and live better lives, these two wanted to disrupt all of that.
The duo showed themselves to be convicted murderers of a security guard and a paymaster in South Braintree, Massachusetts.
The dishonest pair
Lies to the police only exacerbated the process. The dishonest pair made this lethal mistake out of sheer cowardice and an inability to recognize the facts of reality. With their misdeeds now on full display, how could a jury not find them guilty? Whether the judge had a bias during the trial is important but the fact that they told untruths continues to be the dagger in the heart of this case. Or maybe the rounds that the two victims received.
Both left and right get this story all wrong. Of course, as has been mentioned, their memories have been made into song by leftists. And the right anti-immigrationists still claim that the two of them shouldn't have been in the country at the start. This nativism spilled out onto the streets of America one hundred years ago and is still a blisteringly hot button issue today.
The two of them put together form a team that should always be thought of in ignominy. "Viva l'anarchia!" issued from Sacco's mouth just moments before electricity coursed through his body until he died told the tale of his infamy. This is a clear example of how he stood unrepentant for his crime. Vanzetti wanted to accept the phantom apologies from the people who carried out his death.
An unjust statement
Michael Dukakis, then governor of Massachusetts in 1977 essentially pardoned both convicts stating that the state had not treated them fairly. Does lying to the police count in any of this? If they had the gall to pass a false statement, what would stop from lying about murdering the two men?
These terrorists of the Galleanist group, which specialized in bombings and other acts of politically-motivated crimes, served as figureheads for destruction. Their anarchist policies led them to believe that they could literally get away with murder. By attempting to circumvent the laws of the United States, these miscreants found electrodes attached to their bodies by the State. For all their efforts to rise up against the government, they failed on so many levels and the country is all the better for their shortcomings.
An ever expanding America
Sacco & Vanzetti will forever live in the annals of crime history. Their vicious ways will always be studied and put into context of an ever-expanding America.
guilty
I am a forever young, ego-driven, radical hipster from Delaware. Investor. Objectivist for life. Instagram: @skylerized
Twitter: @SKYLERIZED