Reading Behind Bars
Reading Behind Bars, Bradford Literature Festival 2017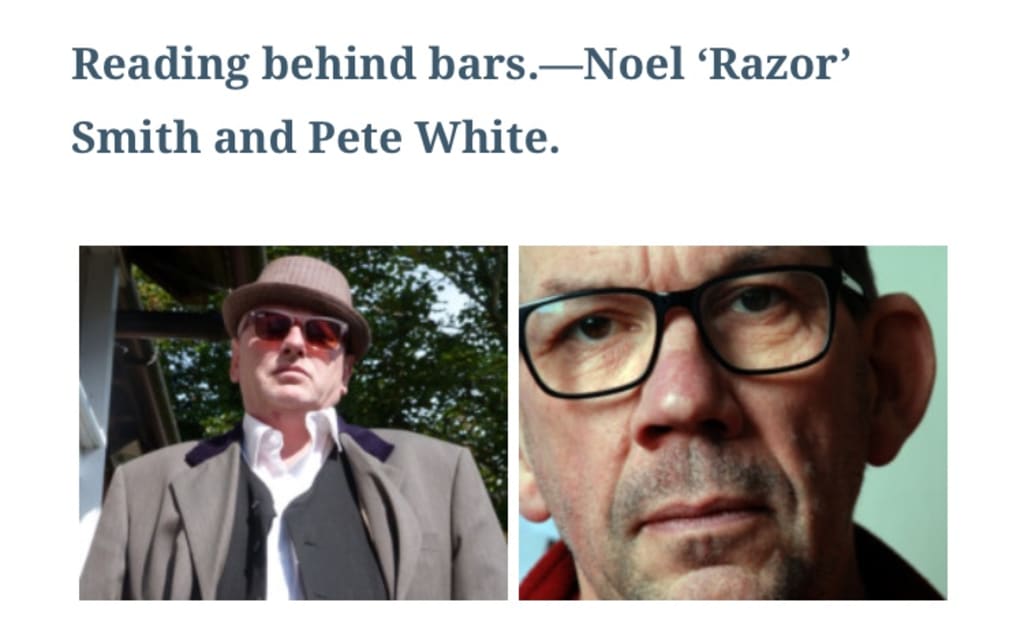 Reading behind bars.—Noel 'Razor' Smith and Pete White.
Two men, who both experienced the prison system in two different ways, both found the importance of literature whilst behind bars. This talk was purely for the two men to tell us why they read, why they write, and what it was like for them 'reading behind bars.' The knowledge I have of the prison system lies with what the public eye is told and this was a real eye-opener for me, to get a real feel of how deprived those in prison can be of simple things such as reading. Deprivation of liberty is the punishment—they should no longer have aspects taken away from them such as the right to read and learn.
When Noel first went behind bars, at the young age of 15 in the 1970s, he could not read nor write. He was brought up with Irish traveling parents and never settled in education. He taught himself the basics of reading when in solitary confinement, with the help of a priest who would intervene when he was struggling with longer words. When Pete arrived in prison, he was a lot older than Noel so he was already well educated in reading and writing but they both still found literature as equally important, not just for themselves but to help others. When inside, Pete helped in the library, as one of the guards suggested it to him based on the fact he could read and write. Once Noel taught himself to read and write, he then helped other prisoners write letters to their loved ones, and read the letters they got in reply.
The stories told by these two men were so interesting I could have sat there all day, never mind the one hour slot given for the talk. With the humor from Pete and the passion from Noel, it really made me want to be able to go into prisons and help those who do not have any education, but it also wanted me to grab all the books from my bookshelf and send them to those behind bars—no one should be deprived of the joys of reading. The fact that there are some prisons that do not allow book donations (there was previously a ban from donated books in prison which some prisons have not lifted) led to books being smuggled into the prison. Noel spoke about the limitations to books whilst in your cell, if you did not have a book there to read you were alone with nothing else to do—although more recently in prisons, you may have access to a television which Noel would not have had. So, although some prisons have a wide range of reading—as stated by Pete, the prison he was in had a gardening section— you could only access the books if escorted by a guard, and roles within the prison have been reduced as staff have been cut which contributes to the limited access of the library.
Noel has now written six books including The Criminal Alphabet (which I purchased from the literature festival hub after the talk and I am so far thoroughly enjoying) and Pete is Chief Executive of Positive Prison? Positive Futures, a Scottish charity representing people with lived experience of punishment, working to reduce the harm caused by offending and re-offending in Scotland.
I hope this talk can take place again as it was interesting even for me who has never had experience with a prison and to others in the room who had. I believe that not only did this talk educate me about the subject and open my eyes to something I hadn't really considered before, it could also help the younger generation who have considered criminally offending or have been behind bars and may not have had great education, such as Noel did. I hope those that read Noel's books, and to those helped by Pete's charity, cannot only steer away from a criminal life but for those who struggle to leave that lifestyle, be able to learn to read, write, and be educated.
incarceration