'Murder on the Orient Express': How Crime Fiction Popularizes World Literature
A paper for my master's class that was admittedly challenging to write.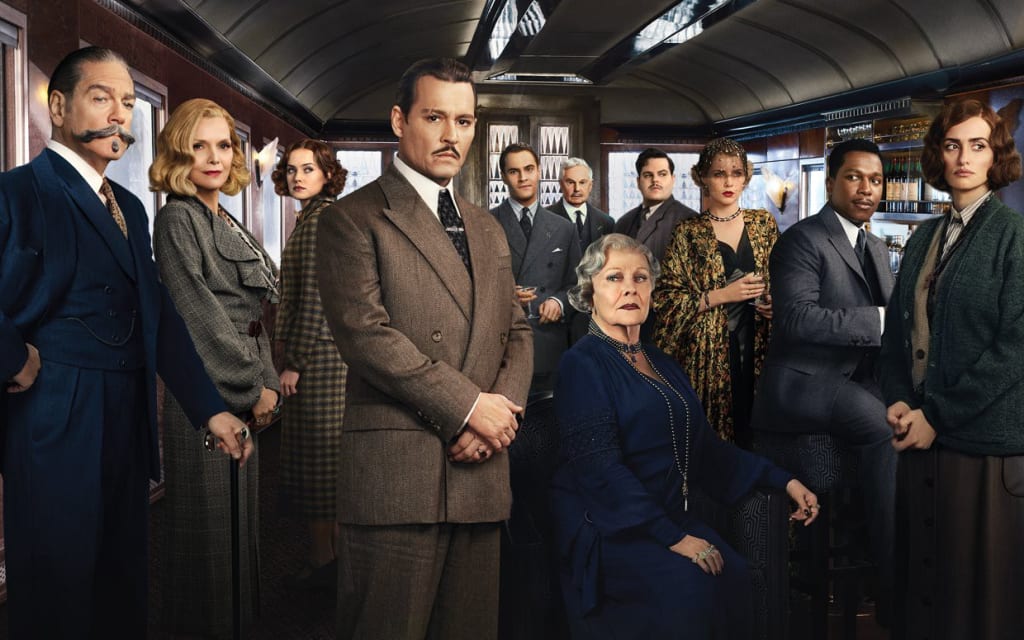 Image via Cinapse
Whodunit enthusiasts have yet to witness another crime author be garlanded with the same, if not more, praise than record-breaking writer Agatha Christie, whose novels have sold over two billion copies worldwide (The Home of Agatha Christie) long after her death. My experience with Christie's works is admittedly limited, as I have only seen a theatrical performance of The Mousetrap and the 2017 film adaptation of Murder on the Orient Express (hereafter shortened to Orient Express). However, Christie's masterful command of the twist ending in this novel has led me to explore the rest of her library, and, by extension, the history of Orient Express for the present paper.
I am interested in the influence of Orient Express on the global book publishing industry because it actively challenges literary scholars' perception of world literature as a popular work. Throughout this essay, I specifically argue that Orient Express – along with crime fiction as a whole – as just one example partly shows how the distinction between popular and world literature is emaciated by culturally-driven notions of the literary field, global book trade standards, and the potential of multimedia imaginings in contemporary culture.
When we consider political and economic changes that inform our increasingly international culture, and how the mass production of books responds to shifts in said culture (Baetens), divorcing popular literature from its worldly counterpart becomes more difficult. This lacuna between the two groups of literature is nonexistent because hierarchies of literature hold little relevance when cultural beliefs, which are incessantly mingling in a cross-national capacity, influence a book's development (Baetens).
We must remember that many groundbreaking ideas narrative worlds introduce to us are the result of the relationship between the community and the publishing industry (Baetens). Since publishers follow consumer trends, they strive to generate publicity with content that can reach a wider audience.
In particular, storytelling resources provided by writers, other key contributors to a given writing project, and the finished products themselves can either be extracted from a plethora of cultures or rooted in a culture-less entity that is easily localizable (Baetens). Either route is advantageous for translators who can creatively acculturate texts to different regional and periodical contexts (Baetens).
If we regard popular literature as the result of value-oriented and culturally informed practices, then we must recognize that the entire process of producing a work – starting from the moment its very production gains the publisher's approval to critical reception from critics and readers – takes priority over the end product itself. What it means is that the book's premise should strive to reflect cultural innovations (Baetens) or have the ability to foresee innovation based on issues raised by our culture.
This focus on addressing specific themes in original ways also engenders new genres that accommodate readers' needs, critiques, and sophisticated tastes (Siskind). These genres are expected to traverse the dynamic histories and geopolitics that prescribe the ways different regions brand their books. Additionally, they should be universally accessible, be open to transformative readings as they are exposed to foreign audiences, present globally relevant questions for consideration, and demonstrate potential as educational materials, prize winners, or anthology pieces (Siskind). Let us be reminded that such requirements normally apply to world literature.
For a work or genre to qualify as world literature, the most conspicuous of these conditions is that it incorporates themes and scenarios that resonate with a transnational readership (Nilsson et al. 2) rather than a minuscule population of scholars. This places Orient Express and crime fiction in an ideal position for study as world literature. These stories are predicated on common writing guidelines within the genre shaped by authors, readers, and reviewers' opinions (Darnton 67), in addition to various spatial and temporal contexts depicted in the storylines. Hard-boiled and whodunit crime fiction experience a cultural exchange in which local stories are shared with the world, while foreign novels are introduced to domestic readers (Hedberg 20).
We can already see the road to defining world literature slowly branching off into necessary detours, for without them, the expedition would remain vague and abstract. An exposure to diverse perspectives encourages researchers to step away from their respective disciplines and enrich their understanding of world literature beyond a select number of texts that do not entirely account for the world's nations, languages, issues, and ways of expression (Cover copy).
Another such perspective that helps popularize world literature hails from the realm of economics. World literature, through the economics lens, is shaped by legal, financial, and material facets of the transnational book trade that support authors and decide which books are imported or exported (Steiner). These facets include online platforms, spinoffs, informative content, government funding, tax breaks, media marketing, sale systems, consumer reading habits or preferences, and scholarships.
With an increased number of book releases, however, the publishing industry requires a combination of independent companies and conglomerates to help titles - bestsellers or otherwise - find success past one country where competition between authors can be palpable. (Steiner). This became apparent with the dawn of distribution technologies like Print-on-Demand, e-books, smartphone applications, and audiobooks.
What potentially stacks the odds in the favour of the low-selling books, however, are digital stores that offer a much wider selection than physical bookstores ever could. Amazon is one such store where authors sell limited quantities of assorted books, including foreign-language ones (Steiner). Because there is a demand for all types of reading material aside from bestsellers, popularity as a once-profitable concept struggles to compete with lesser-known authors' unique selling points and may not easily influence readers' purchasing decisions (Steiner).
Given that large publishers have high budgets to manage, niche titles that might sell a few thousand copies on average are curated by Internet bookstores and especially small publishers. Since profitability is less of a concern for the latter two entities, they are able to experiment with selling a multitude of genres. Further more, they can preserve local and foreign books as pieces of cultural heritage (Steiner). Regardless, the advantages of publishing with small companies do not necessarily end here.
In a world where social media sites arguably serve as the most convenient method of globally accessing any form of content, it should not be considered unorthodox to suggest that readers possess the ability to develop their own world literature as potential writers themselves. Through collaborative writing spaces, fandom fiction, book blogs, and other community-oriented platforms, readers can share their insights on what stories constitute a worthwhile read. Additionally, readers can support novice writers in their literary endeavours (Steiner). Many new works are developed this way and could certainly benefit from independent backing.
Orient Express and the genre of crime fiction are among the world's most widely read content thanks in large part to some mixture of marketing strategies, funding programs, and available technologies mentioned above. Nevertheless, it stands to reason that we should also consider the relationship these books have with high literature (Nilsson et al. 3) due to their sub-genres that can be intellectually stimulating, timeless, and regarded as having artistic merit.
The sub-genres include thriller, spy fiction, postmodern mystery, and metaphysical detective fiction. In fact, this last type of detective story shows the most potential as high literature because it encourages readers to challenge their own beliefs surrounding different approaches to structuring and interpreting narratives, the roles reality and subjectivity play in stories, and the degree to which knowledge can be obtained while reading (Merivale & Sweeney 1).
Such exceptional literary qualities would surely be of interest to creators who embrace multimedia storytelling. The current media culture perceives all content creation, regardless of medium, as equally important in the development of intellectual property because of an opportunity to capitalize on the relevance of an IP in industries other than traditional publishing (Baetens).
There is no shortage of literary adaptations, one example being serials. Writers or producers serialize narratives, determine their fate based on continuous audience feedback, and leave the possibility for future installments open if consumer demand exceeds low supply (Baetens). Serialization falls in line with the notion that audiences are no longer passive consumers; instead, audience members purposefully contribute to the development of cultural memory.
To pique the audience's curiosity with additional insights or create anticipation for the next major intermedial release, writers may novelize visual media or produce books purposely intended for film adaptation. The latter case is evidenced by the number of Hollywood-commissioned, 1920s hard-boiled stories that have been regularly transformed into movies (Baetens).
Other formats exist as well, like games, audio content, and educational resources. Any distinctions between world literature and non-literary renditions become difficult to notice when they all converge in response to the continued growth of transmedia (Baetens). Orient Express is no stranger to the trend, having been adapted into several films, a Japanese mini-series, a computer game by AWE Productions, and an Audible radio drama, among others. Furthermore, creating ongoing content, servicing consumers, and engaging the fandom in discussions regarding Orient Express are all made possible by new, digital media (The Home of Agatha Christie). These features may be viewed as a case study of the impact intermedia has on Christie's work.
Of course, Orient Express and crime fiction alone cannot represent the legitimacy of popularizing world literature. It is nonetheless imperative that we pay attention to popular literature as a means of redefining literary history for the largest possible readership. We require definitions that we can critically scrutinize in accordance with cultural change, meaning they do not necessitate the use of fixed rules and devices otherwise applied to canonized oeuvres (Siskind). By exploring the areas readers knowingly participate in - the cultural lexicon, the book trade, and multimedia platforms - we may be remaking tradition along the way.
Works Cited
Baetens, Jan. "World Literature and Popular Literature: Toward a Wordless Literature?" Routledge Literature Companions: The Routledge Companion to World Literature, edited by Theo D'haen, et al., Routledge, 2012, Credo Reference, 2019, http://0search.credoreference.com.aupac.lib.athabascau.ca/content/entry/routworld/world_literature_and_popular_literature/0?institutionId=1122.
Cover copy. Literatures as World Literature, series edited by Thomas Oliver Beebee, Bloomsbury, 2019, https://www.bloomsbury.com/uk/series/literatures-as-world-literature.
Darnton, Robert. "What is the History of Books?" Daedalus, vol. 111, no. 3, 1982, pp. 67, http://nrs.harvard.edu/urn-3:HUL.InstRepos:3403038.
Hedberg, Andreas. "Chapter 1. The Knife in the Lemon: Nordic Noir and the Glocalization of Crime Fiction." Crime Fiction as World Literature, edited by Louise Nilsson, David Damrosch, and Theo D'haen, Bloombury, 2017, p. 20.
Merivale, Patricia, and Susan Elizabeth Sweeney. "The Game's Afoot: On the Trail of the Metaphysical Detective Story." Detecting Texts: The Metaphysical Detective Story from Poe to Postmodernism, edited by Patricia Merivale and Susan Elizabeth Sweeney, U Pennsylvania P, 1999, p. 1.
Nilsson, Louise, et al., editors. "Introduction: Crime Fiction as World Literature." Crime Fiction as World Literature, Bloomsbury, 2017, pp. 2-3.
Siskind, Mariano. "The Genres of World Literature: The Case of Magical Realism." Routledge Literature Companions: The Routledge Companion to World Literature, edited by Theo D'haen, et al., Routledge, 2012, Credo Reference, 2019, http://0search.credoreference.com.aupac.lib.athabascau.ca/content/entry/routworld/the_genres_of_world_literature/0?institutionId=1122.
Steiner, Ann. "World Literature and the Book Market." Routledge Literature Companions: The Routledge Companion to World Literature, edited by Theo D'haen, et al., Routledge, 2012, Credo Reference, 2019, http://0search.credoreference.com.aupac.lib.athabascau.ca/content/entry/routworld/world_literature_and_the_book_market/0?institutionId=1122.
The Home of Agatha Christie. Agatha Christie Limited, https://www.agathachristie.com.