Moog Knowingly Sourced From China Counterfeit Safety Parts of Boeing Planes, Now Refusing to Remove Them
The scam mishandled by massive cover-up by The FAA and Chinese LEA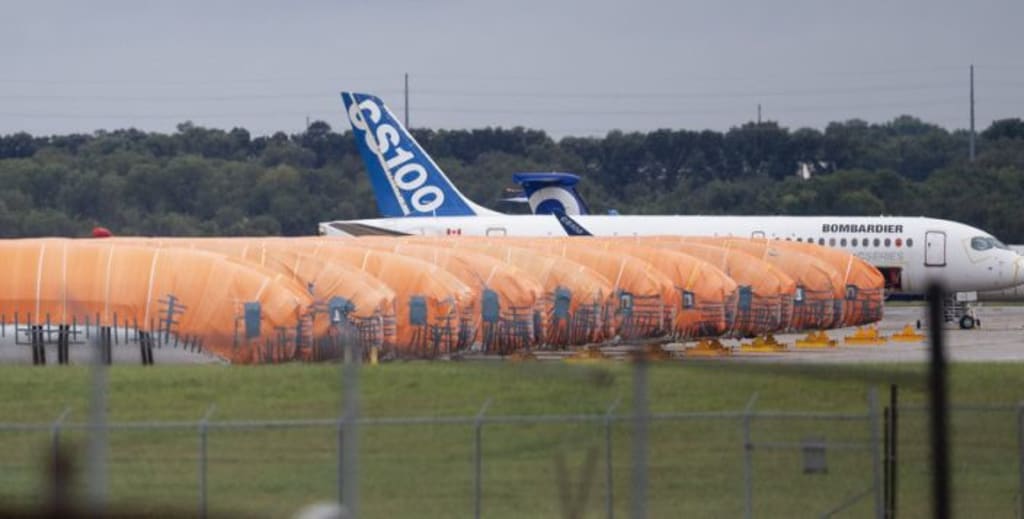 In 2014 Honeywell's accused Moog in a lawsuit of breaking a supply contract by providing defective inlet guide vane actuators, or IGVAs, that contained unapproved seal materials.
Since 2015, Moog has been knowingly sourcing fake Single Point Of Failure (SPOF) block of B737 spoiler from a verified Chinese counterfeiting supplier compromising some 500 B737 now in service.
The scam started in 2013 when Moog Aircraft hired an Asian Supply Chain Director J. Zou, an American citizen who brought in a Chinese machining supplier named Suzhou New Hongji(NHJ) that had a history of falsifying material certification and use of fake material to its previous aerospace customer- B/E Aerospace.
J. Zou, American citizen, is suspected of colluding with a Moog Chinese supplier counterfeiting safety critical Boeing plane parts.
One B/E insider testified in a phone interview with me that NHJ own employees admitted NHJ was a "counterfeiting Brigade." The counterfeiting was organized by its owner, if caught, they will go to jail.
NHJ Owner, Mr Li J is the organizer of aerospace counterfeiting, according to Insider of B/E Aerospace.
This is a transcript of phone interview which was admitted into court records by Administrative Law Judge of US Department of Labor.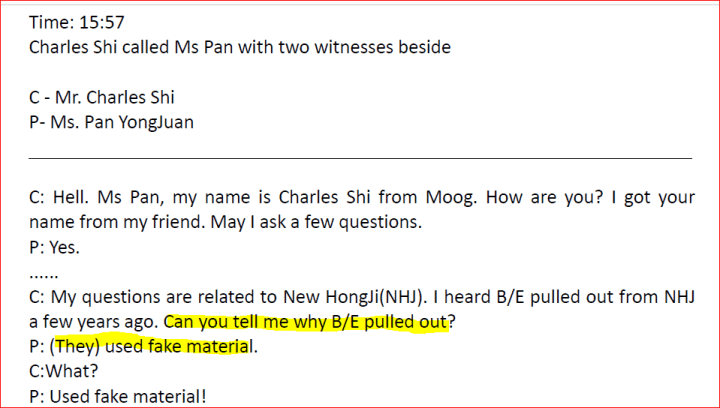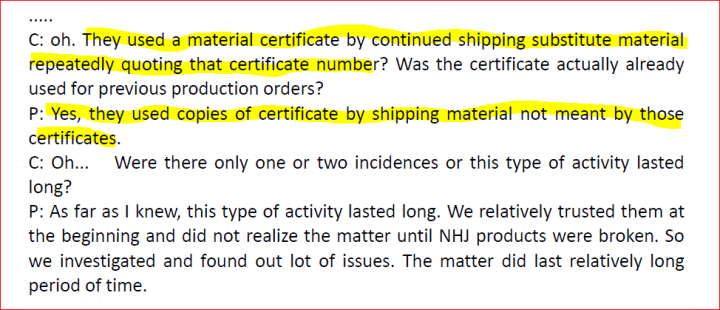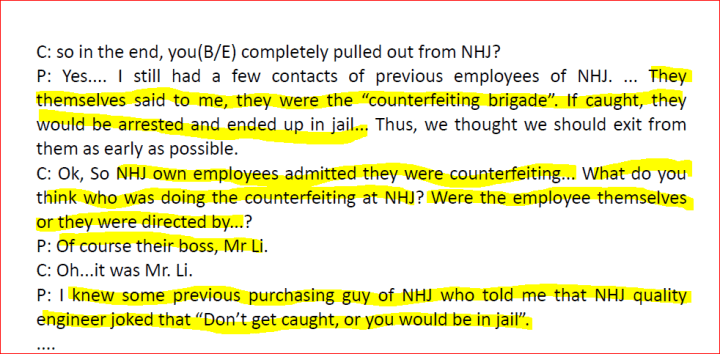 B/E Aerospace exited from the counterfeiter before Moog through fraudulent audit process added NHJ into its approved supplier base in 2014.
Moog Aircraft quality organization knew well that NHJ was counterfeiting B/E Aerospace business in 2015 when I did my first internal whistleblowing.
This was evidenced by Supplier Quality Eengineer(SQE) initial investigation report.
Moog Internal Memo by Moog SQE on 8/25/2015
Moog Aircraft top management was fully aware of Joe's misconduct and NHJ counterfeiting aerospace business as well.

It is most unfortunate Moog Aircraft re-approved NHJ into Moog supplier base despite they knew NHJ was a verified counterfeiter, giving green light to NHJ for unstopped deliveries of Suspected Unapproved Parts to U.S. Aviation system probably even today.

NHJ from the very beginning of Moog business till at least Moog SQE's investigation, was demanded by her boss Moog Aircraft quality VP J. Mangual and Global Supply Chain Director K. Walek on 26/08/2015 used a material traceability system called MID which NHJ assign MID numbers to material purchased that does not trace to material heat lot from approved aerospace material vendors.
See Moog007, my SDE Mr. Shao reported 03/06/2015 Page 5.
"The supplier's lot tracking using MID number which is NHJ's material identification number,.."
This is where material traceability got lost at NHJ.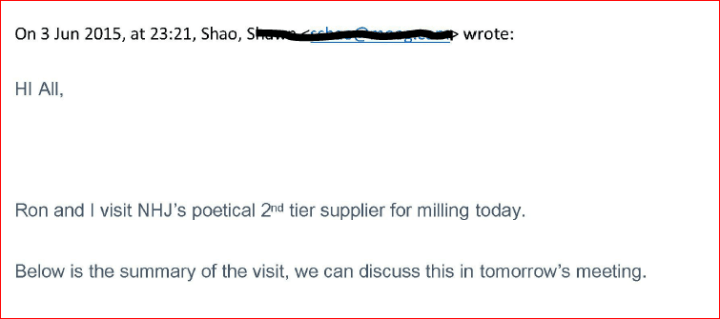 The material evidence explained Moog Aircraft was sourcing from a Chinese supplier with no traceability to aerospace material.
This biggest aviation violation was even evidenced by the reckless, erratic and incompetent SQE s own report.


By the time we realized the most serious violations, Moog had already sourced thousands of piece parts including that SPOF block of B737 spoiler from NHJ and assembled them into Boeing airplanes posing extraordinary safety threat to U.S. aviation system.
Up to this point, no single piece of counterfeit SPOF has been removed due to a massive FAA cover up.
In the meantime, my life has been completely compromised due to Moog Aircraft VP of Supply Chain intentional leaking confidential whistleblowing information to the very suspect.
Not just my own life, flying public life is being threatened with counterfeit safety parts on board of all those affected Boeing planes. Please join me, flying public in battling with the unprecedented aviation scam.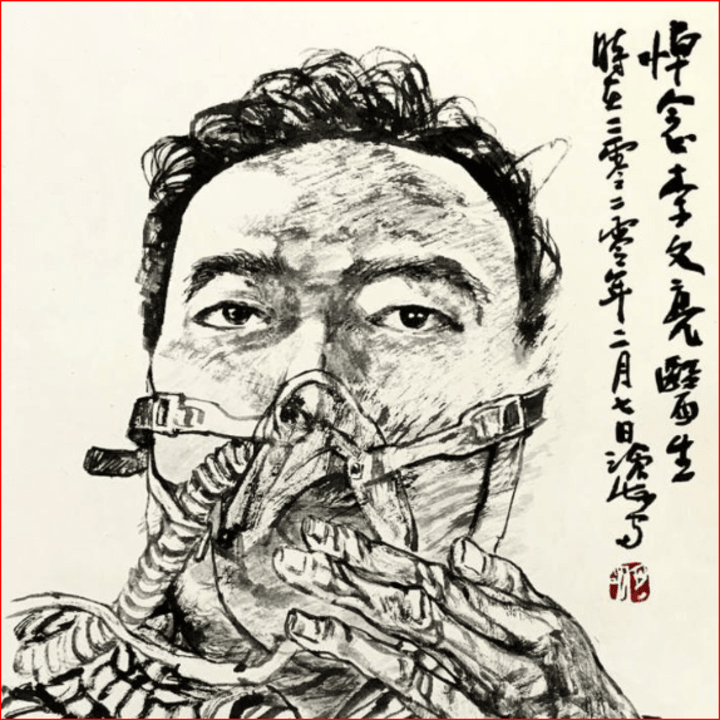 For more information, please contact
Charles Shi
Email: [email protected]