Justice
Or is it?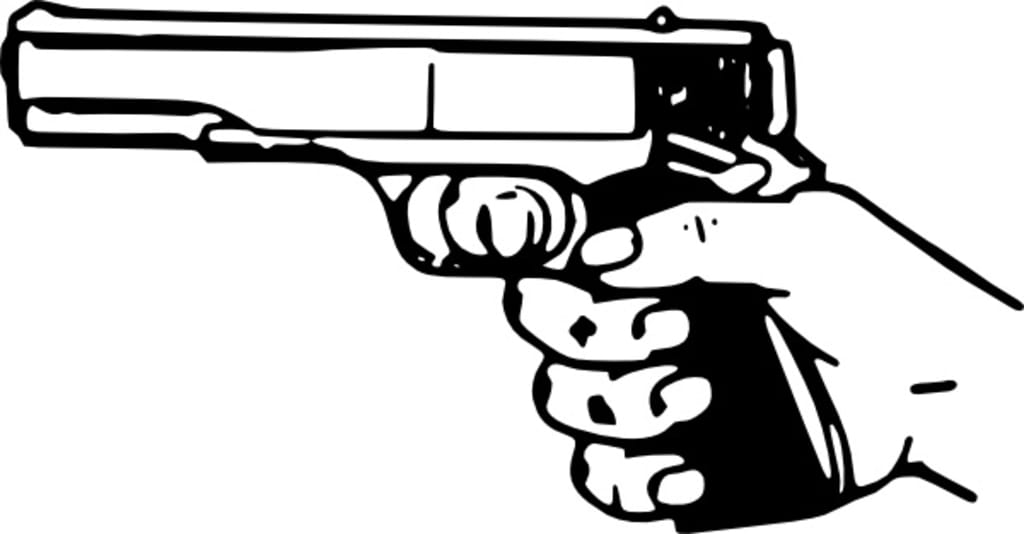 EXT. NIGHT.
JACE is crouching behind a bush at the park. There is almost no moon tonight, so the park is very dark. Jace is peeking between the leaves of the bush at a man. BRAD is holding a bottle of whiskey and walking slowly down the path in the park towards the bushes where Jace is hiding. Brad takes a swig of the whiskey and is clearly drunk. Jace stands up from out of the bushes. Brad slurs all his words.
BRAD (Surprised)
Woah man. You scared me.
JACE
Sorry.
BRAD
What were you doing back there anyways?
Jace looks around the park. Nobody else is nearby.
JACE
I was just waiting around.
BRAD
Oh. Hey, don't I know you from somewhere?
JACE
Yeah, you look familiar too.
Brad points finger guns at Jace.
BRAD
Are you in Mr. Dylan's English class?
Jace smiles very fakely, but Brad doesn't notice.
JACE
Yeah, that must be it.
Brad starts walking down the path towards the parking lot and Jace follows closely.
BRAD
Dude, that class is soo boring. I'm thinking about dropping it.
JACE
Yeah, all he seems to do is talk all the time.
BRAD
Yeah, I know right!
Someone else approaches on the trail. As the stranger passes, Jace pretends to scratch his head so that his hand covers his face. Brad and Jace get to the parking lot and Jace stops by his car.
JACE
This is my ride.
Brad admires the car for a moment.
BRAD
Not bad, my man. My car looks like a piece of garbage. I got in a bit of an accident recently.
JACE
Oh no, I hope everyone was alright.
Brad zones out for a moment as he gets lost in his memories.
BRAD
Hmm? Oh yeah, everyone was fine.
Jace grimaces.
JACE
Well that's good. I need to go but I guess I'll see you in class.
Jace offers his hand to Brad for a handshake.
BRAD
Yeah man, I'll see you then.
Brad grabs Jace's hand and tries to chest bump him. Jace spins him around and traps him in a headlock and holds on until Brad passes out. Jace pulls Brad to the trunk of his car. He puts him in the trunk and puts duct tape on Brad's mouth. Jace gets in the car and drives away. When he gets to a bridge that is closed down, he pulls over. Jace walks around to the back of the car and opens the trunk. Brad is awake and struggles when he sees Jace. Jace drags Brad out of the trunk.
JACE
Oh stop it. Struggling won't save you.
Jace drags Brad to the edge of the bridge and hold him there. He rips the duct tape off of Brad's mouth.
BRAD (Terrified)
What's going on? What did I do?
JACE
You know exactly what you did.
BRAD
Nah man. Did I cheat off you and get you in trouble or something? Look I'm really sorry but I'm not good at those vocab tests and-
JACE
I'm not in your English class.
BRAD (Terrified)
Then who are you? Come on man, let me go. I didn't do anything.
JACE
Really? Do you recognize this bridge or were you too drunk to remember?
BRAD (Terrified)
I'll give you whatever you want, just let me go. My money, my watch, whatever. Don't do this.
Brad starts trying to remove his watch. Jace punches Brad across the face. Brad stops struggling but continues shaking.
JACE
I said do you recognize this bridge?
Brad shakes his head quickly no.
BEGIN FLASHBACK:
EXT. NIGHT.
BRIDGE
JACE (V.O. Angry)
You bastard. You drove home late one night piss drunk. You ended up running my sister off this bridge and killing her. All you got off with was a warning.
Brad is in a car filled with a couple of his friends driving down the bridge. They are laughing and joking and passing around a flask. One of Brad's friends hand him the flask and he takes a big swig from it. When he finishes and looks back down, he's on the wrong side of the road. Another car with a girl driving is right in front of Brad's car. Brad tries to slow down and move over but he's not quick enough. The girl jerks the wheel hard and tries to slam on the brakes but she goes over the side of the bridge.
INT. DAY.
COURTROOM
Brad is standing in front of the JUDGE as he reads the verdict. The only words heard are:
JUDGE
One month license probation. That is all. This now concludes...
(No sound) Jace stands up and starts yelling angrily as Brad is escorted from the courtroom.
END FLASHBACK.
JACE (Angry)
Any of that ring a bell?
Brad stares at Jace for a moment as realization dawns on him. Jace shakes Brad violently. Brad collapses down at Jace's feet.
BRAD
You're that girl's brother. The one from the courtroom.
JACE
That's right. You remember now that your life is on the line.
BRAD
My life?! I'm sorry. I'm so sorry. It was an accident.
Jace pulls out a gun and Brad looks up at him.
JACE
Get up.
Brad scurries to his feet. Jace motions past Brad towards the edge of the bridge with the gun.
JACE
Climb over the railing.
Brad shakes his head no.
BRAD
No, no. Please.
Jace stands more rigidly and moves the gun closer to Brad. Brad reluctantly climbs over the railing and stands very carefully on the edge of the bridge facing Jace.
JACE
Now jump off.
BRAD
There's no getting off with a warning for this. You'll go to jail.
JACE
I don't care. You have three seconds to jump or I'm shooting.
BRAD
Don't do this.
JACE
One.
Brad shakes his head no then looks down at the river far below.
JACE
Two.
BRAD
Is this what your sister would've wanted?
Jace hesitates for a moment and thinks.
JACE
No.
Jace pulls the trigger. Brad falls backwards off the bridge down towards the water. Jace turns around and heads back to his car.
JACE
But like I said, I don't care.
Jace gets in his car and drives away.