It Is a Horror to Flying Public That the Crime Is Not Dealt With
Moog Aircraft Infighting On Chinese Counterfeiting Supplier Illicit Outsourcing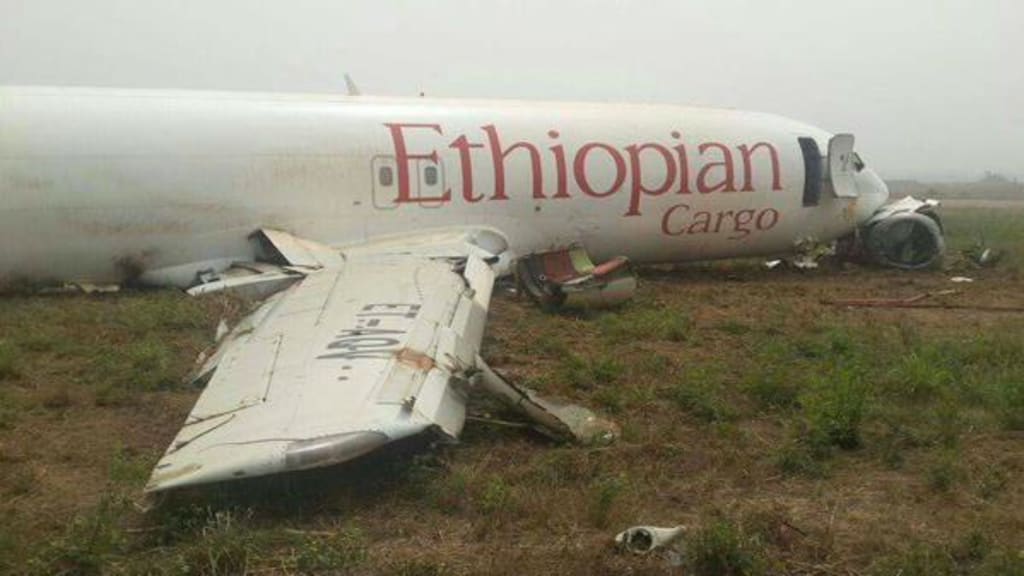 Southwest and the engine makers had "placed profits and business" over passenger safety and continued to operate the engine "even when there was confirmation that an unsafe condition existed."
Moog Aircraft has been knowingly sourcing and installing counterfeit safety parts made in China onto Boeing planes. No single piece of bogus part has been removed due to massive cover-up.
More serious Boeing plane accidents than Southwest Flight 1380 are expected any time!
FAA inaction is arousing public outcry. More press release and louder outcry is appealed.
One of the major violations was that the Chinese counterfeiting supplier outsourced 1/3 of Moog business to unknown & unapproved sub-tiers.
Altogether 11 part numbers, thousands of pieces parts, many of them safety sensitive, were installed on Boeing flight control systems. These Suspected Unapproved parts (SUPs) were illicitly outsourced by NHJ completely without Moog knowledge up till June, 2016.
When I was informed of the violation, I requested Ms Starzak, Moog regional supplier quality lead to conduct immediate corrective action and audit on those unapproved NHJ sub-tiers(or 2nd tiers).
However my job order was refused by Ms Starzak.
SQE Lead Ms Starzak refused to audit unapproved sub-tiers.

Before that refusal, I asked Ms. Starzak to work out a quality control process of the unknown sub-tiers; she did not know how to do it and did not do it. Neither did NHJ know what aerospace and Moog quality requirement so NHJ was doing nothing as well.
I asked Mr. XXX, the SDE responsible for NHJ to draft a sub-tier supplier management procedure for NHJ instead.
Mr. XXX used to perform supplier quality management and had lot of supplier quality experience before Ms Starzak and her boy friend Lee Morris(engineering support lead in Moog Aircraft Asian supply chain) came to China in late 2012.
Mr. XXX took my order and drafted the "procedure " which I asked him to add: 2nd tiers must be approved by Moog.
When Mr. XXX sent the draft copy to Ms. Starzak and Lee Morris for review, they recklessly deleted the wording:2nd tiers must be approved by Moog.
I was stunned by Mr. Morris and Ms Starzak's ignorance of aerospace quality. So I wrote to them 06/07/2015.
Charles Shi Email to Lee Morris and Starzak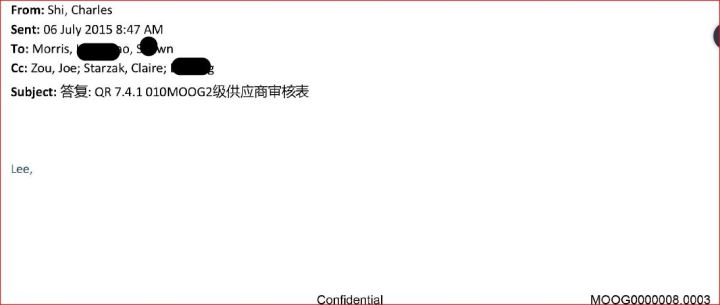 I wrote:
I noted you deleted 2nd tier suppliers must be approved by Moog... By this time, I wish to add this clause as NHJ may not have a AS-9100 certified auditor to properly audit and approve their 2nd tiers, and they are already doing outsourcing of Moog parts. We must tightly control this process...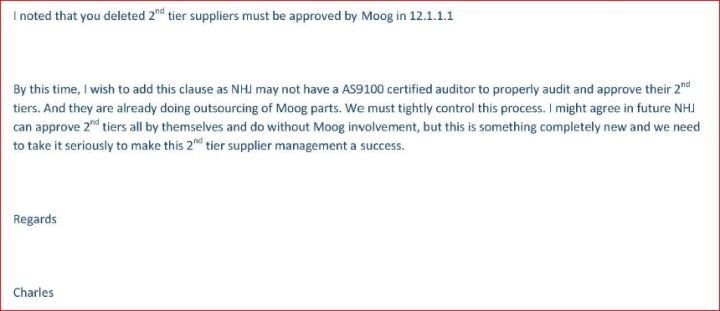 Lee Morris in his response started talking nonsense. Morris wrote 06/07/2015:
However the only way a Moog SQE can approve a 2nd tier supplier, we must follow the full Moog audit process (otherwise this is an audit failure).
Lee Morris' Response to Request of Moog Auditing and Approving Sub-tiers of NHJ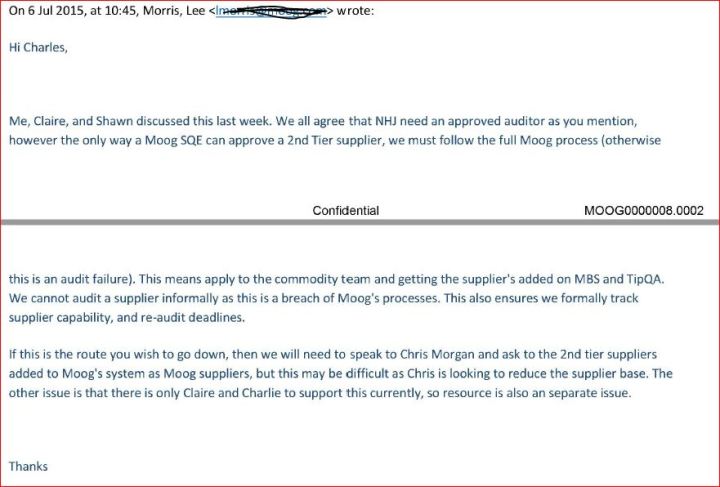 In fact, Both Mr. Morris and Ms Starzak came from a non-Moog facility of UK Woverhampton (Moog bought the facility in 2009 from GE Aviation) before they came to China and work with us at China supply chain. They did not know the established Moog process of auditing and approving 2nd tiers.
Tim Rider, the senior supplier quality & development manager of Moog Aircraft based at East Aurora, New York, authored the 2nd tier supplier management procedure in 2013 that dictated very clearly: "Moog approve 1st tier recommended 2nd tier supplier."
2nd Tier Supplier Management Procedure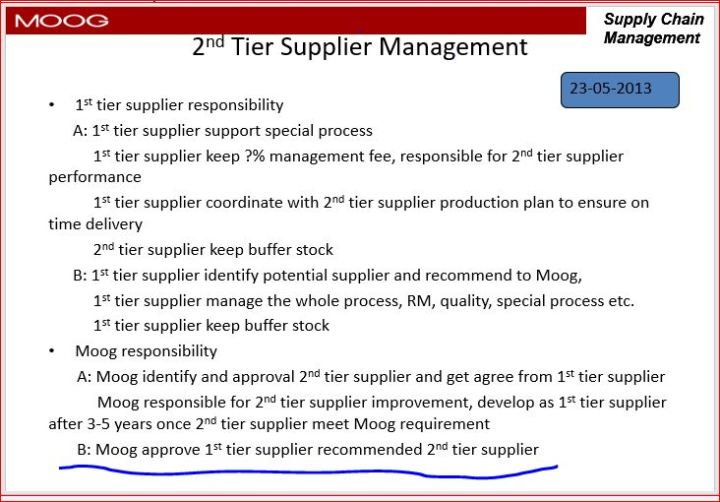 To make accommodation of unwarranted insistence of the ignorant Mr. Morris and Ms Starzak, I myself edited the draft of NHJ 2nd tier management procedure to be:
c) The audit report must be sent to Moog IPT team for review and sign off as an approval to add that 2nd tier in the approved supplier list. Moog SDE shall sign off the audit report (checklist after obtaining written agreement by related SQE and ME).
12.1.1.3 Revise and adding new suppliers into the Approval 2nd tier supplier list shall be informed and signed by Moog IPT team as a final approval.
Revised Draft of NHJ 2nd Tier Management Procedure-Charles Shi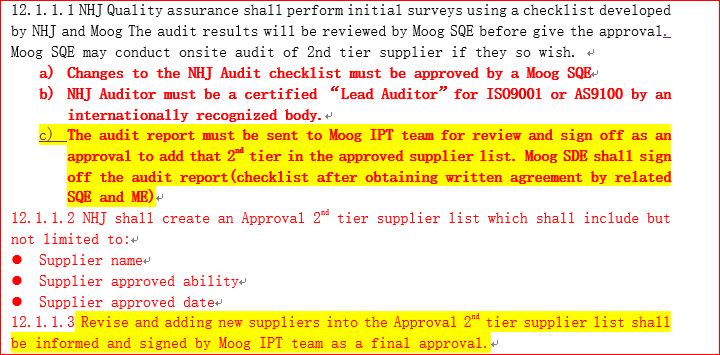 The draft of NHJ sub-tier supplier management procedure never went into effect because following events disrupted it from being enrolled into NHJ quality system.
The disruptions were inclusive:
As mentioned above, my request of Ms Starzak to audit NHJ sub-tiers unknown to Moog was blatantly refused.
Moog investigation on NHJ was badly mishandled and Moog did not even investigate Mr. Zou's suspected kick-back deal.
When I brought the matter of suspect Mr' Zou's wrongdoing to Moog's top aerospace customer Boeing Ethic Hotline in February, 2016, Mr. Michael Jordan, Boeing investigator responded on 08/04/2018.
" I was finally able to get information back from Moog given the retirement of their.. Ethics..."
All what Moog did was to cover up the crime!
Even after Ms Starzak was ordered to investigate NHJ potential counterfeiting upon my whistle blowing. NHJ continued to deliver Suspected Unapproved Parts (SUPs) outsourced from illicit sub-tiers. Moog continued knowingly to accept and install all SUPs made by illicit NHJ sub-tiers because Moog did not go back to old suppliers, nor did Moog had a new supplier replacements for all those 11 part numbers.
Ms. Starzak re-approved NHJ into approved supplier base on behalf Moog Aircraft even Moog was fully aware NHJ was a verified counterfeiter.
I complained on Ms Starzak neglecting NHJ 2nd tier violation and mishandling of Moog investigation to her direct supervisor, Subu Bhat, director of quality, Moog Aircraft Group. Later Mr Bhat admitted to Mr. Jesse Mangual,VP of quality of Moog Aircraft that I did have complained on Ms Starzak.
Mr. Bhat wrote 25/09/2015 :
He (Mr. Shi) indicated that the quality issues we have found with...NHJ could have been avoided if Claire had acted on the suggestions made by members of his team, since he has sent two emails to justify his position.
Mr. Bhat Admitting Complaint on Ms. Starzak' Incompetence and Mishandling
Despite fully knowing Ms. Starzak's wrongdoing, there was no action by the corrupted quality organization to discipline Ms. Starzak.
Moog placed profit and business over flying public safety by not stopping installing bogus parts onto Boeing planes.
It was most unfortunate Boeing and FAA joined Moog in cheating journalists and flying public by refusing to remove all SUPs or counterfeit safety parts posing extreme safety threat!
For more information, please contact:
investigation

Charles Shi
Charles Shi. formerly employed by the Aircraft Group of Moog Inc. as East Asia Supply Chain Manager,a whistleblower of the Federal Aviation Administration ("FAA") on an extraordinary Boeing plane safety threat.
See all posts by Charles Shi →