GHOST VARIATIONS
A high-end art thief attempts to steal a coveted 18th-century violin but an unlikely visitor intervenes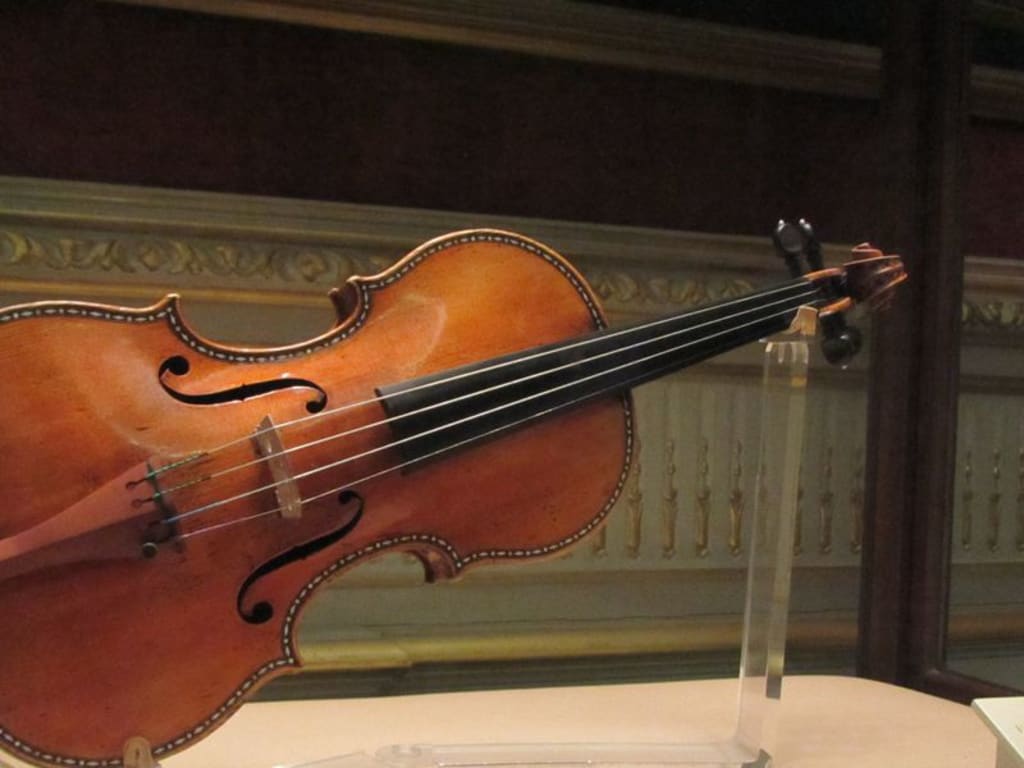 The 1715 Lipinski Stradivarius has many tales to tell. Photo courtesy of Smithsonian
OF ALL THE SCHEMES that Toussaint LeFleur had dreamed up in prison, the one he wanted to execute the most was take the 1715 Stradivarius violin and hold it for ransom.
He knew the famous fiddle had found a new home in the city that awaited him upon release. All he had to do was snatch it from the hands of its unsuspecting owner, Victor Voltaire, a world-renowned violinist known to carry the coveted cultural relic between his home and concerts alone.
Toussaint had done his homework. He kept a black folder filled with color copies of various newspaper and magazine articles about the instrument, which was believed to be one of just 244 still thought to be in existence. He knew that this particular Stradivarius was called a "Lipinski," named so after one of its famous former owners, Polish violinist Karol Lipinski.
Most of all, he knew the instrument was valued at an estimated $6 million.
"Who walks around with a $6 million violin with no security?" Toussaint wondered aloud to his cellmate, Greg, who was serving time for a jewelry store heist.
"I know," Greg said. "That should be transported in an armored truck."
Toussaint was also aware that Stradivarius violins were said to house the souls of their previous owners. But he paid those stories little mind.
"If I can survive being locked up with killers, I damn sure ain't worried about no phantom in a fiddle," Toussaint boasted to Greg.
"You right about that," Greg replied. "I mean, what's worse? Ghosts? Or men who turn other men into ghosts?"
Freedom and family
When Toussaint got released from prison, one of the first things he did was have his fiance, LaTonya, take him to pick up some beef ribs from his favorite barbecue joint. The couple arrived home to their eagerly awaiting children.
"Daddy!" Toussaint's children all said when he stepped in from the cold Milwaukee air into their bungalow on the city's north side. It was the first time in five years they could all hug each other without prison guards standing by. And Toussaint could look forward to sleeping with his fiance in their own bed instead of a bunk bed in a 6-by-9 cell where he and a cellmate both sneezed, shitted and snored in the same cramped space. LaTonya had started an online lingerie boutique to support the kids while Toussaint was locked up. She had a new purple nighty she planned to wear that night.
The couple had five children: 13-year-old Kalima, a daughter, (from LaTonya's previous relationship); Salah, his firstborn son who looked just like him, who was 10; Sadeeqah, his firstborn biological daughter, who was 8; and Sawm and Hajj, twin boys who were 5.
Toussaint loved all of the children. And they all loved their father.
"Daddy, I don't want you to leave me ever again," Salah told Toussaint as he hugged him.
"Daddy I got all A's on my last report card," Kalima said. "Wanna see?"
"Daddy I need a dollhouse for my doll family," Sadeeqah said. "My doll family got bigger while you were gone."
Sawm and Hajj were busy playing with a remote control car that they kept running into whatever they could crash it into. The family carried on like this for the rest of the night.
A cinematic tempting
As word spread that Toussaint was back home, over the next few days his friends came by to visit. But the friend Toussaint looked forward to seeing most was Sam, a freelance accountant who was always coming up with ways for clients to get big tax breaks and refunds. He knew Sam could get LaTonya a sizeable refund by claiming a lot of losses on her lingerie business and that he could use the refund to get various things he would need, such as a new cell phone. Sam was also an avid chess player and a movie buff.
Toussaint had picked up chess in prison. The two played a bunch of games well into the night. A combination of marijuana and incense smoke filled the room as a candle flickered on a nearby window sill. They used the candle's flame to light at least three or four joints as they played game after game.
Sam had favored the conservative style where you wait for your opponent to make a mistake. Toussaint chose a more aggressive style and frequently made premature attacks that often cost him the game. When it became clear that Sam was the better player, Toussaint decided to call it quits.
Sam suggested they watch a movie featuring Sam's favorite Black actor, Samuel L. Jackson.
"Man, this movie is going to blow your mind," Sam said.
"What's it about?" Toussaint asked.
"It's called 'The Red Violin,'" Sam said. "It's about this famous violin from way back in the 1600s. It goes back and forth between all these stories about people who owned the violin between then and now when it ends up about to be sold in an auction. Then, at the end, Sam Jackson, who plays the appraiser ..."
"Stop right there!" Toussaint said. "You always spoil the ending. But I sure want to see it. The movie reminds me of something I been thinking about for a while."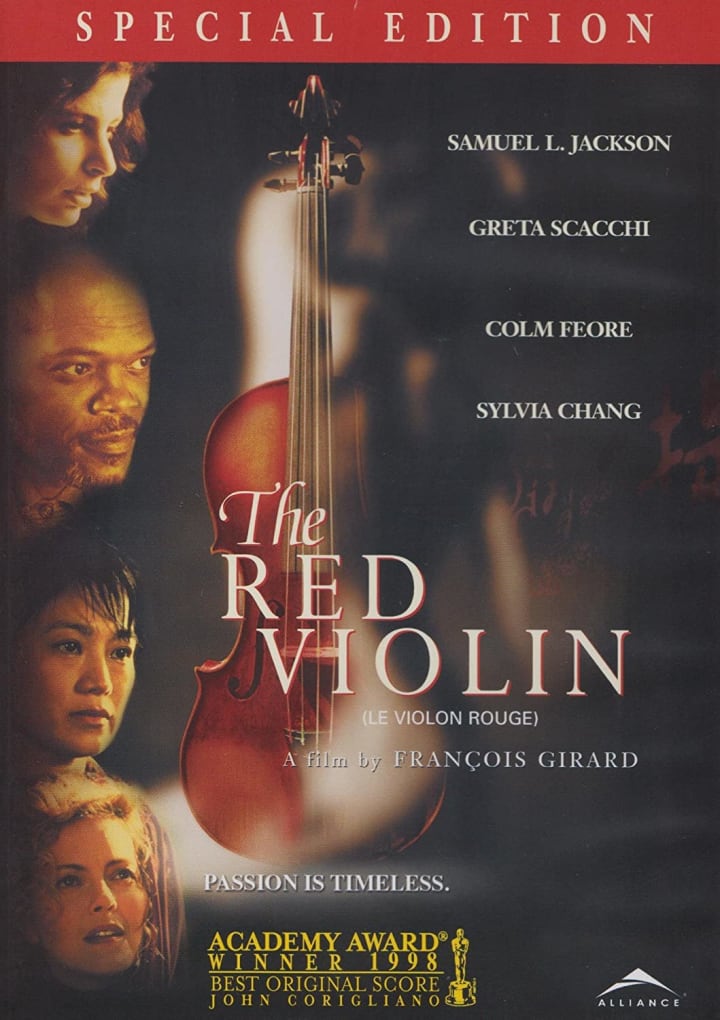 They rented the movie on YouTube, hooked up a laptop to a 32-inch flat screen TV and spent the next three hours watching the two-hour movie, pausing it from time to time to take a leak or make something to eat.
A clean getaway
In the movie, Jackson plays an appraiser, Charles Moritz, who initiates an elaborate scheme to swipe an expensive, 17th century violin from an auction house and replace it with a replica. Before anyone can figure out what took place, he is driven off by a chauffeur and calls his daughter on a cell phone to let her know he will be bringing her a special gift.
The movie gave Toussaint all the encouragement he needed to go through his plan to snatch the Stradivarius. The fact that the movie featured a Black man taking a cherished cultural relic from snobbish members of white society made him all the more emboldened. And besides, if he got even a fraction of the $6 million that the violin was said to be worth, he figured he'd be set for life and his own five children – from whom he had been away from for five years after he got busted trying to pawn a Picasso he had stolen from the home of a client for whom he used to drive – would never want for . thing.
Formulating a plan
Toussaint saw no need to kill Victor Voltaire to get his violin. A murder would have been too much trouble. All Toussaint wanted to do was incapacitate him long enough to snatch the Stradivarius. Pepper spray would be sufficient.
The deeper issue was how to get someone to pay for a stolen Stradivarius. He didn't see anyone buying it on the black market. So he decided he would hold it for ransom. He had read up on cryptocurrency and decided he would demand payment in Bitcoin using sophisticated techniques to disguise his identity. To prove that he had the Stradivarius, he would post disappearing videos of the violin online. In one video, he imagined himself wielding sledgehammer, wearing a mask and threatening to smash the Stradivarius to pieces unless he got $1 million in Bitcoin. The ransom would go up $100,000 a day.
It wasn't hard to figure out where the violin's owner was playing next. The newspaper listed Victor Voltaire's next concert at a performing arts center on the West side. Voltaire planned to play "Ghost Variations," in homage to Robert Schumann, a great but delusional German composer who believed a certain song was dictated to him by the ghosts of composers Franz Schubert or Felix Mendelssohn.
Concert night
Toussaint arranged to have one of his old crime partners, "C-Money," drive him to the concert venue. He had C-Money park near Voltaire's car, a 2014 silver Altima, in the parking lot in the rear.
When Voltaire's familiar figure emerged from the performing arts center, Toussaint put on a thermal winter face mask and went to "greet" him as though he were a fan. But as he "congratulated" Voltaire on his performance, he retrieved a can of pepper spray from his long overcoat and sprayed Voltaire in the face, causing him to loosen his grasp of his violin, which Toussaint snatched and took back to C-Money's car, a 2010 black Chevrolet Malibu.
"Mission accomplished," Toussaint said as Voltaire stood with his arms extended in agony as his face burned from the pepper spray. "Let's go."
The two headed off before Voltaire could let his comrades know that he had been robbed of the Stradivarius.
"They've made off with my violin," Voltaire related to his fellow players. "This is something I always feared would happen."
It wasn't long before police broadcasted reports of a Black man in a mask and long overcoat who "took the victim's violin after he pepper sprayed him while he was leaving the performing arts center." The local news media heard the broadcast and set up at the scene of the crime.
A police official let the journalists know that a major theft had taken place.
"This is not a regular robbery," Captain of Detectives Robert Lewandowski told the media. "Whoever did this knew what they wanted. This is a multi-million-dollar violin."
The call
Toussaint's plan was to let the publicity die down before he tried to post videos of the violin online and demand a ransom. So he stored it in the attic of his home and relished in the idea that he had successfully executed his dream theft.
The following week, Toussaint was out with C-Money when his daughter, Sadeeqah, called his cell phone to say that she and the other children had heard footsteps in the attic, where they saw "some man playing a violin."
"Daddy this white dude is in our attic playing a violin," Sadeeqah said to Toussaint.
Fear gripped Toussaint as he tried to process what he had just heard. He assumed an intruder had discovered the stolen Stradivarius. But he was more consumed by the threat this individual posed to his children.
"Don't worry, baby, I'll be right home," he said.
Toussaint told C-Money there was someone in his house who might have the violin and he needed to get there quickly to protect his kids.
As they sped to Toussaint's home – breaking the speed limit and blowing through stop signs – a police squad began to follow them with lights and siren activated. Now they were in a high-speed chase.
Knowing that the police would assume the worst, he used his cell phone to call 911 to let the dispatcher know that he was rushing home to confront an apparent intruder and to let the officers pursuing him know.
The dispatcher notified the pursuing officers of Toussaint's call. Still, the squad gave chase and was soon joined by two others. By the time they reached Toussaint's home, there were five squad cars. Toussaint emerged from C-Money's car with his hands up and explained to the officers that he was rushing home to confront a man his children saw playing a violin in the attic.
The officers told Toussaint to have a seat on the curb while they went inside to check on the children. Two officers went to the attic with guns drawn and bright flashlights shining.
"Police," the officers shouted into attic. "If you're hiding, come out with your hands up."
The officers searched the entire attic but found no one there. They did, however, find a peculiar looking violin that had been lying in an open case.
"Hey, sarge," one of the officers radioed to his sergeant outside. "You're not gonna believe this but I think we found that missing fancy violin."