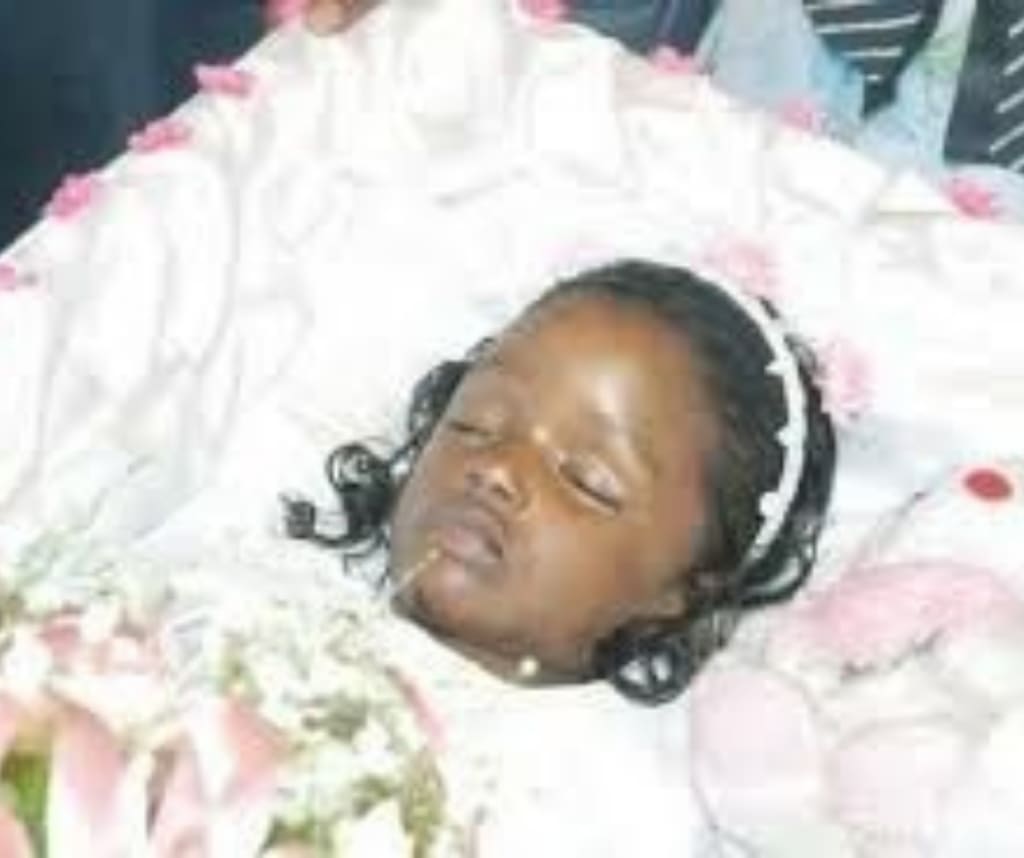 Photo Source- theguardian.co.tt
Summary: Four-year-old Emily, as she was called by her family, was raped, sodomized, and murdered by her mother's boyfriend, Marlo, after suffering abuse and torture from him and her mother, Anita. Despite Anita abandoning Emily at a hospital for a year, a court gave her custody back of the girl. Social workers and hospital staff ignored the bruises and other signs of abuse, as did her own father. Anita and Marlon were arrested. When the cop failed to show for court, all charges against Anita were dropped. Marlon was sentenced to death.
-------------------------------STORY---------------------------------
The only photo that exists of 4-year-old Amy Emily Annamunthodo is one in her coffin after she was beaten to death by her mother and her mother's boyfriend. After the murder, Annamunthodo's home was set ablaze, destroying every piece of evidence of her existence.
Living in Trinidad with her mother, Anita, and stepfather, Marlon King, Amy was not allowed contact with her father. He knew that Marlon abused her, as did many others, but did nothing to help or protect her from the vicious abuse.
In March 2004, neighbors grew concerned about Amy. Numerous reports made to police suggested that Marlon was abusing her.
Amy Placed in Foster Care
On April 27, 2004, Amy was taken to the San Dernando General Hospital with a forearm fracture and multiple bruises about her body. This was one of three visits she would make, the final visit in May 2004, resulting in Anita abandoning her at the hospital. Amy was placed into foster care on September 5, 2005.
Anita Gets Back Custody
In November 2005, Anita and her mother, Chanadai Basdeeo applied for custody back of the girl. A judge granted the request in December 2005. Things were fine for a while, and then Chanadai became sick. The abuse resumed until Anita killer her daughter.
Neighbors Witness Abuse; Do Nothing
Neighbors witnessed some of the abuse. One neighbor saw Marlon throw Amy down a flight of stairs, saying to her "Get up girl. I say get up." This dislocated Amy's shoulder but was never taken to the hospital. The neighbor was scared of Marlon and did not call the police.
Anita and Marlon left Amy home alone often. Neighbors heard her cry because she was left in the room in complete darkness and very afraid as would any four-year-old.
The Final Act: Amy is Murdered
On May 15, 2006, neighbors again heard Amy screaming, although they soon stopped. A few minutes later, they saw Marlon leave with her wrapped in a white towel. Amy was taken to the hospital and pronounced dead.
An autopsy revealed that Amy had been raped and sodomized before she was locked in a room and a cloth stuffed inside her mouth. She had been burned with cigarettes and badly beaten. She suffered a fracture to her right rib, contusions to her liver and spleen, bleeding of the kidneys, and a rupture of the atrium of the heart.
Prosecutors in the case said that Amy was hung from a door frame and struck at least 20 times on the day that she died. Marlon denied any knowledge of Amy's death.
Marlon & Anita Arrested
Marlon King was charged with neglect and murder. Anita was charged with six counts of neglect. When the arresting officer did not show up for court, the charges against Anita were dropped. She'd spent 11-months behind bars. Marlon was beaten up while in prison and unable to attend his first court appearance scheduled for May 30, 2006.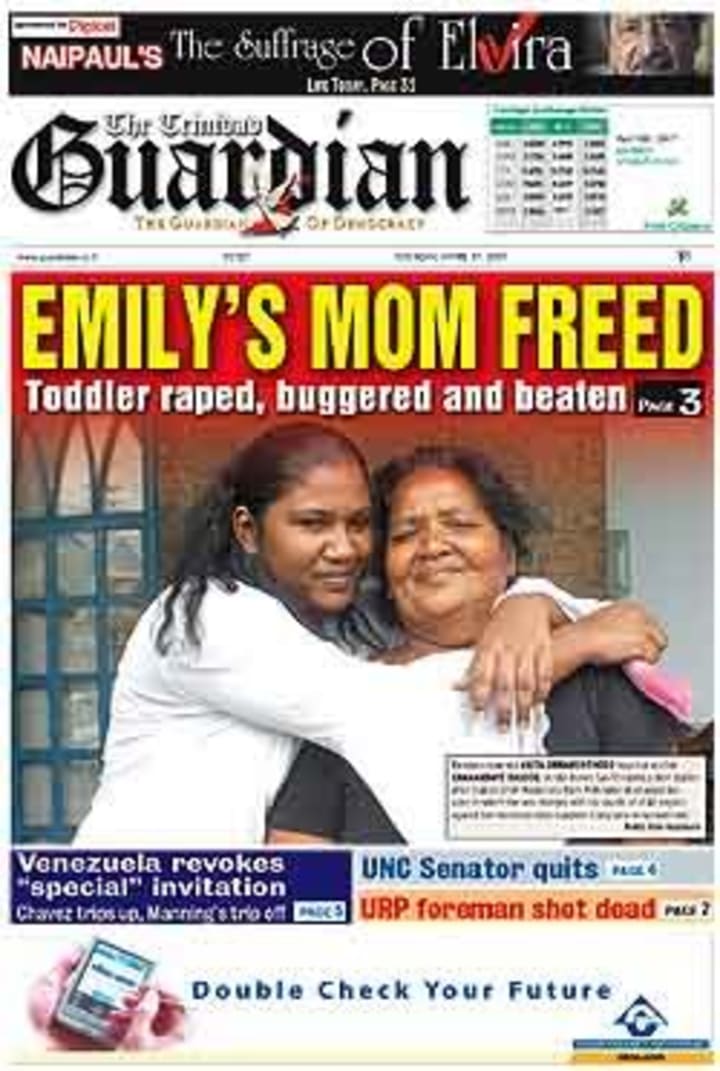 In March 2012, Marlon was found guilty and sentenced to death by hanging. It is presumed that he was executed, although I cannot find additional information about the case.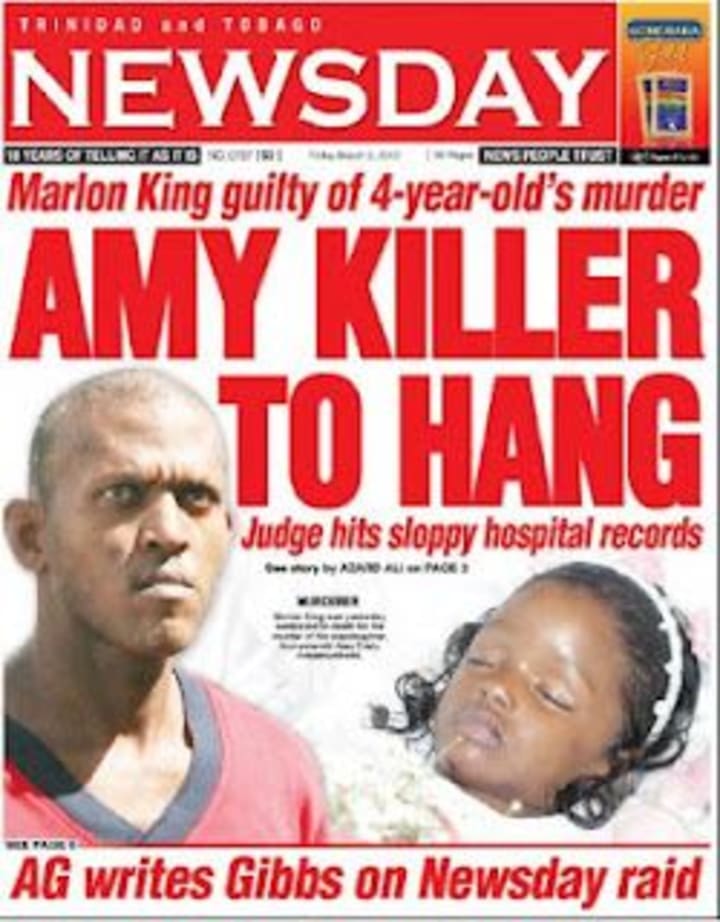 About the Creator
The most shocking & unbelievable collection of crime stories around. Prepare yourself for crimes that will piss you off. Graphic material! 18+ audience!
Reader insights
Be the first to share your insights about this piece.
Add your insights