Fatal Boeing Plane Accidents Loom in Massive Cover-Up
Moog Aircraft has been knowingly sourcing counterfeit (SPOF) blocks of spoilers compromising some 500 B737 now in service.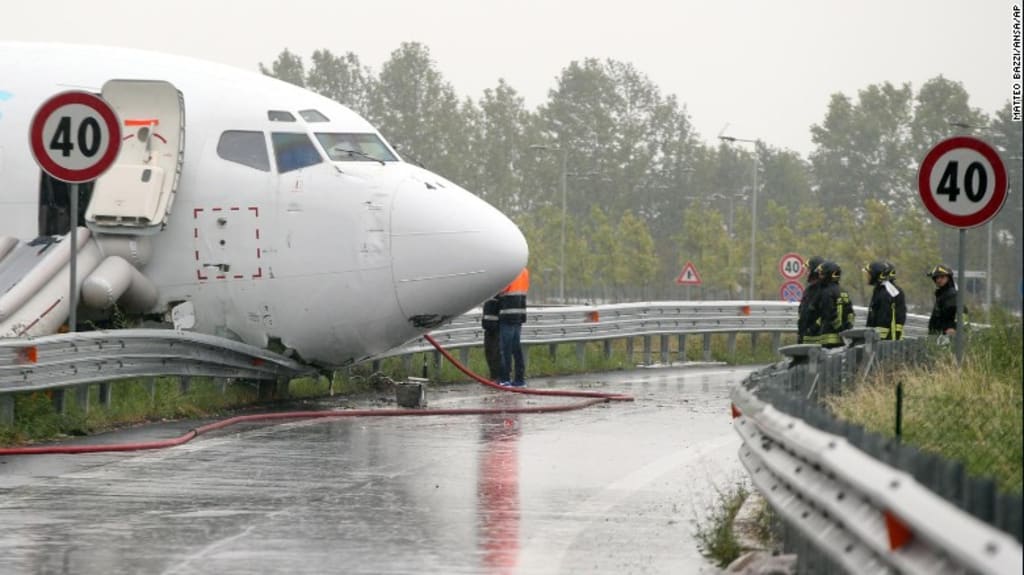 Before boarding a Boeing 737 plane, airlines pilot/crew and flying public need to question if fake spoiler blocks are on the plane.
Reported by Newsday, Pence's skidding (Boeing 737) plane had inoperable speed reducer (Spoiler),NTSB says.
VP Pence was lucky to have only 10 second of uncertainties in this scary incident. Flying public may not be as lucky as VP Pence when flying a B737 by next trip!
The Pence's plane incident demonstrates the criticality of spoilers which planes rely on to reduce speed when touching down.
Moog Aircraft is the sole manufacturer of B737 spoilers in the world.
Another life threatening air incident which was caused mainly by Moog's faulty block of spoiler was arousing flying public outcries.
(Icelandair B752 at Keflavik on Feb 26th 2013, hydraulic failure, control difficulties)
By SYN on Saturday, Aug 29, 2015 09:19Z
"The component manufacturer (Moog) advised having seen this failure mode on several occasions, during overhauls, although never as a part of reported in-flight incident."
Oh well, they have found their component fails... but didn't tell anybody... how human...
By John O. on Saturday, Aug 22, 2015 12:51Z
Well, now they have an "in-flight" incident... Surely the part-manufacturer (Moog) is responsible for their product and for flagging potential failures... I have to ask: "what were these people thinking of?" — just because it never happened before, doesn't mean it won't ever happen. I just hope some changes are made to the relevant "processes" so as to prevent this happening again. Otherwise, the outcome might be much worse next time.
Icelandair flight did not cause casualties which was blessed.
Since 2015, Moog Aircraft have been knowingly sourcing counterfeit blocks (Single point of failure or SPOF) of B737 spoilers from an verified counterfeiting Chinese supplier exclusively compromising some 500 Boeing 737.
I (Charles Shi) was the FAA whistleblower on this matter since early 2016. The safety threat was massively covered up due to Moog Aircraft criminal concealment and FAA abusive investigation process, which has not been corrected so far.
As a result, no single piece of fake block of spoiler was removed from any of affected B737 planes now in service.
Part Number P665A0039-02 Block (Mounting Lug) of B737 Spoiler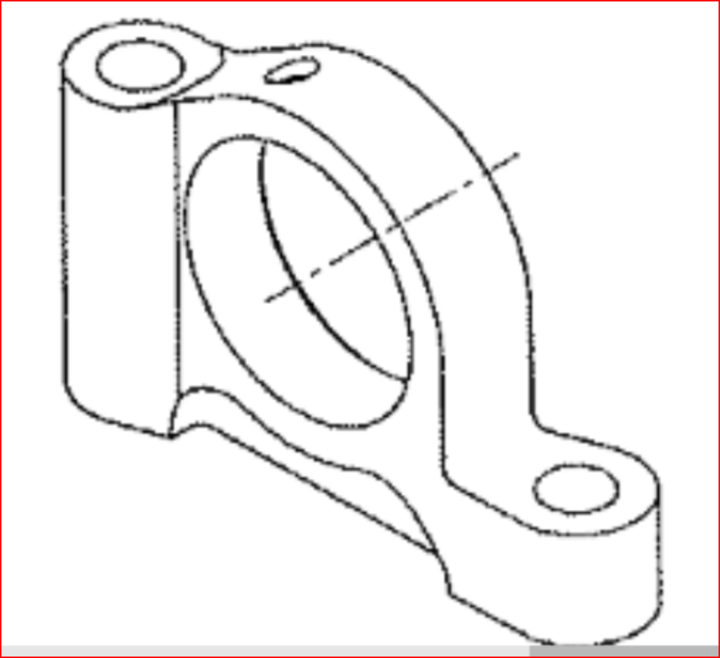 Amid press releases and recent NBC reporting, Moog Aircraft continued to cheat worldwide airlines, aircraft insurers and flying public.
Moog deceitfully stated to the world:
"The(suspect) supplier provided simple machined parts such as springs, pins, brackets and connector plates.... "
The fact is: throughout the whole process of my whistleblowing, the Single Point Of Failure (SPOF) block (also nicknamed by Moog as "mounting lug") of B737 Spoiler was focused.
It was evidenced by Moog internal memo by Ms Claire Starzak, the Supplier Quality Lead of Moog Aircraft Asian Supply Chain.
Exhibit Moog116 Accepted by US DOL Administrative Law Judge into Court Record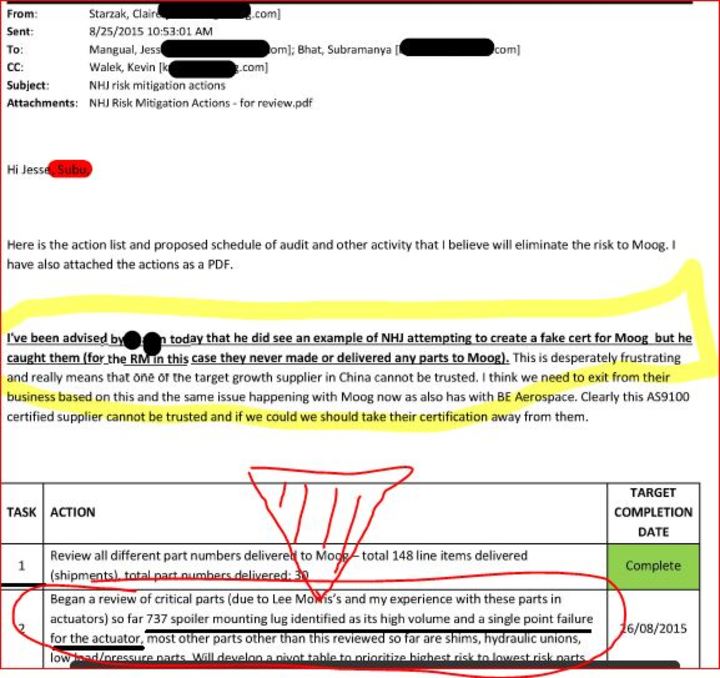 Moog accused me of disclosing to public material evidence such as the memo containing crime and fraud information only. This is an act of obstruction of justice punishable by US laws including Aircraft Safety Act 2000which states:
"Sec. 38. Fraud involving aircraft or space vehicle parts in interstate or foreign commerce Moog smearing me as the protected whistleblower for disclosing this material evidence to public which is act of obstruction of justice punishable by Aircraft Safety Act 2000"
"Sec. 38. Fraud involving aircraft or space vehicle parts in interstate or foreign commerce:(a) Whoever, in or affecting interstate or foreign commerce, knowingly and with the intent to defraud--(1)(A) falsifies or conceals a material fact;(B) makes any materially fraudulent representation; or(C) makes or uses any materially false writing, entry, certification, document, record, data plate, label, or electronic communication; concerning any aircraft or space vehicle part."
Moog has committed a felony by willfully concealing the fact of sourcing of counterfeit Boeing plane safety parts, which is not accepted and tolerated by flying public.
Moog top executive intentionally leaked my confidential whistleblowing information to the very internal suspect, who had been colluding with the Chinese counterfeiting supplier, tampering and destroying evidences.
By doing so, my life was completely compromised.
BUT, I shall go on exposing Moog scam and will stop alerting flying public of the extraordinary safety threat only when I am murdered.
FAA Suspected Unapproved Part Program FAA Order 8120.16A and FAA Order 2150.3B. On 4-3 of FAA Order 8120.16A, Coordinating Criminal Investigation, it states:
"If parts have been intentionally misrepresented, criminal activity may be involved, inspectors should refer to FAA Order 2150.3 for additional guidance and information about criminal investigation."
Mr. Gerald Eastman, the long time whistleblower of Boeing quality issues, recently wrote a letter on my behalf to Rep. Peter DeFazio requesting action by U.S. lawmakers, and Office Of General Inspector of U.S. Department of Transportation on FAA massive cover-up, and the abusive investigation process.
We demand FAA pass on all whistleblowing information to law enforcement agencies per FAA own procedure for an official criminal investigation, have the crime and fraud thoroughly investigated. Removal of all counterfeit safety parts must be ordered hopefully before next fatal accidents take place.
In the meantime, flying public is appealed to join us crying out for action!
Rebuttal to Moog deceits and other press releases:
Rebuke Moog Continued Lies of an Extraordinary Aircraft Safety Threat
Exclusive: Insider Warns Fatal Accident Looms In Massive FAA Cover Up Of Defective Parts
Who's Policing Counterfeit Airplane Parts?
Fake Paperwork, Poor Parts Challenge China's Aerospace Boom
More press release is also appealed to weigh in FAA/LEA criminal investigation and removal of counterfeit safety parts.
Charles Shi
Cell & whatsapp:+86 upon request
Email & facetime: [email protected]
Twitter: charlesshi888
Skype: charles20160318
Youtube: Charles Shi FAA whistleblower
travel

Charles Shi
Charles Shi. formerly employed by the Aircraft Group of Moog Inc. as East Asia Supply Chain Manager,a whistleblower of the Federal Aviation Administration ("FAA") on an extraordinary Boeing plane safety threat.
See all posts by Charles Shi →