Drunk Cop Strikes Pedestrian, Takes Body Home in His Vehicle
He never called 9-1-1 but instead, asked his mom what to do with the body.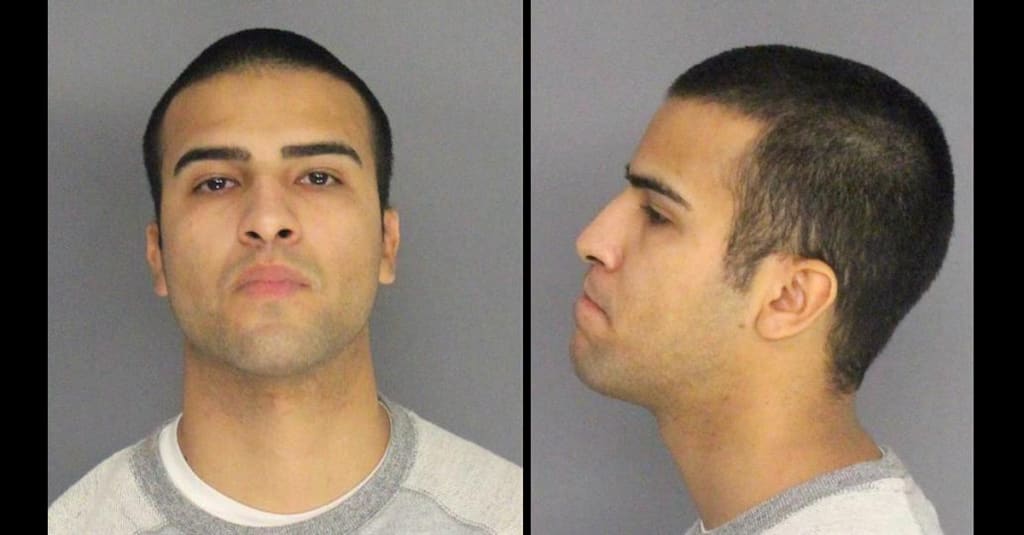 Newark, NJ police officer Louis Santiago allegedly struck a pedestrian with his vehicle on a parkway, left the scene with the victim's body, and drove back to his home. The 25-year-old has been charged with desecrating human remains, reckless homicide, endangering a victim, leaving the scene of an accident, and several other charges related to the incident that occurred on Garden State Parkway on November 1, 2021.
Santiago Puts Body in Backseat of Car
Santiago allegedly struck 29-year-old Damian Z. Dymka, a nurse in Garfield, NJ, with the vehicle he was driving, reportedly a 2005 Honda Accord. Rather than call 911, he left the scene of the accident, returning to claim the victim's body a short time later. He left, returned to the scene with the dead man's body in his car, then left again, this time driving to his home.
Asks Mother for Advice
Once he arrived home, Santiago told his mother what happened. He asked her advice on what he should do with the man's body. Annette looked at the dead body in the backseat of her son's car and said ""put that body back where you hit it. Put it on the floor."
Father Calls Police; Three People Arrested
Santiago's father, a lieutenant with the Newark Police Department, called 9-1-1 to report his son had been involved in an accident. Responding officers found Dymka's body in the backseat of his car.
Police took Santiago into custody at that time. Toxicology reports later revealed Santiago was heavily intoxicated at the time of the accident and homicide.
A passenger in Santiago's car at the time of the accident has also been charged. That man, 25-year-old Albert Guzman of Newark, NJ, was charged with conspiracy to desecrate human remains, hindering apprehension, tampering with physical evidence, and conspiracy to hinder apprehension. Santiago's mother, Annette Santiago, faces the same charges.
All three posted their bail bond and were released with conditions. They currently await trial and if convicted, face 20 or more years behind bars.
More Information/Resources:
https://abc7ny.com/louis-santiago-newark-police-garden-state-parkway-body-damian-z-dymka/11286726/
While You're Here…
Check out other stories available from Criminal Matters. If true crime is your life, you will LOVE the stories we have available.
Get your true crime fix with the selections below or click here to visit the main page and find articles of your choosing. There's tons of articles to pick from.
You can also share this story on social media if you would like. Hit those tabs at the bottom of the page or click and paste the link to share on the site of your choosing.
Thanks for your support.
Stories You Might Like to Read
Inmates Pour Sugar Water Down Inmates Throat of Murderer Keith Hall After Bounty Put Out
A man who murdered a young girl was arrested and a bounty put on his head. Now the man is a target for other inmates eager to collect. He's twice been attacked. Find out more by reading this story:
Without a Trace: The Disappearance of Brian Swanson
Swanson had car trouble and called his dad. During that call, he yelled "Oh shit." The phone lines went dead. Brandon has never been seen or heard from since. What happened to Brian Swanson? Read more here:
8-Year-Old Beats 1-Year-Old to Death When Left Home Alone
Never leave kids home alone. So many things can go wrong and kids lack the maturity to properly handle most of these situations. Take this case for example. An 8-year-old beat his younger sibling to death when left home alone to care for the kids.
Mom Molests Son; Dad Destroys Evidence
A dad covered up sexual abuse committed on his son by his wife because she told him "She would not do it again." Both were arrested after the boy came forward and told someone what happened to him. Read the complete sickening story here:
investigation
About the author
The most shocking & unbelievable collection of crime stories around. Prepare yourself for crimes that will piss you off. Graphic material! 18+ audience!
Reader insights
Be the first to share your insights about this piece.
Add your insights