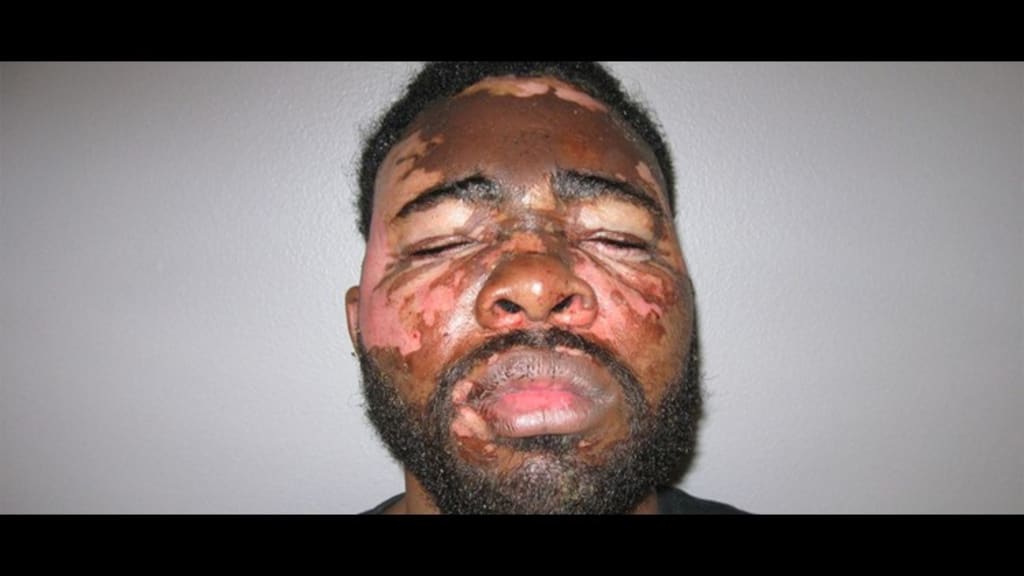 A Decatur, Alabama man welcomed in the month of August with a trip to the hospital, a couple of criminal charges, and (hopefully) a lifetime of scars after he broke into his ex-girlfriend's home and pointed a handgun at her.
The woman defended herself against 31-year-old Larondrick Macklin by hurling a pot of hot grease at the man. From the looks of the photo of the man, it was a perfect shot.
She then dialed 911, reporting a domestic disturbance.
That Had to Hurt
I know we shouldn't judge a "book by its cover," but it seems fitting to assume Larondrick was in pain looking at his face in this mugshot photo. As he should feel pain. If you don't have good intentions, leave people alone. Sometimes you get more than you bargained for!
Guess no one ever told Larondrick you shouldn't bring a gun to a hot grease fight!
You live; you learn.
By Any Means Necessary
The victim had every right in the world to defend herself by "any means necessary," especially since he ruined dinner on top of the other drama! She was not charged with any crimes in the incident.
Police and paramedics arrived on the scene. The man was transported to a local hospital and treated for his injuries. He spent 24-hours in the hospital before transfer to the county jail.
Macklin Transported to Hospital; Jail
Macklin was booked into the county jail on charges of first-degree domestic violence and first-degree attempted robbery. Both crimes constitute felony charges against Macklin.
First-Degree Domestic Violence in Alabama
In Alabama, first-degree domestic violence carries a sentence of up to life in prison. First-degree domestic violence occurs when the perpetrator commits aggravated stalking or first-degree assault.
If you can't take the heat, don't bring it to the kitchen, Larondrick.
Unfortunately, information concerning the outcome of this case is unavailable. Larondrick's charges likely were reduced to misdemeanor offenses and heard in the smaller court. The charges could have been dismissed altogether. Larondrick's name is not currently listed in an Alabama Department of Corrections prison inmate search.
Domestic Violence Resources
If you or someone you know is involved in a violent relationship, help is out there. The following resources are a few of many available to help.
Reach out. Get out. People care.
For 24-hour confidential domestic violence help, call the appropriate number below.
U.S.: 1-800-799-SAFE (7233)
Australia: 1-800-RESPECT
England: 0808 2000 247
Northern Ireland: 0808 802 1414
Scotland: 0800 027 1234
UK: LiveAid Live Chat: https://chat.womensaid.org.uk/
Japan: TELL offers counseling until 11 p.m. each night: 03-5774-0992
The Aspire News App was voted as the "best domestic violence app" in 2019. The free app can easily be downloaded to your device and provide potentially life-saving information and support.
Bright Sky is a mobile app and website for anyone experiencing domestic abuse. Download the app for free.
YOU MAY ALSO WANT TO READ:
Men Found Shot, Dismembered After Craigslist Firearm Sale
Two men were shot in the head, then their bodies dismembered after a firearm sale gone wrong. Several people were charged in this incident. Click below to read the story and learn more about this tragic incident.
Mohammad Chowdhury Cuts Off Penis, Flushes it Down the Toilet
While incarcerated awaiting trial for murdering his girlfriend, Mohammad Chowdhury slit his throat but first, he cut off his penis and flushed it down the toilet. Officials could not find the severed penis. Mohammad locked his cellmate out of the cell, although they quickly notified guards. Read more about this story:
Thank you for supporting Criminal Matters. You are appreciated.
About the Creator
The most shocking & unbelievable collection of crime stories around. Prepare yourself for crimes that will piss you off. Graphic material! 18+ audience!
Reader insights
Be the first to share your insights about this piece.
Add your insights