Disappeared: Michelle McMullen
Harrisburg, Pennsylvania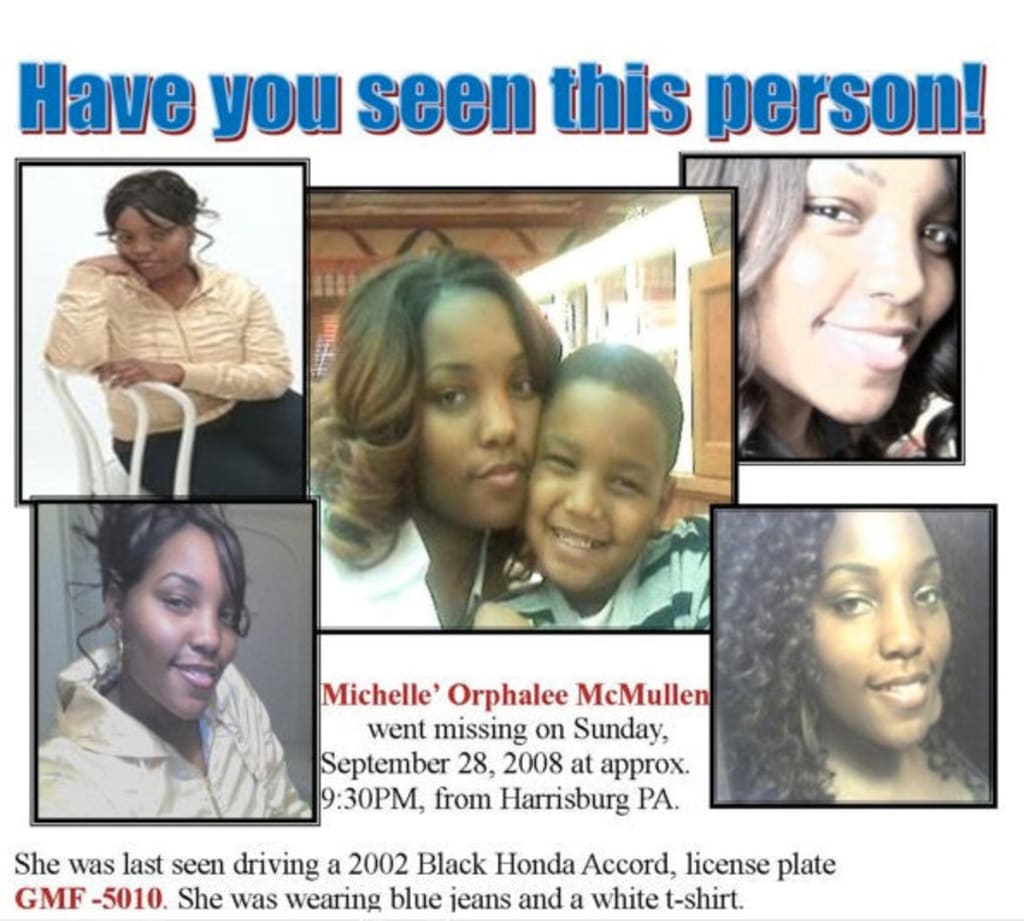 Michelle McMullen was a 27-year old Harrisburg, Pennsylvania resident who moved to Louisiana to finish her degree at Grambling State University. She had some hard times in Louisiana, barely having money for school let alone to care for her 6-year old son, Jaylen. She and her parents made the decision to move him back home. She planned on returning to Louisiana to finish her degree while her parents cared for her son.
On September 28, 2008, she decided to make the drive to Pennsylvania dropping her son off at a friend's house and giving her the little money she had left in her pocket. Her parents had no idea that she made the drive and until the next day, didn't even know that Jaylen was in Harrisburg. They were upset because if they would have known she was there, they never would have let her drive back before resting for a few hours.
She then headed back to Louisiana and called her friend at 9PM telling her son goodnight and her friend that she would call her when she was a little further down the road. No one heard from her again.
Rewind to before she moved to Louisiana, she was working as a secretary at a local church. She had been let go in July for not doing her job correctly. While she was still working at the church, she had forged checks and given herself two unauthorized pay raises for a total of $2000 being taken.
After her disappearance, her car had been found in Hagerstown, MD with her cell phone and wallet still inside.
In February 2010, the show Disappeared aired her story and then showed reruns. Someone who saw the show had recognized her as her hairdresser. She was found alive, in California. She had met a woman who owned a beauty salon and told her she was a Katrina victim. This woman took her in treating her as her own daughter, teaching her how to cut hair. Michelle eventually grew a customer base and was amazing at her job.
Before she moved to California, though, she was in Martinsburg, WV when she told a hotel owner that she was running away from an abusive relationship in Louisiana and that she needed somewhere to stay and some money. He felt bad for her and told her he couldn't hire her, but if she helped him behind the desk, he would simply give her money. It was a few months before an old friend of hers went into the hotel and actually noticed her. He called her parents, but by the time police made it to the hotel, she was gone again.
In 2010, after she was found, she was charged with fraud, theft, and forgery. She stated that the $2000 taken were "mistakes" and an "extra" paycheck she received and that she only used the money on schooling.
She told police that she was always afraid she would be caught and that was worse than any jail cell she could ever get put into. The judge simply sentenced her to probation and $6,000 of restitution.
What boggles my mind is how any mother could just abandon her son. Police reports stated that if she would have just turned herself in, she would have only gotten probation as long as she promised to pay the church back. Her son thought for two years that his mother was simply not talking to him. He thought she was abandoning him, and he was correct which breaks my entire heart. A 6-year old child.
If you like this story, be sure to like my Facebook page for a new story almost every day!
If you would like to get a weekly email with my stories, go to my google forms and submit your email address!