Cold case
Ireland's Vanishing Triangle

Hindsight can be a terrifying shadow. @anniqueNYC
I grew up in a public house on the edge of the Curragh plains, slap bang in the heart of Ireland's vanishing triangle. We moved there in 1974 from Dublin city where we had lived in a flat, above my grandfather's pub. It was a fixer-upper business and my parent's dream home. Lumville House is a scenic Georgian estate and a historic property, dating back to the 1780s when first owned by Col. Charles Lumm, a champion race trainer. The home settled on its own landscaped acre which my mother nurtured for the picture-perfect backdrops in hundreds of bridal photos now hanging, collecting dust somewhere in Ireland today. The function room my uncle Christy built was a brand new, modern extension to the growing business that catered to 250 people at full capacity for French service catering. Thursday through Sunday, it also transformed into a rural Irish studio 54 as home to 'Club Tequila', the brainchild of my father and the first nightclub in a twenty-five-mile radius. It was the coolest, hippest place to be back then with eight to ten hunky Irish army bouncers manning the doors, packed to its capacity by 10.30 pm. Phyllis Murphy was just one girl who danced to the lights and moved to the rhythm below me, that disco jive pulsating, I could feel the beat thumping, and my brothers and I loved it. In hindsight, looking back at the darkness, I wonder how many killers preyed there, committing boogie-woogie on my family's dance floor?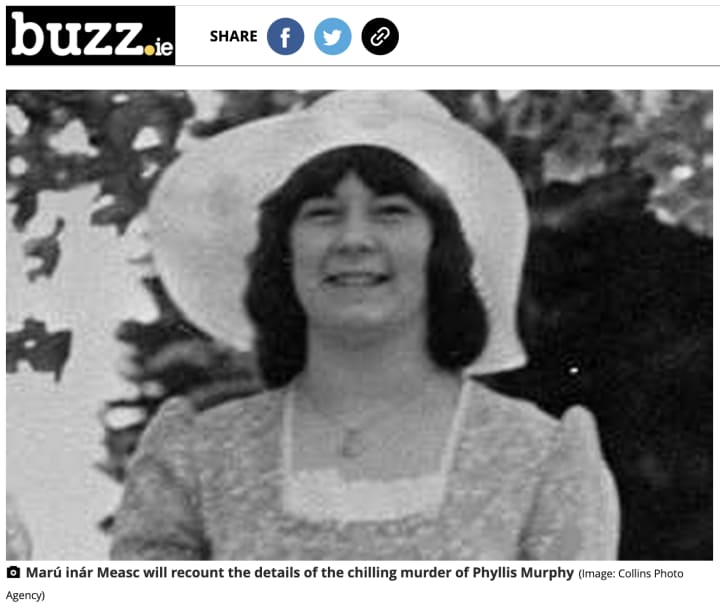 It was the day after my birthday, on the 22nd of December, 1979, I was eleven and a day when she got into the car just up the road. Her bags packed with Christmas gifts she just purchased in town, she was last seen around 6.35 pm waiting for a bus, across the road from the Kaedeen Hotel, our business competition. She was last heard by a friend in a phone call and was planning to go out dancing that night. I wonder if she was going to Club Tequila?
My strongest memories of those days and weeks that followed were my hysterical, overbearing, ranting mother, detective extraordinaire. She started grounding me and yelling at me for nothing! When Phyllis's clothes were found on the Curragh plains close to where we would have walked the dog, I got warned to never, ever, ever go outside or anywhere ever again. Incessant rants, creating her own crime scenes, and then putting out fires, solving mysteries, and setting action plans to scenarios that made no sense at all! Every single British tabloid, every magazine, and book with a serial killer on the front of it covered our coffee table, our dining room table, and the 2 bar counters below so that the customers could have a free read later. From the Moores murders to Denis Nelsen, the Yorkshire Ripper, when I dressed up in some new idea I liked on MTV, I was assaulted verbally. Your pants are too tight, take them off! Your top is too short, take it off! Your hair is too long! You're not wearing that! Take off that make-up! No, you're not getting your ears pierced. When the Ted Bundy story broke from the USA, her attention went transatlantic. Years and years of every rape and serial killing became my fabricated fate.
It took 20 long years for that killer to be found. My father knew him. The lead detective on the case was the same detective who arrested Nuala Thorp for stealing thousands of pounds from my mother's gift store, located just across the street from the bus stop Phyllis was last seen.
The term "Irelands vanishing triangle" didn't come until years later, in the 1990s when lots of girls started to go missing. I was working in Dublin, commuting to work, doing my thing. My home always scared me, particularly at night. It was a spooky dark house with creaky floors surrounded by haunting trees that made sounds in the wind. I felt negative energy in that home from my childhood and we had had so multiple break-ins, brawls, and scares, everything seemed like a trigger. To get into the house at night when everything was locked up was just brutal. getting through the heavy iorn gates at the back that always made noise, getting stuck in the tarmac as it had to be closed behind to keep the sheep out. Then once inside the back door, through the dark back kitchen full of junk, there were about fifty seconds to obstacle course through several locked doors, a massive industrial kitchen flood lite with a black-light, and down into the main house I dreaded, into the tiny office where the alarm code had to be entered or the Newbridge Garda station would be alerted and on their way.
One night, in the early 1990s, and just before I immigrated to the USA, I drove into our empty car park in Lumville and parked just beside the back gate. It was late and everything was locked up and silent, the staff had already gone home. A few security lights in the trees were left on, creating dark shadows that moved to the wind. As I stepped out of my mother's steel blue Nissan Micra, I locked the door and from the corner of my right eye, caught a pristinely clean bright red hatchback car moving slowly towards me. This shocked me because I had scanned the front and side of the house upon my approach for cars and activity, we all knew to do this, including the staff. My heart was pounding, I recall physically not being able to move, completely frozen, exactly as the sleep paralysis nightmares I often experienced in the bedroom located directly about my head. I could move only my head and it followed the front of the car, headlights switched off, I stared as it cruised closer around me and behind me stopping at my left shoulder about a car space away by the dead chestnut tree with no leaves, windows completely black. I could hear the handbrake pull up as I felt I could vomit, I held the keys tightly in my sweaty fingers, head racing trying to figure it all out? What? Bang, bang, I heard the faint shouts of my father as I turned my attention to the kitchen window beside my bedroom, above the back gate. Dad was pounding on it, bang bang, that shook me. He yelled something through the glass as I started to run, I turned around to see, no red car. It was gone. Where did it go?
Living in New York City with Irish girl roommates as we bar hopped our way through the weekends in Queens seemed significantly safer than where I came from in rural Ireland. My mother's letters kept me abreast of the latest scandals, packed full of morbid newspaper clippings on the most recent abductions in our area. And there were many in what's known as Ireland's vanishing triangle. My lengthy phone calls with Mam were always her figuring out how I would know the family of the missing girl and when they had been in Lumville House. It wasn't until the early 2000s when two men out hunting saved a woman's life. It was an absolutely brutal discovery and it scared me so much. I remember opening up my mother's letter and seeing his face. A face that simply haunts me. A face that terrifies to this day. A face I'm convinced I recall staring at me from behind a pillar in some bar back home.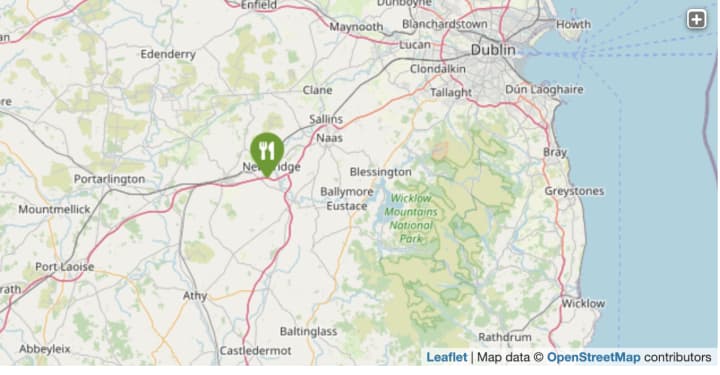 Check out TG4 for more documentaries on Ireland.

AnniqueNYC
Irish born, living in NYC since 1994. I am mindful of living the only life I have authentically. I quit corporate fashion to give life to my talent and create beautiful wearables again. I write to find my voice anew.
See all posts by AnniqueNYC →