City of Gainesville, Ga PD
Or why we file police reports when a victim is directed to by the Federal authorities.. and don't tell them to investigate it themselves or cover up felony Threats and Intimidation and refuse to protect a woman who protected us.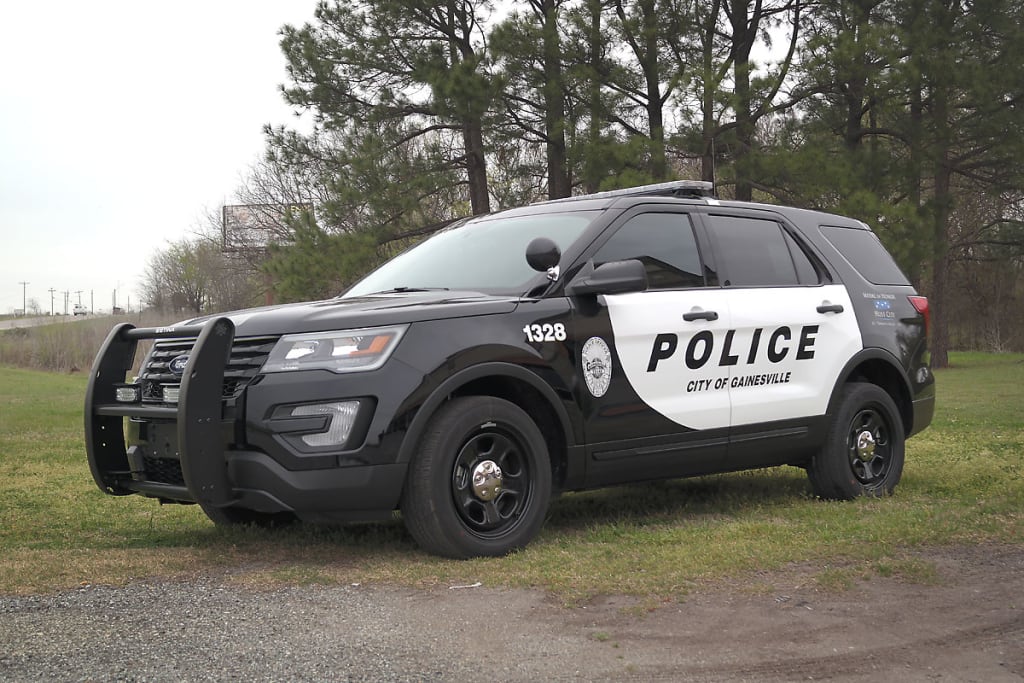 This one is a hard one for me because I hate to judge an entire department by three or four of their officers, who when I have met some of their rookies in passing are good people. They really try. A whole department or their Command Staff behaving like children is understandable. Just a few officers, is a little harder.
Sadly, what officers are teaching them is how not to be a police officer. I don't hate police officers, I just don't understand why in the last two years local police departments have covered up every mistake they have made in felony cases.
When I arrived in Gainesville (not by my choice, I might add). I had been trying for the last year to get everything that happened to me reported to the proper jurisdiction ( after having just reported my sexual assault and being told to go charge my phone in McDonald's not that Brookhaven IA is concerned about that or refusing to interview the victim), as well as anything that might effect someone else, even people who I don't like and never will, because you don't protect just people you like or people who used to be friends, you don't get to pick who you do the right thing for even if they caused something as horrific as being raped to happen to you, or didn't return a phone call two years ago that would have stopped anything else bad from happening to you. You have to do the right thing for everyone even criminals who have yet to be arrested, but morally are the cause of everything.
Finally, being somewhere I had only been for a few hours 2 years before for a Department of Juvenile Justice interview, I felt safe enough to reach out to a federal contact about something that I was sure was a federal crime. It was and is, but it required making a report to the local police department. With nothing, not even a phone I tried to make one of the hardest police reports one would ever have to make. I had to report my biological father for threatening to have the two men who were behind a wrongful termination as a juvenile probation officer, whose actions put me in Brookhaven Ga to stay in a hotel to have to get copies of paperwork that had been submitted with proof they were submitted, lead to me being raped (which the Brookhaven PD has not cared about investigating for 9 months and wants me to prove their case but won't take any information from doctors to photos, a hotel receipt that would give them probable cause to arrest a tow truck driver that Pooler PD has hidden along with my car for almost two years) lives were and had been in danger. I would have reported it to Chatham County authorities but their theft of my Apple Computer equipment and written evidence of it were illegally taken by Chatham County Sheriff deputies who let me in the hot sun for 5 hours and refused to let me make a report in June 2019, before the the Pooler PD stole my car. The response of the female officer who came out "Go report it to Chatham County. No report taken. The second officer who was by my guess a rookie, Ofr. Tate looked at me like he was sorry, like he couldn't do anything to change her refusal to help and leave me in the street. While it doesn't change anything.,thank you. I hope Chief Parrish got the email I sent thanking you. Tell her I was raped protecting her job as a police officer..maybe the context will change how she looks at people, not that her Chief is concerned.
I would tell you, one day waiting for a taxi, there had been a shooting. The detectives had arrived and were doing their jobs. A patrol officer I sadly don't remember his name, because I was trying to get housing, get where I needed to be and was exhausted walked by. I truly want to see the good in them and not judge them by what their female FTO failed to do that makes their police department just like the rest. He reminded me in the way he walked of my ex boyfriend, an officer with the Dalton police department. I would guess he has been on the force for awhile, because he knew not to lock his hands together when walking, he likely should have been off duty because of the hour of the shooting, or he was just coming on duty and needed more coffee which I always understand. Despite what the female officer months earlier had done, or more aptly, not done, I appreciated the response to whatever was going on, it made me feel like I was still somewhere safe despite having been thrown out the domestic violence shelter with no food, no money nothing for getting a job interview. I said to him in a moment of just feeling like law enforcement might not be like the female officer who had put an extreme burden on me and sadly her department, "Thank you for what you do." Not expecting a response, he stopped and we chatted for likely only a minute or so as he was doing something related to the shooting, despite having been a victim of domestic violence by an ex boyfriend who is a Pooler police officer, he didn't seem like a threat. Oddly, and unexpectedly he responded "Thank You, we appreciate what you do too." I couldn't tell you what I said that he was appreciating but it was a brief moment that made me believe police officers were good people. In those few minutes, despite the fear that the female officer had caused, I didn't think police officers were all alike, and all bad. Though that doesn't seem to be something universal I can say about the officers in the State of Georgia. He did something much like months before I had to go to the hospital and call an ambulance, which many an officer with the Savannah PD , would either not call medical and dump me in the street or assist Chatham County EMS with verbal threats to have me arrested if I ever called about severe abdominal pain, and a paramedic and firefighter didn't make me put me put myself in the ambulance like Chatham County EMS and Brunswick Fire, or put me in a jump seat like EMS did in Dekalb County after telling me to stop writing the statement to Brooke haven PD because "we have other things to do." That paramedic gave me more medical care than the hospital. After having been so mistreated by EMS all over the state and being denied medical care that would have stabilized the condition created by patrol officers in Pooler which no one in their department is concerned about including their police chief, Capt, IA LT for almost two years now or my animals being taken and leaving me in a car for two more months, I was grateful. Still am. Still afraid of hospitals and doctors and nurses, because the Pooler PD rather than take me to a medical appointment in their jurisdiction dumped in another county literally..That would be OFr. Lori McCampbell who illegally printed out my driver's license information on 208/27/19 and the lack of medical care I have been able to receive at any hospital in Georgia after being banned from two hospitals for waiting for a bus pass by Ofr. Scheller and left out in the street for hours in the middle of the night and two other officers that were with him.
Fast forward a few months a few weeks and I had the pleasure of meeting Ofr. Spadaro. Newer to the force, but after having money, underwear and other property stolen where I was living, he was concerned about the temp outside and that it was too cold for me to standing outside the apartment in shorts and kindly had me go inside. I happen to meet a few other of their officers in passing, who were very sweet and who just happened to be in the same place I was. I felt safe. Police officers were good. They didn't hurt women. They treated people with respect. I made it a point to let their Chief of Police Jay Parrish know. Not because they had done anything special for me, not because they doing anything for me, but because they were good people. I always believe you tell bosses when people do something good, even if it is just someone representing their department in a positive light off-duty with their family.
Then once again the bad happened. Forced to live with a convicted felon, who even the ACT team could not manage, or maybe it was just that it was just for them to on a weekend, I had to call because her behavior was so bizarre anyone who wasn't crazy would have had concerns. Enter Ofr. Williams, who told me I needed to investigate the woman's threat to my safety myself. Another officer had responded, and was looking on in as much bewilderment as I had. No explaining that one. After being put through a psychological hell known as North Ga Mountain Crisis Network and being dumped in the street of Blueridge rather than North Carolina that was their first choice, I was staying in a hotel for the weekend, while my then boyfriend had time with his daughter.
A very drunk, belligerent woman had literally lunged herself at me when I asked to please keep it down while having a cigarette, so violently she had to be restrained by two of the people she was with while hurling threats to physically assault me at a rapid pace. Barely able to walk, much less defend myself against a woman much bigger than I, making attempts to make good on her threats as I tried to get past her to get to a phone I had the not so honor of meeting Ofr. Santiago. He literally had no concerns, made no attempt to ensure my safety, to look for the woman, or her companions and handed me a police report number on a piece of paper, no victim rights card, no anything other than "God Bless You." A few weeks later attempting to find out what was going on and having left a message I received a phone call. All the message said was "I am a police officer with the City of Gainesville Police department calling about the felony Threats and Intimidation. We couldn't find the woman involved. We are closing the case. " No phone number, no name no way to even locate her so I could ask a question. I worked with law enforcement on two coasts for over a decade as a Juvenile Probation Officer. I never had a single issue other than maybe a question why an alternative method was used in the case of one of my probationers with serious mental health problems. Nothing I would ever consider emailing or calling anyone about. In fact, quite the opposite. I was known to email the former Chief of Police of Savannah with thank you emails he found so nicely written, then Chief Joseph Lumpkin put them in their guardian file and emailed to the Command Staff to my embarrassment. Investigator Miller called back to let me know there was an update but has never returned the call.
There ends any interaction I want to have with bad local law enforcement. Even if I was reraped in plain view of a several police officers, I would not trust them to do the right thing. More so, the actions of the Pooler PD refusing to even investigate the felonies they committed covering up felonies a tow truck driver committed Brookhaven PD won't even investigate, the Savannah Police Department that I worked with that rather than put a perp in jail for sexual battery threatened to have me arrested for Criminal Trespass why it was Savannah Pd who threatened to have me arrested because I didn't have anyone to call when medically discharged from the ER, and even dumping on at CVS in the middle of the night when I was unable to even walk due to abdominal pain, who's Police Chief won't even let send him an email for no reason, because I don't even know him, his Assistant Chief Gunther refusing to even tell me how to report the patrol officer's behavior, The Brunswick PD condoning their officers throwing me out of a shelter in the middle of the night and telling me to go sleep outside along with obstructing the reporting my sexual assault by refusing to let me even speak to the department that I thought needed to take the report, a female officer grabbing my breasts when I went to the department seeking help and dumping outside, while the Glynn County Police Department wouldn't investigate a janitor touching my rear end in a hospital, and refusing to help me report it, I am kinda done. I never met an officer I didn't trust even after being a victim of domestic violence by one because I had a nightmare on his couch about being raped, which I didn't tell him about and after we broke up for going to the police officer I dated in 2015 about being raped and have never even gotten to tell. When people tell me I should go back into juvenile probation, these are the reasons I can't. If not one of them, in two years has investigated anything that has been done to me, and still expect me to explain to them under what O.C.G.A code someone who committed a theft of over $25,000 worth of property whose son I supervised, and even wrote a letter telling Chatham County officials how amazing of a probation officer I was, and saying they "might" assign a detective to the case, despite having done nothing but make a report about my life being stolen by a glorified receptionist and other officers, that is why. I am not a detective, I am trying to get into law school. Two years ago I had federal financial aid to go to Law School in Alabama, and to get a Master's of Counseling at Johnson University that was stolen with my mail. I have had my firearm illegally taken, not had it returned since October 2018, with no hearing about the allegations that were made, the firearm not returned when the case was dropped in December 2018, and had everything including my two cats taken from me that no one bought for me, and I am still being held legally responsible for paying for. The victim can not have their assets seized by local law enforcement, even for investigative means with out a detailed search warrant being given. And yet no one in law enforcement will even investigate what was done to me by police officers and clerk. So no I don't really think anyone is safe from local law enforcement breaking the law. The victim can not be punished for someone else's false report, prevented from making a report based on some delusional reverse tactic of local law enforcement but you wouldn't know that in Georgia. You also don't investigate the victim, Deputy Carter with the Whitfield County Sheriff's department, or leave someone in the street, and by failing to respond to a 911 call put a local police officer and his daughters at risk of being killed. I would have reported it then if he had not decided to telecommute a 911 call.
I was raped in Nov 19th 2018 protecting your jobs as police officers, I have had law enforcement cover up every thing I have reported to them in the since December 2019. You should be ashamed, you have let a police officers ex girlfriend, an FBI agent's ex girlfriend, and a firefighters ex girlfriend who was a juvenile probation officer who took it on herself to protect your rights as public employees, and who if she could get access to the information in her icloud could get the Fraud Chatham County perpetrated on the Ga Supreme Court undone that makes you at-will employees in the eyes of the law in Georgia despite it is contrary to Federal law. You dishonor every officer who died protecting their community, you dishonor your community, you dishonor yourselves and your departments.
About the Creator
"Justice delayed, is justice denied" "Injustice anywhere is a threat to justice everywhere."
Tattooed, Employed and has a Psych degree..Always on the look out for a group of Avengers.
Reader insights
Be the first to share your insights about this piece.
Add your insights