Chatham County, Ga The Federal and State RICO Edition
How it all began... When Police Chiefs should be arrested themselves for the charges they celebrate others being arrested for.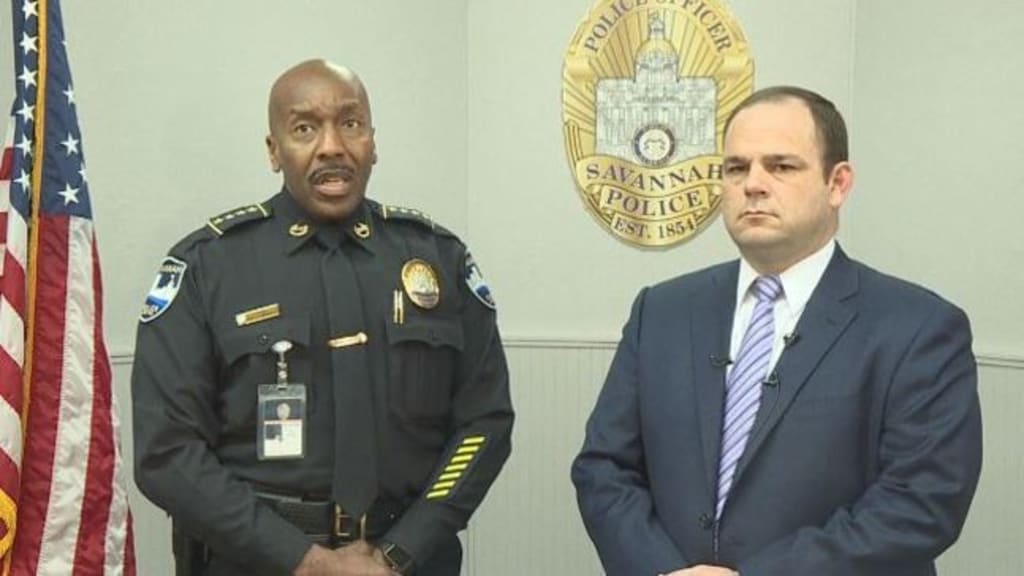 Chief Roy Minter of the Savannah Pd who I emailed in March 2019 with evidence about a Federal Rico violation of a Mac Computer that had been taken out from their evidence locker, stolen in 2012 held in evidence and never returned that somehow got into my apartment without my knowing and bore the serial number not of my Mac but one withheld from Progressive that they paid out on my renter's insurance on. That was stolen by Chatham County Sheriff Deputy Gavin in June 2019 after I had been told by the FBI in Atlanta in April 2019 to return to Savannah with it by the Officer of the Day.
Per the RICO ACT enacted by section 901(a) of the Organized Crime Control Act of 1970 "It is unlawful for anyone employed by or associated with any enterprise engaged in, or the activities of which affect, interstate or foreign commerce, to conduct or participate, directly or indirectly, in the conduct of such enterprise's affairs through a pattern of racketeering activity or collection of unlawful debt." That being said what happens when the victims of the fraud- the public employees of Georgia are not aware that one Assistant County Attorney, Jennifer Davenport, a police department, Pooler Police Officers and Chatham County deputies made them all victims in their public employment rights by taking evidence that proves a fraud on the Ga Supreme Court- making their their employment at risk of being considered at-will because of a crime of mail theft, a car theft and theft of electronics containing the evidence that can not be brought to light because of the failure of the FBI to investigate? It was not just a pattern against one of their own that has included covering up sexual assault, DV and a pattern of threatening but a pattern of activity preventing me from notifying the other victims...so that the events would not come to light while continuing to effect every public employee in the 11th judicial circuit... if these people knew what had been done to their rights, and their willingness to allow law enforcement officers in Bulloch County, Statesboro PD, and police officer with the Dalton PD and his daughters lives to be at risk..I bet things would change. It is not about being a witness, it is prevention of the public employees in Georgia and beyond of having knowledge of the the facts that they were and are being victimized themselves.
  A violation of Section 1962(c), requires (1) conduct (2) of an enterprise (3) through a pattern (4) of racketeering activity. Sedima, S.P.R.L. v. Imrex Co., 473 U.S. 479, 496, 105 S. Ct. 3275, 3285, 87 L. Ed. 2d 346 (1985).
A more expansive view holds that in order to be found guilty of violating the RICO statute, the government must prove beyond a reasonable doubt: (1) that an enterprise existed; (2) that the enterprise affected interstate commerce; (3) that the defendant was associated with or employed by the enterprise; (4) that the defendant engaged in a pattern of racketeering activity; and (5) that the defendant conducted or participated in the conduct of the enterprise through that pattern of racketeering activity through the commission of at least two acts of racketeering activity as set forth in the indictment. United States v. Phillips, 664 F. 2d 971, 1011 (5th Cir. Unit B Dec. 1981), cert. denied, 457 U.S. 1136, 102 S. Ct. 1265, 73 L. Ed. 2d 1354 (1982).
The subjects of this article are public figures and are not protected by the any law from having their names printed, nor do they have immunity for their actions, as they stem from criminal acts and given they were committed in the course of their official duties they do not have immunity under the law. A public figure is defined as "(libel and slander), a personage of great public interest or familiarity like a government official, politician, celebrity, business leader, movie star or sports hero. Incorrect harmful statements published about a public figure cannot be the basis of a lawsuit for defamation unless there is proof that the writer or publisher intentionally defamed the person with malice (hate)." Given they are Mayors, Police chiefs, and law enforcement officers (classified as government municipal employees" and the statements are verifiable, true and accurate they are not shielded from having their names published.
An "enterprise" is defined as including any individual, partnership, corporation, association, or other legal entity, and any union or group of individuals associated in fact although not a legal entity. 18 U.S.C.A. §  1961(4) (West 1984) this can apply to law enforcement, corporations, non profits, individuals and those employed by such. Slander and libel do not apply in the recounting of events, as long as the events are factual correct and occurred any harm they may receive to their reputation does not fall on the reporting party. There is no shield law for public figures.
The case of convicted former Savannah PD Chief Lovett in Savannah is analogous to what Savannah Police Chief Minter, patrol officers and detectives of the Savannah PD have committed. Chief Ashley Brown of the Pooler PD, patrol officers and Command Staff, Mayor R Benton and Pooler City Attorney S Sheer with the Pooler PD Command Staff including Pooler IA Officer R Linder for failure to investigate an IA Compliant filed in Dec 2019 who never interviewed me, the victim of the patrol officers who stole my animals, my car and they will not investigate and have not returned, officers that continue to threaten me over Facebook, who falsely arrested me on misdemeanor charges to cover their felonious actions.
The Mayor's refusal to direct an investigation be conducted, Chief Ashley Brown's knowledge of their actions and refusal to contact the GBI to have his department investigated while Officer L. McCampbell continues to threaten to arrest me, an officer who committed many of the illegal acts herself, makes him part of the criminal enterprise himself.
The theft of my car containing evidence of Fraud committed by Chatham County Assistant Attorney Jennifer Davenport, which has not been able to be brought to the attention of the Georgia Supreme Court because of the Pooler PD and Chatham County Sheriff's Deputies ties them together as a criminal enterprise. It also fundamentally altered the rights of every public employee, which make it a case of public interest, in that the possible ramifications are not just as they apply to me, but could be cited by anyone against any public employees, and Pooler PD's refusal to return my car and the documents including all my investigative notes and paperwork proving the case constitute Hindering and Obstruction of Justice by law enforcement in the act of felonies under the O.C.GA. who can be prosecuted under State criminal law and State and Federal RICO act, as well as tampering with evidence in my sexual assault.
The Brookhaven Pd in my sexual assault refusing to investigate and that I have been threatened never to speak to the investigators Detective S Miller and Lt. A Ayana by their Deputy Chief B. Gurley makes them a party to the sexual assault. Given the sexual assault occurred as a result of Assistant Chatham County Attorney J Davenport's official misconduct, and my efforts to produce evidence of it to the Ga Supreme Court, the sexual assault is linked in fact to the violations of law committed by Chatham County law enforcement and their refusal to investigate any crime linked to it or the officers involved. Chatham County Sheriff's deputies theft of my diamond earrings, Mac, Ipad, , Iphone, credit cards and ID, Judge Thomas Bass in illegal retention of my firearm for 3 years now, Chatham County Attorney R. Jonathan Hart in refusing to assist me with it being returned link them all in fact to a criminal enterprise comprised of law enforcement officers, Chiefs of Police in 6 jurisdictions spanning the State of Ga, lawyers including A Lowe, who by lying to the Ga State Bar in fact made my own former civil attorney a possible defendant as will as the the documents he only produced in part (which have been altered to include a "second" signature of Judge Abbot with whom he has a personal relationship to the point she visited his sick father in the hospital while she was assigned to be reviewing the case in the Chatham Superior Court and who had made threats of arrest against me while the Ga State Bar disregarded evidence he violated the ethical standards and hurled inflammatory false accusations at me for merely requesting the documents through the State Bar, after attempting to get the records from him for over a year and attaching supporting documentation. Even District Attorney Shara Jones, of Chatham County has refused to refer the matter to the GBI for investigation.
I am not banned from contacting Chatham County officials, they just simply continue to protect themselves and ignore any attempt to have the law enforcement in Chatham County held responsible for their illegalities and ongoing violation of my civil rights without due process.
For two months and not on the basis of contacting them to begin with, I was enjoined from contacting them from October 2018 and the baseless Writ was dismissed in December 2018 when the Ga Supreme Court would not entertain a retaliatory Motion for Sanctions filed by Assistant Chatham County Attorney Jennifer Davenport for reporting her misconduct to the Ga Supreme Court including her refusal to even provide documents she filed with the Court to me, the petitioner. In fact, my electronics had been hacked in September 2018, prior to me contacting the FBI.
 The enterprise is this case begins with Savannah Mayor Van Johnson and Jennifer Davenport, Assistant Chatham County Attorney, and A Kennedy formerly the head of Chatham County Juvenile Court and Chatham County Superior Court Judge Lisa Colbert, in their official capacity as employees of Chatham County and the State of Ga.  Sovereign immunity does not apply in cases of official misconduct under the O.C.G.A that was committed in the course of my wrongful termination based on this grievance.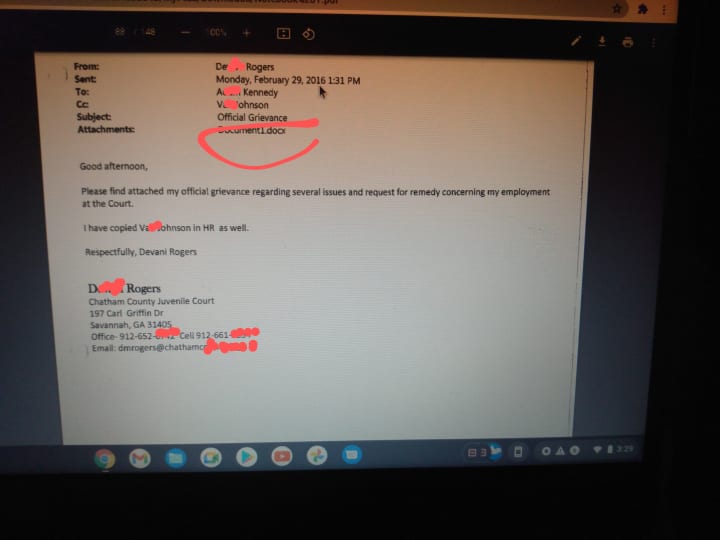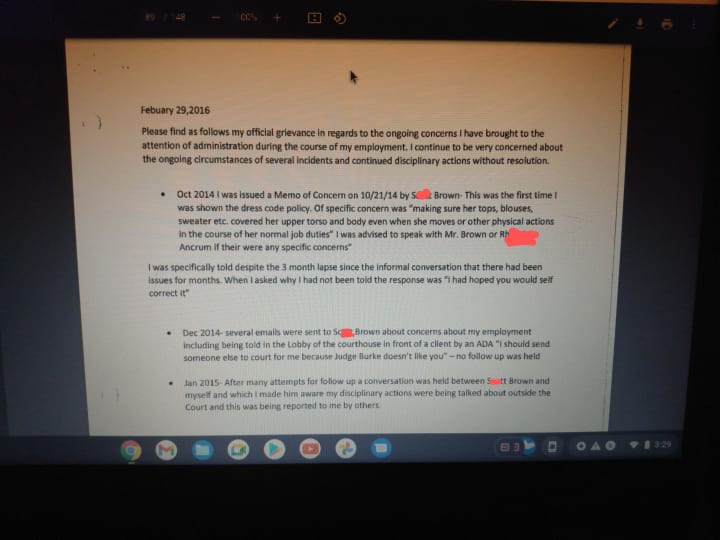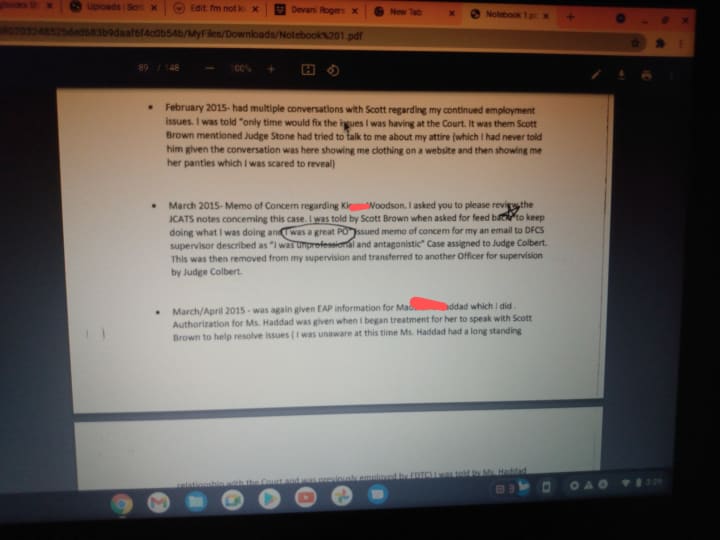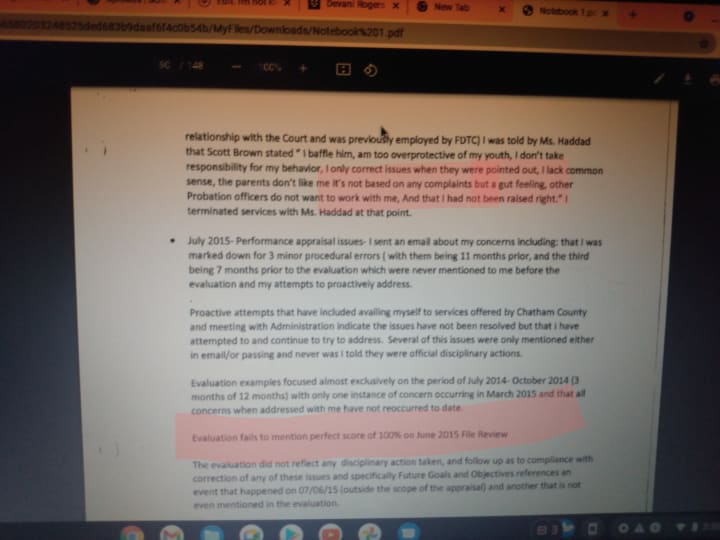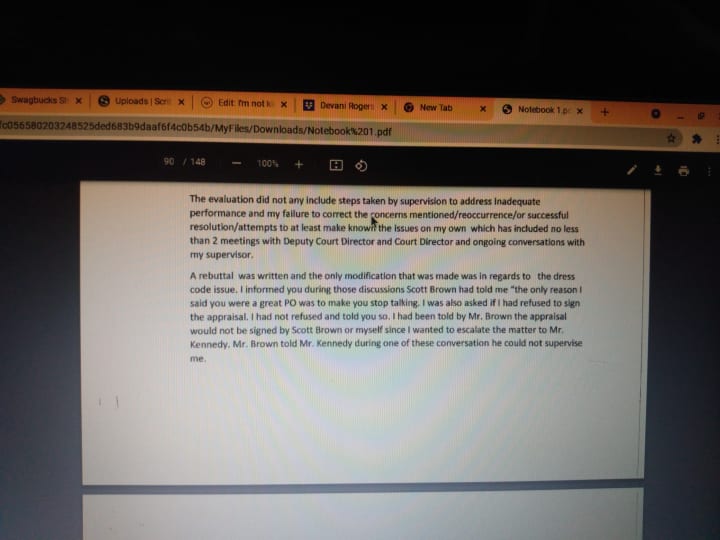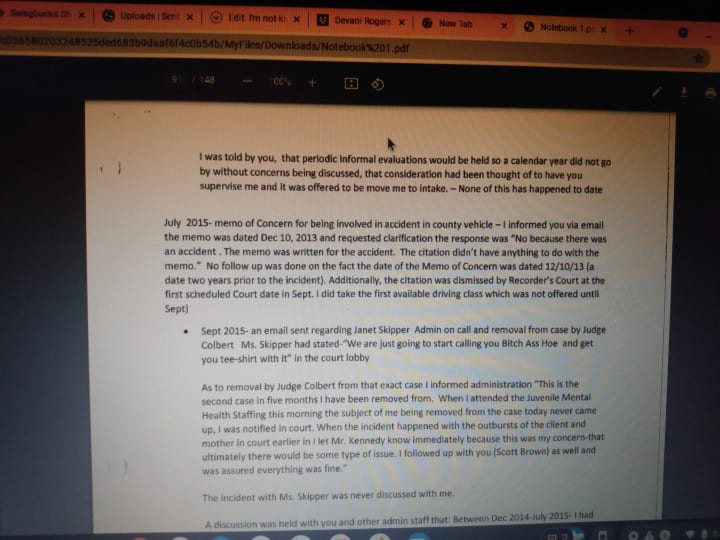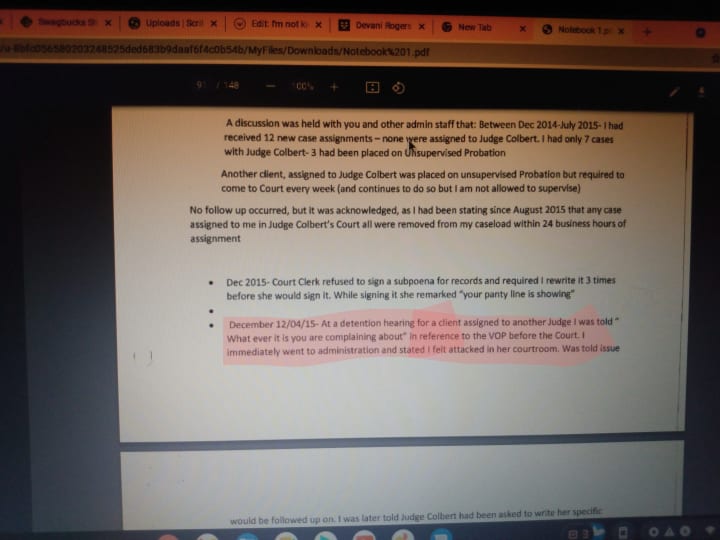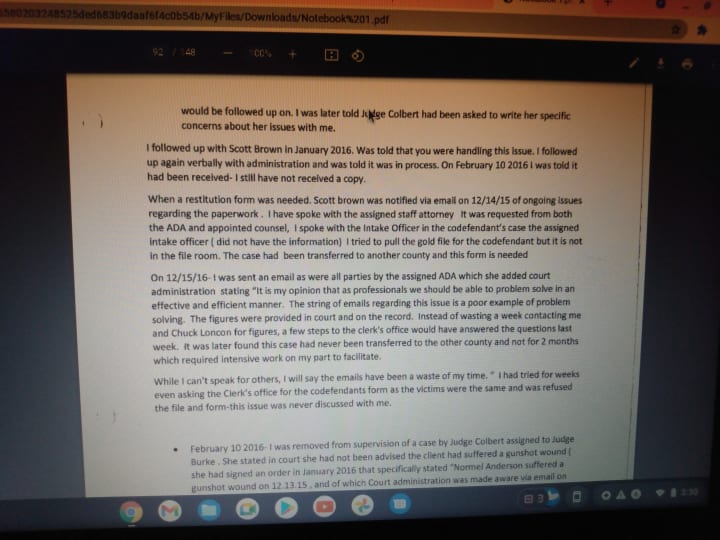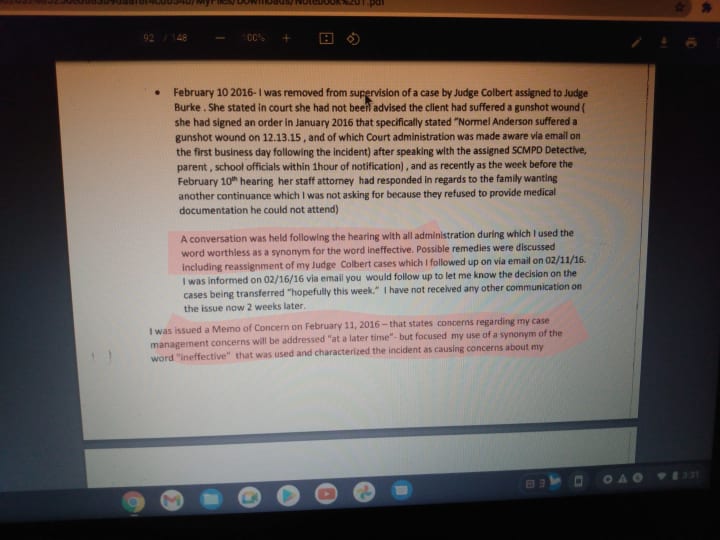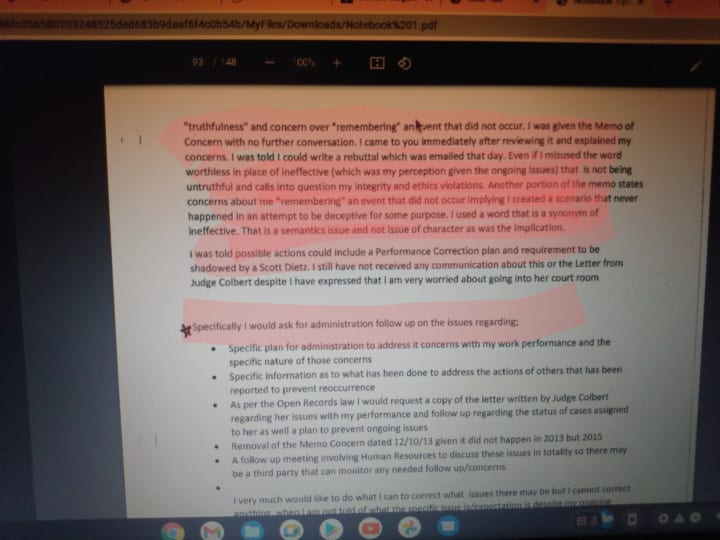 5 and a half years later I have been stripped of everything I ever bought, My credit cards, my firearm, even my email, my animals, my electronics, my car by Chatham County law enforcement when there exists no criminal charges against me, no court action in any jurisdiction and no investigation other than by me since June 2019, despite having attempted to report the illegalities of the people involved, up the chain of command for 22 months, the sexual assault that occurred in November 2018 remains uninvestigated by any law enforcement agency, and even the mainstream media will not return an email, then again no one I ever trusted, who I have reached out to will either. The only people who gotten in touch with me are police officers threatening to arrest me from 200 miles away, Assistant Chatham County Attorney Jennifer Davenport threatening to sue me on Facebook and L Henze who stole $25,000 worth of my property that law enforcement will not investigate, while my friends before 05/2019 and no one I have reached out to since, including police officers, my exes, even my Twitter friends will speak to me, return an email or text message. Not that I am not still funding myself because no one has donated a cent to me to rebuild my life or replace anything Chatham County, Ga took.
Once a grievance was filed in February 2016, following the actions of Judge L Colbert, and my wrongful termination for documenting her illegalities including removing me from cases merely because I would not be forced into participating in her "rigging" juvenile court cases which included holding court in chambers out of the presence of the probationer ( a violation of the juveniles rights), the parents and off the record, violating the court's case assignment system to ensure impartiality by removing myself when I was assigned and appointing select officer's of her choosing, her invention of so called inadequacies with my performance in order to justify her behavior, the appointment of specific GALs, the violation of interstate compact which resulted in the sexual assault of a Savannah woman (Interstate Compact was not available the day the order was made in the Jonathan White case, it did not go into effect until the following week. She made the order prior to Ga agreement with South Carolina being effective. In fact, even then Presiding Judge LeRoy Burke was not aware of my termination nor was Judge T Cole. Judge Colbert had her clerk call and reschedule my court hearing before her the day before my termination, neither Judge Burke nor Judge Cole had my hearings rescheduled and in fact I was expected in court an hour after being fired before Judge Burke. 
Judge Colbert in fact invented and withheld a a complaint that was never even provided to Judge Burke that I am aware of as, it was even withheld from me for months after Adam Kennedy told me it was being written. Essentially, Adam Kennedy was covering up for Judge Colbert which was a common pattern, including threatening me not to reveal that an appeal filed against her by ADA Austin Roberson, who was sent from juvenile court to the superior court only a week after it was filed, had been found to be in his favor. 
  It involved one of my juvenile probationers, and as I was considering law school I was interested in the outcome. When the case was decided, another ADA , C Patterson gave me a copy of the appellate decision. I asked my supervisor S Brown if that meant that we could once again file Violations of Probation in Judge Colbert's Courtroom as we had not been allowed to for the entire time the matter was pending and was promptly threatened by Adam Kennedy, that I was not to tell any of my coworkers of the decision by the Court of Appeals, and it would be announced in the monthly staff meeting. It never was. Just as Judge Colbert took J. aka "John(not his legal name)" White (The Chatham County Superior Court and Chatham County jail had a false name for him and would not correct it when I located and IDed him from his booking photo in the jail) off of Probation despite the court policy that probationers were not to be taken off of Probation if charged in the adult court until the matter was resolved. This was a child addicted to cocaine, living in a motel with a so called relative Judge Colbert sent to South Carolina with a mother that had never been to court, we knew nothing about and never spoke to me after she took him across state lines (South Carolina did try to do the courtesy supervision but Jonathan returned to Georgia and never informed me as he was explicitly ordered to do. This is just one of many cases that was rigged, in some sense in the Chatham County Juvenile Court, and always those of Judge Lisa Colbert.
  I can not think of a single case of either Judge Burke, Judge Stone or Judge Cole that was ever be conducted in an unprofessional manner.  Not once did any of these Judges ever question my integrity, my professionalism or ever criticize my handling of any case. It was and remains Judge Colbert who with no authority to hire or fire, took it upon herself to target me because I would not be badgered and attacked and made to fear walking in a courtroom and A Kennedy, who to cover up his own cowardness in standing up to a judge destroyed my career.
  Judge Colbert would keep white probationers, who were not using drugs, working and attending school on probation and take off African American children who were violating every possible condition there was. 
  This wasn't all that Juvenile Court was covering up. In October 2015, S Clark attended a symposium where I was required to attend and meet for the first time then Chief Joseph Lumpkin. Semaj, came to Savannah to speak to the at risk youth at the symposium about his delinquency in California. He was in downtown Savannah in Yamacraw Village at night buying drugs.
The press spun the story as he was an innocent by stander who was robbed. Those are not the facts of the case. A Savannah PD patrol officer, M Hamm, while I was at home iMessaged me that he had the suspect, who was on Juvenile Probation with R Walker, in his patrol car. Just a few weeks later one of my juvenile probationers, L Peters who the FBI had taken into custody on a material witness warrant by Judge Penny Freezemen in an Aggravated Assault case, without any prompting admitted she was a witness to the shooting of Semaj. I personally contacted Savannah PD detectives to come interview her in the case. ADA Pauley the prosecutor in the case, in fact had involved the Task Force composed of several Savannah PD officers including C Pugh. By accident, I stumbled upon A Kennedy having a heated conversation with Savannah PD Acting Chief J Tolbert outside of the juvenile court. I had merely walked outside to have a cigarette, and saw the two in a heated exchange, and A Kennedy after being told to get in the backseat of a blacked out SUV. I have always thought that they thought I heard something about what they were discussing (which I did) that made me a threat to them. Considering how the story played out in the press, I am likely correct. 
Despite having applied to work for the FBI with stellar references as a victim specialist because of working with Special Agent K Jackson in December 2015, who became a very close friend even after being railroaded over the grievance the persecution and cover up were only beginning. 
I should have been a witness in my juvenile probationers court cases and clearly if they were/are  being heard by Judges in the Chatham County Superior Court they should not have been hearing my wrongful termination suit against Chatham County or illegally taking my firearm which despite no criminal charges being filed, a vendetta by Assistant Chatham County Jennifer Davenport for notifying the Ga Supreme Court about her illegal actions in the case before the Ga Supreme Court, that I still don't have access to the documents and haven't since June 2019, when Chatham County Sheriff deputies, Deputy Gavin and my former coworker Will,  illegally seized my Mac, iPad, and Iphone, Kindle, credit cards and driver's license and my deceased step father's wedding band that were in my North Face backpack, and Pooler PD officers including R Ferguson and another Pooler PD officer seized my car while drinking coffee in a Starbucks in Pooler in July 2019 (after the Pooler PD took my cats and left me in my car with a dead car battery rather than assist with a jump start , which has never been returned despite containing documents that would prove I was sexually assaulted, the copies of the documents effecting every public employee in Georgia, and evidence of domestic violence by my former boyfriend a Pooler PD officer that no agency, or officer will investigate from the FBI to any law enforcement officer in Georgia even though the case in fact reverses the non at will status of their jobs because it has prevented the case from being overturned or heard in the Federal Appellate Court where it should have been after the "bad judgement" of the Ga Supreme Court which I have not seen because my mail was stolen in March 2019 (Even though it was reported to the US Postal Inspector and AUSA Karl Knoche after consultation with Agent S Ward from the Department of Homeland Security in December 2019).
  No search warrant was issued, nor was anything executed by any law enforcement officer, nor ordered by any judge. I have never ever been interviewed by any agency in any criminal case with me as a defendant or me as a victim...
Instead I have to explain to law schools what the Pooler PD did to cover up what the felonies they committed, and have had every one I ever knew refuse to speak to me without any reason for the last 2.5 years, try to get anyone from the press to law enforcement officers and lawyers, even ones I dated to even return any form of communication, the press covering it up, Police Chiefs covering up every legal and procedural remedy .. while trying to find my animals, and try to rebuy my entire life simply because no one in the country is willing to speak to me and acts as if I never existed including officials in Chatham County. George Floyd was a convicted felon, I was a juvenile probation officer only trying to protect the public employment rights of sadly officers who won't even interview me about being raped in November 2018, while everyone I ever trusted to help me has literally acted as if I did something wrong while struggling to put myself and my life back together because no one is willing to speak to me in any way shape or form for absolutely no reason. 
The brutality continues as I continue to try to put back together the pieces of my life while no one is being held accountable..no one. I have gone through every legal method to have this investigated by the authorities from Savannah PD IA to even the FBI almost two years ago while Chief Minter has been aware since March 2019 about a computer that had been stolen in 2012 was recovered by the CNT team 10 days later and "Rah Rah" was prosecuted for and found guilty in 2013.
In April 2019 I went to the FBI in Atlanta, while staying with my former probationer's mother Lanna H. ( Chatham County PD has covered up her taking $25,000 dollars in property and who is still stalking me, and won't return an email about) . I was told to return to Savannah and the FBI there would be investigating. 2 months later Chatham County Sheriff's deputies outside the Chatham County Courthouse took that Mac, my Ipad, Iphone, Kindle, driver's license and credit cards when I went to Judge Burke for help because he had presided over the juvenile who was involved in the theft, with no search warrant, no anything and even though it was reported to Chatham County IA and contains the personal information for over 300 employees of the company I worked for, that they have no authority to be in possession of. Public Defender Yolanda Bacharach is a witness that they would not let me file a report, left me in the sun for hours and literally have stolen evidence I was raped, protecting their rights as public employees and Chatham County Sheriff's IA, the press , and everyone involved to the best of my knowledge still have not been investigated despite a memory so detailed that I could tell you Deputy Gavin's watch read 1404, and Deputy Thomas stealing my 1/4 diamond earrings at the jail when I was falsely arrested for Criminal Trespass by the police agency still threatening me nothing has been returned and no logical explanation exists about why no agency will investigate it even with evidence that sits in a closet and a bank safe deposit box. The criminal enterprise is Chatham County law enforcement, the Pooler PD, The Savannah PD who have covered up the sexual assault and brutality of one of their own along with several judges on the Chatham County Superior Court Bench, Jennifer Davenport and Van Johnson. Despite my biological father's threats to murder Van Johnson, which could not be reported because Roy Minter will not return an email, that was reported to the City of Gainesville PD at the Direction of a Homeland Security Agent, nothing has been resolved and no one is do anything to make sure this is never done to anyone else, including the Department of Justice, and Ga Attorney General Carr. Why the cover up? I have done nothing but try to make sure no harm came to people who destroyed my life and assisted with taking even my animals Jacob and Ella. Someone besides the victim should be asking questions when there are a list of witnesses a mile long and a list of defendants even longer.
Do I need to write the indictment myself ? I could better when two AUSA's in Georgia have ignored it. This the start of it the first element of the State Criminal and Federal RICO violation committed by:
Judge Lousia Abbot, Judge Thomas Bass, Judge Lisa Colbert, Judges in the Georgia Court of Appeals, Chatham County Attorney R. Johnathan Hart and Assistant County Attorney Jennifer Davenport in their official capacities, Attorney Alan Lowe, The Georgia Department of Labor,
MAAC - Colonial Grand at Godley Lake, CVS, Wells Fargo, Publix, Starbucks, The Courtyard Hotel, G.A.T.E. Convenience Store in Pooler, Rumor Has It second hand shop, The Portal, Greyhound, Trolley Stop, Cinnamon Bear Country Stores, Savannah Fire Department, Van Johnson, Mayor of Savannah, Memorial Hospital, St.Joe's Hospital, Candler Hospital, Statesboro Hospital, Gateway DV Shelter, North Ga Crisis Network, Safe Shelter in Savannah, Chatham County EMS, Dekalb County EMS, Social Apostlte, Union Mission, Salvation Army in Augusta, Brunswick and Savannah, Greater Works, several hospitals in Augusta, The Pooler Police Department, The City of Gainesville PD, The Savannah Police Department, The Brunswick Police Department, The Brookhaven Police Department, Chatham County Sheriff's Department, Chatham County Police Department, Whitfield County Sheriff's Department, Chatham County Animal Control , Heads Up Guidance Center Director Andrea Epting, Gateway Behavioral Health, doctors, nurses, caseworkers and even FBI Agents in Savannah.
If I can solve this case being attacked by homeless people, threatened by a convicted child molesters, carrying the emotional weight of having my sexual assault covered up by the people I was raped protecting their jobs, which not a single person in law enforcement including the Ga Gang Investigators Association having my back, women in and working in the DV Shelters, EMTs, law enforcement while trying to recuperate from a botched gallbladder surgery and now pregnant, while trying to keep a police officer who hates me for no reason, that I loved, Ofr Steve Collins of the Dalton PD from being killed, trying to keep Mayor Van Johnson and Adam Kennedy from being killed by my biological father, being a witness to threats of death to the entire Statesboro PD and Bulloch County Sheriff Department and Sheriff Black himself you think someone might actually speak to me, return an email, text message or help me especially my friends. That hasn't happened in 2.5 years.
Until then for the few people in the First Responder community who do not stand with the people who are still putting my life in danger, even if I do not know you, I would rather know you than the ones who are destroying your rights.
About the Creator
"Justice delayed, is justice denied" "Injustice anywhere is a threat to justice everywhere."
Tattooed, Employed and has a Psych degree..Always on the look out for a group of Avengers.
Reader insights
Be the first to share your insights about this piece.
Add your insights