Boeing Blamed for Massive Counterfeit Parts Knowingly Installed and Kept on Its b737 Flight Control Systems
Call for More Press Release! Call for Criminal Investigation!! Call for Faa Airworthiness Directive to Remove All Safety Critical Counterfeit Parts!!!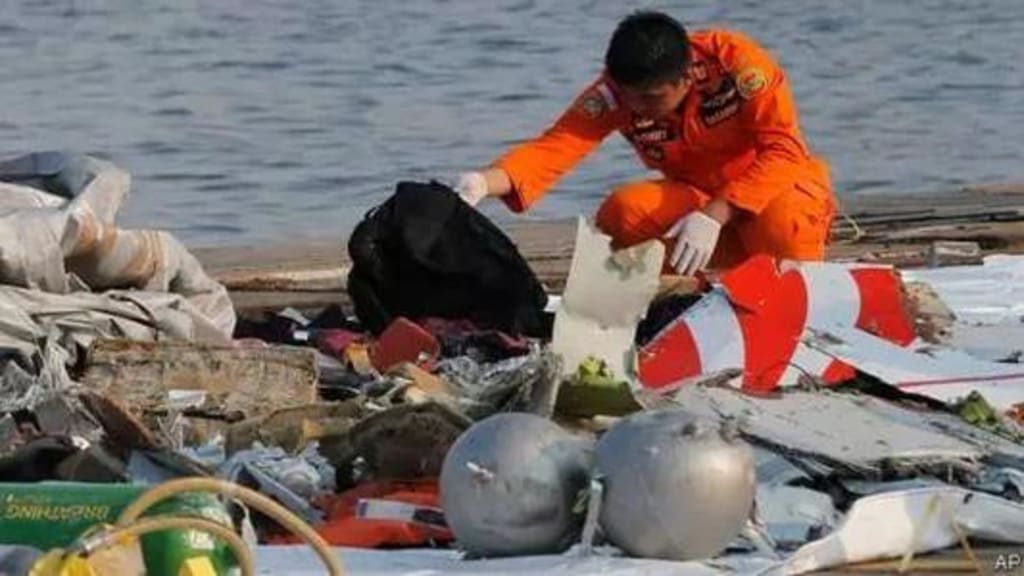 Picture is used to illustrate
Lawsuit against Boeing over Lion Air crash demands Chicago jury trial.The lawsuit alleges that the two-month-old Boeing aircraft was unreasonably dangerous. The cause of the crash was blamed for faulty flight control system.
Besides this recent deadly B737 disaster killing all 189 people on board,there were multiple near miss accidents or incidents concerning B737 flight control systems in the 2nd half of 2018 alone.
.............
2018-8-16, XiamenAir plane skids off runway in 'crash landing' at Manila Airport.
2018-9-1, Russian UT Air, Some 18 injured as B737 plane skids off runway in south Russia.
2018-9-28, Air Niugini Flight 73, The 737-800 single-aisle jet, carrying 36 passengers and 11 crew, landed short of the runway while reaching Chuuk Island.
2018-12-7, Southwest Flight 278 skids off runway at Burbank Airport, The plane only came to rest in the Engineered Material Arresting System (EMAS) at the end of the runway.
What a scary or even deadly experience to fly an unsafe Boeing plane!
Moog Aircraft is the chief supplier of Boeing B737 flight control systems. Since 2015, Moog has been knowingly sourcing and installing bogus safety critical parts of fight control systems from a verified Chinese counterfeiting supplier.
In particular, the suspect Chinese counterfeiting supplier-NHJ was caught counterfeiting Single Point Of Failure(SPOF) blocks of spoilers compromising some 500 B737 planes now in service since 2016.
The extraordinary Boeing plane safety threat has not been removed even today due to massive fraud and cover-up by Moog, Boeing,FAA and related agencies.
As the whistleblower of the matter, I, Charles Shi, working as East Asia Supplier Chain Manager of Moog Aircraft, had reported twice to Moog management before January, 2016. Moog investigation was fraudulent despite the fact that bombshell evidences were submitted inclusive witness testimonies that the Chinese supplier-NHJ was a verified counterfeiter.NHJ's own employees testified that NHJ falsified material certification by using cheap non-aerospace material for US aviation customers resulting to product failures. The counterfeiting was an organized crime!
An fearless American journalist ,Mr.Mark Megahan, exposed:
Witness P: "Yes… I still had a few contacts of previous employees of NHJ… They themselves said to me, they were the 'counterfeiting brigade.' if caught, they would be arrested and ended up in jail… Thus, we thought we should exit from them as early as possible."
Without investigating on my allegations, Moog concluded NHJ had no problem of counterfeiting and even re-entered the counterfeiter as Moog approved supplier in October, 2016.(The truth is Moog could not find replacement for some 30 Boeing part numbers sourced from the Chinese counterfeiting supplier in 8-12 months).
Greed and Corruption Is Bringing Down Boeing Planes!
Moog knew it was a big issue but if they tell Boeing or FAA about the counterfeiting, they needed to recall all of the Suspected Unapproved Parts(SUPs) that could cause big disruptions of Boeing deliveries to airlines, so they chose to cover up.
I whistle blew the matter to FAA on 13th January,2016, the following FAA investigations were negligent and abusive. FAA investigators did not even investigate upon the compelling objective evidences submitted, they only accepted Moog deceits and forgeries though having concluded two manipulated violations substantiated out of 9 allegations by its 2nd "investigation" effort.
FAA consistently refused to pass the matter which is obvious a crime of counterfeiting to Law Enforcement Agencies per its own procedures no matter what warning was given.
Breaking story by The Crime Report:
The Crime Report investigation suggests that despite the sharp rebuke by the OIG(Office Of Inspection General Of U.S. Department of Transportation) earlier this year of FAA practices, attempts by a Chinese whistleblower to warn both authorities of a potential grave risk to the flying public continues to fall on deaf ears.
It is very clear that FAA Acted to Protect Chinese Counterfeiter Instead of Flying Public's Safety.
I contacted Ethics Hotline of Boeing whose planes were compromised on 31st January,2016 hoping Boeing needed to take action to safeguard the safety and integrity of its planes.
Mr. Michael Jordan, a Boeing senior supplier quality manager responded to my whistle blowing on 4th February, 2016:
I received the following information through our Ethics organization based on a concern you submitted. I will handle all information and communications in this regard with the utmost sensitivity.

=====
Sender: Jordan, Michael W <mxxx.jxx at boeing.com> Time: 2016-2-4- 1:47Receiver: [email protected]Subject: Supplier Material ConcernGreetings Mr. Shi:
My name is Michael Jordan. I am a Boeing Supplier Quality Senior Manager in charge of Regulatory Affairs and Investigations. I received the following information through our Ethics organization based on a concern you submitted. I will handle all information and communications in this regard with the utmost sensitivity.
FirstName = Charles LastName = Shi EmailAddress = [email protected]country = China relationship = Partner/Supplier subject = Products/Services
comments_questions = My name is Charles Shi, working as East Asia Supplier Chain Manager of Moog Aircraft Group . I am reporting to you the deadly violations of international commercial quality norm and threat brought by a Chinese machining supplier of MOOG that used cheap substitute raw materials in manufacturing MOOG parts on BOEING (planes). Please see below emails I sent to MOOG CEO John Scannell and CEO of Aircraft Group Mark Trabert last night. The threats are real and have been taking place since around 2 years. ....
After a few email exchanges when I forwarded Mr. Jordan some critical evidences, Boeing as a company went into complete silence by doing nothing, nothing at all.
Boeing has a big business establishment in China, they have dozens of qualified English-Chinese speaking Supplier Quality Engineers(SQE) based in China. The Moog's suspect Chinese counterfeiting supplier-NHJ was well known for its criminal counterfeiting practice to aerospace supplier base in the region and Boeing knew it very well.
While FAA has been inactive or has no "jurisdiction" over Chinese counterfeiting suppliers, Boeing has every resource and power to deal with the safety threat. It is logical and easy for Boeing,as the owner of its planes, to verify my allegations which is very serious to its Goodwill on the massive criminal counterfeiting by sending a few regional SQEs to NHJ and substantiate the violations and discover the Moog fraud. Boeing has the authority to demand Moog Aircraft to re-call the safety critical counterfeit parts from its flight control systems.
However,considering the daunting cost to remove the counterfeit parts from planes already in service,Boeing took business over the safety of flying public by joining Moog fraud and cover-up.
Boeing has been answering journalists inquiries by giving similar response like what they gave to NBC and Reuters:
Moog had already assessed these two issues( substantiated by FAA investigations) and taken all necessary corrective actions." It stressed that "the safety of the flying public is our primary concern."
The fact is non of the two issues were addressed in any way per Boeing's quality and safety standard. There was only cover-ups.
One issue mentioned by Boeing concerns that NHJ outsourced 1/3 of Moog business to unknown and unapproved sub-tiers. There was no action whatsoever by Moog to correct the issue because finding replacement could take 8-12 months.
The other issue concerns unbaked safety sensitive parts of B777 flight control systems causing hydrogen embrittlement.
Moog and Boeing made false representation to FAA which was accepted by FAA investigators in its fraudulent investigative process. For example, Moog and Boeing cheated FAA that they conducted required ASTM testing on suspect parts and found them OK for use. See FAA investigation report, page 10.

An ASTM F519 …validation test was designed to assess the risk… this is deceptive because followed this sentence, FAA said "six parts were picked from the suspect lots and subjected to high sustained stress load testing" FAA was trying to fool each and everybody who might examine the matter if publicly exposed that the test was a ASTM test called out on the Moog drawing.
According to ASTM F519 specification, the stress load testing is on specimen, not on parts. the specimen is a Notched Round Tension Specimen(NRTS) from lot material of production, see below diagram.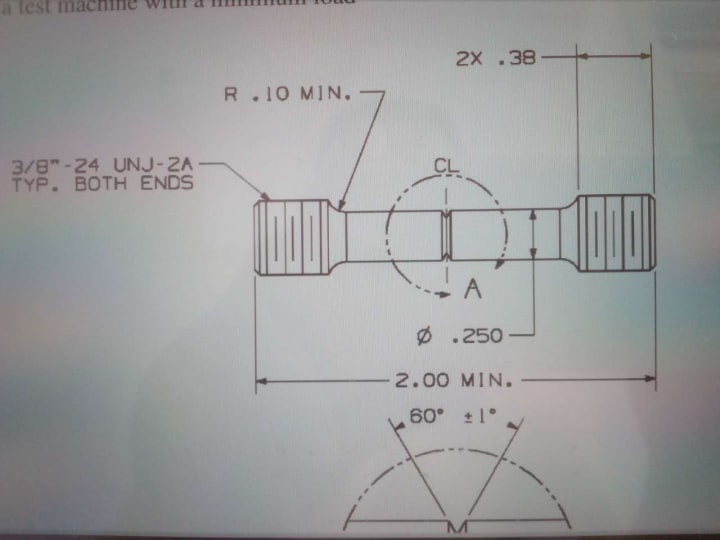 The length of the specimen is two inches min., however, These Moog parts are very tiny, among the four part numbers involved, the longest part is 1.8 inch, and the parts themselves are irregular shaped which bars them from being made into specimen for ASTM test.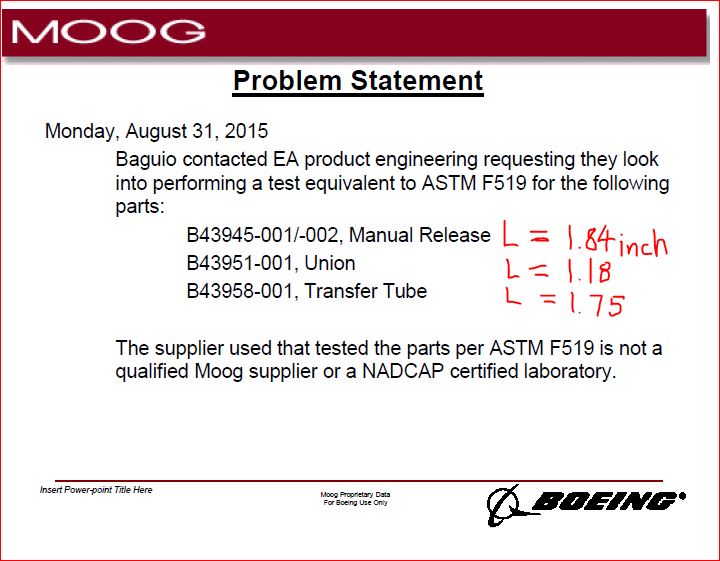 In other words, Moog had no way doing ASTM F519 testing out of these suspected lots. The drawings for the 4 part numbers shall be submitted for law enforcement agencies for felony probe.
Since Moog could not make specimen out of these suspected tiny parts to do the ASTM F519 test, they only did a C-ring test which was "simulate " and NOT called out on the Moog drawing. The C-ring test was to cut a C-ring piece from the tiny Moog parts and do the simulation test which itself was compromised or false testing.
From the FAA report which is undeniable evidence to professionals as well as public that the testing was C-ring test only. But on FAA report, it wrote like ASTM F519 test was done which was a deception if not a felony.
In the FAA report, Moog and Boeing lied and FAA accepted only 273 pieces of non-conforming part were put on B777s. The fact is more than 1,500+ pieces of non-conforming parts were believed to be all assembled into Boeing 777 planes because NHJ was the exclusive source of these parts and Moog could not find a replacement supplier in at least eight month's time. Neither did Moog switch to old supplier. However, Moog did not stop shipping the bad parts a single day to Boeing during that period of time.
The fact and truth backed by sealed evidence indicate Boeing is hypocritical bragging "the safety of the flying public is our primary concern."
Boeing should stop the hypocritical safety culture to avoid fatal crashes like that of Lion Air Flight. If Boeing does care about the safety of flying public, they must take action to remove the counterfeit safety parts from flight control systems of all planes compromised NOW, not until being sued!
However, Boeing current position looks they would wait for law suits rather than take preventative actions! To wake up Moog, Boeing and FAA, more press release is sought on the matter.
Please contact for more information,