5 Terrifying Cold Cases from Iowa
Cold as ice. Let's hope it begins to crack.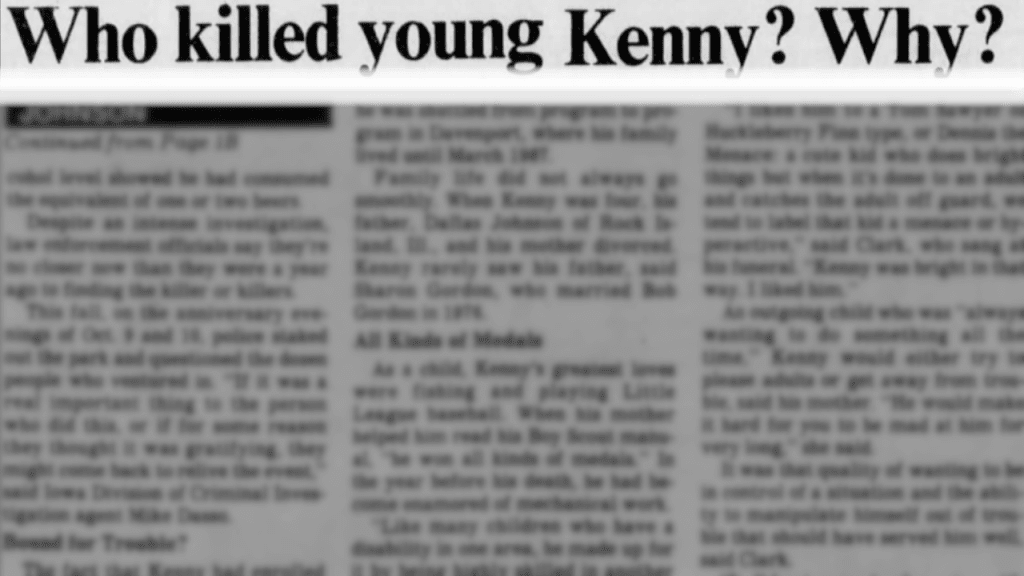 Kenny Joe Johnson
Kenny Johnson was only 14-years-old when he was called to the principal's office while enrolled at Central Alternative School's Franklin Center. Known among many as a "Denace The Menace" type of kid, Kenny was not responding well to teachers and struggled to follow directions. This most likely stemmed from his learning disability, though I can't find what exactly his disability was. While he was told to go to the principal on the 8th of October 1987, Kenny opted to slip out of school and walk about town. However, police have noted that they have no idea what took place between Kenny being with his teacher, and him being found deceased two days later.
He'd been discovered by a man who was out fishing. Kenny's body was covered in an orange carpeting in Maus Park in the Southside of Dubuque. The autopsy showed that he'd been sexually assaulted and strangled to death by hand. Something rather notable is that his BAL showed Kenny had drunk at least one or two beers before having his life taken. Kenny wasn't a large kid, only 5'4" (ca. 10 cm) and 122 pounds (ca. 55 kg), meaning these drinks could have had an incredible effect on him. From the beginning, not much was found, and a year following Kenny being found, nothing more was found.
An article published just over a year after Kenny was discovered said, "Despite an intense investigation, law enforcement officials say they're no closer now than they were a year ago to finding the killer or killers." In the same article, there is a quote from the Iowa Division of Criminal Investigation agent Mike Dasso explaining why they decided to stake out the park a year following the event. He said, "If it was a real important thing to the person who did this, or if for some reason they thought it was gratifying, they might come back to relive the event,"
Kenny's case is still wide open, though, and locals, as well as the police, are doing all they can to make sure Kenny isn't forgotten. In 2016 an article was published online as well as in local papers (The Des Moines Register) highlighting Kenny's case and giving a few more details about the case including what the police believe the person who took Kenny's life may have been like. In the article, they state, "They speculated the killer was a loner who had poor interpersonal relationship skills and had trouble making friends. Police theorized that even with antisocial tendencies, the killer had difficulty coping with the murder and probably told someone.
With that said, anyone with information they believe can help is asked to report it to the correct authorities. In this case, you're asked to contact Cpl. Chris Gorrell at 563-587-3806. You can also do so through email at [email protected]
Ronald Lee Novak
On December 24th, 1983, Ron Novak was found by his brother in a storeroom behind Ronald's house in Center Point, Iowa. Ron's hands were tied behind his back, and he'd been beaten with two hammers and a golf club; all that were found nearby. Along with this, he was shot once in the right arm by a .22 caliber bullet. According to reports, there was blood all over the room indicating some kind of struggle. Ron's phone was also discovered by the weapons on the floor. It's believed he had attempted to call for help. The only thing that seemed to be missing was Ron's wallet which most likely held a few hundred dollars. Ron was said to keep large amounts of money in his wallet as "walking around money."
There was a window adjacent to the kitchen door that seemed to have been used as a makeshift entryway. There was reported to have been a shotgun near the kitchen door, Ron kept it there for protection, but that door wasn't opened that night. The investigation quickly came to a halt when police were unable to find fingerprints or DNA at the scene. The footprints that were outside were covered with snow before they could be properly photographed.
In the beginning, it looked like a robbery that went terribly wrong but when police discovered a suitcase holding $32,000 cash as well as a duffel bag with over $7,000 worth of marijuana, that theory was thrown out the window. Ron's brother reportedly knew that Ron was involved in drugs, though, he never knew to what extent and police firmly believe the drugs played a large part in this case. That brings up the idea of Ron owing someone a large amount of money, but again, $32,000 was simply left at Ron's house.
A strange bit of information includes Ron telling a close friend that he was concerned about a car being parked outside his house overnight. Ron's house was described as being "out in the country" so it isn't clear who would be staking out his house, or why. If they knew him, they would most likely know that he was armed. The attack was very clearly precise and planned out. As far as suspects, it has been reported that DNA was found at the scene that wasn't a match to Ron, however, when sent to the states' crime lab, there were no matches found.
Many publications note that the police didn't report the gunshot in their initial reports and the family of Ron read this as neglect. An article published a few months after Ron's death said, "Family members were upset because the sheriff's office did not tell them of the gunshot. 'They've done nothing but lie to us and run us around since the first night'," Donald Novak said." The article goes on to state that the family only found out about the gunshot when they received the death certificate. "The certificate listed three things as the cause of death: the beating, hypothermia, and a gunshot wound,"
Of course, though, this information was held for good reason. Again from the article, "Sawyer (the sheriff) said they decided to keep the information within the department because '"we figured the only person who would know (about a gunshot wound) would be the killer...that would be something they would know."'
Much like Kenny's case, Ron's is still very active. In 2016 a small piece was published about his case in The Des Moines Register covering various details of the case in hopes it sparked a memory in someone or would convince someone to come forward. If you do have any information you believe can help in Ron's case, you're asked to contact the Linn County Sheriff's Office at 319-892-6100 or the Iowa Division of Criminal Investigation at 515-725-6010. Finally, you can email [email protected]
Ashley Oakland
Ashley's name came up a lot when I asked you all about some cases from Iowa and I feel it because it's one of the most recent ones we've talked about. It was just 8 years ago, April 8, 2011, that Realty agent Ashley Oakland had her life taken just before 2 PM that Friday. That day she was working in a model townhouse in West Des Moines. She was discovered at 558 Stone Creek Court by a Rottlund Homes Employee after they heard a loud commotion coming from the town home. When they went over, they saw her on the floor and called the police. Ashley was taken to the hospital but sadly passed away due to her injuries.
At this time there are no suspects, however, at the time the police noted that they do not believe this was a random act. They believe that Ashley was targeted, they're just not sure why, or by whom. Ashley was loved by many in her community and her death only brought them together. A report over 1,600 people showed up to her funeral just to say goodbye, and support her friends and family. As of now, the police are still actively looking into Ashley's passing and are asking anyone with information to come forward. A $150,000 reward is offered to anyone who comes forward with information that leads to an arrest.
If you believe you have information that can help in this case, don't hesitate to report it. You can do so by contacting the West Des Moines Police Department at 512-222-3344 or Polk County Crime Stoppers at 515-223-1400.
Beth Ann Ricketts
Beth is a US Military Veteran who unfortunately went missing on December 22nd, 1997. She was 31 years old at the time of her disappearance and had left her apartment to do some last-minute Christmas shopping. She drove to the store in a gold 1994 Geo Prism, was 5'8"(ca. 172 cm) tall, wearing black pants, a white shirt, a zebra print belt, and black leather blazer. She also had a black, medium-sized purse with her. A few hours later, Beth's duplex caught fire causing an estimated $7,500 in damages to a bedroom. Firefighters were never able to identify what caused the fire, and it hasn't been determined if it was in any way connected to her vanishing.
Two days following Beth going missing her boyfriend received a call from a woman who claimed to be Beth. In the call he said the woman said she did not want to be found, leading some to believe Beth left on her own accord. But, this seems unlikely. An article from April 1998 states, "Christian, of Prairie City, said he and his wife saw Ricketts shortly before she left for a Christmas shopping trip Dec. 22." They go on to explain that Beth had bought a dress for a New Year's Eve Party, presents for her children. With this in mind, they conclude she wouldn't have just left for no reason.
Of course, the question of whom the woman was on the phone comes back up. If it wasn't Beth, it had to have been a sick prank, or possibly someone who was involved with the abduction, and possible murder of Beth. Beth's boyfriend, after he reported the phone call, was said to no longer be reachable for comment as he'd hired an attorney.
Marvin Brandland
Marvin's case was another one that was requested quite a bit when I asked you all for cases. I've seen it covered before, but it never hurts to talk about it again. It begins on October 30, 1982. Marvin and his wife, Ethel, had spent their night handing out candy to trick-or-treaters in Fort Dodge when someone, covered by a pillowcase with holes cut out for eyes came to their door. The person said, "Trick or treat. Give me your money or I'll shoot." The couple assumed it was just a joke, thinking maybe it was their granddaughter, Teresa Trueblood who'd left the house only minutes before. Unfortunately, it was not a joke.
The person under the pillowcase made their way inside when the couple turned their back and held them at gunpoint, telling them to take them to the safe downstairs; a safe only a few family members knew about. Marvin, who was a WWII veteran, went along with this but when the two made it back to the kitchen Marvin refused to answer to the person still not totally convinced this wasn't a prank. Marvin reached for the gun, and the person fired a bullet into Marvin's neck. It's reported the person dropped the pillowcase and ran from the house only moments later. Marvin would succumb to his injuries a short time later.
Perhaps the hardest part about this case is that the family firmly believes they know who took Marvin's life; it was an acquaintance of the family; someone who hasn't been named. Ethel was able to give a description of the shooter saying they were about 5'8" (172.32 cm) tall, had blond hair and blue eyes, and was somewhere between 16 and 20 years old. Police have even said this person is their prime suspect, however, there is not enough evidence to arrest them. The pillowcase was tested for DNA in 2010 but there wasn't enough there to make a definitive match.
If you have any information on this case that you believe can help the police don't hesitate to report it to the correct authorities. You can contact the Iowa Division of Criminal Investigation at 515-725-6010. You can also contact the Fort Dodge Police Department at 515-573-1426.
http://www.thedarksideofamerica.com/unsolved-kenny-johnson.html
https://www.nwestiowa.com/news/gone-cold-kenny-joe-johnson/article_12299c3e-79f1-11e6-95a8-1f2c64fc3d38.html
https://www.newspapers.com/image/188488614/?terms=Kenny%2BJoe%2BJohnson
https://www.newspapers.com/image/131705542
https://www.newspapers.com/image/549140993/?terms=Kenny%2BJoe%2BJohnson
https://www.newspapers.com/image/306232555/?terms=Kenny%2BJoe%2BJohnson
https://www.desmoinesregister.com/story/news/crime-and-courts/2016/02/20/gone-cold-ron-novak-kileld-1983/80671294/
https://www.newspapers.com/image/551180612/?terms=Ronald%2BLee%2BNovak
https://www.newspapers.com/image/154959097/?terms=Ronald%2BLee%2BNovak
https://www.newspapers.com/image/548466611/?terms=Ronald%2BLee%2BNovak
https://www.newspapers.com/image/551183323/?terms=Ronald%2BLee%2BNovak
http://www.thedarksideofamerica.com/unsolved-ashley-oakland.html
https://www.kcci.com/article/7-years-ago-ashley-okland-was-murdered-but-the-case-remains-very-active/19713561
https://www.youtube.com/watch?v=YtdXQRD20p4
https://www.youtube.com/watch?v=W89cwpJcR8Y
http://charleyproject.org/case/beth-ann-ricketts
http://www.thedarksideofamerica.com/unsolved-beth-ricketts.html
http://www.missingveterans.com/1997/beth-ann-ricketts/
https://www.newspapers.com/image/130895158/?terms=Beth%2BAnn%2BRicketts
https://www.newspapers.com/image/132317143/?terms=Beth%2BAnn%2BRicketts
https://medium.com/true-crime-addiction/brandland-halloween-unsolved-murder-true-crime-8ef8eed49523
http://www.thedarksideofamerica.com/unsolved-marvin-brandland.html
https://www.desmoinesregister.com/story/news/crime-and-courts/2016/04/23/gone-cold-marvin-brandland-killed-1982/83204222/
https://www.newspapers.com/image/543429846/?terms=Marvin%2BBrandland
https://www.newspapers.com/image/178089256/?terms=Marvin%2BBrandland