5 Reasons Why Watcher Should Be Your New Binge Obsession
The Ghoul Boys embark on a new journey away from Buzzfeed, and I couldn't be more excited about it!

Do you like wholesome, maybe random content? How about content that lovingly showcases local (to Californians!) gems, incredible bonds of friendship, and history taught by puppets?
If the answer is yes, then boy oh boy do I have a new channel for YOU.
If the answer is no? Stick around still, I might entice you yet!
Watcher is a new media company created at the start of this year by Buzzfeed's shining alumni: Steven Lim (Worth It), Ryan Bergara, and Shane Madej (notoriously nicknamed the Ghoul Boys; responsible for Buzzfeed Unsolved: Supernatural, and True Crime). Little did they know the sucker punches 2020 was gonna rain down on the world would make creating a new business an even riskier venture than it already is . . . and yet, they are still proving themselves as a flourishing and entertaining new brand with some amazing content! With seven total series and one weekly talk show, I've already subscribed and now you're going to find out why you should too.
1. Those Good Ghoul Boys
I am relatively new to this powerhouse duo because I only found out about Buzzfeed Unsolved: Supernatural pretty much when my state shut down and I was no longer working. That was . . . in the middle of March, and I was sitting at home with my dad looking for new content when this popped up. I'm a fan of horror movies and anything moderately spooky, so I was interested and gave it a shot with the first episode. Three days, two seasons, and a gently exasperated father later, I was . . . how do you say?
OBSESSED.
I've never gotten so hooked on a show so quickly, and especially not on a show that basically had no resolution in any of its episodes. The whole point is that the viewer can take what they want to from each case, but nothing is going to be "solved" until a ghost literally slaps Ryan in the face. These two guys- the true believer, and eternally confusing mix of optimist and scaredy-cat, Ryan combined with the devil-may-care (devil may-be?), and skeptical Shane- go from haunted spot to demonic lair in search of proof of the Supernatural. From what I've gathered, this show along with their other show of the same premise for unsolved crime, are two of the biggest hits Buzzfeed has ever produced.
Watching the two work leaves you with no surprise as to why, though. Some actors, when you see them work together, have amazing chemistry that provides excellent depth to their character interactions and can really change a scene or production as a whole. Ryan and Shane though? That's more than just chemistry, that's gravitational forces ensuring those two continue to orbit their own personal universe of goofiness and love. It was so much fun watching them needle each other over the existence of ghosts/demons/cryptids, while also amassing inside jokes and witty banter to stretch through years of their relationship. Somehow that's taken to an even bigger and better level in all of their series they host on Watcher and it's? Incredible??? It's fun watching them argue and investigate things in the dark! But it's so wholesome and the exact kind of good vibes I need for this wretched year, to watch them grin and tear through pie while Ryan swears to die by food, or try out new things together and wear matching glowing expressions.
2. The Breadth of Content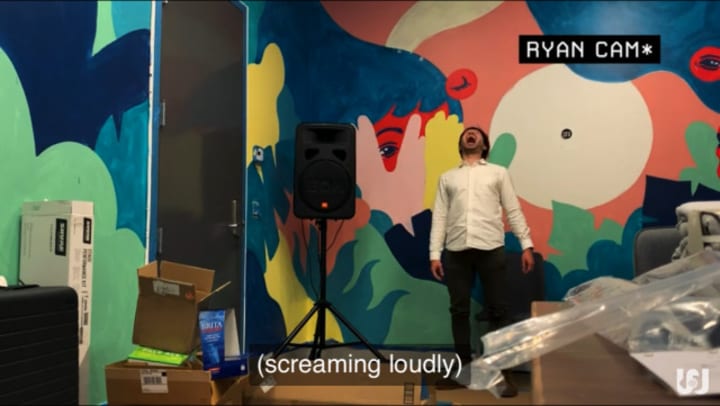 Even now as I'm writing this article, I'm nearly in tears from Puppet History and The Professor who sounds eerily similar to Shane (but no way, pfft). Now when I talk about the breadth of content I mean that there truly is a little something for everyone. Something leaning towards competition, something educational, something tasty, something light and fun, and something scary . . . if you're looking for it, you'll probably find it!
Some of the shows I've been bingeing for the past three days is: Puppet History, Weird (and/or) Wonderful World with Shane (and Ryan), Top 5 Beatdown, and my current favorite Too Many Spirits. I won't go into too many details because I want you all to really enjoy the fresh content without being spoiled to it, however! I will direct you via some small cues . . . If you want to be educated via a puppet and some catchy numbers, go to Puppet History. Maybe you want a little escapism from the heavy reality and enjoy something light, fun, and kind of sweet with a ton of friendship goals, so you can head to Weird (and/or) Wonderful. Top 5 Beatdown is a fun competitive romp over some kind of dumb topics if you like nonsensical yet rousing debates. My absolute favorite, Too Many Spirits, is absolutely just a fun moment to enjoy ghost hunting nostalgia mixed with some pretty dope drinks. And LOGS!
3. Steven Lim
So I'll be honest and transparent here, I really don't know who Steven Lim is. I never watched Worth It, and so my only knowledge of him comes from the episodes of the various shows he's been in. What I do know, is this:
a) Steven is one of the three creators of Watcher, a hella cool channel that's been my new obsession.
b) He's showcased some really cool hair looks on the shows, my favorite look being his Strawberry Blonde moment.
c) He's an accomplished foodie. I love food, as well, and so feel a sort of kinship with him. He's introduced me to a cool new chip called Colbee Shrimp Chips which are very exclusive and apparently NOT available in every Target but the one nearby an expensive premium outlet mall, so bougie shit I guess.
d) I think the most compelling argument for just Steven alone being a reason to watch this is his mad bartending skills (see: Too Many Spirits). This man is whipping up potions in these episodes that even a humble, broke drink enthusiast like myself can attempt. Most especially I am mad excited to try and recreate the Slim Reaper drink just from how enthusiastically Ryan guzzled it, and my mom loves matcha lattes so maybe I can learn to make this and we can both get drunk off these together.
e) I just love his gusto, you know? He has this air of dogged determination about him that I can really admire; you know how hard you have to scrap to get significant air time when you're alone smack in the middle of the charismatic whirlpool that is Ryan and Shane? I mean they don't do it intentionally, but sometimes you completely forget there is someone else there, they just can't help themselves, but Steven! Ah, Steven isn't here for any of their orbiting shenanigans, and fights for his spot. We can't all make it looks easy like Chelsea of Good Seed if you know what I mean.
4. The Post Production Genius is . . . *Chef's Kiss*
I can't find the proper words to really describe the vibes of the videos . . . eclectic, random, hilarious . . . I suppose the description that's really banging around in the corners of my mind is "school assembly powerpoint/video from the 90's", and I love it. The music, the cut-ins and transitions! I think so far my favorite use of effects was the ride on the Magic Moke truck through the Solvang memories.
The intro to Weird (and/or) Wonderful is so reminiscent of some 90's school news intro made by the junior team who had just gotten budget for new animations to revamp the interest in the Media Club. Which is . . . oddly specific now that I've written it out . . .
Also! Puppet History, God this show is such a good example of all the work they do behind the scenes to really razzle dazzle for your viewing pleasure. Props to Anthony Frederick, Crystal Cheng, Katie LeBlanc, Patrick Volker, Mike Fox, TJ Marchbank, and Brittney Lee for all the splendor I've been gorging myself on (apologies to anyone else I may have missed, I wasn't really sure what all the titles meant in relation to post production, but hey, that's showbiz baby)!!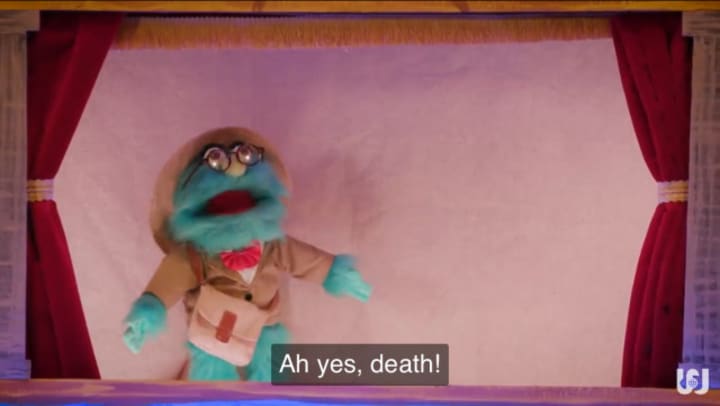 5. Your Support = Their Growth!
They've got a Patreon if you've got a hankering for some exclusive content, or maybe you could check some sweet merch. Or you can show some support by subscribing to their channel on Youtube like I did if you've got some other important expenses. Any way to show support, I think, is a great way to help them see how great their content is. We love artists growing beyond borders and challenging themselves with something completely new, bold, and audacious. Personally, I'm really hoping for future seasons of Too Many Spirits which means a lot of people need to make sure they know how much fun they're having watching it.
Listen, for me, I can hardly find anything worth watching from cable television or even my stupid Prime subscription. I find myself never being able to finish shows or movies anymore, yet these 20-30 minute episodes of complete chaotic goodness captures my attention immediately. I love the hidden gems of California that I can put down on a vacation list for whenever this Pandemic madness safely ends, and the food and drink I can try out right now with their cooking featurettes. I love learning about some pretty gnarly history filled with a little blood and a little insanity as history tends to be chock full of ridiculous glory. I love getting my spooky content for Halloween when all my plans seem to be crumbling like cookies beneath some malicious jerk face's boot. I don't know where that came from, that was kind of personal, my bad . . .
Nevertheless! You can decide for yourself whether Watcher deserves your attention and time, so do yourself a favor and try an episode of at least two different shows from the production. Watch The Donner Party story narrated by The Professor, and maybe check out Solvang's story with a gluttonous Ryan and Shane. Or, hey, tell me how that Social Distancing & Dungeons & Dragons is, it's going to take me some time to get there. So, pull Youtube up on your phone during a lunch break, or at home on your TV, and enjoy some impressive work from an impressive group of people.