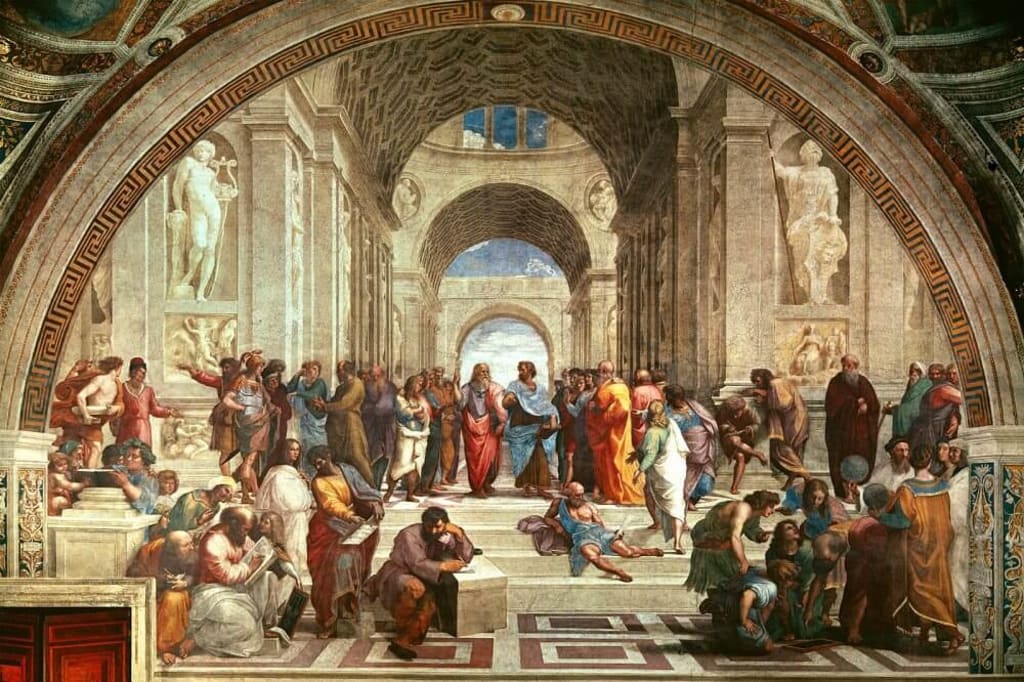 I met him nine years ago. I heard an audio of one of the conferences he gave in the US. He's a successful businessman. The perfect man: wealthy, intellectual and single. A once-in-a-century masterpiece. I couldn't contain myself, I fell deeply in love with him.

Me? I read. I've been a reader my whole life. Mom says I should write something cause I'm 25 years old and I haven't written anything. I mean, I have. I've written essays for school, reviews for products, emails, etc. But I haven't written anything relevant to call myself a writer.
"Write novels." Mom says.
"Yeah, but what kind of novels? And what for?" I ask.
"Anything to sell and make money." 
"Write for money? I rather keep myself busy reading and find out how to turn metal into gold. The secrets of Alchemy must be somewhere." 
"Find them, then." She replies to me.
Well, let me figure my life out. In the meantime I call myself a reader. 

I've had several jobs throughout my life but I always end up quitting. I can't stand a job. I prefer to spend my whole days at the library. At night I ride my bike back to the garage where I sleep at my sister's place. Sometimes I have money, sometimes I don't. It doesn't matter. I consider myself rich since I have all the time in the world to sit down and read. Did I mention I know movies by just reading the script? I've read several of them that I haven't even got the time to watch.

The gentleman is rich and he travels around the world. For all these years I'd seen him as an unreachable man. He was just too much for anyone to have, even for me. However, he reads a lot and we've had so many synchronicities. Last year he posted some quotes on the book The Art of War and I realized we were reading exactly the same book at the same time.
What I feel for him is so insane. Just to give you an idea, he knows Willian Shakespeare from memory. In one of his speeches he says: "But earthlier happy is the rose distilled, than that which withering on the virgin thorn grows, lives and dies in single blessedness" and then he continues talking about following what our heart wants. He's also memorized Plato, Wayne Dyer and Gabriel Garcia Marquez. He's a dream. The perfect man to me.

Everything changed last March. I paid for a numerology online reading. It's said that mathematics is the language of God. If we understand numbers, we can see through them into our past, present and future. 
I was very excited to get this lecture and to my surprise, it was very accurate and revealing. It told me very specific things from my past and my present. All of them were true. It also told me it was a great year to meet my twin flame. "What? What flame?". It said it was somebody from my past. Somebody that I already knew. "What?"

I couldn't believe it. It took me several days to digest that nformation. The businessman magnate and I have a strong astrological compatibility. We are -what is called in astrology- Twin Flames. This love made me feel like I was levitating. I couldn't stop watching all his videos and pictures in his social media and out of the sudden I started talking in prose.
"You, me and Plato's laws"
The philosophy in your mouth sounds like you have to kiss me.
Your politics in my mind feels like you have to have me. 
& like Pythagoras I'll explore the value of your numerology.
Talk to me about leadership cause that's the best use of your voice.
Literature & economics. 
Tell me about the compassionate tyranny of God.

He's a public figure so it wasn't difficult to look up his email. I sent it out after I signed it with my name, the day and the initials "LV" referring to Las Vegas, the city where I live.

Absolutely nothing happened. 

I don't know what made me think he would reply to me. I started to doubt myself. Did I misunderstand the situation? No. I remember he once said he's addicted to books and libraries and I recall that one of my biggest fantasies is to read a book with my lover. Same time, same book, same page. Yes! We are mean to be together.
The gentleman is one of the most successful people in the network marketing business. In his social media he has over 6 million followers. You have to be crazy, rich or really successful to believe you can flirt with him. I guess I'm crazy. That's where I fit. Insanity is not what it seems. I'm not gonna be intimidated by his big success.

Even though I felt awkward, I wrote more.
"The Prince"
His library. That's the biggest issue.
One hundred thousand million words,
He's always so unreachable.
The Prince, the war, the love.
What's your favorite feature? 
I'll wait for you like a book. 
Always wishing to be the one you pick up.

Two days later he replied to me. Indirectly.

He uploaded a video where he answers questions and one of the things he says is that in his library he has more than one hundred books waiting for him to be read. "What?"

That was a very nice answer. It's like I had said "Romance!" and he was like "No, thanks."

I was very happy. A virtual and intuitive conversation started between us.

Time went by and I continued writing poetry. Love got me inspired and I just had to find a creative way to express myself. Five months later (Or eight poems later) he came to Vegas. I couldn't believe it. I checked his stories on his social media and he was playing tennis with some friends just a couple miles away from where I live. I was in shock. I wasn't expecting that at all. 

The gentleman came to Vegas to give a business conference and… to meet his number one fan. 

Through his stories he was sending me his location and through the songs he was communicating with me. He posted "Show yourself beautiful" (a famous Latin song) with a picture of him in the hotel he was staying at.

"Is this true? Am I alright?"

I was happy and calm. I knew everything was gonna be alright. So I took my time, dressed up, put my makeup on and later on I went to the stores to buy some tights that I needed for my outfit. It took me all day to get ready. I arrived at his hotel at night (8pm) and I looked for him. I noticed there were a lot of people in suits and there were announcements of the conference he gave with a huge picture of him. He's a really important figure in the industry. I got really nervous. That made me feel that that was not the right time so I went out and sent him an email.  "I'm outside. By the Vallet Parking" I wrote, hoping he would read my email soon.
I waited. Time went by and it was almost 2am. He never showed up. I grabbed my things and went home. 

Next day he flew back to Colombia, where he lives in his luxury Penthouse. Once he arrived he posted a picture of one of his paintings of Helen and Paris.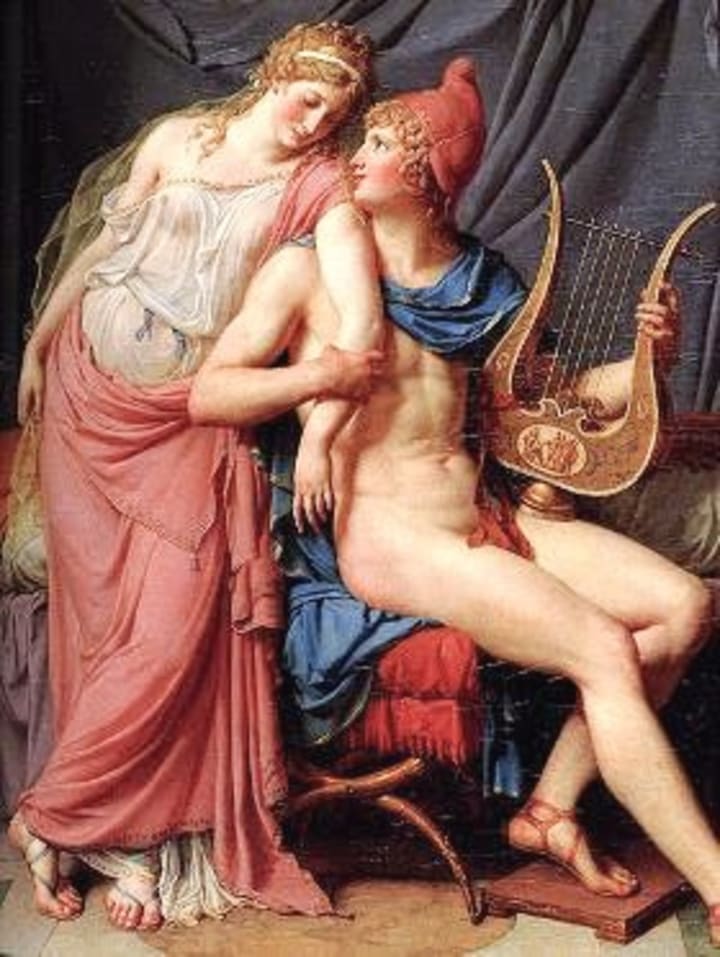 It might be bold of me to say this, but the gentleman fell in love. His success theory was right: there is a technique and if you follow it out you can get whatever you want in life. Poetry is such a seductive technique. It has worked in the past and it forever will. 

We continued talking in this poetic and intuitive way. I wrote poems for him and he replied to me indirectly through his posts or videos. 

Time went by and one day he uploaded a video where he talks about food and how our eating habits affect our productivity and attitude. He said:  "After we eat we don't want to do anything. It is exactly like when we make love". What? Did he say "when we make love"? I got inspired and wrote:

"Leadership Loops"
With sanity or with a lack of sense?
How do you want love today?
For here or to go? 
When are we gonna eat this?
Medium or strong?
Do you want me to moderate myself?

Next day, I had a flight ticket to Colombia in my email. He didn't say anything else. A month later I flew in first class. I didn't know exactly what happened. I guess love is a very irracional and strong force. That's the only way I can explain this.

When I arrived I was very calm. He picked me up at the airport. He is a really mature and handsome man. Everything I could wish for. How is it possible he chose me? Well, I'm proud to say that it's because I read. Information is a very powerful tool and it can change your life.

He took me to his place. It's like a museum. Expensive art pieces, lots of books and paintings everywhere. Then he took me to his library where he has a huge painting of the school of Athens on the wall. I was looking at it when he asked the question I had always tried to avoid:
"& What do you do for a living?"
"I'm a writer." I said. 
"What do you write?"
"Whatever. I can write whatever. Essays, reviews, mails. I'll write your biography, your politics, your philosophy. Tell me your story, the version nobody knows. I'll write the script for your movie. I know movies by just reading the script. I've read a couple of them."
"Really?" He said.
"Really. Sr. Let's do philosophy. Like the greeks. You are Socrates and I am Plato. I'll write your dialigues." And he smiled at me. I almost passed out. "May I stay tonight?"

"Maybe" he said. "But, could you do me a favor?"
"What is it?"
"Don't tell anybody you are here with me and you can stay for now"
"Ok". I said. 

For now? I learned that Now is an eternal concept, I guess. I haven't left yet. 
This is the video where he talks about food and healthy habits.
In the minute 2:38 he says in his beautiful spanish "It's exactly like when we make love".