The Stamps Tale" Growing Up In The Boogie Down Bronx"
"A Journey Through Family, Community, and Resilience in the Heart of The Boogie Down Bronx"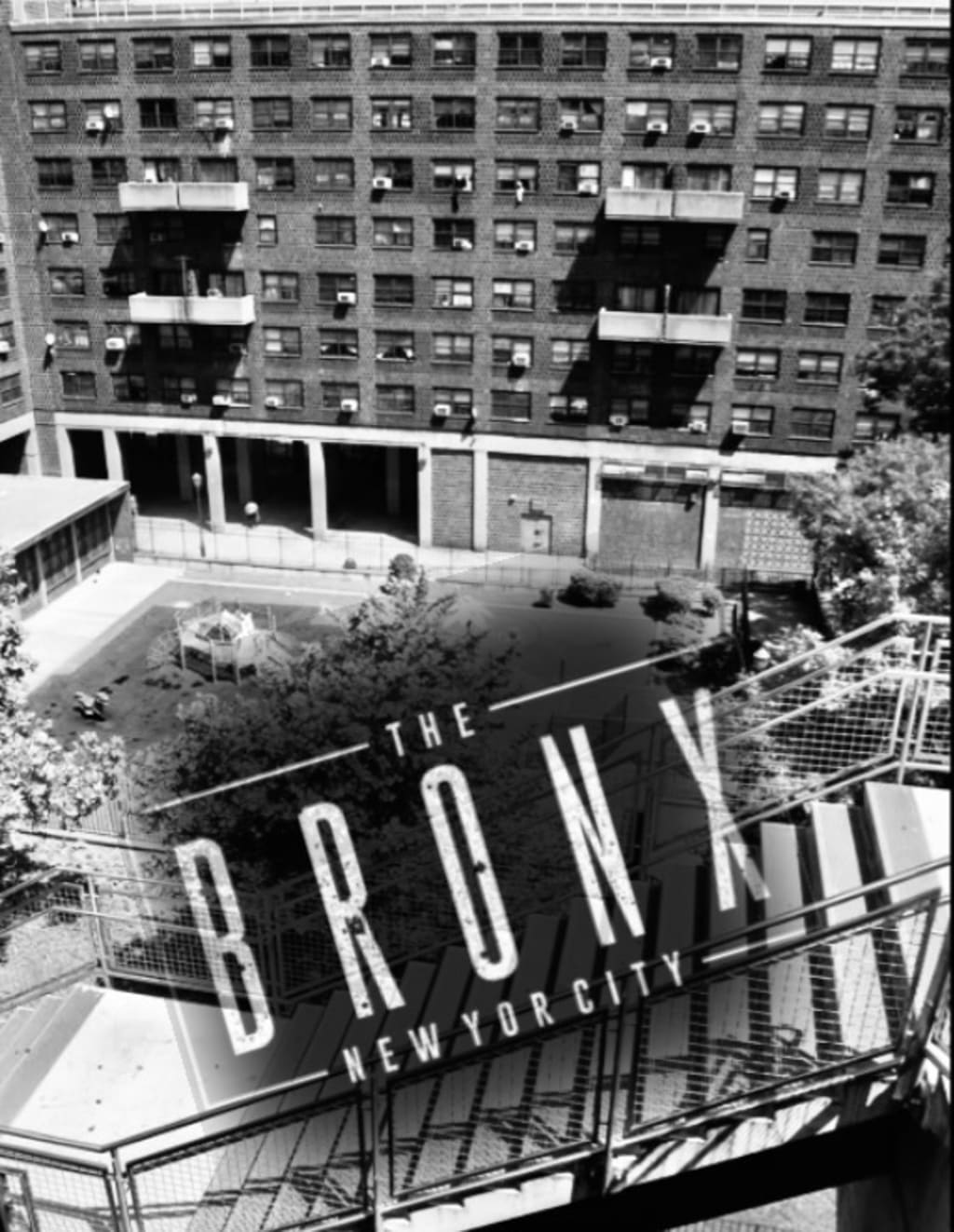 A reflective journey through the past and the start of the present.
The origin of it all.
At the intersection of 183rd Street and Webster Avenue, Twin Parks were the place to be. I fondly called it two projects in one, "hood style."
The lights that hung in the park are forever etched in my memory, especially Moms who yelled for us – Nicole, Marie, Angela, Michelle, Tiffany, Craig, Graig, Kevin, and Keith – as they turned on.
No matter how hard we tried to hide, it was impossible. Our apartment had an unobstructed view of the park, making it feel like a scene straight out of New Jack City. There was no choice but to go out! It was wild. Ms. Marie called our names in that order, and her voice reverberated throughout the building, making it clear she meant business.
Everyone in the building heard her. Children from the building chuckled as we made our way down the ramp, then up the stairs to the fourth floor, finally entering Apartment 4DM. One thing I loved about Twin Parks was that if you lived on the second, fourth, seventh, or ninth floor, you had an option – you could enter the 183rd Street building or the Ford Street building.
Both buildings were connected to our apartment, which was situated right in the middle of the two. Oh, how I don't miss those smelly elevators or the squeaky staircase door that would slam shut, the sound echoing through our apartment, accompanied by the lingering scent of weed smoke and cigarettes.
Let's return to the story at hand.
Upon entering, we heard Mom's voice from the kitchen downstairs, telling us to wash our hands because the food was ready. We lived in a five-bedroom duplex apartment with two levels, a rarity in the projects. We had two bathrooms: one with a toilet, sink, and shower, and a half bathroom with just a toilet and sink, which was Ms. Marie's domain.
Unfazed, we rushed to wash our hands and raced to the dining room, eager for Mom's cooking. The mouth-watering aroma filled the entire fourth floor. Neighbors inevitably ended up in our home, as Mom often left the door open.
Mom always ensured we returned to a home-cooked meal, although Graig was frequently absent. It wasn't that he never ate, but he was often upstairs, engrossed in playing Super Mario World on the Super Nintendo. "Yup, yup, yup, Yoshi, I'm coming!" was Graig and Michelle's secret signal, whether it was time to play or to get Yoshi.
Super Nintendo was the 90s gaming sensation, and Super Mario World was our favorite game. We loved riding Yoshi, our favorite dinosaur, around the world. Graig and Michelle would start playing as soon as they got home from school. They were obsessed, discovering hidden worlds and passing every board.
The '90s was a unique time, a far cry from today's internet, social media, and cell phone era. We grew up with televisions that had antennas hanging out the window and house phones with cords that tethered us to the wall. We had to be home when the street lights came on, and parents relied on neighborhood networks to keep tabs on us. Bikes parked outside indicated where we could be found.
Or the news station broadcasting an alert that came across the screen that said it's 10 pm do you know where your children are?
It's fascinating to think that the new generation of kids, born in the 2000s, may not fully appreciate the conveniences they have today.
During our summers, we would engage in various recreational activities such as double dutch jumping, hula-hooping, Super Soaker battles, hopscotch, and sprinkler tag, all while grooving to classic tunes such as "Juicy" by The Notorious B.I.G., "Ruff Ryders Anthem" by DMX, "If I Ruled the World" by Nas, "Crush on You" by Lil Kim, "Waterfalls" by TLC, "This is How We Do It" by Montell Jordan and "Poison" by Bell Biv Devoe.
In addition, we also played classic games like spinning the bottle, man-hunt in the building, and freeze tag, while roller skating in the hallway. Skate Key in the South Bronx was also a popular hangout spot. We created mixtapes of our favorite songs on cassette tapes.
I grew up in the era of Cabbage Patch dolls and Easy Bake Ovens. I learned how to make cakes before I even used a real oven. I also spent countless hours playing with Skip-Its, trying to beat my high score while jumping around with it swinging around my ankle.
My Buddy dolls were another favorite of the 90s, but they also inspired the infamous Chucky doll from the horror movies. My brothers were so scared of the doll that we had to hide it from them at night. However, I couldn't resist playing a prank on them by sneaking it into their room and placing it on a chair so that it would be staring at them when they woke up. The look on their faces was priceless.
I vividly remember the time when we rehearsed our dance routine to Mary J. Blige's hit track "Real Love", with an audience of over three thousand apartments overlooking the center stage. It feels like it was just yesterday when we rocked spandex pants and jean shorts, totally owning the fashion of the time. My hair was styled in a trendy ponytail with bangs in front, setting a new trend with my fashion sense.
Every day without fail, my elder sister Nicole, who acted as our dance manager, would lead our dance practices. With the help of our trusty boombox, stocked with double D batteries and a tightly-packed collection of cassette tapes, Nicole made certain that we mastered every move. Even today, I possess a video of our performances. Although I wouldn't want to share it with everyone, it remains a cherished memory that I'll always remember.
I'm sure the daycare center downstairs, where we practiced, wished we had chosen another spot. Meanwhile, the neighborhood boys imitated our dance moves and jumped and flipped on a discarded, dirty mattress. Ah, those were the days.
We relied on pagers and had to find payphones to return calls. Back then it cost twenty-five cents for a five-minute call, so we always carried quarters in our pockets. We didn't have the convenience of cell phones like today. Privacy was a rare luxury, particularly with nine siblings sharing a household, two sets of bunk beds in each room, and even more so with the additional people Mom took in and looked after. Ms. Marie was known for her generous heart, and everyone was well aware of it.
A dollar stretched far back then, buying Lemonheads, Super bubblegum, cherry clans, sunflower seeds, chips, and quarter waters. The '90s had a unique style: high-top fades, high ponytails, razor-sharp cuts, highlights, and taper fades, let us not forget parting your hair down the middle. Also the bangle earrings, two-finger rings, and name chains Yeah I had all of those lol.
We grew up immersed in the iconic sounds of the '90s, vibing to the music of legendary R&B and Hip Hop artists like Mary J. Blige, TLC, Blackstreet, Boyz II Men, Monica, Brandy, Mariah Carey, SWV, Montell Jordan, Brian McKnight, Lauryn Hill, All 4 one, Total, Bone Thugs-n- Harmony, The Notorious B.I.G, Tupac, Xscape, 112, Jagged Edge, Keyshia Cole, LL Cool J, New Edition, Shanice, Lil Kim, Whitney Houston, among many others. These musicians truly defined the decade and shaped our memories.
We spent hours enjoying classic video games such as Sega Genesis, Super Nintendo, Mortal Kombat, Street Fighter, Donkey Kong, Pac-Man, Ms. Pac-Man, Teenage Mutant Ninja Turtles, and Tetris, which provided endless entertainment and competition. We also collected Pokemon cards.
Mom would dress the girls and boys alike, as it was simple, convenient, and more affordable. Every time we went shopping, we'd hear her say, "Let me get this in every size." If they didn't have one size, that outfit was out! Don't get it twisted, we were fresh every day, rocking the latest fashions and kicks. Mom made sure we were up-to-date with the most stylish trends. She just knew how to save while keeping us looking great.
Ironically, we didn't like dressing alike and hated it. However, the funny thing is that I ended up doing the same thing with my daughters, who are just a year and a few months apart. funny how that works huh?
The third had an amazing Chinese restaurant where I'd always order four chicken wings and french fries. I'm not sure if it was the watered-down ketchup, but it was incredibly tasty. Upon opening that food container, the smell was just heavenly. The fried wontons and egg rolls were fantastic! And don't even get me started on the boneless spare ribs with pork fried rice – it was delicious. I'm not sure if they're still around, but they were the last time I checked.
The well-known bodega on the corner of the third was famous for making delicious chopped cheese and bacon, egg, and cheese sandwiches yes chopped cheese has been out for decades. The line was always long in the morning.
They also offered a premium selection of cold cuts., and Mom would send me to pick up ham, turkey, salami, cheese, and of course, her favorite liverwurst – making sure they didn't slice it too thin! I also grabbed a couple of loaves of bread while I was there.
Despite having a full house, we didn't have a Hollywood upbringing; instead, we had a Hollyhood upbringing. Our family wasn't wealthy, but we were also not impoverished. Our mother provided us with only the best-branded food items. Generic brands like White Rose were not acceptable; we always had name-brand products, and even now, as adults, we refuse to settle for anything less.
I remember our mom making Kool-Aid with freshly squeezed lemons, and it was the bomb! It was so sweet and delicious that I still crave it sometimes. However, I didn't pass on this particular recipe to my children.
Allow me to share with you some quick meals mom often makes that you might be able to relate to. One of my favorites is hot dogs fried and sliced with pork and beans - it's a classic! Another quick meal is hamburger meat chopped up and mixed with macaroni and cheese, which some people call "hamburger helper."
For snacks or lunch, everyone knows about the famous PB&J sandwiches - I could easily devour two or three sandwiches with a cold glass of milk! And let's not forget about mom's famous fish and chips. Finally, there's the classic dish Pink Salmon served with rice and eggs.
The pepper steak, rice, and veggies were all great, but the standout was definitely the amazing gravy. And who can forget how heavy and delicious fried chicken was in the 90s? Other favorites included turkey wings, meatloaf with mashed potatoes and corn, pork chops, and of course, the classic creamed corn.
I have a funny story to share with you. When I was younger, my mom used to make liver for us and tell us it was steak. No matter how seasoned it was, none of us liked it and we would feed it to our dog Fluffy instead. We kept this secret for decades until one day I finally told my mom the truth. She was shocked because we knew all along that it wasn't steak since she had made us authentic steak before.
Here's another surprising moment - I did the same thing with my firstborn son. He always said he didn't eat pork, so I would make pork chops and tell him it was chicken. He was mad for years, but I got away with it and I think he still thinks it's chicken to this day. He's 22 years old now and these are my confessions.
We had some great times, particularly at the Police Athletic League, where I spent most of my teenage years. The Police Athletic League, or PAL as we called it, was New York City's largest independent youth development center. It offered programs for elementary, and middle school students, including after-school programs, summer day camps, and summer streets – essentially, a youth program for all ages.
This is where I landed my first job at the age of thirteen yes I was balling at thirteen, working in the candy store – oh, how I miss that store! I then became an after-school tutor before eventually being promoted to a head counselor for 10-13-year-old boys one summer and 5-7-year-old girls the following summer.
Working there was so much fun, and I had some great times with the kids. I won't forget earning my own money, but I also can't forget that this was the time when I learned that you have to pay your way in life – nothing is for free! It isn't just your money; this was when I learned about paying bills.
I can still remember payday when Mom would join us at the check-cashing place. Once we cashed our checks, you bet we had to give her her cut! I was frustrated at the time, but it prepared me for when I moved on and moved out. I'm grateful to her for that.
PAL was also famous for its parties, and we had some fantastic ones. These were the times when we truly revealed our personalities. At these events, PG-13 dancing was the norm – no inappropriate moves or kissing with tongue allowed. Those who didn't dance simply leaned against the wall, watching and gossiping about others. Meanwhile, the staff patrolled the area with flashlights, ensuring everyone adhered to the rules.
We also had block parties where we closed off Ford Street; those were some fun times. I won't say it was all good; we had some fights, well, quite a lot as kids, but we fought them out! Back then, we fought and went home at the end of the day. The next day, we kept our distance if we saw each other. Unfortunately, things have changed, and this era isn't like that anymore.
One thing I cherished about growing up on 183rd Street and Webster Avenue was our close-knit family. We did everything together, from attending Mets games and getting our groove on to celebrating birthdays. For our birthday cakes, we'd go to G & R on 161st Street in the Bronx. These cakes were incredibly tasty, luxurious, and filled with delightful strawberry and pineapple fillings. They were so soft they'd melt in your mouth. Unfortunately, they did not disappoint and remained on point until they closed down a few decades ago.
It seemed like we had a cake every month, sometimes even two when birthdays were close together. I remember sharing my birthday celebration with my younger brother – his birthday fell on February 1st, while mine was on the 4th. He'd get a cake with blue trimmings and writing, and I'd have one with pink trimmings and writing. Those were truly special times.
I particularly remember how much fun we had in our spacious apartment, where there was plenty of room to engage in wild activities. One such instance was the indoor water fights, where we'd drench each other with buckets of water. Although the idea seemed crazy, it was a fact that our home ended up flooded with water. Cleaning up took hours, but I can assure you that the floors were spotless afterward. Those were some unforgettable times!
Oh, I must mention the time when a bird unexpectedly entered our home. The door to my mother's room, the only one with a balcony, had been left open. The bird flew in and created quite a stir, making it a day none of us could ever forget.
Can't go without mentioning the time a snake entered our house through the toilet. All I'll say is it involved my firstborn, Toryn, and a mother's fight or flight instincts kicking in. You had to be there to understand it only people will understand these words, not my baby Toryn lol. These memories are truly wild.
We had a cat named Frisky who seemed to have more lives than any other cat I've ever known. She endured countless ups and downs and valiantly kept those pesky mice at bay. Despite falling from the 4th-floor window several times and being attacked by a dog, she remained a resilient and dedicated fighter until the very end. Rest in peace, Frisky; we love and miss you dearly.
Growing up, junior high school was quite the experience! My school was just around the corner, and I had my tight-knit group of friends. We were a trio and called ourselves P.M.S., which stood for Peaches, Minnie, and Smiley – our nicknames. My besties and I were quite the rebels and troublemakers.
I remember we would often skip participating in gym class and instead sit on the sidelines, writing lyrics to songs. One of our favorites was "Crossroad" by Bone Thugs-N-Harmony. In my final year of junior high, we spent time learning the entire song, which was challenging due to its fast-paced rhyming. But we managed to do it, and to this day, it remains my favorite song.
My mom also worked at my school, so you can imagine how that went! It was all about Ms. Stamps here and Ms. Stamps there, but that didn't change the fact that I was still quite the rebel. There was one time when P.M.S. decided to skip school; let's just say that day, I saw stars. We left, turned the corner, and then, in the blink of an eye, we found ourselves back in school.
However, we did manage to leave later anyway. Despite my mischievous side, my grades were always on point. I was a good student, just a bit misunderstood.
I have a fond memory of working at Rye Play Land. As I step into the park, the upbeat melody of Mariah Carey's "Fantasy" remix with Old Dirty Bastard fills the air, and the rides begin to whirr to life. The anticipation of the amazing experiences I had filled me with an exhilarating rush of excitement. Dont forget Eve- Who That Girl
I was stationed at a chicken spot. At that time, the chicken was amazing! I would often invite my friends and family to come and enjoy the delicious food, and they never left disappointed. Additionally, they were able to enjoy the rides for free, as I knew many people who worked there.
remember having a supervisor named Nick who had a romantic interest in me. He was a laid-back individual, and I sometimes ponder about his whereabouts today. Back then, I felt like a grown-up as I rode the Metro North train to Rye Station and subsequently took the Beeline bus to Rye Pland Land, returning home well past midnight.
I had a strong attachment to the song "Kissing You" by Total, which I would frequently listen to during my commute. It was one of my cherished songs from the 1990s.
Throughout my high school tenure, my lunchtimes were spent engaged in spades games. I had several program cards with my lunch period schedule, a time in history when the lunchroom was abuzz with spades games. Concurrently, the Maury Show and Jerry Springer were some of the most entertaining programs during my adolescent years. We would frequently cut classes to watch these shows at my best friend's residence.
On Maury, we would avidly observe to ascertain if someone was the biological father of a baby, eagerly anticipating Maury's announcement of "In the case of blah blah, it shows that with 99.9% certainty, he is NOT the father." The amusing part was when women would dramatically collapse on the floor or scurry around the studio while the cameraman pursued them. It was apparent that he remained slender and healthy with all that running!
As for the Jerry Springer Show, there was always a fight breaking out, making it one of the most entertaining shows of all time.
During my high school years, I managed to have a good time and avoid getting into trouble. Although I skipped school frequently, I maintained good grades overall. To complete four of my courses, I eventually attended night school, which was a popular spot among my peers, and I was the most popular girl in school.
'The 1990s was a perfect time to live in; everything seemed calm, cool, and collected. We are effortlessly connected with our surroundings, carefree and content. We relished being teenagers, fully embracing life and all its opportunities.
I often yearn for the simplicity of childhood, when life was just about being a kid without any pressure or stress. Social anxiety wasn't a concern, and the rising trend of teenage suicides was unheard of. While bullying did exist, it didn't seem to be as severe as it is today, and fights were typically resolved through physical confrontation without any lasting animosity.
Little girls played with Barbie dolls, easy bake ovens, and jumped rope, while boys were outside being boys, playing with cars, collecting Pokemon cards, and spraying girls with super soaker guns. I find myself missing those carefree days of my youth.
As a parent, I find myself constantly on guard, doing everything I can to protect my children in this world. It's become the norm to monitor their phones and keep tabs on who they interact with, knowing that there are dangerous people out there, such as traffickers, sex traffickers, and gang members.
Unfortunately, it seems like there's always news of someone being killed or falling victim to senseless violence. Raising children in this era is a challenge, with so many negative influences in society.
However, despite these challenges, I feel incredibly blessed to have four amazing children. They are excelling academically and socially, with many talents and skills. Both of my daughters aspire to become lawyers, and I couldn't be prouder. My five-year-old can already read at a second-grade level, while my oldest has proven himself to be a master of anything life throws his way. I remember how he always wanted to explore the world outside when he was little, and now he's doing just that.
It's funny to think that I'm now a grandma at the age of 43, thanks to my son. I feel incredibly fortunate to have such a wonderful family.
History of the boogie down!
The BX, or The Bronx as it is officially known, has gained a reputation for several noteworthy attractions. Among them are the "Graffiti Hall of Fame," a renowned collection of murals and street art. Additionally, the borough is home to a plethora of Bodegas, Hair salons, and Barbara shops, serving as hubs for the community.
The Bronx holds a significant place in music history, as the birthplace of rap and hip-hop music. It is also the proud home of the famous baseball team, the New York Yankees. The borough boasts the Bronx Zoo and Botanical Gardens, both popular destinations for locals and tourists alike.
The Bronx is famous for its diverse population, which has led to a diverse range of foods, music, and cultural events throughout the borough. The area is well-known for its resilience, creativity, and a strong sense of community, with pedestrian plazas and parks providing spaces for people to gather and socialize.
The Bronx has a fascinating history of developing unique slang words and phrases that may cause confusion or amusement to those unfamiliar with the lingo. Some of these expressions include "bodega," which refers to a small grocery store, "deadass" meaning "seriously," "son" as a term of address for a friend, "say less" indicating immediate interest, "Brick" to describe cold weather, "Bro" to refer to a friend or sibling, "Dayroom" to describe someone being rude, "Draggin it" for overly dramatic behavior, and "Facts" to indicate a true statement.
Revisiting these memories has been an enjoyable and exciting experience, and I hope you have found this read to be just as entertaining.
Stay tuned for Part Two, which will offer a more detailed and uncut version of our story, complete with additional drama. I'll delve deeper into the life of my incredible mother, who single-handedly raised nine children, and the struggles she faced along the way. You'll hear more about the obstacles she overcame and the sheer willpower of a remarkable and strong Black woman.
If you enjoyed reading this, please consider leaving a like or even a small tip. You can also pledge for more stories, and your support would be greatly appreciated. Thank you, and may God bless you.
About the Creator
Writing has been my passion for as long as I can remember. I bring a fresh perspective to the table, and my unique voice is worth exploring. Readers can expect to witness growth and development in my writing.
Reader insights
Be the first to share your insights about this piece.
Add your insights