That Damn Alphabet Soup Book
Reflections on being a pest of a child at bedtime.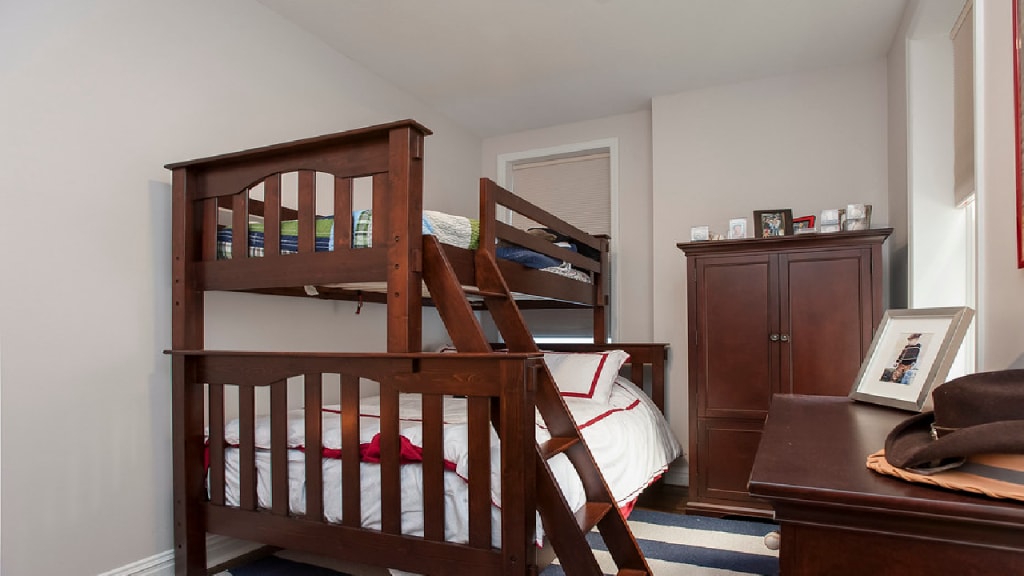 "Small Kids Bedroom" by Paintzen
It's hard to pick a single bedtime story from my childhood on literary merit alone. I remember laughing along with my dad for The Great White Man-Eating Shark about a boy who disguises himself as a shark to scare all his neighbors out of his favorite swimming hole. My mom and I shared tears over The Littlest Angel. And it was eventually with my parents alternating chapters I first enjoyed everything from Captain Underpants to the Harry Potter books. But based on experience alone my favorite of the bunch may have been a seemingly innocent little licensed children's book called Mickey's Alphabet Soup.
The crux of that experience comes back to my mom. She was a mother of five, stepmother of two, and a certified super lawyer. She probably thought she'd seen everything by the time she was putting me and my younger brother, kids six and seven, to bed. So the first time the alphabet soup book came up, I'm positive she thought nothing of it, except perhaps a roll of her eyes afterwards. This was before the days of the Pokémon chapter books, so she wasn't openly telling us how stupid our picks were yet.
Mickey's Alphabet Soup is a harrowing tale of ingenuity, friendship, and overcoming trials set before you. The epic follows Mickey and Minnie Mouse as they prepare to enter a competition to make the best alphabet soup in town, which must feature an ingredient from every letter of the alphabet. Goofy gets the memo as well, but like the traditions of tragic Greek theater he often emulates, Goofy suffers from a fatal flaw: lack of common sense. Thus the fable shows Mickey and Minnie as they prepare a soup full of pizza, nuts, ugli fruit, and the complete cop out that is the X-shaped cookie, while Goofy makes up a pot featuring his dirty laundry, an iron, and a cuckoo clock, among other things. In the end, in a classic display of the "we're all winners" mentality of the 1990's, both pots of soup win awards: one for its tastiness, the other for the fun of the ingredients. As I mentioned before, a harmless enough excuse to talk about the alphabet and alliteration with one's children. And to Mom and I, I'm sure that's all it seemed it would ever be. It was my younger brother who had different ideas.
Mom fought the good fight for a while and probably didn't show any sign of weakness until the sixth or seventh time it was requested specifically. It was then cracks formed in her veneer. She surely offered other books. Wouldn't my little brother prefer one of the Arthur or Clifford books instead? Wouldn't he rather hear The Stinky Cheese Man or The Night I Followed the Dog, which were two of my other favorites? It was clear my mother was truly in bartering mode when Everybody Poops or The Gas We Pass came up. But it was soon obvious it wasn't simply the childish content my brother valued, it was my mother's ever mounting sarcasm and annoyance. She began to slip in snide remarks, most of them about "that stuuuuupid Goofy" as she read. More than once she called my brother out on his true intention just be a pest. And, when I was brought into the conversation, I more often than not agreed with him that the alphabet soup book was exactly what we wanted read to us that night.
Sometimes she'd tag in my dad, who took the whole thing in stride. Dad was no fun, so we'd usually switch tactics if he was brought in. It was probably for that reason it was almost certainly while he was away from home for a week of work that my brother unleashed a barrage of requests for the blasted alphabet soup book night after night after night. After perhaps her fifth endurance round with the wretched tome, she hid it away in a place my brother and I would never find it. Mickey's Alphabet Soup would remain lost for months thereafter, and it seemed my mother could finally claim victory over the text.
But fate and my brother conspired for a different conclusion. Sure enough, after long enough had passed, he presented the book again for her to read. My mother, stunned, demanded to know where it came from and how he found the secret spot. He said he found it in a bookshelf in the basement, but Mom was sure that was impossible, the book was hidden under her bed. And indeed, by some unforeseen chance, there were two copies in my house the whole time. Mom could have objected further; she could have hidden this new copy. But on that night at least, she accepted defeat and read that damn alphabet soup book.
Years later when my nephew turned four, that damn, inscrutable picture book ended up in his pile of birthday presents. My younger brother had paid the $3.79 (and received free US shipping) to gift our nephew a like-new copy of this truly timeless masterwork that had been out of print for over a decade. When my nephew asked him about it, he just smiled and said, "Ask your grandma to read it for you." And my mother, I have little doubt, just hardened herself to hilariously go to war with all the stupidity all over again.