Texas After Tragedy
Is the U.S. Ignoring the Weapons AND Mental Health Crisis?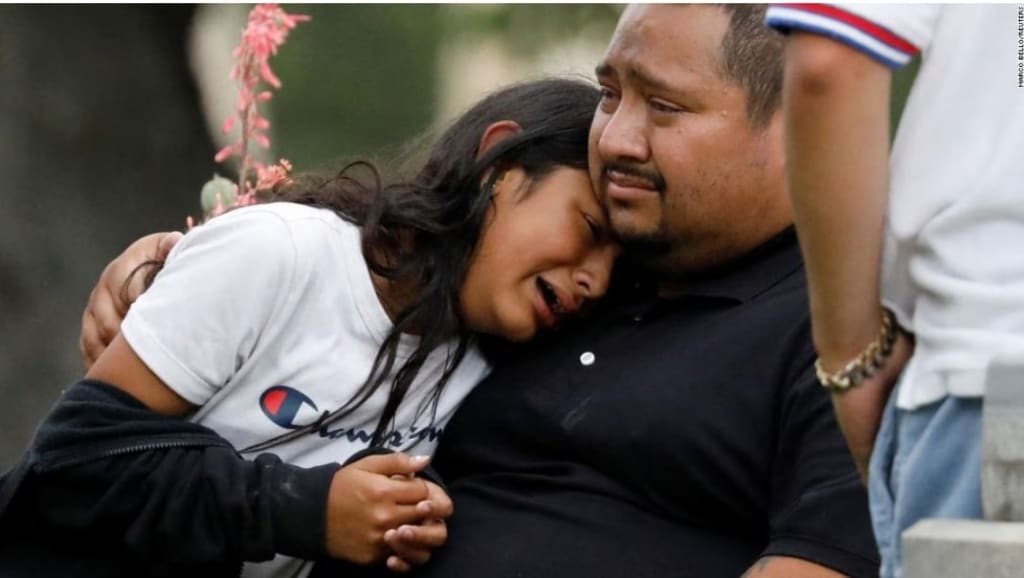 Photo credit: Marco Bello, Reuters
I work at a middle school. I provide in-class support for students, students in both special education and general education. During my conference period, which is near the end of the school day, I checked my phone as I usually do. When I scrolled to the news updates, the entire section was flooded with notifications of the elementary shooting in Uvalde, Texas. I hesitantly clicked on one of the articles, only to find out that 19 children were killed in this shooting by an 18-year old with 2 assault rifles. 19 children. 19 innocent souls celebrating the last days of school before summer vacation. The tears welled up in my eyes as I continued to read. Apparently, the gunman had just turned 18 years old. He had shot his grandmother the morning of the shooting, and crashed his car in front of the school building. He proceeded to enter the school, and started shooting students, continuing room by room to murder more innocent children.
I felt a lump in my throat rise as I continued reading. Uvalde is a small city located about 80 miles West of San Antonio. Their school district is only a couple of hours away from our city in South Texas. This tragedy literally hit closer to home than any other shooting in history,and the horrific reality is that Texas is now a state that has a history of elementary school shootings. The only somewhat positive in the story is the fact that a nearby border patrol agent happened to notice the commotion, ran in solo, and killed the gunman. I can't even imagine what would have happened if he hadn't intervened when he did.
But, for so many, it was too late. For so many, the response to this incident was too late. As a mother of 5 children, 3 of which are in elementary school, I became nervous, terrified, and eventually, angry. I wish more than anything that I could comfort those parents, those mothers, who have so wrongfully lost their little angels too early in life. But now, as a teacher in Texas, and a concerned mother, I agree with political activists and President Biden.
I agree that these ridiculous gun laws need to be changed. As President Biden stated in his address to the nation last night, "The idea that an 18-year-old kid can walk into a gun store and buy two assault weapons is just wrong. What in God's name do you need an assault weapon for except to kill someone?" The President then proceeded to explain that he heard the news of this tragedy while on Air Force One returning from his meeting with political leaders in Asia. He continues to explain how, "...these kinds of mass shootings rarely happen anywhere else in the world...Why? They have mental health problems. They have domestic disputes in other countries. They have people who are lost. But these kinds of mass shootings never happen with the kind of frequency that they happen in America. Why?". That is the question we are all left asking now...Why?
Why would an 18-year-old want to kill his grandmother? What drove him to purchase weapons to harm innocent children? What mental health disorder did he have? What drove him this far? How could an 18-year-old, still a child in my eyes, purchase 2 assault rifles so easily? The answer is complicated I am sure. But, most of the fault lies in the laxed gun control laws that exist here in Texas.
I remember when the open carry law passed in the summer of 2021. Irecall thinking that it was an irresponsible move at the time. Thanks to our wonderfully apathetic Governor Abbot, as of September 1st, 2021, Texans could legally "...carry handguns without a license or training...". This new change in the law, House Bill 1927, opened the gates for even more mentally unstable individuals to access weapons and carry them openly in our state. The fact that an 18-year-old legally purchased 2 assault rifles just days before the shooting raises the question, "When will the laws change? Will anyone do anything now?" I wanted to know how common these occurrences are, so I read more and more articles last night. The Texas Tribune summed up the U.S. weapons in just a few sentences:
"A church has been attacked. (26 dead in 2018.) And a restaurant. (24 dead in 1991.) And an Army base. (Twice: 13 dead in 2009 and 4 dead in 2014.) And a high school. (10 dead in 2018.) And drivers on the streets of Odessa-Midland. (7 dead in 2019.) And police on the streets of downtown Dallas. (5 dead in 2016.) And now children at an elementary school."
This is the first elementary school shooting in the state of Texas...ever. But, this shooting echoes the terrors of the Sandy Hook shooting of 2012, when a shooter killed 20 first graders in Connecticut. Even with the lax gun laws in our state, never have we experienced an elementary shooting. There is no doubt that the pain is something unfathomable, the reality unbelievable, and the loss something harrowing that no parent should ever have to experience.
At the end of the day, we also have to ask if there is a current mental health crisis in our state, our nation, that is not getting enough attention. After all, we have survived a pandemic of epic proportions, with over 6 million recorded deaths worldwide. Millions of people were forced into quarantine, all for varying lengths of time. As a teacher, I can attest to the fact that nothing much is actually being done to address students' mental health needs in Texas. Counselors, teachers, and staff are exhausted, but we still try to keep our heads up, and refer students who need intervention. We strive to inspire, listen, and encourage students who may be struggling in areas other than academics. However, more needs to be done.
Mental illness is something that is not always visible. Living with depression and anxiety, I know for a fact that these illnesses can be overwhelming and affect daily life. But, the worst day for me is not wanting to get out of bed. I can't imagine what would drive a teen to murder senselessly. Perhaps, he experienced abuse or neglect as a younger child, and never received outside help. Perhaps he always had a mental illness that was never documented or shared with others.
All I know, if that if these heinous, horrific acts could be prevented before they happened, then we, parents, teachers, mentors, would be able to rest much easier. And we would GLADLY support efforts to spread mental health awareness in schools if it would help prevent violence in any form.
If the state of Texas would consider changing their gun laws, if the state would consider actually listening to activists or politicians like Beto O'Rourke who spoke out against Governor Abbott yesterday, then this may have never happened. At a press conference yesterday, O'Rourke spoke out as Abbott was finishing his speech, yelling our that, "He's [Abbott] refused to champion 'red flag laws...He's refused to support safe storage laws so young people cannot get their hands on their parent's guns. He's refused to support a ban on AR-15s and AK-47s."
Salvador Ramos, the Uvalde gunman, had no criminal background, and an individual who purchases a weapon could easily lie about a mental illness on the application. Also, many people do not even realize they have a mental disorder, or refuse to seek help for problems they experience. In our country, a stigma also exists around mental illness, and only recently have U.S. citizens come out, mostly thanks to social media, supporting one another in their journeys with mental disorders.
Think about it. If a simple cat video can tank up 34 million views on TikTok, think how many people could unite together for change. Worldwide, leaders and parents are coming out to offer prayers and condolences for this heinous tragedy. Now is the time to harness this universal power to prevent unfathomable tragedies such as the Uvalde school shooting from ever happening again.
Humanity
About the author
Reader insights
Nice work
Very well written. Keep up the good work!
Top insights
Expert insights and opinions

Arguments were carefully researched and presented

Easy to read and follow

Well-structured & engaging content

Excellent storytelling

Original narrative & well developed characters
Heartfelt and relatable

The story invoked strong personal emotions

On-point and relevant

Writing reflected the title & theme

Compelling and original writing

Creative use of language & vocab

Eye opening

Niche topic & fresh perspectives
Add your insights