Lascivious Ladies Leer and Beta Males Beware, The Pussy Destroyer Is Out There
A road trip revelation reveals a salacious identity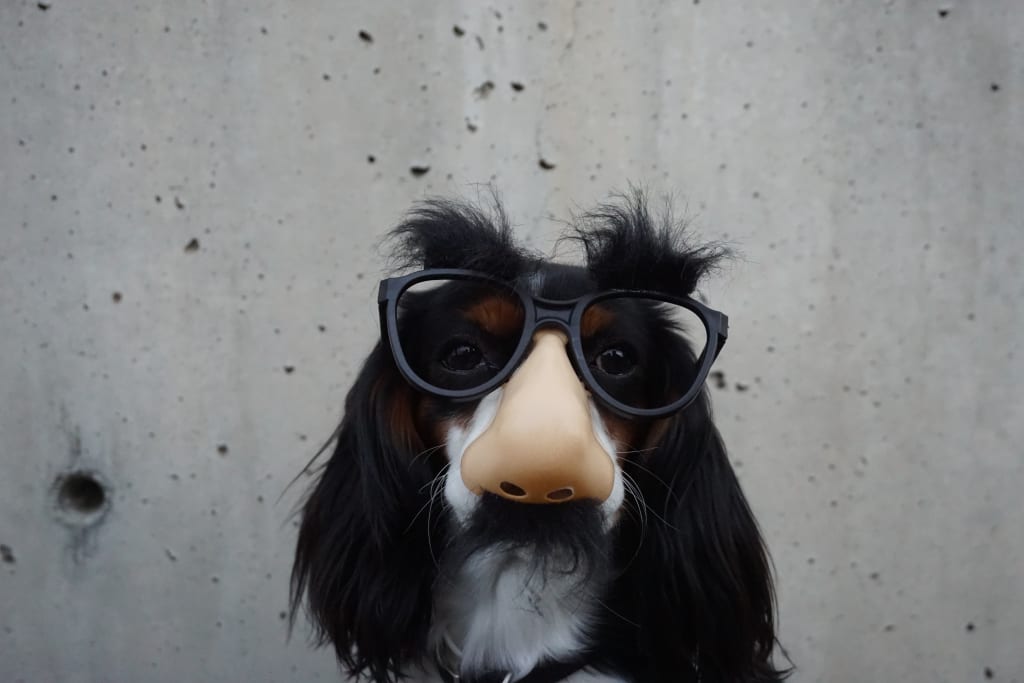 Photo by Braydon Anderson on Unsplash
Imagine sliding up on a sleek black Jaguar on the highway with a lone bumper sticker that reads, "I am the Batman." Then pulling alongside and peering in the window to see Bruce Wayne behind the wheel.
Or perhaps you notice a mint Tesla beaming by with the Ironman logo silkscreened across its hood, then receiving a nod from Tony Stark as he whistles by.
Of course, neither Bruce Wayne nor Tony Stark are real people, and their superhero identities are also make-believe. But if they were and you happened to share the blacktop by chance, you would be impressed. You might even be momentarily awestruck. Then, after that, dumbfounded to mumbling words of expression.
This past weekend, just such an event occurred on a stretch of wintery highway as we traveled north for a hockey game.
My daughter spied the advertised identity on the back of an ordinary white SUV. Her gasp, then muffled laughter, was not unusual, but her face was not pointed down at her smartphone screen when I glanced in the rearview mirror. Instead, she had her head up and eyes fixated on the truck in the middle lane.
Before I could inquire what she found so amusing or shocking, the pace of traffic shifted. As I eased off the accelerator, the SUV in question moved a half car length ahead. My eyes darted to the vehicle, and I found the target of my daughter's shock and amusement.
I was about to speak, then I paused in silence as I observed my wife casually turn her head toward the offending/offensive vehicle. I recognized that she read it too.
A simple sketch of a cat's head with block lettering held two words above and below the cat's face.
Pussy Destroyer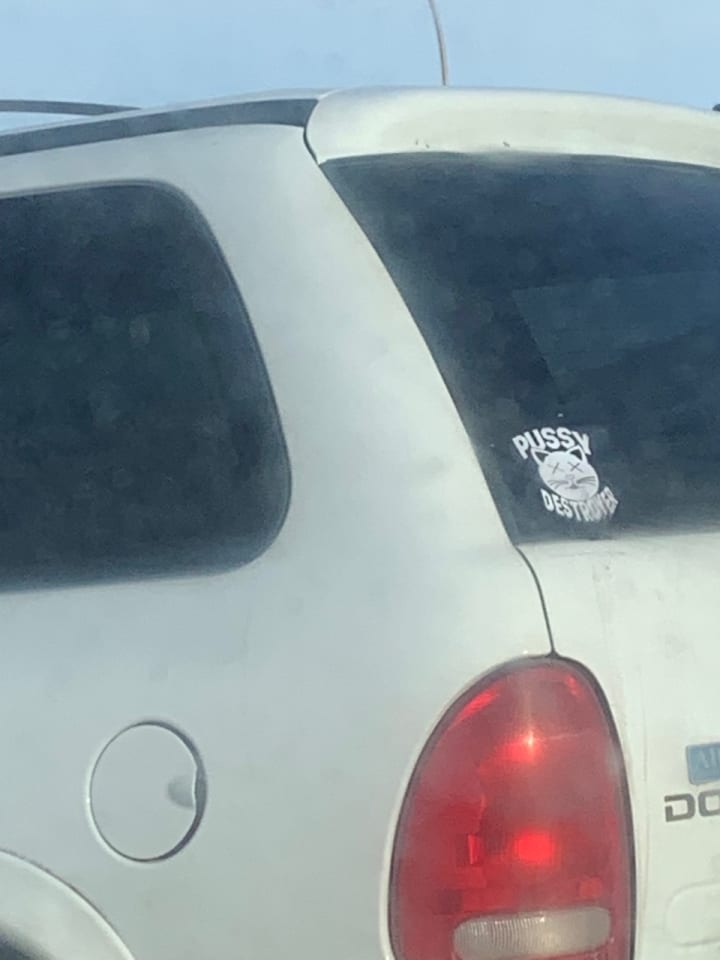 "Oh no! No! It's not… could that mean…do you think he means…" my wife fumbled and mumbled a reaction she could not contain.
My twelve-year-old daughter's eyes met mine in the mirror. A hand covered her mouth as she fought valiantly to stifle her laughter. I chuckled quietly and waited for a gem to drop from my Missus.
"Oh, Lainie, did you..?" My wife attempted some sort of address of the situation. The back seat erupted with laughter that turned to shrieks of inappropriate glee. My wife, never being one to eagerly acknowledge something unsuitably offside, tried her best to steer the conversation towards some respectability. Nevertheless, the belly laughs rumbled inside me while she shot me a horrified look and humorless grimace.
"I wonder what that's supposed to mean. Kind of a strange sticker, don't you think, Dad?" she stated and asked.
Twisting my lips to wrestle back the brilliant bravado and immediate respect I had for the balls for the individual and his offending sticker, I waited for my wife's next move. She shuttered her eyelids over her unamused big brown eyes, glared at me, and realized that at this moment, I would be no help to her as an adult.
"Well, I'm sure you don't know what that means, do you?" looking over her shoulder to my daughter, she asked, still seeking the childlike innocence that had been outgrown.
"I don't know, mom. Ask Dad." The child responded, deftly avoiding having to offer a lie or implicate herself in matters we hoped was still beyond her years.
My wife, foolishly believing she could count on me to take up the topic with a semblance of maturity, turned to me and asked, "Well? What do you think he means by that? It certainly can't mean what it says." So she stated as a matter of fact.
The laughs won the tug of war, and I burst out with a raucous rich chuckle and replied, "Oh, I think it means exactly what it says." And my daughter exploded with laughter that brought on tears.
"Well, what do you think about someone having something like that on a bumper sticker?" asked my wife, incredulous at the declaration plastered on the truck. Not a crack of a smile broke her stern lips.
"I'm shocked," I replied with a serious, disapproving Dad tone.
"Good! You should be!" My wife immediately jumped in.
"Oh absolutely," I replied, then unable to stop myself, I added, "I didn't think the sumbitch was real!"
I alternated my hands from the steering wheel and wiped the tears streaming from my eyes as we finally surpassed the "Pussy Destroyer" and continued to our destination.
It took a solid five minutes for both my daughter and me to calm ourselves, regain our composure, and try as she might, I caught my wife stifling a laugh into her gloves.
But for this brief, hilarious interlude of comic expression and brazen announcement, the hours' drive would have been as uneventful and flat as the prairie landscape we traveled.
I looked over at my daughter with only one question for her.
"Did you get a picture?"
"Oh yeah, Dad. Nailed it!" She answered with a proud smile.
About the Creator
1st generation Canadian-Hungarian
Father, Fly fisher, Chef, Reader, Leader, and working on writer.
Feedback appreciated anytime. Tips always appreciated.
Reader insights
Be the first to share your insights about this piece.
Add your insights